Joe Rocket RKT 101 Helmet Review Summary
Joe Rocket RKT Image Gallery
The Joe Rocket RKT 101 helmet has excellent quality helmet with solid features and attention to detail is surprisingly quiet in most situations.
Slightly heavy and visor clarity issues don't detract from our overall impression of this new helmet from Joe Rocket.
Joe Rocket recently introduced a new line of motorcycle helmets to compliment their established and successful line of clothing.
The RKT 101 is the first in what will probably be an expanded line of helmets for the company.
It wasn't too long ago when the name "Joe Rocket" meant cheap, low-quality apparel that was snubbed by the Aerostich-wearing cognoscenti.
The brand could have taken one of two paths after that; spend some money developing name equity and then sell out to make a quick buck (the low road) or high-road it by putting in the time, money, resources, sweat and headaches to do it right.
Fortunately for us, the owners of the Joe Rocket brand took the high road and the motorcycle world is better for it, because Joe Rocket has become one of the most respected names in motorcycle apparel.
There's a good reason for this: If you had to buy your motorcycle gear from just one manufacturer, you couldn't do much better than going soup to nuts with Joe Rocket.
Their products are generally very good and the breadth of choices they offer is outstanding.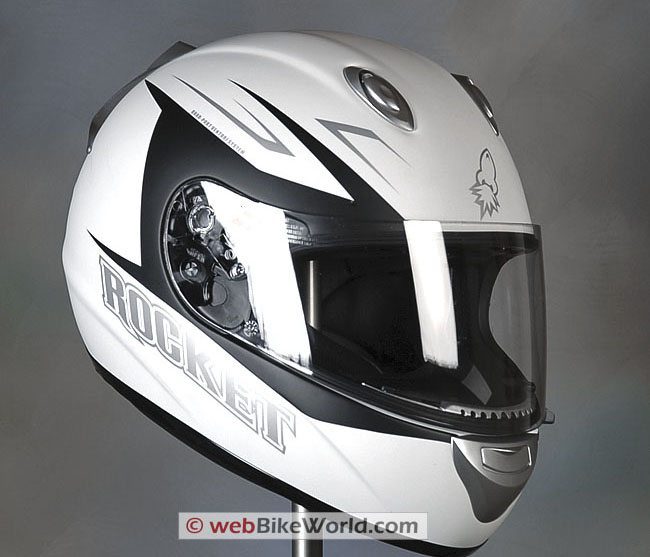 First of all, there's the incredibly crowded market that covers every price point and feature set imaginable. How anyone makes a buck in that business is amazing, especially when you consider that insurance alone costs 10% of the coverage desired.
This means that $10 million in coverage will cost a cool $1 mil. Think about how many helmets would have to be sold in today's cutthroat market just to cover that single expenses?  Then you have the issues of dealer support, customer service and, of course, the complex, monopolistic and creaky old-boy U.S. distribution system for motorcycle gear.
Just breaking into that club can take years, and then only if you can prove you're worthy to the minions who dominate the system. We've heard from many small manufacturers who have simply given up after years of fighting, and we all suffer from that because we don't have the choices we would have otherwise.
But that's a different story for a different time.
Obviously, Joe Rocket has the market clout to make people sit up and listen; thus, they were able to bring a helmet to market that will probably become widely successful just because it will be in every mom and pop bike shop in the hinterlands.
But webBikeWorld readers know that's not enough — if the helmet doesn't deliver the goods, you won't fork over the cash. So does the helmet deliver?
Well, when a company who has built a reputation like Joe Rocket brings a motorcycle helmet to market, you'd expect it's going to be good and we'll tell you straight up that the RKT 101 is a winner.
We'll cut them a little slack because it's their first attempt, but the RKT 101 isn't just a good first try, it's an excellent piece of work that should shame other helmet manufacturers who have been in the business, oh, shall we say 20 or 30 times longer?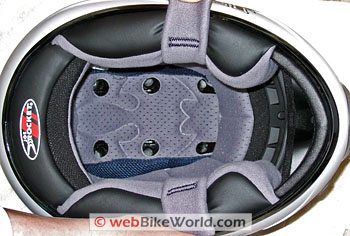 Paint and Finish
The RKT 101 helmet is available in three color schemes, the "Solid Edge" shown here, the "Rocket Science" graphic and the sexist "Good 'n Evil".
Let's address the latter once and for all: Why helmet manufacturers are turning out lurid graphic designs featuring scantily clad women lately is beyond us, especially considering the fact that women are the fastest growing segment of the sport.
It's not enough that most clothing manufacturers don't even come in sizes that are designed to fit women, does it make sense to alienate them too with sexist graphics?
Why Joe Rocket would sully their brand by falling for this after creating such a fine helmet is puzzling. It sets a bad example for the young riders who are the target market for the helmets. This kind of nonsense just continues to prove the reality that motorcycling is filled with Old White Farts who are living in the '50's. Wake up folks — it's 2007!
OK, end of diatribe.
The Rocket Science graphic is better than the adolescent Good 'n Evil design, but to our eyes, it's still a bit lame. Thus, we went for the Solid Edge pattern, which we think does a better job of accentuating the helmet's shape anyway.
A matte finish is used on all of the Solid Edge patterns. In addition to the white shown here, Joe Rocket offers red, blue and black with this design.
The paint is applied smoothly and evenly on our example, with no overspray or dust bumps, indicating that proper care was taken with preparation and execution.
A matte finish with no clearcoat will really show any errors in preparation, so someone did their homework here.
The graphics are applied as decals, and although they're smooth, they do feel slightly raised over the matte paint. This is the disadvantage of not having a nice clear coat sprayed over the top.
The finish is not rubberized, like the URBAN N20 Astro we reviewed recently.
The white color on our RKT 101 is nice, but it does seem to attract bugs fairly easily and the paint allows the nicks and dings to become obvious rather quickly, because they show up as shiny marks on the otherwise flat finish. It remains to be seen whether or not this will be a problem over the long run.
Nevertheless, the helmet gives an overall impression of quality based on the finish. Some better detailing and Version 2.0 graphics would help it score better, but we give it an 8 out of 10.
Helmet Fit
The RKT 101 has a fairly neutral fit, biased towards a round internal shape. Our helmet is marked as an XL but fits much more like a size L in our opinion, which may indicate that all of the RKT 101 helmets run one size small.
Thus, caution is indicated when purchasing this helmet; try before you buy.
The fit is definitely not as "long oval-ish" as, for example, an Arai Vector, Arai Profile or Shark RSi, but it's not as round as a Shoei RF-1000 or an Arai Quantum II either.
In fact, the fit feels very much like some HJC helmets we've tried and the combination of the fit and the rocker switch visor lock (see below) leads us to believe that HJC is building these helmets for Joe Rocket.
The RKT 101 helmet is available in sizes ranging from XS to XXL. Joe Rocket uses three different shell sizes over this range, which should allow for a good fit without the "space helmet" look that can be caused by a shell too large for the rider's hat size.
For more information on selecting and fitting motorcycle helmets, see the wBW Motorcycle Helmet FAQ page.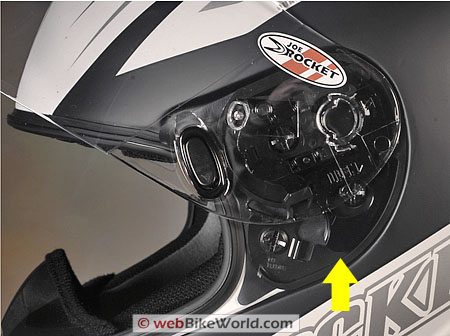 Arrow points to latch that releases the visor. Note the HJC-style visor lock.
Face Shield
The face shield opens and closes with authority and it has three detents which allow it to open for de-misting, half open and fully open. The face shield has a rocker switch on the left-hand side that will lock it shut.
This lock looks nearly identical the type found on HJC helmets, which leads us to believe that the helmet is made by HJC for Joe Rocket, which is not a drawback by any means, because HJC makes some of the highest quality helmets available.
Most helmet manufacturers seem to have problems getting a perfect fit between the face shield and the eye port seal, and the RKT 101 is no exception.
We found a gap on either side of the face shield where the helmet shell is slightly narrower than the curvature of the clear face shield.
The face shield on our example has problems: it's wavy and blotchy, to a point where it is both distracting and annoying. This is very surprising; we haven't experienced a face shield with such poor quality in, well, ever.
Joe Rocket's press material claims that the face shield is "hard coated" and that it's an "optically superior 3D shield design rated at 95% UV resistant."
Not sure what a 3D shield is, but let's hope that our problem is only something found on the initial production run and that it will be resolved soon. In the meantime, an email to Joe Rocket is in order to see if we can get a replacement.
The eye port opening seems about about average in size, possibly just on the small side.
Overall, the face shield gets high marks for function but loses some points for the minor sealing issue. The face shield clarity problem is more serious, so we give the visor a 5 out of 10.
Liner and Venting
The liner in the RKT 101 shows care in its construction and it's both plush and comfortable. It would be nicer if there was just a touch more padding in the liner, but overall, the helmet offers a snug "sport" fit with no apparent pressure points.
The liner is removable, although we're beginning to wonder if this is a feature that anyone really uses; we don't, but we wear helmet liners on every ride.
The top section of the liner is pretty thin. It has 6 holes which are supposed to direct air on to the rider's head, but the top front vents direct air only through the first two holes in the liner, so the other liner holes seem like they're more show than go.
The top vents have close-fitting sliders which positively shut off the air flow, but they're hard to find when wearing heavy gloves and the left-hand slider on our example is difficult to operate. Perhaps a shot or two of silicone spray lube will loosen things up.
The chin vent opens and closes with a positive snap. It's easy to open it by flipping down the lever on top, but it's harder to close the vent, especially when wearing heavy gloves, because the lever fits nearly flush against the plastic housing. See the video below for a demonstration.
We give the liner an 8 out of 10 and the venting also gets an 8 out of 10. The venting would have scored higher if the air was directed back into some deeper channels in the lining.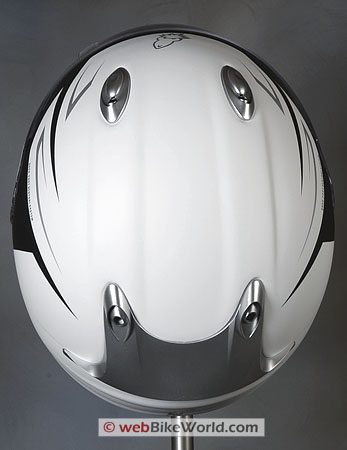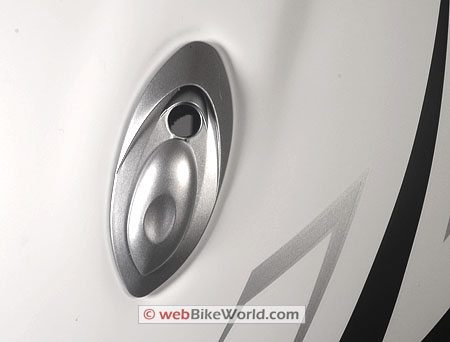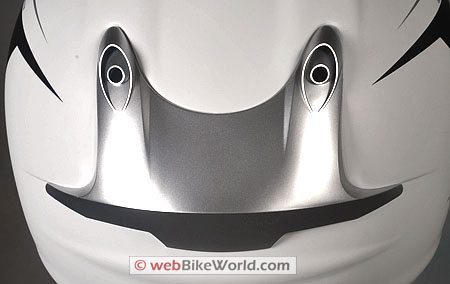 Noise Levels
Surprise – the RKT 101 is quieter than we expected. Those big top vents look like they'd scoop a lot of air and sing the blues at speed, but they're actually not bad.
There is some wind rushing noise over the top vents when riding upright, which is especially noticeable on a touring bike or when a fairing directs turbulent air right at the vents. But close the sliders or tilt forward into a Sportbike tuck and the helmet becomes nice and quiet.
Of course, all of this is helped by the snug fit of our XL, which fits more like a size large. A close-fitting helmet can go a long way to reducing ambient noise levels.
Don't forget, we always wear correctly inserted earplugs when we ride — see the wBWEarplugs and Hearing Protection page for more information on choosing and wearing ear plugs.
For more information on helmet noise, visit the wBW Motorcycle Helmet Noise page.
Helmet Weight
The RKT 101 felt slightly heavy when we first took it out of the box and this was confirmed on the webBikeWorld scales. Our size XL helmet weighs in at 1737 grams (3 lbs., 13-1/4 oz.), which puts it in the top 25-percentile of helmets we've reviewed.
The helmet does feel slightly heavy when riding, but it's not really a problem, possibly because of the snug fit and because the shell doesn't feel oversized.
See the wBW Motorcycle Helmet Weights page for a chart that compares the weights of all of the helmets we've reviewed.
Other Features
Joe Rocket uses the tried-and-true D-ring chin strap system, which is a definite plus in our book. There's a nice hefty snap to secure the loose end of the chin strap.
The helmet could use a bit more padding on the strap protectors, but overall the system works well.
There's supposed to be a "built in communication system speaker cavity" in the helmet liner, but if there is, we can't find it.
The RKT 101 helmet meets DOT and Snell 2005 safety standards and claimed to be "FIM ready".
Conclusion
Overall, Joe Rocket gets a big slap on the old back for a job well done, especially since this is their first try at creating a helmet that will meet the expectations of Joe Rocket customers. We have a few nits to pick here and there, but the RKT 101 is a real winner and all bets are that things will only get better from here.
w

BW

 Review: Joe Rocket RKT 101 Helmet
Manufacturer: Joe Rocket
List Price (2007): $249.99
Colors: Colors and graphics.
Made In: Korea
Review Date: March 2007

Rating Scale is subjective: Unacceptable, Poor, Neutral, Very Good, Excellent, Outstanding.
Note:
 For informational use only. All material and photographs are Copyright © webWorld International, LLC since 2000. All rights reserved. See the webBikeWorld® 
Site Info page
. Product specifications, features and details may change or differ from our descriptions. Always check before purchasing. Read the
Terms and Conditions
!
Owner Comments and Feedback
---
From "D.H." (June 2010):  "After reading your review on the standard RKT 101, I purchased the Carbon 101 as there are many clearances and I got a super deal on 2 Carbons, one for my wife who wanted something lighter and same for me too.
She hasn't had the chance to ride with hers, but I took mine out today and well…
Light is the right word for this helmet, I could wear it all day and no neck strain. Definitely a 10. (Editor's Note: The author is referring to the Carbon Fiber version).
Fit and finish were exceptional. I got more looks and stares than I ever did with my HJC. I would like to see the cheek pads a little thicker for a snugger fit.
Since the site doesn't give you an idea of the standard size and every place you go will leave you confused at what size to order. Sent a email to Joe Rocket and waiting for their reply.
These were the pros.
The cons and the one that will have me sending mine back is the noise. Generally I wear ear plugs, but for short jaunts I usually don't. The noise from the top vents reminded of howling wind through a tunnel.
Depending on (my) head position, down minimizes it, straight up on my cruiser I had to keep them closed.
Face shield noise was on a level that actually had me turn around and come straight home and by the time I did, my ears ached and I had a headache.  Felt like I was in a Jumbo jet's prop wash.
Seems the majority of noise came from around the quick release mechanisms on both sides. I was almost able to eliminate it by covering them up with my hands, but of course one can't drive this way.
You can see where the shield doesn't seal when you look down through there. Perhaps wearing it behind a windshield would eliminate 95% of the wind noise, but since I only use my windshield on highway rides, well then.
My HJC is very similar in style, almost an exact match seeing that HJC makes Joe Rockets and they are a division of HJC. For noise and ventilation I would have to give it an exceptionally poor rating.
Overall I have found most of your reviews pretty spot on, but this one missed the mark. Going to look into a Shoei RF100 which I have tried on and liked, but haven't ridden it yet.
Editor's Reply:  Thanks for the feedback. Note that we review one sample out of the production run, which may or may not be representative of the entire output.
Also, these reviews aren't definitive, they are opinions. You have your opinion and we have ours, that they're different isn't surprising, it's normal.
The RKT 101 review was published in 2007 and specifications or build quality can change over time as the manufacturers work to reduce costs.
Also, helmet noise is highly variable and depends on the individual fit to the rider's head, the type of motorcycle, windscreen or fairing (the presence of which basically throws all conclusions out the window because they almost always create a lot of helmet noise) and several other factors.
From your description, it almost sounds like the helmet does not fit your head shape correctly, or it may be the incorrect size?  This happens frequently, when the fit isn't exact, there may be an increase in noise levels.
It happens to me all the time because I'm in between sizes for an L or XL.
You mention you're using the helmet on a cruiser, and the more upright seating position will almost always create more top vent noise when wearing a sportbike styled helmet (i.e., a helmet with top vents optimized for a leaned-forward riding position).
It could be that you're getting the classic "blowing over a Coke bottle" noise which is typical when a helmet that may have top vents designed to be efficient in the leaned-forward riding position is worn on a cruiser or touring bike with an upright riding position.
I experienced this just recently on the Harley-Davidson Road Glide Custom I reviewed. Again, a windscreen can cause a dramatic increase in noise levels from one or more locations on the helmet.
With regards to the face shield, you may be able to tighten up the fit if the rotating mechanism has screws — I can't remember if that helmet has them or not, but helmets usually have two screws under the face shield on either side on the rotating mechanism plastic assembly.
These screws are used to adjust the fit of the face shield. You have to sort of play with the top and bottom screws to get the shield to seal correctly at the top and bottom. We often get brand new helmets that need adjustment.
Anyway, the bottom line is that there's so much variability in the manufacturing tolerances for a helmet, and the production quality changes so much over time, that it's not surprising that your findings are different from ours.
Hope this helps…."
Response From "M" (A webBikeWorld Visitor):  "This helmet used different size cheek pads per Joe Rocket depending on the release date. The later ones has thicker padding, which would help with the fit and in turn the noise.
I bought the carbon and a deviant version, a thing to note is that liners are different for the carbon and the standard RKT-101 but cheek pads are universal.