Reactor 2.0 Jacket Review Summary
Reactor Jacket Image Gallery
A hot weather jacket that is a happy medium between keeping you cool and keeping you protected. Beating the heat. When the temps go up people tend wear clothes that cover less of their skin.
This of course allows more air to flow over the skin, which then helps to cool the body by evaporation of sweat. This is all well and good for most summertime outdoor activities, but when taking to the streets on a motorcycle, bare skin is, well, it's just a bad idea.
For years — decades in fact — motorcycle riders looking for protective clothing didn't have many choices when it came to hot weather clothing. About the best one could expect was perforated leather, which was a bit pricey for the average rider.
In the early 1990's, my summer riding jacket was of the basic denim type. This of course had no armor, no waterproof lining, and it was not very abrasion-resistant. It was something I wouldn't even consider road-worthy today…but back then there wasn't much of a choice.
About 10 years ago or so, riding gear made (in whole or in part) of nylon mesh started appearing on the dealer's racks. Finally, motorcycle riders with average budgets could buy riding gear that allowed them to stay cool in the heat, yet still get a reasonable amount of protection.
"Reasonable", however, is the word that started to bother me last spring. Let me explain…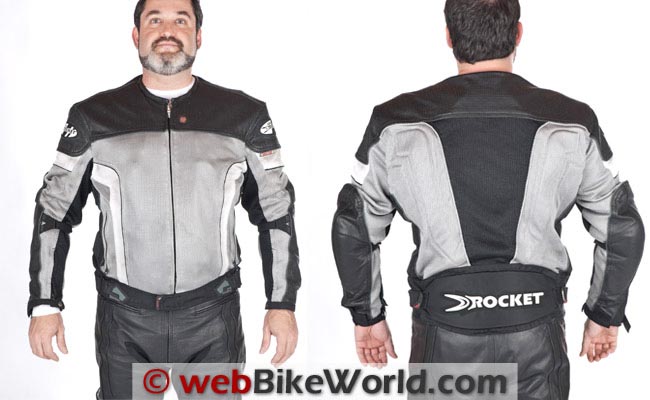 Joe Rocket Summer Gear
When I started riding again after a 10 year hiatus it was winter and the MotoGP Grid jacket (review) I had purchased (and reviewed) at the time worked fine for the cool days.
As summer approached in the Southern United States, however, I needed something with better ventilation. My first mesh jacket was a Joe Rocket Phoenix 2.0 (review). It was amazing from a ventilation standpoint. It was almost spooky how much air seemed to flow even when one was just standing still; it nearly felt like I wasn't even wearing the jacket, except for the way it sort of draped itself on me.
Mesh clothing in general suffers from a lack of "structure" by the very soft and flexible nature of the materials that are used. As such, it seems that internal armor can more easily move and twist around on elbows (or the knees in mesh pants) in the event of a crash.
Also, some say that the mesh material generally doesn't hold up to abrasion as well as leather or solid textiles. If you do have a crash in a mesh jacket, it is likely that the jacket will have to be tossed.
Leather, on the other hand, can sometimes be repaired or it might even hold up well enough to continue its use after a crash.
So, is there a middle ground between the protection of leather and the ventilation offered by mesh? Well it turns out there is — and Joe Rocket makes one of these "hybrid" solutions.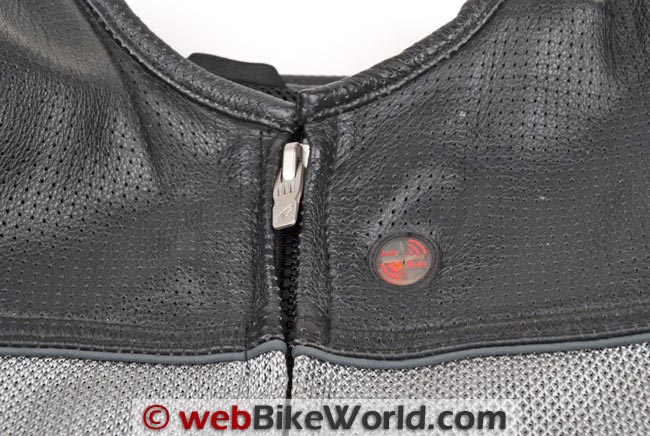 The Joe Rocket Reactor 2.0 Jacket
The Joe Rocket Reactor 2.0 Leather/Mesh hybrid jacket combines Joe Rocket's "FreeAir Mesh" material with leather in the abrasion areas to provide protection and ventilation in one jacket.
The Reactor 2.0 includes CE-approved elbow and shoulder armor, an 8″ attachment zipper for pants and a waterproof liner for cooler days.
On the front are two hand-warmer pockets with a zippered closure, but of course calling them hand-warmers is a bit of an oxymoron on this hot-weather jacket.
The styling of the Reactor 2.0 is reserved but sporty and it is available in four colors; black, gray, blue, and red. This jacket also sports a couple of what I consider the full array of Joe Rocket Standard Features. First is a small rubber grommet near the neck for routing headphones from inside the jacket to the outside and into one's helmet without letting water through the opening.
The other feature, which personally I find a lot more practical, is the face shield pocket that wraps around the wearer's right side. This pocket is deep and lined with a very soft material to protect an extra or tinted face shield one might want to have along for a ride. The comfort and ease of use of this pocket will of course vary depending on the girth of the wearer as the shield will wrap around from the upper area of the stomach around towards the kidney area in the back.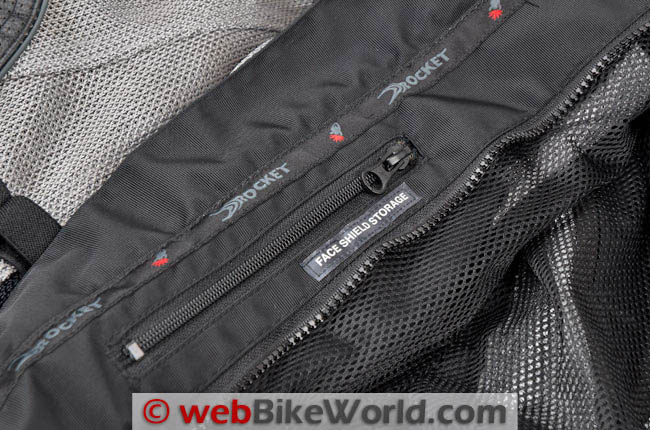 Construction and Safety Features
The Reactor 2.0 appears to be more mesh than leather (according to the label it's not; more on that later) with nearly the entire front of the torso composed of the Joe Rocket FreeAir Mesh material as well as the inner facing sides of the arms. Mesh is also used across the back and the inner facing sides of the arms as well as the back.
What struck me about the label is that it claims that the jacket is 55% leather and 45% polyester on the outside. Looking at the jacket I would say in terms of area that it's closer to 30% leather and 70% polyester, or mesh. I am going to assume that this label is either incorrect or is based on the weight of the materials rather than actual area covered.
The outside facing parts of the arms, from the wrist to just above the elbow, are covered in perforated black leather. Likewise the shoulders and upper torso are covered with the same leather with the leather reaching down from the collar about 3.5 inches (this may vary depending on the size of the jacket).
I would rate the thickness of the cowhide leather used on this jacket as "medium", but this is a best guess. Joe Rocket doesn't list the particular thickness of the leather used on the Reactor 2.0. It does have a good feel though, which again I would rate as "medium" or average. I've felt softer, higher quality leather, but I've also felt much worse.
Zippers and Stitching
The zippers used in the Reactor 2.0 also demonstrate how the jacket has been manufactured to a price. Instead of YKK zippers found on many jackets, the zippers here only feature a "Rocket" logo and don't really provide a clue as to their true manufacturer.
The zippers didn't jam or break during use, but they are not particularly smooth and easy to use either, thus the term "average" comes to mind here.
The "average" rating also seems to apply to the stitching used throughout the jacket. Though evenly spaced and uniform, the Reactor 2.0 came out of the box with a couple of pulled threads. To be fair, having ridden in it during a summer season, no other threads have pulled and there was no further degradation.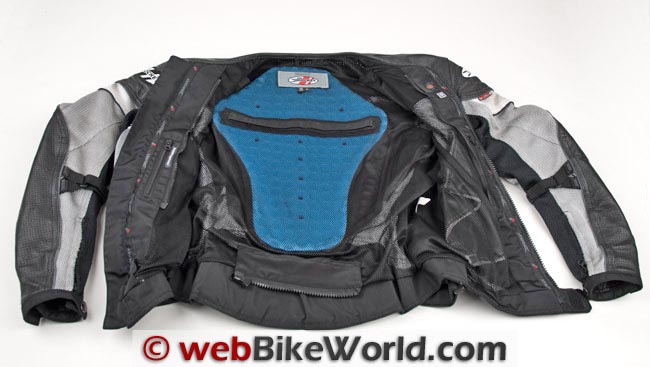 Padding and Armor
In addition to the leather and mesh, there are large sections of non-perforated polyester textile sewn in to the sides of the torso under the arms. In these sections are three foam blocks which add some impact protection for the ribs.
The blocks feel like they are composed of a soft foam material and are about .50″ to .75″ thick. This is nice and I suspect a pretty rare feature as I can't think of many other jackets that add protection in this area.
On the back there are some additional sections of similar foam armor sewn into the mesh material between where the back protector is and the foam blocks mentioned above are located. They can be seen in the photos as two narrow embossed-looking sections on the back.
The armor included with the Reactor 2.0 jacket includes (claimed) CE-rated pieces in the elbow and shoulder areas. The armor itself is of a thick, rubber-type material that seems very robust
Openings in the lining of the jacket make it easy to remove and replace this armor if needed. The included back pad is a step above what some manufacturers put in their jackets by being thicker and stiffer than the default thin sheet of foam often installed.
The Joe Rocket back pad is more like a semi-flexible Styrofoam type material about ½-inch thick with holes in it for ventilation. I still would (and did) replace this pad with a proper back pad that is CE-rated and actually I don't believe that these or other included foam pads are intended to protect — I believe they are more for making the jacket look better on the rack than anything else.
Once a good back protector is inserted or if you are wearing a separate back protector, the combination of armor and the sections of leather on the Reactor 2.0 jacket should provide good protection in the event of a crash.
The big difference versus a full on mesh jacket would be the abrasion resistance of the leather covered areas which should be substantial. Personally I feel better protected knowing that extra protection is there.
Reflectivity
The lower portion of the back is another area of non-perforated textile containing more foam armor. This area also has a large, reflective "Rocket" logo patch sewn into it for some night-time visibility.
Running from the shoulders down to the front of the jacket are portions of the mesh that are white and have been treated to be reflective. There is also a small patch of the same reflective material just under the leather at the shoulders.
Lining
The lining of the Reactor 2.0 is a thin open weave single layer mesh which allows plenty of airflow from the mesh areas to the inside of the jacket. In the sleeves and in the back there are hook-and-loop fastened openings for accessing the armor for removal and replacement. This makes it easy to upgrade and replace the armor (as well as facilitates up close photos for reviews).
Pockets
Inside there are two pockets, one of which is the face shield pocket mentioned earlier, found on the right side of the jacket that sits between the main zipper and the zipper for the included removable liner. The other is a waterproof pocket located on the left side positioned in a similar way as the right side.
This pocket can easily carry a wallet or other larger items but I believe the designed purpose is to carry a portable media player or phone.
Located a few inches above the pocket is the port or grommet that one can run a headphone wire through. At the top of the waterproof zipper on this pocket is a small section of stretchable material that looks like a wire is meant to be zipped up into it. Both pockets are positioned so that they can be accessed easily even if the accessory liner is installed.
Wind and Waterproof Liner
Included with the Reactor 2.0 jacket is a windproof/waterproof liner that can be zipped into the jacket in case of inclement weather.
I would consider this liner a "just in case" item rather than a regular usage one as the material doesn't seem to breathe much, if at all. As such one can get a bit sweaty in it and then, if it is cold out, can make you feel even colder. For keeping dry (or drier at least), it would work in a pinch.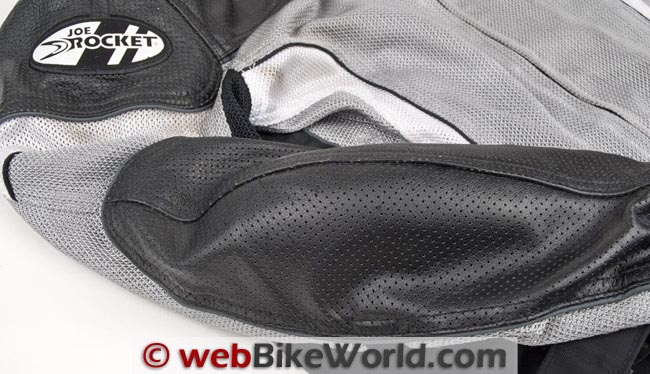 Fit and Comfort
Joe Rocket clothing has typically run true-to-size in the various bits of their gear I've tried over the years, and the Reactor 2.0 jacket is no exception.
The size large pictured fit me as expected and is consistent with most other brands size large. The jacket still feels a bit large but I believe it is more about being loose than too big as the mesh material doesn't provide much of a structure to the jacket.
To assist the owner in getting the best fit, Joe Rocket uses what it calls a "6-Point Sure Fit custom adjustment system". While it sounds very interesting, in actuality it amounts to adjusters on the sleeves, wrists, and waist (two each). For instance, each wrist closure consists of a snap and section of hook and loop fastener which allows one to adjust the size of the opening. There is not much adjustment here but it worked for me.
At the waist are two hook and loop adjustable straps for custom fitting the waist for a secure fit. Likewise, below the elbows on each sleeve is another hook and loop adjustment strap. Tightening this strap will help to keep the internal elbow armor in place in the event of a spill and will also keep the sleeve from flapping in the wind when on the highway.
Flapping in the wind does turn out to be a problem in other areas. I prefer a collar-less jacket with a snug fit around the neck, preferably one that has a bit of adjustment. In the case of the Reactor 2.0 jacket, there really isn't a collar to speak of; rather it is more of an open crew-neck design. This design element, it turns out, can develop into a couple of annoying shortcomings.
Wearing the Reactor 2.0 jacket while riding a sport bike or unfaired bike, or on any motorcycle with a small or absent windscreen, the large opening around the neck can flap around in the wind. At highway speeds it can become quite annoying and possibly even dangerous.
I once tried out a new helmet while wearing this jacket on the interstate. Once up to speed, the helmet shook and vibrated violently to the point it was difficult to see. Understandably alarmed, I pulled off at the next exit and crept my way back home on secondary roads.
The next day I rode to work in my older helmet and found that while it didn't shake violently like the one I had tried the previous day there was some shake and vibration going on. I reached my hand up around the back of my neck and could feel the jacket flapping and beating on the bottom of the helmet.
Of course I then tested the new helmet wearing another jacket and found the vibration and shaking gone. I don't see everyone having this issue but I was surprised that this particular design point could cause so much trouble. Those riders with taller windscreens such as touring bikes might not be affected like I was. They also would be less prone to another issue I had with this open collar design.
On one of the first rides I took when reviewing the Reactor 2.0 jacket I was out riding on the Natchez Trace Parkway, a rather well-known and popular stretch of asphalt to ride and drive on. While I was riding I noticed that the jacket opening did seem to be rather large and I briefly worried "What if a bee flew in there while I'm riding?".
As if to answer my unspoken question, I felt something small strike my neck as I was coming upright out of a right-hander. I reached up and felt my neck and thought must have hit a bug but it wasn't a big deal. About 10-15 seconds later though I felt a tiny sharp pain on my chest and I knew what I had hit. I was lucky that I was near a rest stop and was able to pull off quickly.
I was stung 3 more times before I was able to get the jacket and t-shirt off to set the small bee free. I was fortunate that is was a small one and not a larger bee or wasp. Is this really a defect with the Reactor Jacket, well maybe not. I have since made sure to hunker down closer to the tank though when out riding in more rural settings with this jacket on.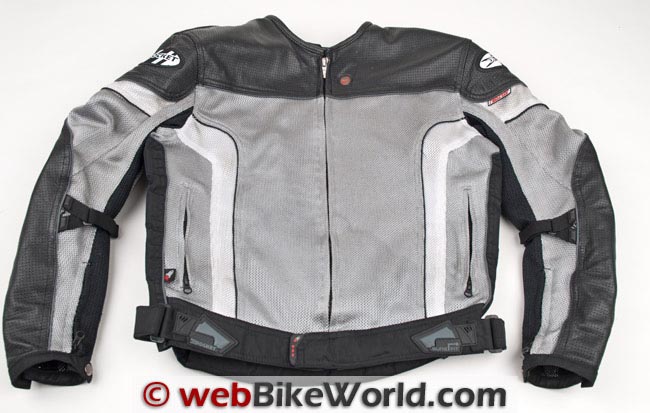 About That Ventilation…
The whole point of the Reactor 2.0 Jacket is to allow one to stay cool when riding on hot days and it does do this job well, while in motion. The mesh fabric is the same used in their Phoenix line of mesh jackets and it does have nearly as much airflow.
The obvious restriction is the sections of perforated leather which simply wouldn't flow as much air and in this case they really don't seem too. I previously owned a Phoenix jacket and remembered how well air flowed through it. Even when standing still a small breeze was very noticeable. I hoped for similar results but instead I found that when I put the Reactor 2.0 jacket on indoors, before I even headed outside, that I started feeling warm around the neck and shoulders.
I was surprised how warm it got being indoors and ended up taking it off until I was ready to hop on the bike. I thought this was odd so I did test these circumstances again on a few occasions and was always surprised that I needed to remove the jacket after a few minutes of standing around in it.
Stopping at a traffic light wasn't really long enough to cause this effect so I was always satisfied with how well it worked on the road. I just knew I' d want to take it off when I stopping for more than a few minutes.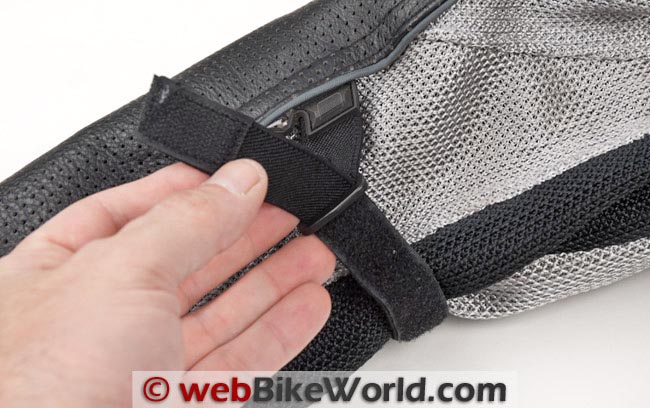 Conclusion
The Joe Rocket Reactor 2.0 Jacket is a good example of "you get what you pay for".
There are some aspects of the construction that aren't perfect. The quality of the leather is good, but not great. The zippers aren't the best and can be a little fussy, but they didn't jam or break. Some threads had pulled before it was even put on the first time, but they have not deteriorated since.
Considering the street price of $179.95, these issues can be understood (though the thread pulls should not happen).
There are some good features that help to bring the value up at the same time. The face shield pocket is a very useful feature and there are some who may find the headphone port very handy.
Also, the FreeAir mesh does do its job at keeping the rider cool despite the attempt by the leather sections to do the opposite. In fact, I think that the Joe Rocket mesh material is some of the best there is, as far as overall air flow.
The only thing I believe lets the Reactor 2.0 down is the collar design. The negative experiences I had with this design will of course be subject to the rider's height, windscreen, type of motorcycle, and other factors, so "your mileage may vary" as they say.
In fact, some people might really like the looser feeling of this style and will not find it a shortcoming as I found it to be.
w

BW

 Review: Joe Rocket Reactor 2.0 Jacket
Manufacturer: Joe Rocket
List Price: Jacket – $199.99 to $219.99
Sizes: S to 5XL.
Made In: China
Colors: Black, Blue, Red, Gray.
Review Date: March 2012
Note:
 For informational use only. All material and photographs are Copyright © webWorld International, LLC since 2000. All rights reserved. See the webBikeWorld® 
Site Info page
. Product specifications, features and details may change or differ from our descriptions. Always check before purchasing. Read the
Terms and Conditions
!
Owner Comments and Feedback
---
From "D.R." (July 2012): "The Joe Rocket Reactor 2.0 mesh/leather jacket is a great summer jacket, but not without several negatives that will ultimately prevent me from buying another.
First are my thoughts on the positive aspects:
1. Airflow! When you buy a mesh jacket, chances are you want something that breathes well in summertime heat. Here in central NC, it gets plenty hot and humid in the summer and this jacket moves a lot of air. I owned the all black model which worked great once under way.
2. Protection. I did have a nice little spill and tumble into grass while wearing this jacket. I am happy to report it held up great and showed no damage, although I suppose soft grass is about the best place to crash if you have to.
3. Storage. The jacket comes with plenty of storage pockets as you've reviewed. However, I do believe the face shield pocket should be standard on every motorcycle jacket made! Even after my accident above, the shield I had in this pocket was unscathed. Its convenience cannot be emphasized enough as someone who likes to have a backup clear shield ready depending on the time of day and how long I'm riding.
4. Fit. Every jacket fits differently, but I will use this jacket as the standard for which I compare all other size large jackets. It literally fits me perfect.
5. Reflectivity. This jacket has it; I like to be seen at night!
Negatives:
1. The flapping material mentioned in the review ultimately was the reason I had to retire the jacket. After riding with it for a couple of summers on sportbikes, the buzzing became unbearable at highway speeds. The thin leather around the shoulders may offer some additional protective qualities, but it just doesn't work on this jacket at speed.
2. I'm not sure I understand the reviewers' comments above regarding the styling of the jacket. Don't buy it if you don't like the looks. That said, I did underestimate how large the "Rocket" tramp stamp was on this jacket. It wasn't large enough to be the only reason I got rid of it though.
In the end, I felt I got my money's worth out of the jacket. It provided a tested modicum of protection and the comfort I needed in the dead of summer. Unfortunately, the flapping/buzzing was too much in this rider's opinion."
---
From "G.K." (March 2012):  "Awful. I'm no fashionista, but I'm not wearing this thing.
I think if manufacturers would start making protective gear that could be worn off of a bike, and not make you look like an extra from Biker Boyz, people would purchase more of it and actually wear it. The majority of manufacturing and design seems to come from Asia and Europe, so it makes sense that stylistically this would be reflected in the clothing they make.
These two areas also have a much larger population of riders than the US and Canada, so again, manufacturing caters to the majority of buyers.
Before anyone starts screaming about how "it-doesn't-matter-what –it-looks-like-as-long-as-you're-protected", I agree that if the only way to protect yourself was to wear something this ridiculous looking then I would wear it (and I do wear ATGATT). However, looks don't preclude effectiveness.
There are dozens of things made both beautiful and effective: the iPhone, the Concorde, certain watches, most Ferraris, all Astons and my Triumph. Please don't buy ridiculous looking motorcycle gear like this (unless you were actually an extra in Biker Boyz – in which case I doubt you would read this website). It only encourages manufacturers and retailers to create and sell more garments like this."
---
From "S.W." (March 2012):  "I wish manufacturers would refrain from stamping their logos in big letters all over their gear. I'm a middle aged guy who does not want to look like a teenage boy racer. I'd even pay more not to have "Rocket" stamped on my jacket.
On a related note, it is nice to see them use leather on the strike points as most cheaper, polyester mesh gear I've looked at seems almost useless from a protection point of view."