Jacket & 2.0 Pants Review Summary
Jacket & 2.0 Pants Image Gallery
The Joe Rocket Phoenix mesh outfit is reasonably priced.
The jacket fits well and it flows a lot of air.
It is also an improvement over the original Joe Rocket Phoenix jacket.
But the fit of the pants is a problem and they're not as well ventilated.
Bottom line: buy the jacket; skip the pants.
The original Joe Rocket Phoenix jacket started the mesh motorcycle clothing trend way back in 2001.
It was one of the first products reviewed on webBikeWorld.com.
While there may have been other mesh jackets for sale around that time, the marketing power of the Joe Rocket brand and the Phoenix name helped promote textile mesh clothing as a true hot weather riding alternative.
Before that, there wasn't much more than sweat.
And here it is, 6 years later, and the Phoenix jacket is still with us.
This is pretty amazing actually; most companies seem to have about as much loyalty to items in their product line as Squidward does to the Krusty Krab.
So kudos to Joe Rocket for continuously improving the Phoenix jacket over the years and also the rest of their line of motorcycle clothing.
It's impressive to find that a manufacturer will keep working on the details year after year in an effort to improve their products.
Phoenix Ruminations
The Phoenix 4.0 jacket shown here is apparently Version 4 of the design, but as far as I can tell, the basic Phoenix jacket concept hasn't really changed all that much.
Joe Rocket has added more features and kept the price pretty much the same.
And I wouldn't be surprised to learn that the mesh fabric is probably stronger than what was available 6 years ago, but I'm not certain about that.
This tells me that the original Phoenix mesh concept was a good one, because it doesn't seem to me that there really isn't all that much difference between the original (maybe it'll be a collector's item some day?!) and Version 4.0.
The Joe Rocket Phoenix 2.0 Pants are, I assume, Version 2 of the original.
I'm not sure when the Phoenix pants first became available; I vaguely remember looking at a pair maybe in about 2004 or so?  I remember the original Phoenix pants having mesh that was too transparent for my liking.
The Phoenix pants were originally designed as over-pants, so this shouldn't have been an issue, in theory.
However, I never bought a pair because they seemed like the cut was too loose for me.
So now it's 2007. Summer has brought us some too-hot weather and nothing in my clothing inventory seems cool enough for riding a motorcycle.
I think a combination of 90+ degree temperatures and 90+ percent humidity is just too hot for motorcycle riding; surely too hot for leathers anyway, perforated or not.
I usually try to avoid riding in jeans, but I have to admit that jeans and my original Joe Rocket Phoenix jacket are about as stripped-down as I'll go when it's this hot.
So I thought that maybe it was time to try the new Phoenix 4.0 jacket and match it with a pair of the Phoenix 2.0 mesh pants and see if they would feel cooler, also hoping that the outfit will provide better protection then jeans and my original Phoenix.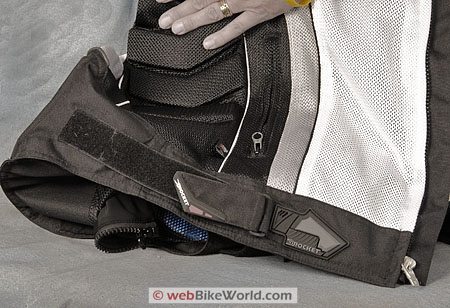 The Joe Rocket Phoenix 4.0 Jacket
At first glance, other than the styling and a few trim details, the Phoenix 4.0 jacket doesn't seem that much different from the original Phoenix jacket reviewed by webBikeWorld back in 2001.
But Joe Rocket has added quite a bit, as we shall see.
The original Phoenix was basically just a mesh jacket with some internally attached armor, a zip-up front and a short attachment for Joe Rocket pants.
I still wear mine when the temperature soars, and I've probably put more miles on that jacket over more summers than any other jacket I own.
It hasn't failed me at all and everything on it works and looks just as good as it did when I bought it for $120.00 in 2001. Now that's value for the money!
Amazingly, the new Phoenix 4.0 lists for only 10 bucks more than it did 6 years ago ($149.99 vs. $139.99), and although it's still the same functional jacket, it has some very functional upgrades.
First of all, I think it has better styling — the original looks plain in comparison. And I think it fits better — slightly more shaped than the original, which was pretty bulky.
The 4.0 is available in a wider variety of color patterns, including the White/Silver/Black shown here, which I bought because I thought that white would be both the most visible and the coolest fabric color.
The styled Black and Silver stripes along the sides also provide a slimming look, which, I think, is a bonus for my body shape!
The Phoenix 4.0 jacket also includes some surprisingly nice removable and full-size back protector. It's better than most of the soft foamy stuff that passes for back protection in many motorcycle jackets I've seen lately.
Joe Rocket also has an optional CE-approved back protector that will fit the Phoenix and other Joe Rocket jackets.
The back protector in the Phoenix is shaped almost identically to the very nice CE Level 2 approved back protector available from Furygan U.S.A., which was featured in the webBikeWorld review of the Furygan "Fighter" jacket (review).
This is great news — maybe the motorcycle clothing manufacturers are taking our hint on standardizing back protector shapes to make them interchangeable between jackets?
Well, wishful thinking — but the good news is that either the optional Joe Rocket or the Furygan Level 2 back protectors will easily fit in the pocket of the Phoenix 4.0.
The waist band adjusters on the Phoenix 4.0 jacket are also new; they seem a little nicer looking and more robust, with a wider range of adjustment. Joe Rocket calls this the "Sure Fit" waistband.
The original Phoenix jacket didn't have a liner, but the 4.0 has a nice removable waterproof liner that's easy to store in a tank bag or even under the seat.
The liner zips in on either side in the front and connects to a loop down at the cuff of the sleeve.
Speaking of cuffs, I actually like the sleeve cuff adjusters on the original Phoenix jacket better than the 4.0 version.
The Phoenix 4.0 sleeve has a short 130mm (~5″) vertical zipper, and at the end of the zipper on the cuff is a snap that I guess is supposed to keep the zipper from opening.
On the other side of the cuff is a very small tab with hook-and-loop that doesn't seem to provide as much adjustment as the system on the original Phoenix jacket.
It works, but seems more complicated and less efficient, but this is a minor nit to pick.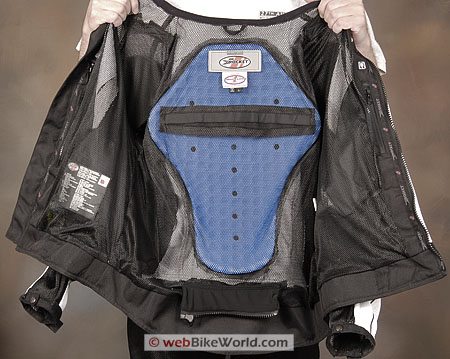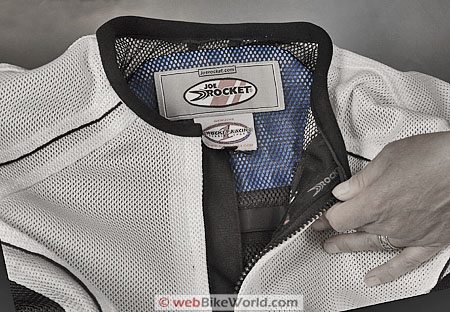 Pockets, Pockets Everywhere
The Phoenix 4.0 jacket also includes zippered pockets, one each inside the placket on both sides of the chest, behind the main zipper.
I really like to have a pocket (or two) in that location, because it's a handy place to stow a wallet.
I feel more comfortable if I can reach up and touch my wallet once and a while to make sure it's still there; for some reason, I'm always afraid it will fall out of my riding clothes.
But here's a surprise: the inner pocket on the left-hand side is waterproof and it has a little headphone logo over it.
That pocket is designed to hold an MP3 player, and there's a vinyl covered access port sewn into the jacket that allows the headphones to be passed through.
All of the zipper pulls on the Phoenix 4.0 jacket have the Rocket logo, but I'd guess the zippers are made by YKK or one of the other big zipper manufacturers. The zipper on the audio player pocket is waterproof.
There's a vinyl cover over the zipper, and it closes up tight as the zipper is closed. That's a very nice and unexpected touch in a jacket like this.
But since I don't usually listen to music while I'm riding, I've been trying to figure out a way to use the pocket and headphone port to rig up a Poor Man's Camelbak hydration system,, so I can feed a tube through the hole and have some water when it gets hot.
But that's not all: the other pocket on the right-hand side is labeled "Face Shield Storage".
It's huge, and it is lined with a soft material and continues around the rider's rib cage, so the curve of the visor neatly matches the rider.
I tried stowing a visor in there and riding and although I can feel it, this is a useful feature for summer riding.
A tinted visor can be stored in the pocket during the day, then a dusk, the rider can stop to insert the jacket liner and swap visors with the clear one stored in the pocket.
I also discovered that the Face Shield Storage pocket can hold the jacket liner, although it does get a little bulky under my arms when the liner is stuffed in the pocket.
The jacket also has hand pockets, one on either side in the front, with slightly larger Rocket-logo zipper pulls. The zipper teeth are medium sized and feel like they have Nylon teeth and they work very smoothly.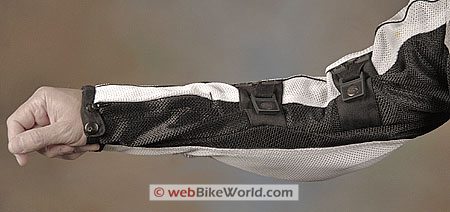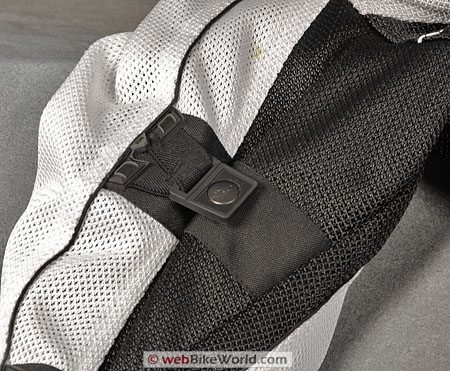 The Joe Rocket Phoenix 4.0 jacket also features two elastic adjusters on either sleeve, one at the forearm and one on the upper arm. These help to keep the relatively loose fitted sleeve in place.
There are two snaps for adjustment, and my rather puny arms use the tightest adjustment to keep the sleeves snug.
The snaps that batten down the adjuster tabs seem to have a slightly loose fit and they've come apart once or twice as I was putting on the jacket, so I'm a little apprehensive that the snaps may not hold the sleeve and armor snug in a crash.
The jacket also has reflective piping up the back and front, along the sides, near the border of the black and silver fabric.
Sizing
A word about sizing: the Joe Rocket Phoenix 4.0 jacket is available in an expanded size range, from XS to XXXL in Blue, Gray, Red, White and Yellow, all with Silver and Black accents.
They also offer the jacket in M to XXXL Tall and XS to XXXXXL (5XL) sizes, but only in all Black. Great news for many riders!  Pricing ranges from $149.99 to $169.99 for the larger sizes.
Air Flow
OK, so how does it work?  Pretty much like the original, which is no surprise. I still remember the first time I wore the Phoenix mesh jacket.
New riders might not realize that there really weren't any good options for warm weather riding only a few years ago.
The Phoenix 4.0 flows a lot of air, although I don't think it feels the same as wearing a T-shirt (but who'd want to do that anyway?).
Let's just say that the jacket flows as much air as is practical, considering the elbow, shoulder and back protection.
It's a good tradeoff, in my opinion. I've worn several different brands of mesh jackets, and the Phoenix 4.0 flows air with the best of them and probably better.
Conclusion: Joe Rocket Phoenix 4.0 Jacket
My opinion is that Joe Rocket makes some nice gear at very reasonable prices, and it's readily available in almost any motorcycle shop.
I've been a big fan of the Phoenix jacket ever since it first hit the market in 2001, when it was a revolutionary new way of dressing for motorcycle riding in the summer.
It's a testament to the concept that my original Phoenix jacket is still just as useful today, but the 4.0 version adds a lot of new features at almost the same price. It's very hard to beat that!
By the way — as we said 6 years ago, there's absolutely no excuse to be riding in a T-shirt in the summer when you have products like this at this price and with the huge range of available sizes.
Joe Rocket Phoenix 2.0 Pants
This is my first experience with Joe Rocket's Phoenix mesh pants.
They're designed as over-pants, but some riders wear them as regular riding pants.
I've been wearing these with a pair of cotton climbing shorts underneath, which have lots of room.
I don't think you'd want to wear the Phoenix 2.0 pants without wearing at least a pair of shorts underneath, because they're slightly see-through and I'm not sure how hot melting poly fabric would feel on bare skin during a pavement luge run.
Sizing and Leg Length Problems
The Phoenix 2.0 pants seem to run about one size small, in my opinion.
The most important fact to note is that, as of this writing, the Phoenix 2.0 pants are unfortunately not available in separate waist and leg length sizing.
After consulting the size charts, I ordered the pants in size XL, which I think will fit a size 35″ to 36″ waist.
The problem is the leg length — the Phoenix 2.0 pants do come in regular and short lengths, but the regular length on every size is 31″, as far as I can tell.
The only option is ordering the short length, all of which have a 29.5″ leg length, according to the New Enough sizing charts (where the outfit was purchased).
It seems strange that 31″ is the only length offered by Joe Rocket on the Phoenix 2.0 pants, whether it's a size small or 5XL.
I think a "normal" leg length on most motorcycle pants with a 36″ waist should be about 33″, which is longer than a street pant, but designed to provide the correct amount of room for bent legs when seated on a motorcycle.
The problem for me is that I normally take a 31″ inseam, so the 31″ inseam on the Phoenix 2.0 pants means that I don't have enough length when I'm sitting on the bike; thus, the pants ride up way too high up on my shins when I'm on the bike.
This is unfortunate and may be a deal-breaker for some, so make sure you check the length, talk to the retailer, try on the pants and check the return policies if you're buying online.
Other than that, the pants do come in an extended range of waist sizes, from S to XXXL in short lengths and from S to XXXXXL (5XL) in "normal" lengths. Order any color you like, as long as it's black.
The Phoenix 2.0 pants aren't completely mesh; Joe Rocket's "Rock Tex" fabric covers the seat up to the waist and it's also used to cover the knees. Rock Tex is their trade name for what feels like Nylon fabric to me.
The pants have full-length zippers on the outside of either leg that go all the way up to the hips.
Besides the leg length issue, the lack of adjustment down at the leg cuffs also is disappointing — there is none.
This means that the legs and cuffs are free to slap around in the wind.
The legs have the full-length zipper on either side to allow the Phoenix pants to be slipped on over a pair of street pants, and each leg also includes another zipper located 1/4 of the way around the leg from the long side zipper.
This one extends vertically upward about 30 cm or so (12″),
I'm not quite sure what this shorter zipper is supposed to do. I guess when it's unzipped, it helps the rider fit the lower part of the pant leg over a pair of boots?
There's no adjustment at the pant leg cuff, and the shorter zipper I suppose could be left open, which would make the pants like a pair of bell-bottoms.
But my feeling is that the lack of adjustment or any type of cinch down at the bottom of the leg is problematic.
Maybe we have to wait for version 3.0 or 4.0?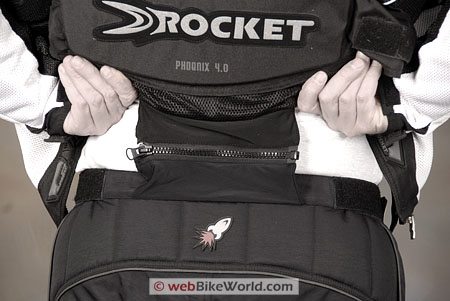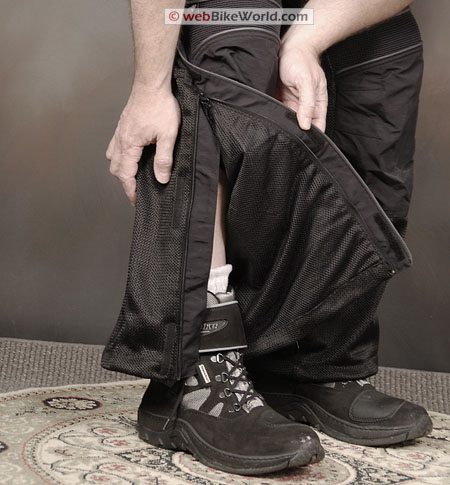 Waist
Up at the waist, the Phoenix 2.0 pants have adjuster tabs on either side and long sections of elastic in the waistband.
The waist feels comfortable, but I think the combination of the soft mesh material and the rather loose fit of the pants can make the waist bunch up slightly, especially if the pants fit slightly large.
There's a plastic buckle built in to the top of the pants in front to serve as a connector and a sort of belt, but there's no adjustment here.
The fly is a zipper, but the flap covering the fly doesn't include hook-and-loop or snaps or anything that helps to keep the fabric closed over the zipper, and the result is that the fly can look like it's open.
Padding and Protection
The Phoenix 2.0 pants have CE-approved removable knee protection (Joe Rocket doesn't call it "armor") and small removable padding on either side for the hips.
But the pants have a loose fit, which means that it's easy for the padding and knee protection to move around.
I eventually removed the protectors in the pants and use some armored underwear instead; I've been using the Forcefield Action Pro armored shorts (review) to good effect; see also the wBWreview of the Bohn Cool Air armored underwear (review), favored by Rick.
The pants also feature a short attachment zipper, which connect to the Phoenix 4.0 or other Joe Rocket jackets.
Conclusion: Joe Rocket Phoenix 2.0 Pants
I'm disappointed with the design of the pant legs. I wish Joe Rocket offered more options for leg length, and I do think there should be some adjusters or hook-and-loop cinch tabs at the leg cuff.
I honestly don't feel that much more air flow when riding in these pants than I do with the Joe Rocket Blaster perforated leather pants.
But I feel much more protected in the Blaster perforated leather pants, so I think I'll stick with those for a while and wait for the Phoenix pants Version 3.0.
w

BW

 Review: Joe Rocket Phoenix 4.0 Jacket and Phoenix 2.0 Pants
Manufacturer: Joe Rocket
List Price (2007): Jacket $149.99-$169.99. Pants $139.99-$159.99.
Review Date: July 2007
Made In: Jacket: China. Pants: Indonesia.
Colors and Sizes: XS to XXXL in Blue, Gray, Red, White and Yellow, all with Silver and Black accents. They also offer the jacket in M to XXXL Tall and XS to XXXXXL (5XL) sizes, but only in all Black.
Note:
 For informational use only. All material and photographs are Copyright © webWorld International, LLC since 2000. All rights reserved. See the webBikeWorld® 
Site Info page
. Product specifications, features and details may change or differ from our descriptions. Always check before purchasing. Read the
Terms and Conditions
!
Owner Comments and Feedback
---
From "K.R." (1/09):  "I enjoyed reading your write-up on the 4.0 jacket from Joe Rocket; you have an easy and entertaining to read style.
I know you guys didn't state that you 'tested' the jacket, so I don't feel it's fair to criticize your article from that standpoint.
However, I would like to give you some information that I observed first hand (Empirical data, if you will).
About two years ago we (some riding friends and I) took our annual pilgrimage to the Ozarks to enjoy the roads around Eureka Springs.
A friend went down at about 40mph and knocked over his best friend (who was doing about 5mph) in the process; both had the Joe Rocket mesh jackets on (2.0 or 3.0…I don't know).
Both jackets were ruined. The 5mph tip-over tore the jacket at the cuff and on one of the elbow pads…you can't sew them back together. No protection needed and that thing got smoked.
The 40mph get off was a 'spiritual awakening' for the rest of us who had been lusting after the mesh jackets during our mid-June heat-wave ride (the rest of us wore leather).
The 40mph jacket came apart like rice-paper in a hurricane; protection was needed and that thing offered NONE.
The elbow pads 'bit' in and twisted around the arm to let the mesh fabric instantly tear and that rider had the sort of injuries that a rider would sustain in 'beach attire'.
It would take too much space to accurately describe the carnage that jacket sustained…pathetic.
Bottom line is that the Joe Rocket mesh jackets offered NO protection to their pilots…but they sure looked cool. I will NEVER buy one of them.
Now I might think about a Motoport…but I'd like to know how they'd hold up, too.
Good work. Please keep it up."
---
From "G.C.":  "Hi and thanks for a useful, well written piece….
I have no long term riding experience of the new jacket, other than I tried one on and concur strongly with the comments on style and colours.
What I can offer you are my views on the air mesh concept, coupled with the first version of the Phoenix, which I purchased when they first appeared in the UK in 2002 and which I have used consistently ever since and not just in the height of summer.
It may add some supportive evidence and a useful comparison.
When I first held up the "Mk.1" Phoenix to look at it, my thoughts were a mixture of, "Why have I just ridden 40 miles to try this weird 'thing' on" and, "Do they really think these will sell?".
The dealer was a Moto Cross racer and assured me that they were very popular in the sport and so I tried it on.
I have to say that I still had a nagging doubt but as I was about to embark on a 3,000 mile tour of four very hot American states (Nevada, Utah, Arizona and California).
I suspended my initial prejudice went for it, encouraged more by the price than anything else, figuring it was cheaper than a couple of corporate branded T-shirts from any main franchise motorcycle dealers – well Harley anyway.
That jacket was the best value garment I've ever bought. I managed a month of UK summer riding in it before I left for the States.
I liked it so much I tried to get one for my wife but they were as rare as hen's teeth and I had to settle for a Belstaff equivalent – remember, we're from the UK and long hot summers are rarer than the aforementioned (but maybe as common as rocking horse droppings).
I wore the Phoenix throughout my 2 week ride and in conditions that included early morning frost in the heights of Bryce Canyon Utah, bitter cold and heavy rains around Grand Canyon and the blistering heat of Nevada, Death Valley and the Mojave Desert.
Apart from adding the necessary under-jacket layers and an outer waterproof for the cold and wet conditions, this jacket did exactly what the company blurb said it would.
Although, thankfully, I am not able to add to the testimonials of those owners who wrote to Joe Rocket singing the praises of it's protective capabilities.
A lot of the guys we rode with did the "T Shirt" thing when the temperatures soared into 3 figures. We stuck with our jackets and the result was tangible.
We were noticeably cooler and less weather-beaten than our stripped down colleagues. In Death Valley particularly, we noticed that it is so hot your perspiration evapourates immediately from exposed flesh.
With the air mesh jacket, sweat is able to remain on your skin for longer, allowing the airflow through the mesh to cool it – just like the human cooling system is designed to do.
In practical terms, we were not getting sunburnt and we were noticeably less heat-stressed than our friends. We were asked several times, "How come you guys aren't roasting, wearing those jackets?". Q.E.D?
Back in the UK I have continued to wear the Phoenix on hot days and often up to the first sniff of Winter (underneath my rain jacket).
I consider myself a serious 24/7 rider and use a BMW 1150 GS as my everyday transport (The Road King comes off the road when the salt and grit start to get dished out).
I will concede that on most days it's the Hein Gericke all weather gear, but Joe Rocket's Phoenix has my vote as one of the best and most versatile items of clothing in my motorcycle wardrobe."
---
From "L.N.":  "I just finished reading your Joe Rocket Phoenix 4.0 jacket and I felt you missed a very important issue with the jacket.
First let me expand on my experience with this jacket. I purchased this jacket when they first came out, so I have been using it for several months.
It has been worn for commuting, weekend rids, and a five day mountain excursion.
For the most part I have to agree with you that the jacket is great, good airflow and nice features. But it has a real problem in my book that is related to the back protector.
It rides up and presses against the bottom of my helmet. I never had this problem with my Teknic mesh jacket. I find my self raising my head just to try to shove it back down.
There is also the stoplight jacket tug down that helps.
I have tightened and adjusted the waist but nothing helps. I do not have a real aggressive sport bike. I ride a Suzuki Katana 600.
I assume you did not discover this issue either because you did the test with the paints attached, which I don't have, or your bikes have a standard ridding position.
I guess my request is to try it for yourself and see if you have the same experience. I find it annoying and probably would not have bought the jacket if I knew the back protector would ride up.
Thank you for your time and I really do enjoy and value your site."
Editor's Reply:  Thanks for your comments. I tried the Phoenix 4.0 jacket with 4 different helmets, riding on a Ducati Multistrada (upright position) and Ducati GT1000 (slightly leaned forward riding position) but did not find unusual interference from the back protector.
I tried the jacket when it was attached to the Joe Rocket pants and also when using the jacket unattached with a pair of jeans.
So there may be something about the combination of bike and jacket and body shape that creates the problem referred to by L.N.
If anyone can comment on this, please feel free to share your experiences at the address above.
---
From "L.S.":  "Just read the new wBW review of the Joe Rocket Phoenix gear. Here are a couple of interesting ideas:
First, I recently "discovered" a helpful tip (which Under Armour has probably known for a long time).
I have both an Under Armour heat gear metal long sleeve T shirt (skin tight fitting), and multiple synthetic loose fitting long and short sleeve wicking T shirts.
Always thought the loose fitting ones would be cooler because they'd breathe more, or whatever. But no. The heat gear skin tight T is cooler.
The reason? If you wear a skin tight wicking T, as soon as you sweat, the garment removes the sweat from your body, and the evaporative process cools you down; i.e. the garment has to be in touch with your skin to do its job.
If you're wearing a loose fitting shirt, that doesn't happen, so you don't gain the benefit of the wicking anywhere near as well.
Second, you might be interested in this (article entitled "Riding Motorcycles in Extreme Heat"). (It) has some great points about riding in really hot weather. I no longer ride above 90 degrees. Just too hot with all the gear on."