Rocket GPX Gloves Review Summary
We've been reporting on the evolution of Joe Rocket clothing for several years, watching the quality rise from mediocre to first-rate during that time. I remember not too long ago when buying a Joe Rocket jacket was nearly the social equivalent of buying a helmet at K-Mart.  But how things have changed…
Joe Rocket gear is still a relative bargain, but the quality and the styling is, in my opinion, right up there with the best, and although I don't know this for sure, I'd bet that the Joe Rocket brand has got to be one of the top selling lines of motorcycle clothing around. These GPX 2.0 gloves are a good example of how the company has changed and why their products are in such demand.
The gloves are new for 2006, and they are part of the GPX line, which is a relatively new Joe Rocket offering, holding down the middle of what might be called the "street performance" market, which includes the "Speedmaster" gear as top dog and the "Blaster" clothing at the other end. There are several other Joe Rocket clothing lines, and only their marketing experts know what it all means, but the GPX gear seems to me to be "near race" ready, targeted at high-performance sport biking or track day events.
The Joe Rocket GPX 2.0 gloves come with some pretty good credentials, with Pittards "Ceramic Infused" leather palms, just like some of the high-zoot Held gloves and other much more expensive types.
They also have plenty of padding on the wrists and knuckles and a double strength wrist closure, which is arguably one of the most important features on any motorcycle glove, but especially so with gloves that are marketed to the high-performance rider. Unfortunately, I'm not sure what the stitching on the GPX gloves is made from, but it sure looks good.  It wasn't very long ago when this type of quality, styling and features couldn't be found on a motorcycle glove at any price.
The GPX 2.0 gloves have thick padding over each finger knuckle, and a vented injection molded knuckle protector over the back of the hand.  And the vent really does seem to work; I could feel the air rushing over the back of my knuckles while riding in cool weather recently. There's plenty of leather on the palm, with extra reinforcement over the heel of the hand, around the thumb and forefinger and across the top of the palm just below the fingers.
The GPX 2.0 gloves have a dual wrist closure, with a thinner band that cinches around the wrist and secures with Velcro across the top of the glove.  The gauntlet has thick padding on both the inside and outside of the wrist.
There's a section of Velcro attached to the middle of the gauntlet, just below the wrist (see photo below).  The two sides of the gauntlet have elastic material with Velcro on each and they can be pulled over and secured, one on top of the other, to complete the seal.
The elastic works great for this application and is sort of a "why didn't I think of that" idea, because it not only helps to keep the gloves secure but also helps make the cuff more comfortable than it might be otherwise.
The only disappointment is that the gauntlet feels a bit short to me and, as seems to be typical lately, it's not wide enough to fit over the bunched-up cuffs of some of my motorcycle jackets.  I think the gloves were designed to fit over very racy motorcycle jackets with their short, tight-fitting cuffs.  As a result, some riders may have difficulty fitting the gauntlet over some jackets with thicker sleeves.
Nevertheless, the GPX 2.0 gloves seem like an incredible deal for the money.  They list at just a shade under a Franklin at $99.99, which is a bare-bones price, so they aren't discounted that much but can be found for as low as $90.00 or so, which is a real steal, in my opinion.
By the way, the gloves are also fully lined, which is another surprise, and they feel very comfortable to me.  In fact, I'll say they're probably one of, if not the most, comfortable pair of motorcycle gloves I've ever worn.
The Joe Rocket GPX 2.0 gloves are available in sizes from small to 2XL.  I normally take a size large and these fit me perfectly.  The fingers seem proportioned just right and they have a tiny bit of space at the tips, which is necessary to account for fingers that are curled around the controls.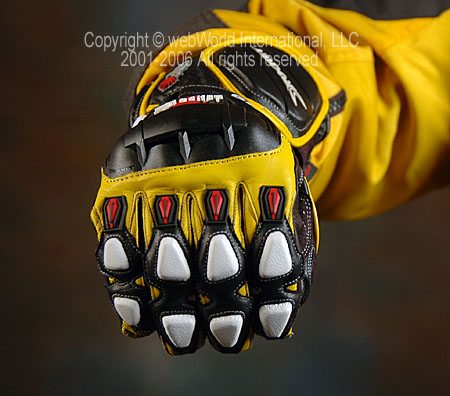 Conclusion
Likes: Styling, stitching, padding, comfort, knuckle vents and extra leather on the palms.
Dislikes: Gauntlet could be longer.  Don't fit over some street jacket cuffs.
One of the best bargains available in near-race motorcycle gloves and my new favorite!
wBW Product Review:  Joe Rocket GPX 2.0 Gloves

Available From:  Joe Rocket
Suggested Retail Price:  $99.99
Colors:  Black  Sizes:  S to XXL
Made in:  China

Note:  For informational use only.  All material and photographs are Copyright © webWorld International, LLC – 2000-2011.  All rights reserved.  See the webBikeWorld® Site Info page.  NOTE:  Product specifications, features and details may change or differ from our descriptions.  Always check before purchasing.  Read the Terms and Conditions!
Owner Comments and Feedback
Comments are ordered from most recent to oldest.
Not all comments will be published (
details
).  Comments may be edited for clarity prior to publication.
---
From "G.G." (9/09):  "Wow, these are fantastic gloves!  They look like heavy duty race ready gloves.  The external stitching is great for comfort and the palm pads seem to be in the right place.  They transferred a minimum amount of black dye to my hands and quickly stopped doing it.
The gauntlet is expandable and I had little trouble fitting it over different jackets.  Did I mention that these gloves are comfortable?  With their external stitching there is nothing to poke or irritate you in these gloves.
They flow some air with their vents, but they are not really summer gloves.  Most mesh gloves will beat them for air flow.  However, I did fine with these gloves on hot days.  If you have long fingers they will touch the ends of the fingers in these gloves and that can be irritating.
These were great gloves and I really wish mine hadn't been stolen."