Alter Ego 14.0 Adaptive Jacket Review Summary
Review Summary
The outer waterproof layer flaps in the wind on the arms due to a slightly loose fit and there are few Hi-Viz features on the Alter Ego. I also wonder whether the CE Level 1 armor combined with the nylon mesh inner jacket will protect the wearer adequately in a crash.
Build Materials & Quality
Pros
Waterproof outer shell
Easy to add or remove layers to suit weather changes
Good venting on outer shell & mesh inner jacket airflow is excellent
Armor is almost unnoticeable
Good amount & size of pockets
Machine washable
Lightweight
Good value for price
1-year warranty
Cons
Some wind flap on outer shell
Thermal liner is only a vest
No reinforcing material on impact areas
Only CE Level 1 armor included
Only sold in Canada
Unsure of nylon mesh level of protection
Adaptive Jacket Image Gallery
First Impressions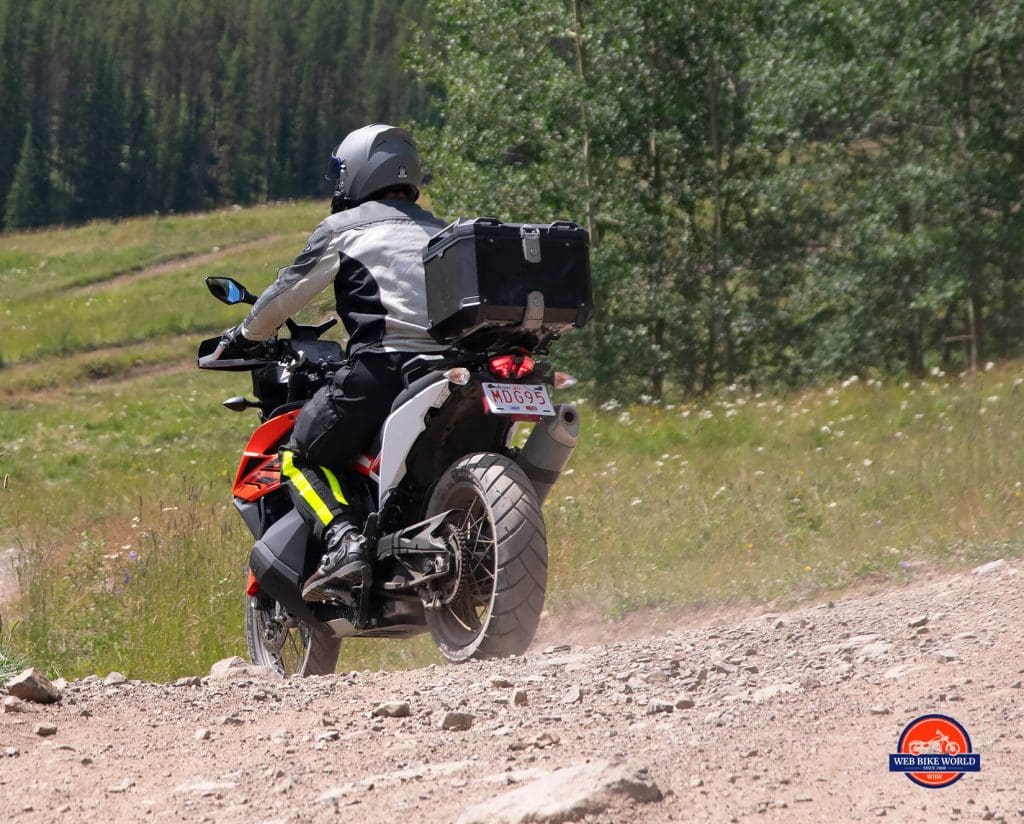 A Niche Filled
Getting stuck without suitable riding gear when encountering challenging riding conditions can be uncomfortable, even painful or dangerous. Anyone who's spent any serious time in the saddle can relate and share an experience or two illustrating this.
Many manufacturers will tell you they can build convertible gear to meet a rider's needs regardless of weather type, but often this comes at a cost and the wearer has to compromise in some way.
The Joe Rocket Canada Alter Ego 14.0 is one of these jackets.
This is an update to the previous Alter Ego 13 jacket. This Alter Ego 14.0 is a 3 in 1 combination garment suitable for rainy, cold or hot conditions but it stands out in the latter. Was there a compromise encountered with it? First, let me break down how it performed during three days' riding over 2500 km I enjoyed while in the Kootenay region of British Columbia.
Aesthetics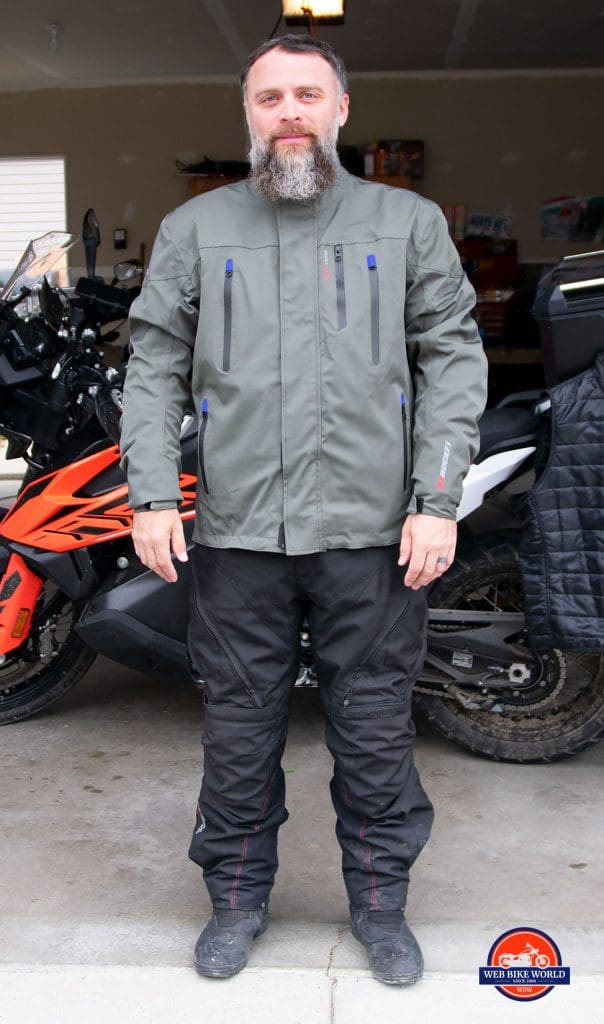 The AE (Alter Ego) is comprised of an outer layer that is waterproof and worn over top of the inner two layers. It has no armor built-in and is in effect solely a rain jacket. I suppose you could wear it as a walking around jacket if you like because it doesn't have any armor in it or look like a motorcycle jacket to my eye.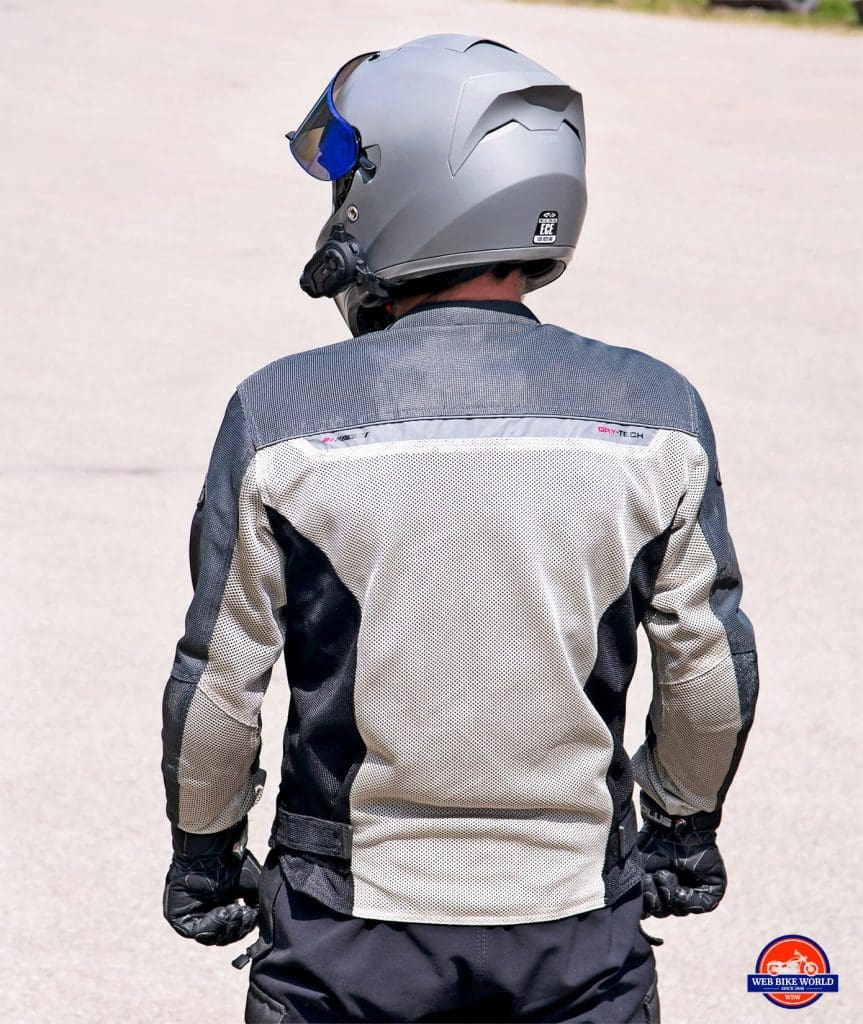 The middle layer is the actual jacket and will be worn predominantly on its own minus the other two layers. It's a nylon mesh with large openings in the white-colored areas covering the wearer's torso, inner arms, and back. There's a silver-grey-colored, tighter-knit mesh for the impact areas being the shoulders running down the arms in line with the elbows.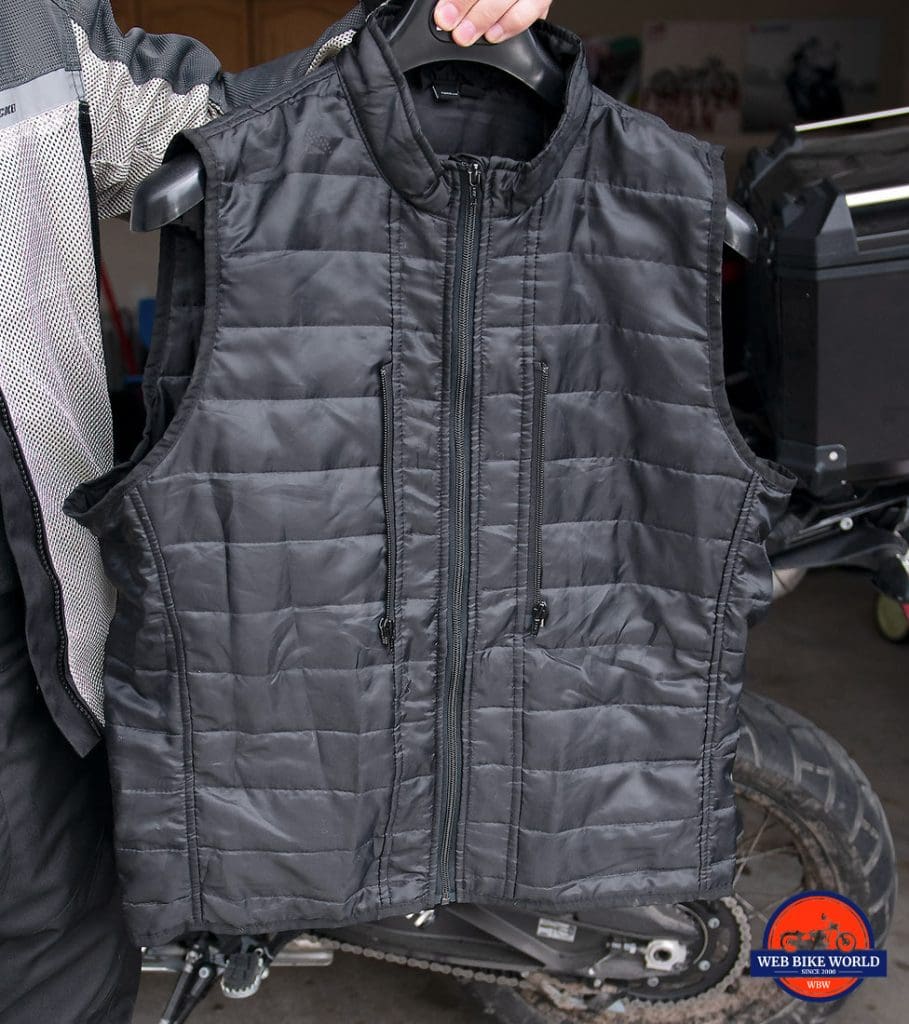 The innermost layer is a thermal vest about 5mm thick and available in any color you want so long as it's black. It's made of nylon just like the other two layers are.
Outer Layer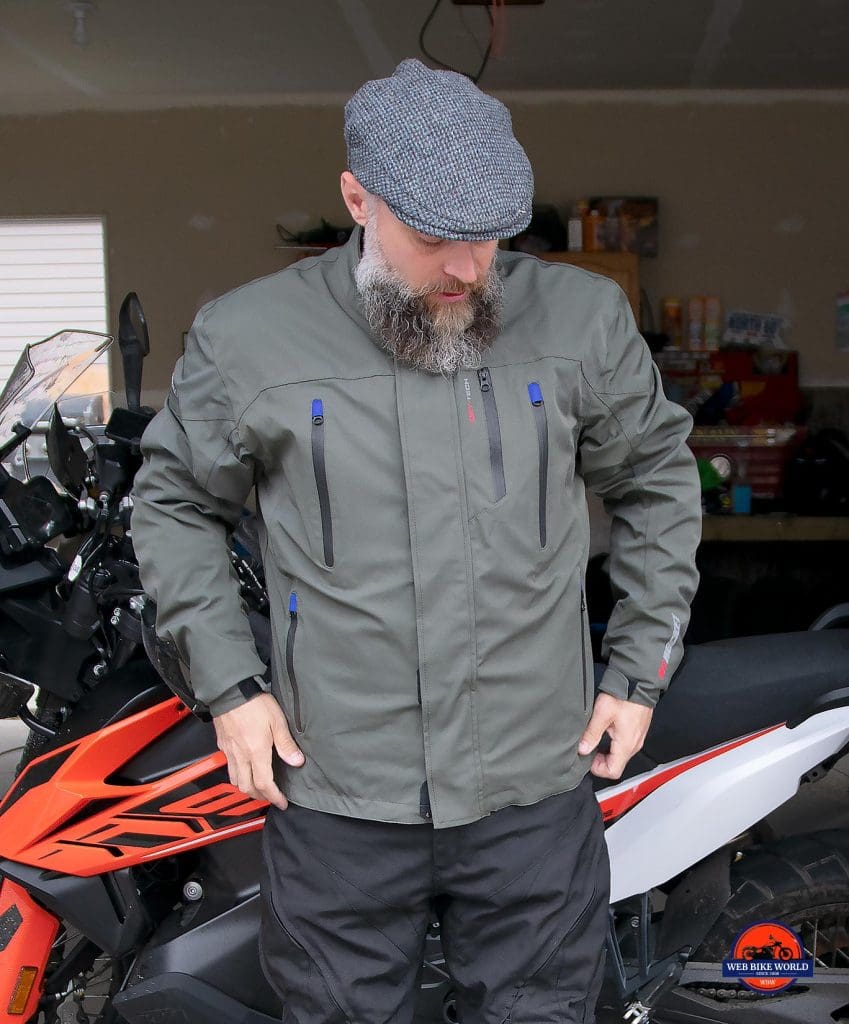 After opening the box and unwrapping the AE, I'm pleased with the modest look of the lightly colored, greenish-grey outer waterproof layer.
The overall look is simple and maybe a bit plain, but frankly I prefer that kind of serene, earthy tone to gaudy and complex patterns.
Got Hi-Viz?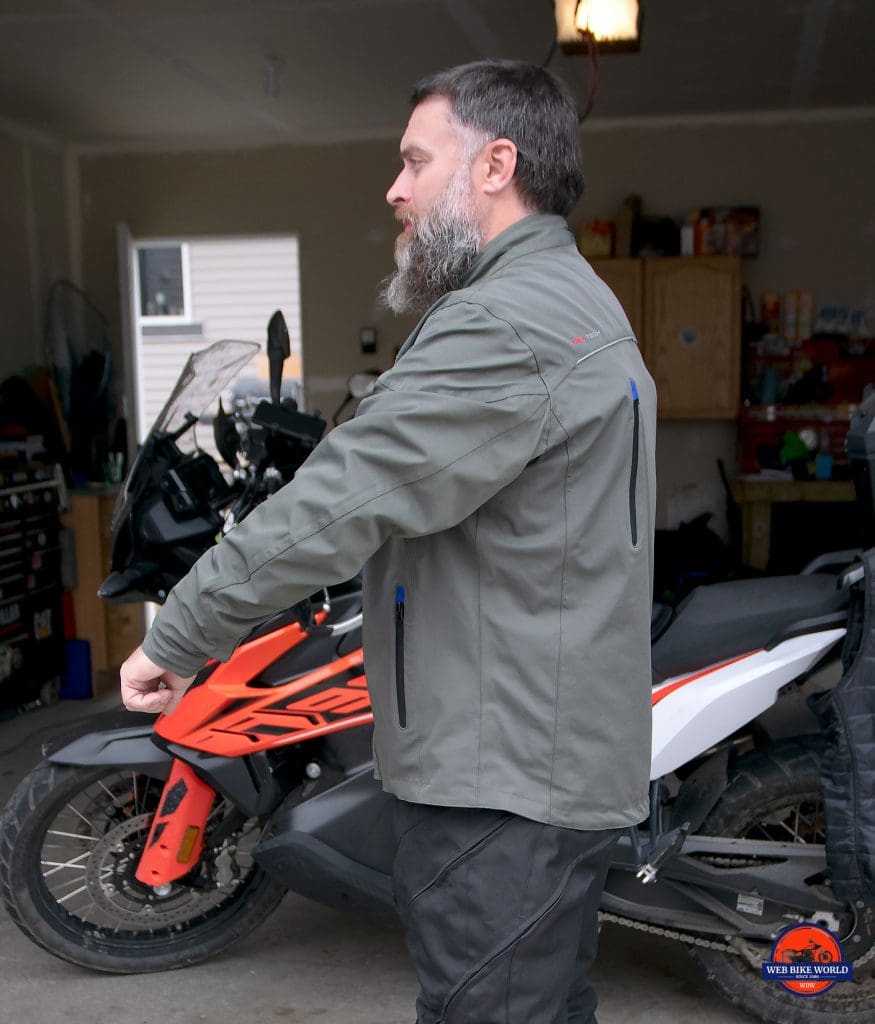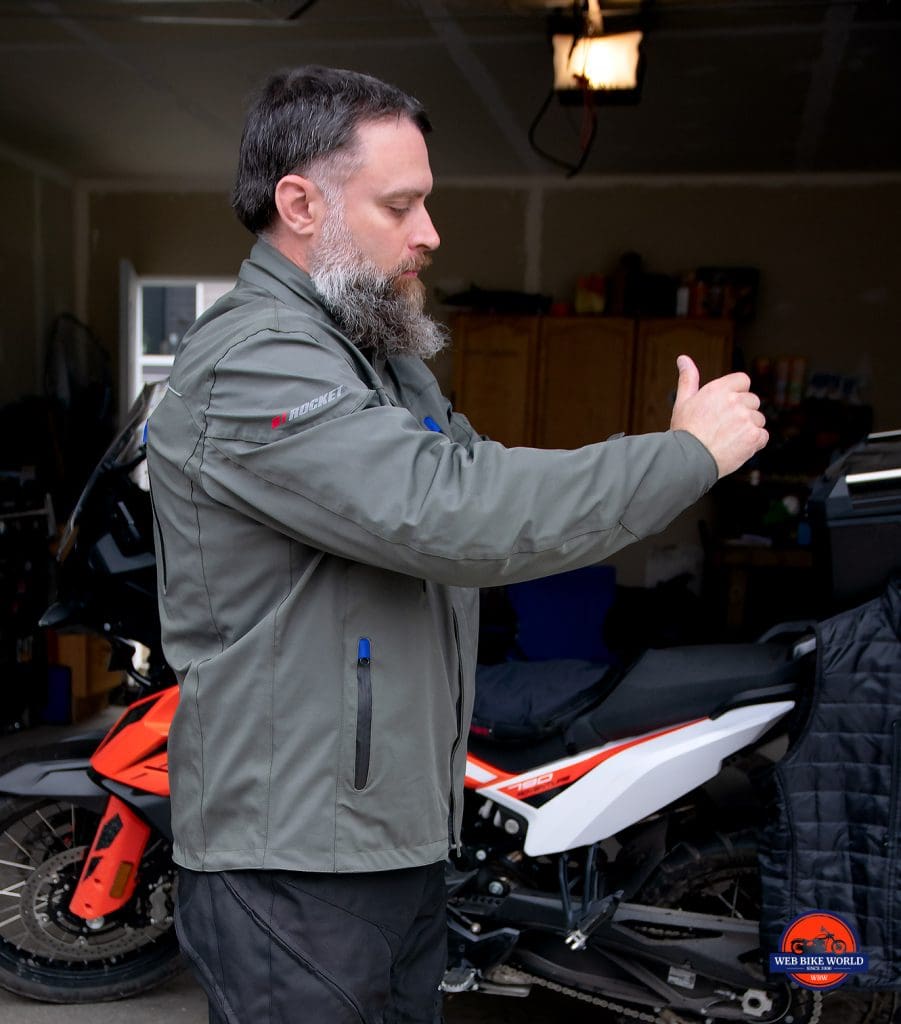 I note a distinct lack of any reflective material on the rain layer which is a disappointing oversight. How is the wearer supposed to be spotted easily by others on the road when visibility is compromised by pouring rain?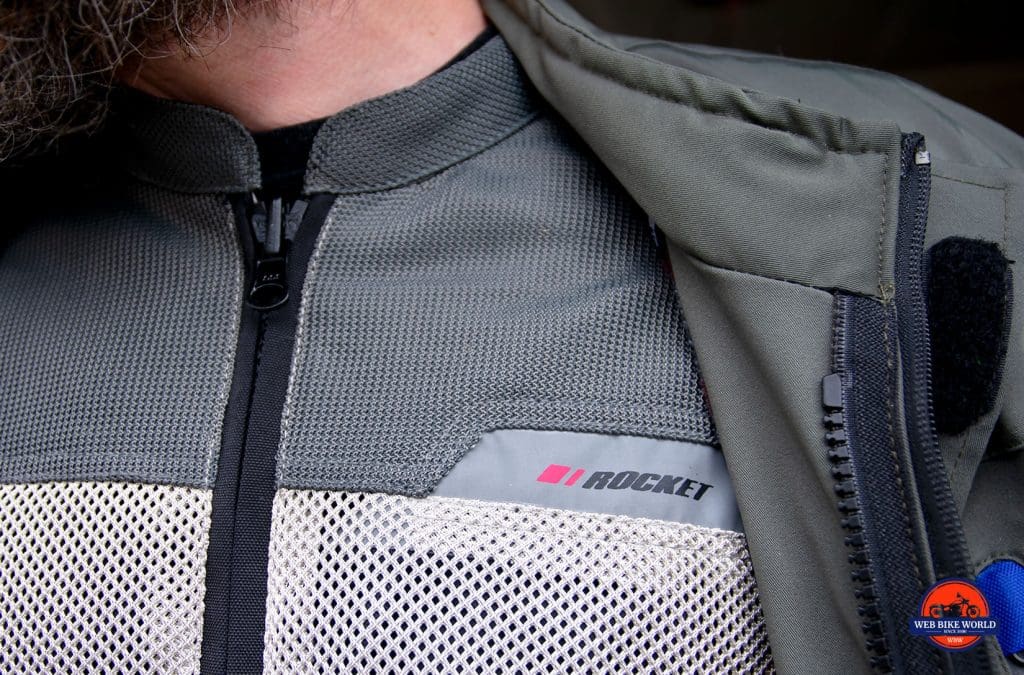 Even on the main (middle) section of this AE jacket reflective piping is absent on the seams and there's really only a thin strip of silver ribbon running from the center of the chest in front and across the upper back to handle low light visibility.
Granted this middle section jacket is mainly colored bright white to be more visible, but over time (and exposure to the elements) that will fade and grow dull, I would wager. Then what?
Branding
The Joe Rocket brand name is printed in silver on the left wrist and on the upper chest area on a thin band of Hi-Viz reflective material. Just enough to let you know who built this, but not too much to be obnoxious.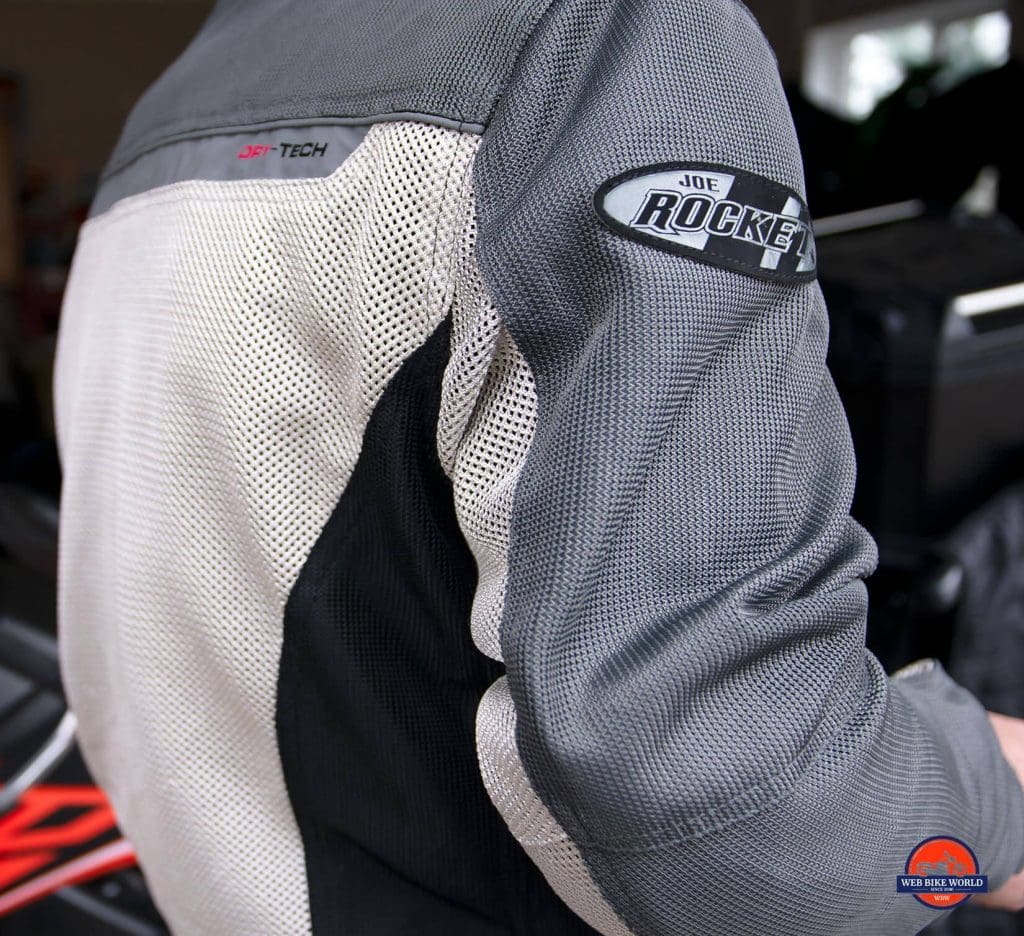 On the middle layer jacket, there are two handsome crests installed on either shoulder to announce this as a Joe Rocket Canada product. They remind me a bit of military crests. I notice that one of them appears to have taken a hit at some point during testing leaving a small chunk out of the foam/plastic material it's made of. Only I would notice it because I'm looking at it with a stern and critical eye for the purposes of this review.
Overall, I think they did a great job with the look and branding.
Zippers
Small blue "hoods" sit on the top of each vent and pocket on the outer waterproof jacket layer. These are to allow the YKK zipper heads to be tucked away partly out of sight. Presumably these "zipper garages" aim to stop it from flapping in the wind or allowing water to pass through.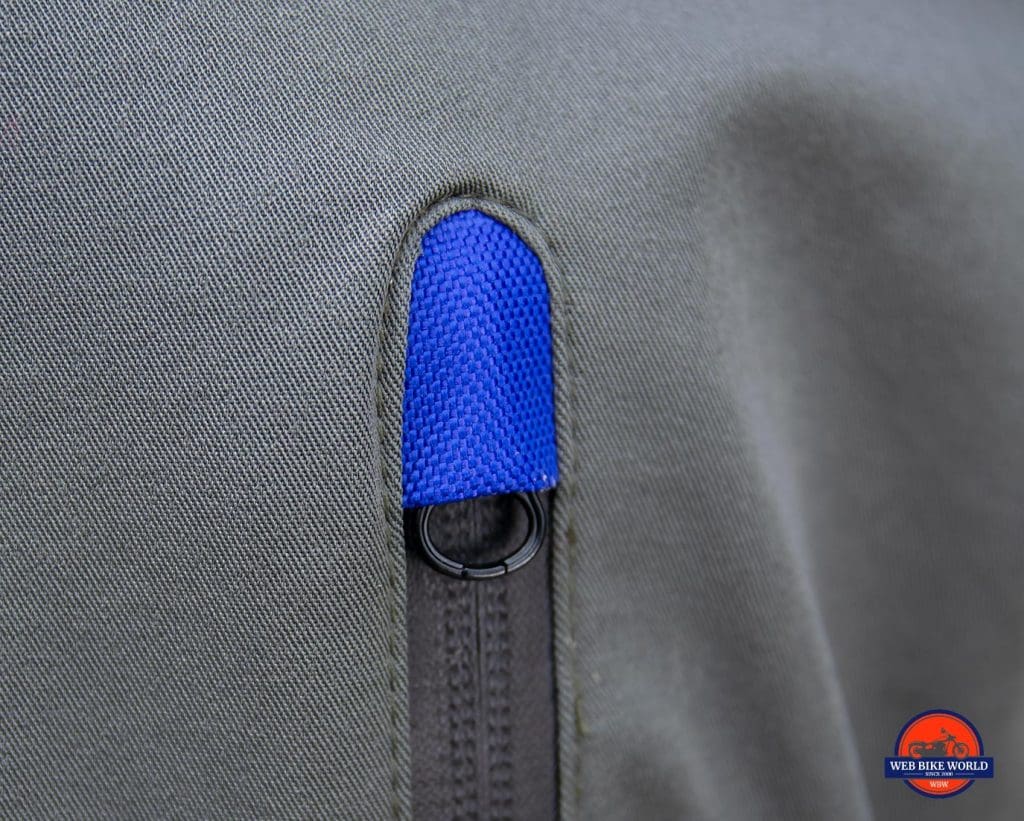 I approve of this feature, though I can't recall flapping zippers ever annoying me on the bike, or if water has ever invaded via that route, though it certainly seems possible. Even if just for the simple reason of keeping things neat and orderly I'm going to praise this simple touch.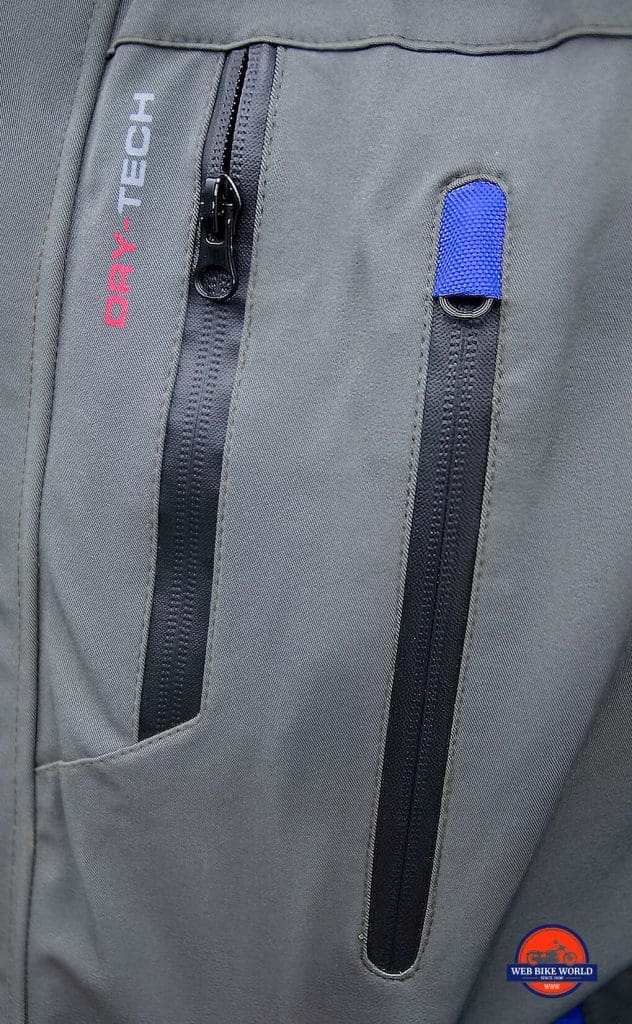 These zipper hoods are absent on the middle layer, but I found no issues using any of the zips on the layers during testing. The main one on the middle layer was my favorite because of the larger tooth design to make movement faster and engagement of the two halves easier too.
Pockets
There are fewer exterior pockets on the middle layer than I would like with the grand total being two on either side, just above each hip. I would have liked a couple of chest pockets just for easier access as I have on several other jackets in my collection.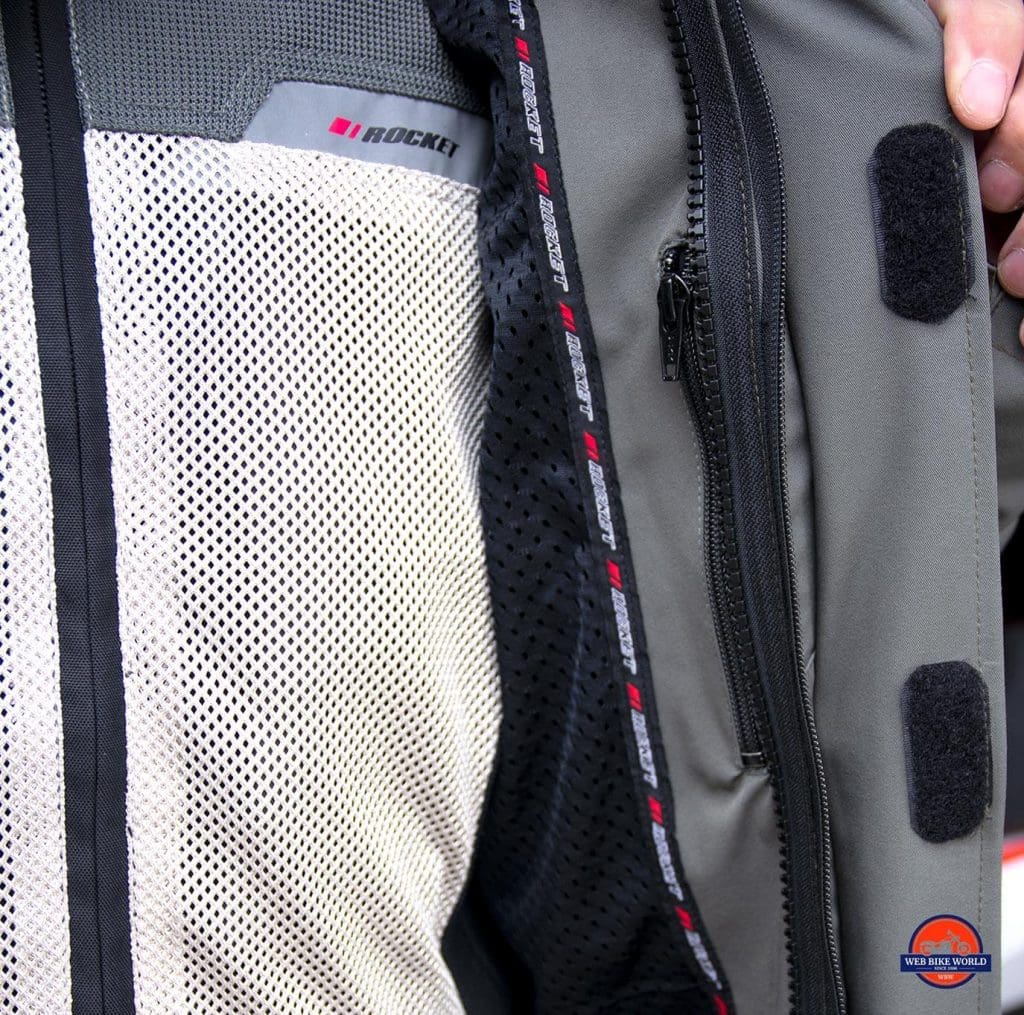 Happily, there are 4 on the inside of the main jacket to make up for this, but I don't like having to unzip and open the jacket every time I need my wallet to pay for something.
One really great inside pocket is the one built specifically to hold an extra helmet visor. The pocket follows the contour of my right abdomen which also works with the curved visor shape. This way it won't bulge weirdly when carried in there while wearing the jacket.
I admit I've not often carried a spare visor with me, but it's not a bad idea if you can do it and not notice it being there. I suspect those with larger mid sections may not fit this as well as I do, but for me, it works.
On the outer waterproof layer there are only two exterior pockets as well, but there are a few on the inside. All together there is plenty of cargo space in the AE 14.0, but it just might not be quite where you want it to be.
Fitment
I previously tested the JRC Ballistic 14.0 jacket which still fits me a year later so well I'd swear it was tailored. I still rate it as one of the best all-around jackets for the price. The Medium size truly is an excellent match for my 5'7" height, 40" chest, and 34" waist.
Because of that experience, I requested the AE 14.0 in the same size naturally and it does fit really well, but not as good as the Ballistic jacket does.
Shoulder Sag
On the middle mesh layer, the abdomen, chest, neck, and back regions all fit me perfectly. It's snug but not constrictive everywhere except for the back of my shoulders. Perhaps I haven't spent enough time lifting my motorcycle lately and my upper arm muscles have shrunk over the past year, but I notice some saggy mesh material in those areas on the jacket.
Not to the point that it flaps, but if you look at those areas in the photos it's pretty easy to spot. As far as how it affects the feeling of wearing the jacket there's very little wrong with it. This is purely a cosmetic complaint of mine. It's got to be really tough to get a tight fit in these areas while also providing enough room for the built-in armor.
Even with the three setting adjustable snaps on the arms, I can't rid myself of the loose arm and shoulder sag.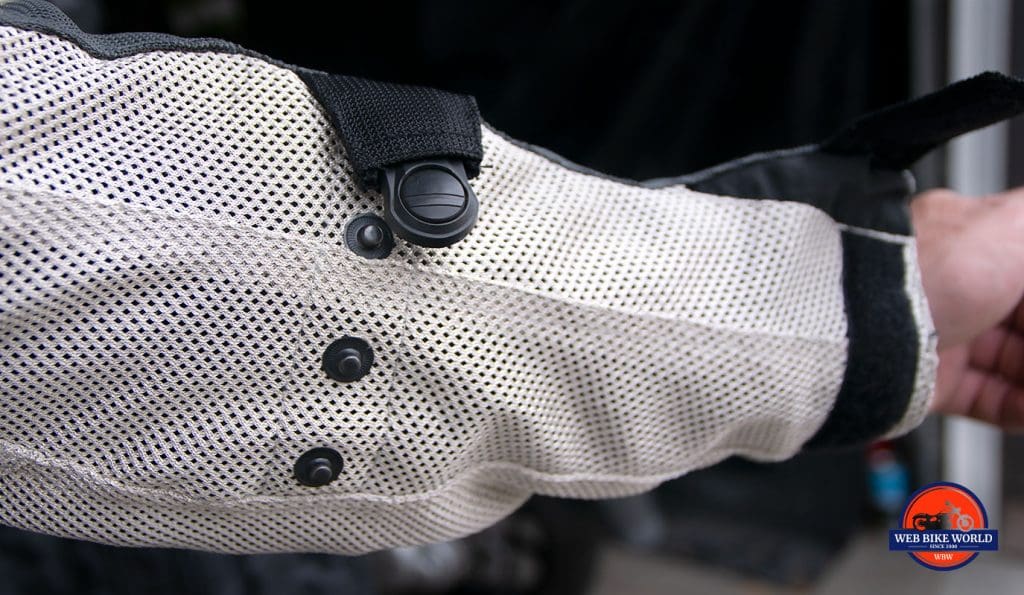 The waist area has tons of adjustment possible thanks to the velcro straps on each side. The Large jacket provides up to 3" inches of adjustment to my surprise, while this medium jacket I'm testing will only fit 33 to 34-inch waists.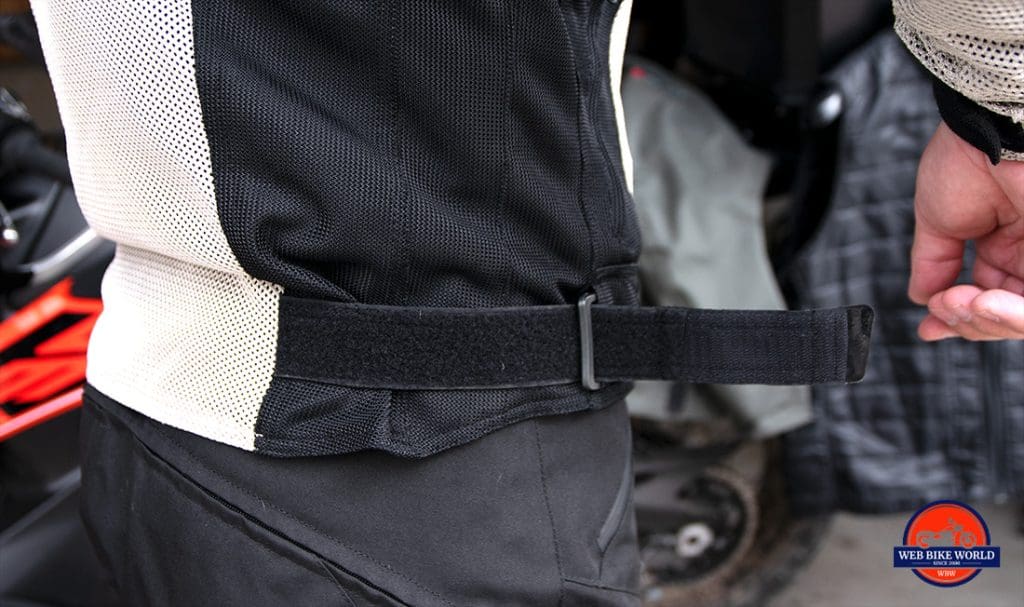 Wrist Closures
The velcro adjuster straps on both shells are excellent for fitting close around my wrists. The mesh layer closes so small and close that I have no problem tucking the jacket into my gloves as you can see in the photos. I love this!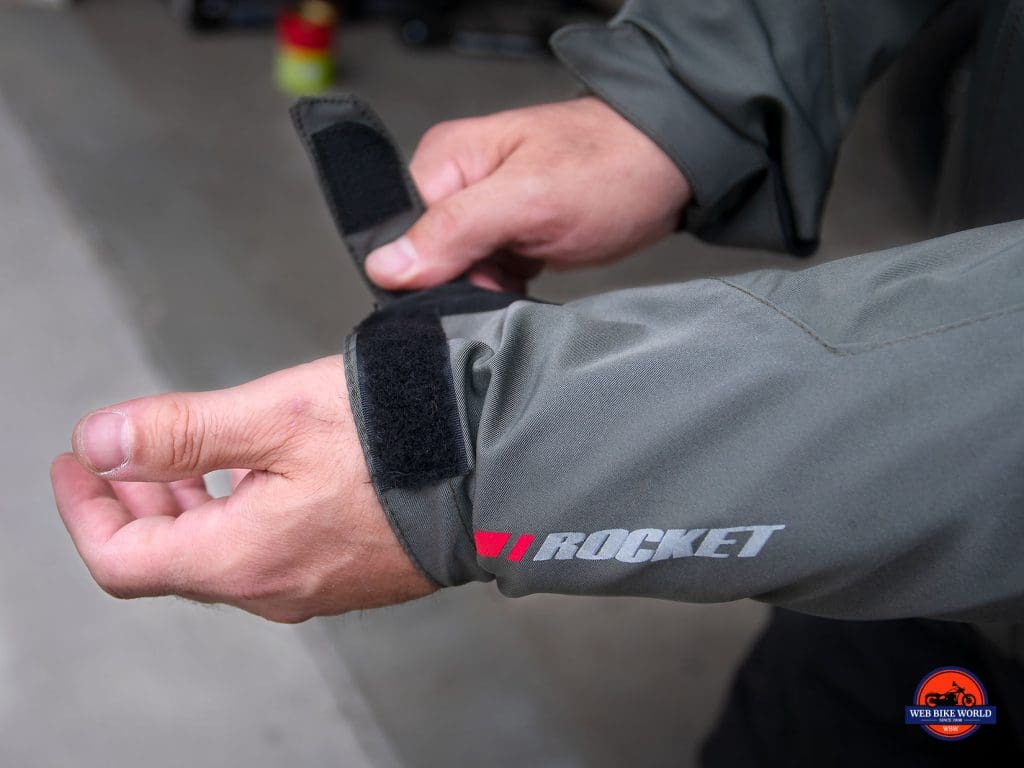 Speaking of Flap
The outer waterproof layer doesn't fit me the way I like at all, sadly. It's way too loose and I noticed plenty of flapping coming from the arms in particular at highway speed. The whole shell seems to be built "square" instead of in a body-conforming way. It kind of feels like an afterthought compared to the middle section that fits snug and like a motorcycle jacket should.
Honestly, the waterproof layer could just be a lot better in the fitment area despite how well it performs.
Functionality
Waterproof
The outermost layer performed perfectly for me in some torrential rain encountered while I was riding near Banff, Alberta. It was full-on, tsunami-inspired precipitation that made me consider the need to pull over and seek shelter. Typical riding in the Canadian Rockies weather and a great test for the AE 14.0.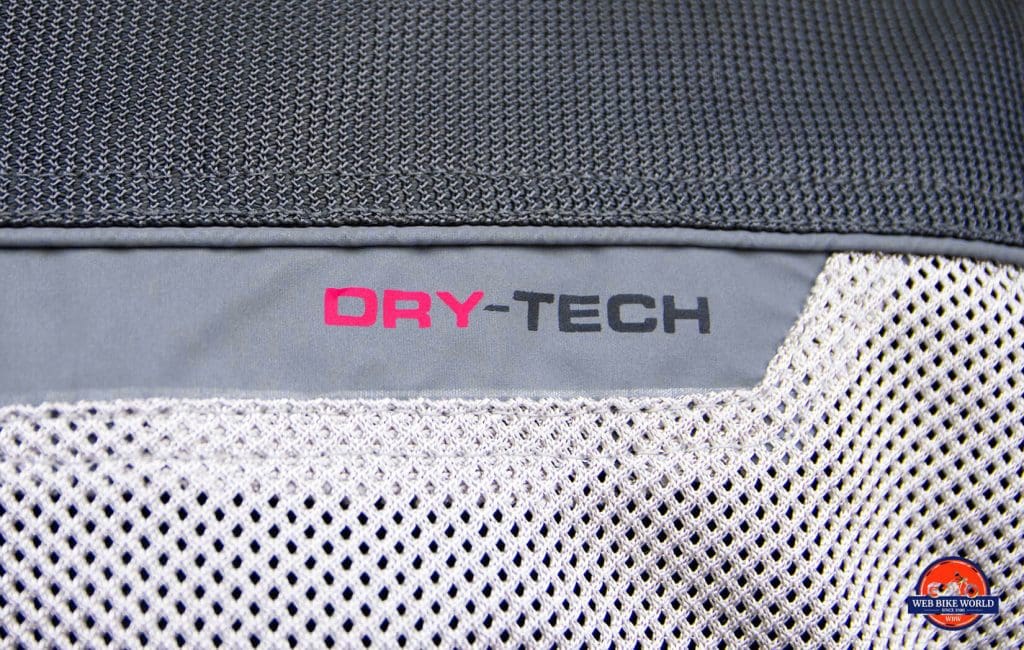 Nothing got through thanks to the Dry-Tech treated shell on the outer jacket along with the water dam built into the velcro closure in front of the zipper. I prefer this to the snaps found on so many other jackets. Outer waterproof layers seem to have snaps so often I was pleasantly surprised to find them missing on the AE 14.0.
The velcro closures on the wrists of the outer shell and the mesh middle layer are excellent for closing tightly and I give part of the waterproof credit to this good design too.
Great job on this really important feature, Joe Rocket Canada!
What About When It Cools Off?
The AE 14.0 is for wearing in hot weather but can make do if temperatures drop below 15 degrees Celsius thanks to the thermal vest included with it.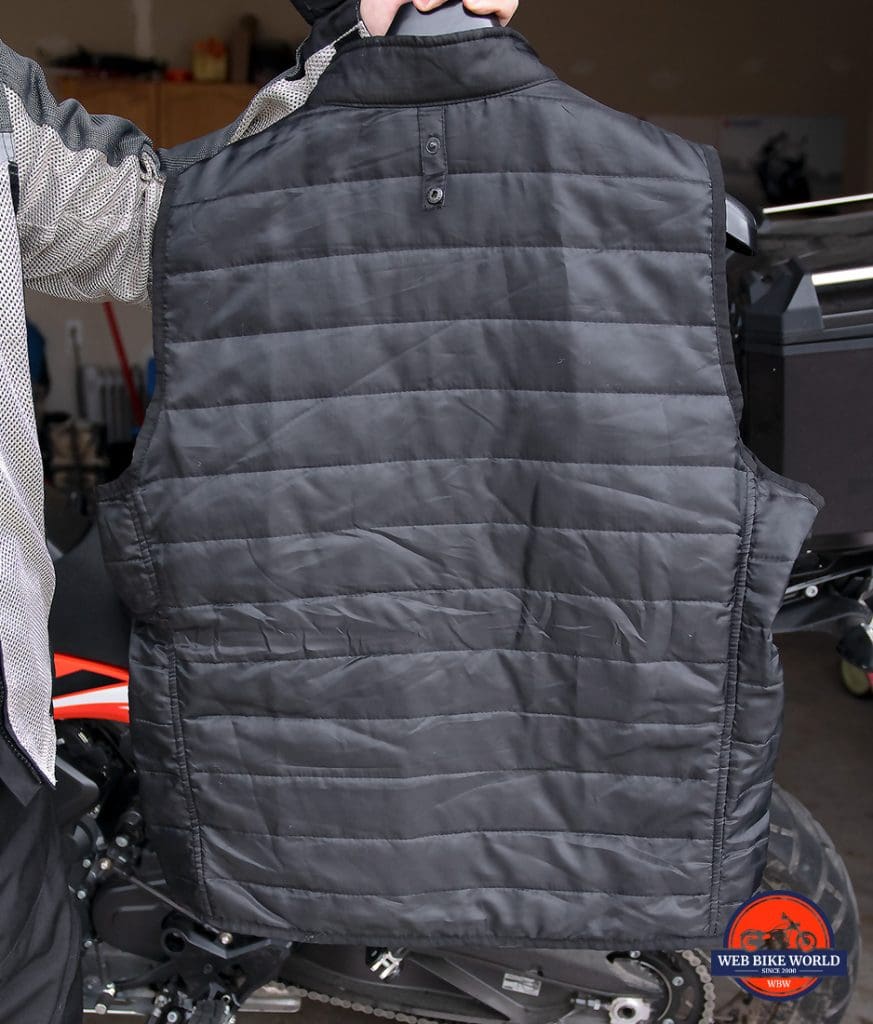 The vest is not pretty at all and looks like something that was cut out of a nicer jacket. It does zip into the middle mesh liner nicely to stay put where you want it and it kept me warm in temperatures as low as 10 degrees C.
That was really pushing it since it's a vest, ergo there's no covering to keep arms safe from the wind. I found it necessary to don the waterproof layer at that point to feel comfortable because of the windchill even while wearing my Forcefield Tech 2 Base Layer. Brrr!
This is a mesh jacket and asking it to save you when it's really cool just isn't realistic. With all three layers together and my heated grips on I was comfortable down to about 5 degrees Celsius. You'd have to bundle up with extra layers underneath to wear it after that.
Breathability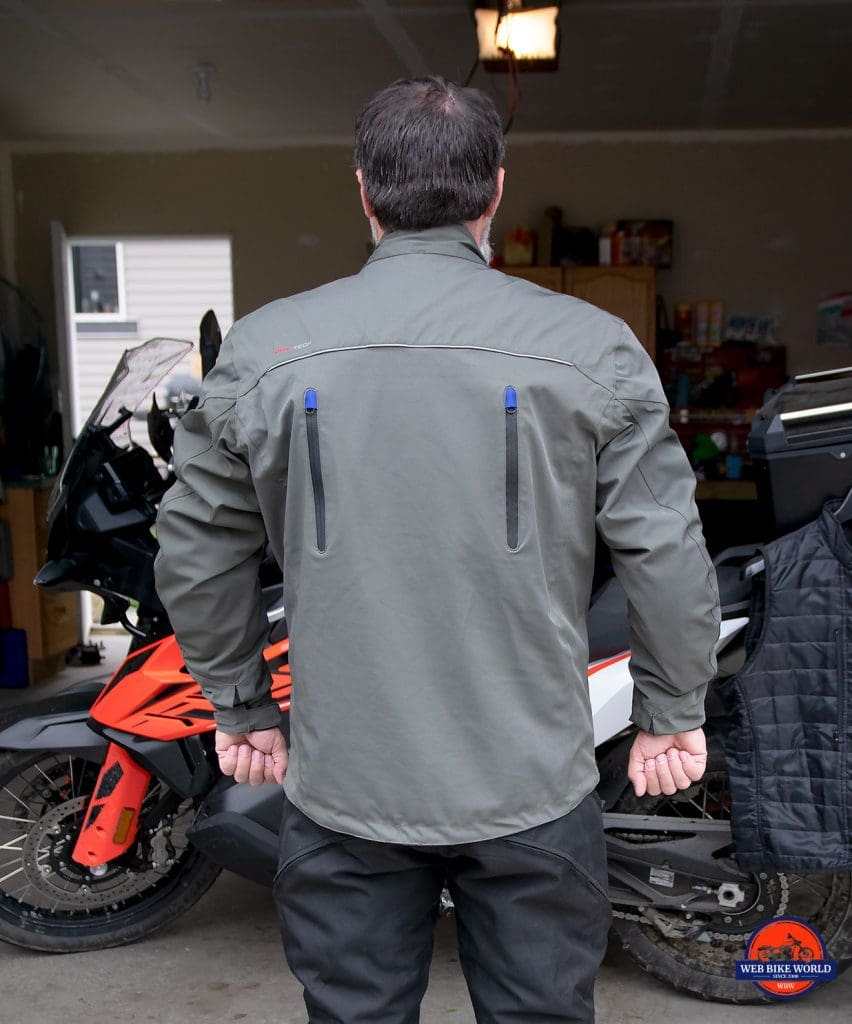 This is where the AE really shines. Even the waterproof outer layer has two vents on the chest and back to provide good cooling for the rider, but it's the middle layer that is the star of this show.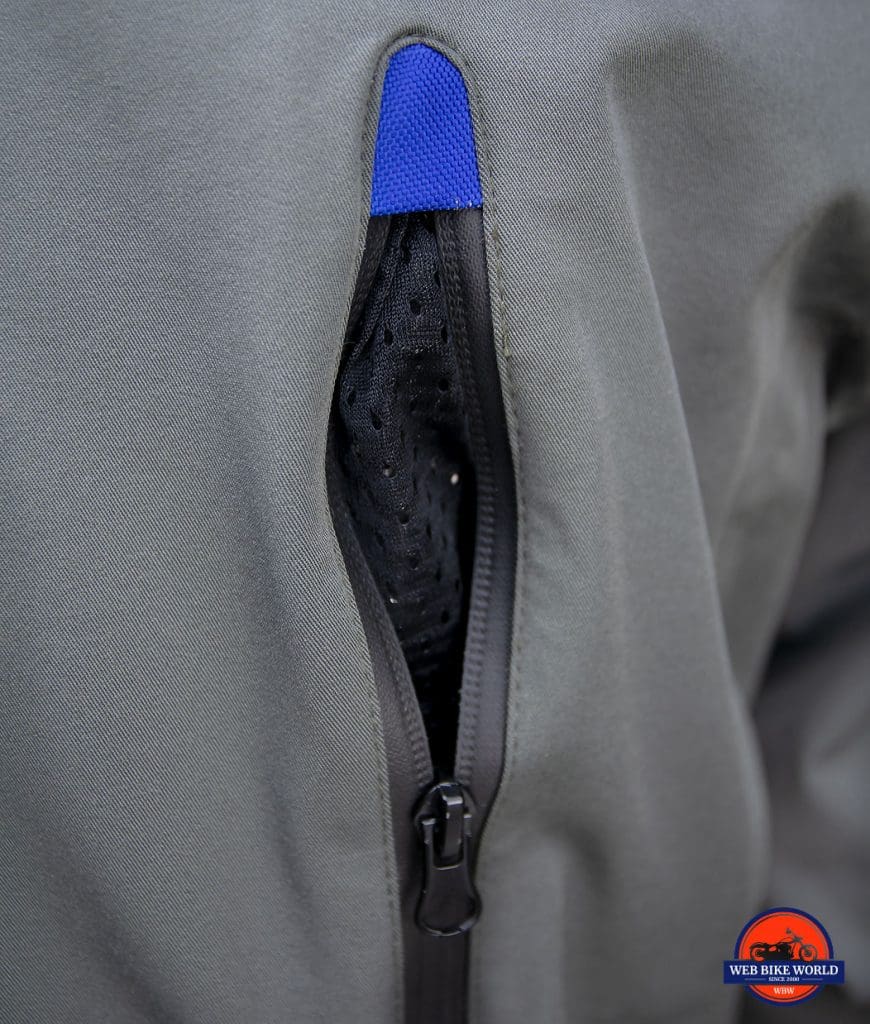 The nylon mesh layer excels at letting air flow through it. I don't even think the wind can move it when worn, it just passes through effortlessly.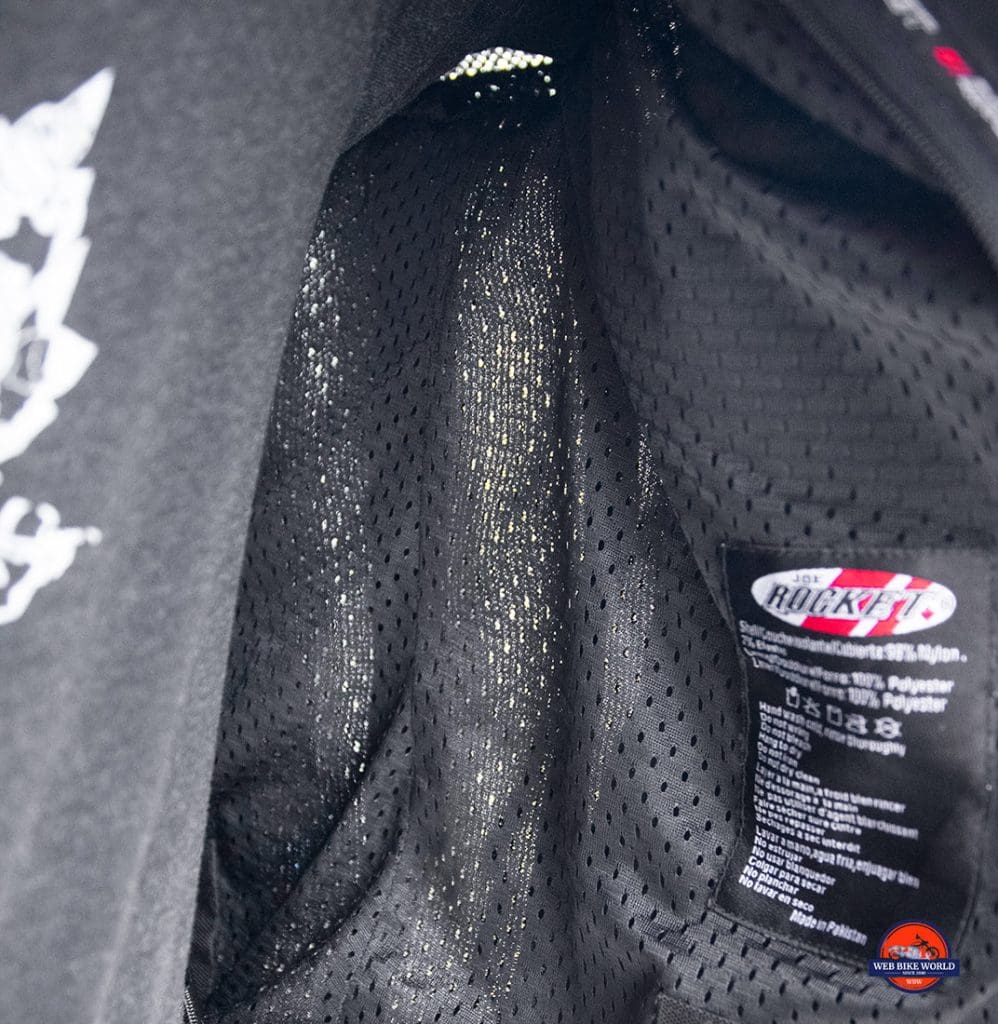 No 'ifs, ands, or buts' – it's terrific at being porous, lightweight, and cool even in the hottest weather. I tested it in a scorching 38 degrees Celsius while out riding around the East Kootenay region of British Columbia for three days. Even when I was stuck in traffic while waiting for the ferry at Shelter Bay I never felt the desire to take off my jacket.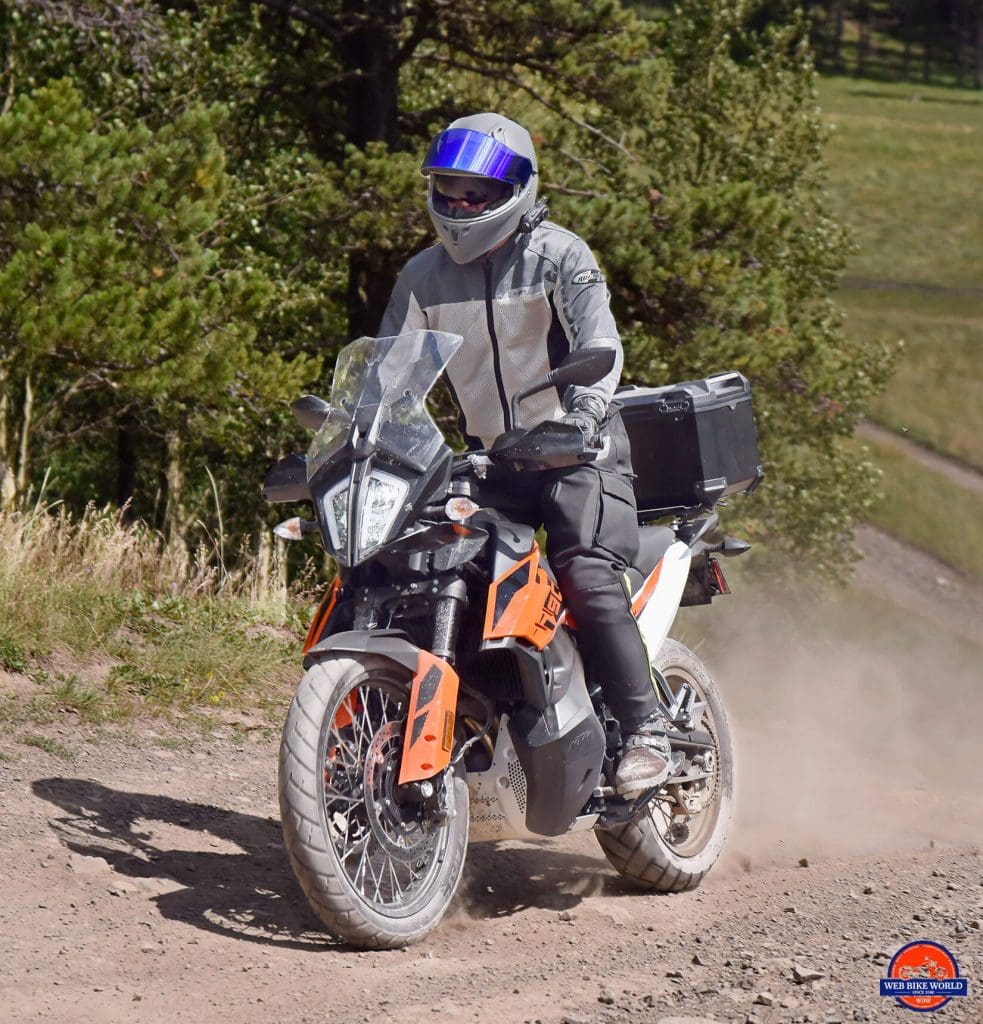 An Unfair Comparison to Top of The Line Kevlar Mesh
I did notice the nylon mesh does make me feel much warmer when stationary than the awesome Kevlar mesh used in my Motoport USA jacket. That is an unfair comparison to make though. It's like comparing a Ford Focus to a Porsche 911 since the Motoport is the ultimate mesh in my humble opinion when it comes to protection and comfort. There's also the fact Kevlar mesh costs 3 times what the nylon Alter Ego 14.0 mesh does.
Protection
Having said that, the Kevlar mesh used by Motorport is tons more tear and abrasion-resistant. Ten times better at least if I remember correctly. Probably more because Kevlar doesn't melt when heated up in a slide which isn't true of nylon mesh.
How does a jacket made of nylon mesh protect the wearer in a crash and slide scenario? The most honest answer is that it's much better than not wearing a jacket at all but not as good as a non-mesh jacket.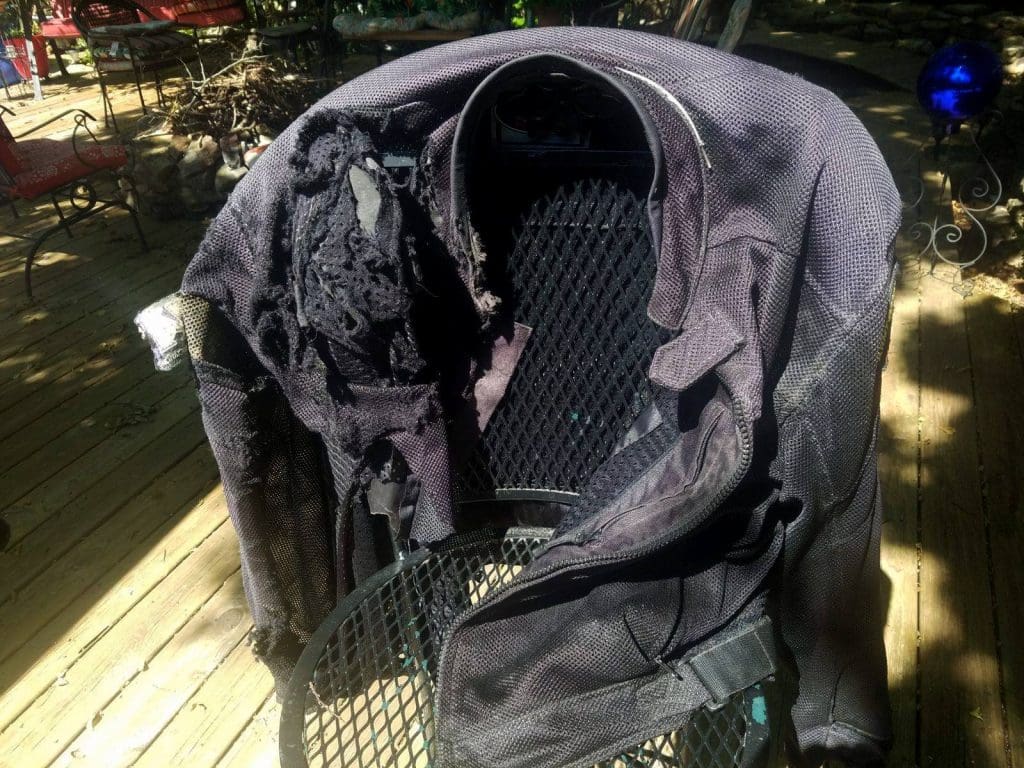 Recently I came across a post on Facebook where a rider shared these photos of his mesh jacket after crashing at highway speed due to a deer strike. The rider sustained serious injuries and as you can see the jacket was completely destroyed due to the impact and slide. Even though this isn't a Joe Rocket Canada mesh jacket in the photo I suspect it would perform the same way.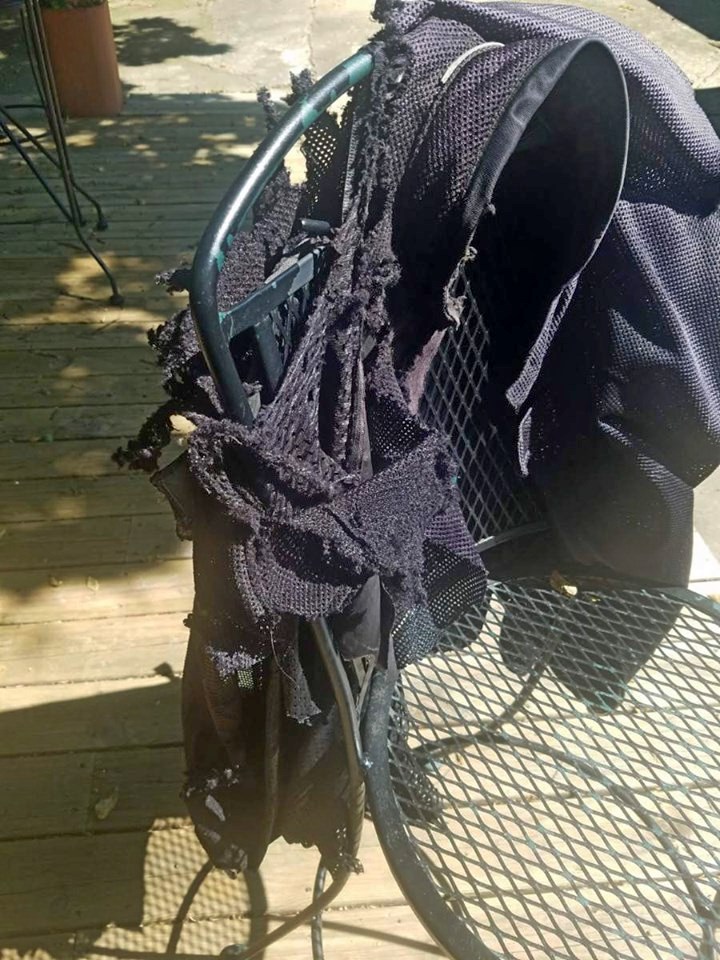 Vault Armor System
The Vault Armor (shouldn't it be spelled Armour?) system in the AE 14.0 is the same CE Level 1 padding you'll find in the Ballistic 14 and all the other JRC jackets and pants.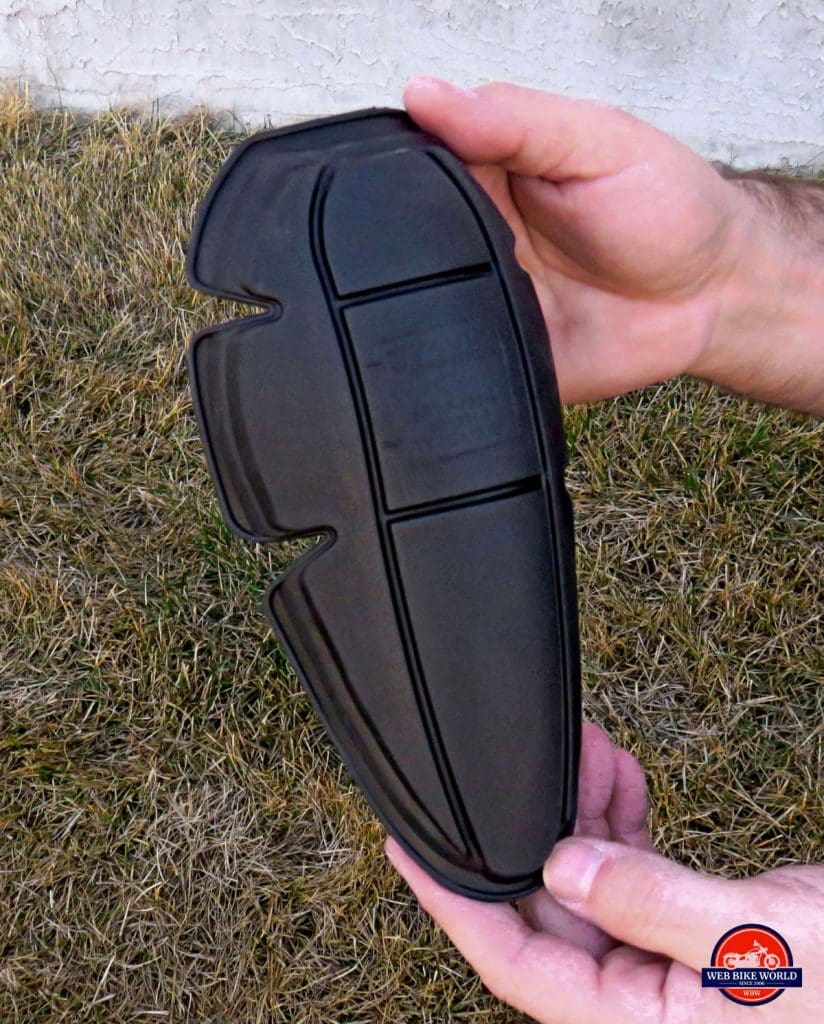 The black rubber padding in the shoulders and elbow areas will make a difference in a crash, but I would rather swap it out for CE Level 2 padding instead.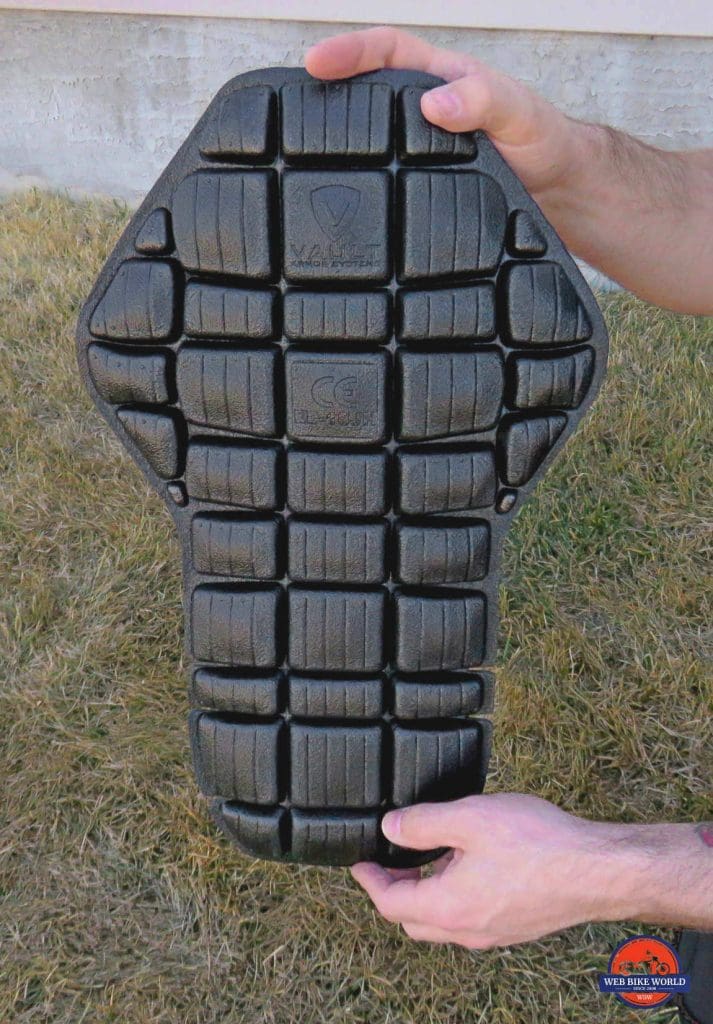 The back protector reminds me of the packing foam used to protect items shipped in cardboard boxes, to be honest. While it's lovely how lightweight it is compared to CE Level 2 or better armor I'm not convinced it's good enough to stick with if you're really looking for protection. I would much rather a more robust system of padding and I think it could be done at the factory in a way to only marginally increase the price of this jacket.
Double Up Thickness Missing
Another missing element from the mesh layer of the jacket is reinforcement or double layers of nylon around the elbows, shoulders and back sections. If Joe Rocket Canada had put another layer of nylon there I would feel a lot better about how this jacket would handle a crash and slide with me inside it.
Final Thoughts
I know I sound quite critical of this jacket system and I don't apologize for that. I share what I find freely in my reviews and the AE 14.0 is good but not perfect.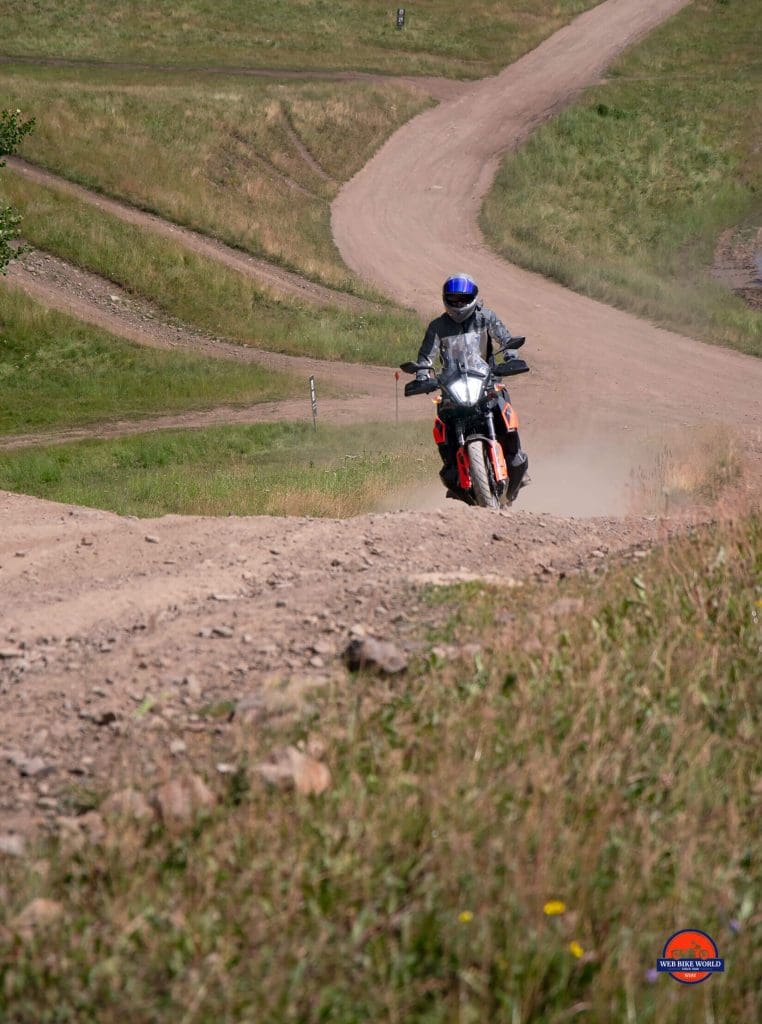 I am overall positive about it, but I think JRC could definitely improve on this design in several ways to make it a superb product. It's already one that I would recommend to friends on a budget without hesitation while pointing out the shortcomings.
Canada Only, Eh?
Sorry 'Murican friends the AE 14.0 is only sold in Canada. I'm sure you could cross the border, buy one using your more valuable USD and bring it back home.
There is a Joe Rocket US Alter Ego 4.1 available that is similar to this Canadian one too.
A Great Airbag Companion
I think the AE 14.0 would be a good jacket to wear under an airbag vest or the soon to be released Dainese Smart Jacket. The problem with many airbag systems is they don't breathe well which I think would make some people skip wearing them. Not a problem with the AE 14.0 underneath it. You'll stay cool and have the best protection available thanks to the airbag vest over the top of it.
Pros
Waterproof outer shell
Easy to add or remove layers to suit weather changes
Good venting on outer shell and mesh inner jacket airflow is excellent
Armor is almost unnoticeable
Good amount and size of pockets
Machine washable
Lightweight
Good value for price
1-year warranty
Cons
Some wind flap on outer shell
Thermal liner is only a vest
No reinforcing material on impact areas
Only CE Level 1 armor included
Only sold in Canada
Unsure of nylon shell protection rating
Specs
Manufacturer: Joe Rocket Canada
Price when tested: $ 489.99 Canadian Dollars
Made in: Pakistan
Sizes: SM to 5XL
Safety Designations: CE Level 1 armor
Review Date: September 4, 2019