Ego Jacket & Pants Review Summary
Is this the Swiss Army Knife of motorcycle clothing?
That's the analogy that kept coming to mind as I peeled away the layers of Joe Rocket's interesting new Alter Ego outfit.
Frequent webBikeWorld visitors will know that we've been skeptical about motorcycle clothing that claims to offer multi-season protection from the elements.
The temperature and weather extremes that motorcycle riders experience have made it hard to find that single jacket and pants combination that will work throughout the year.
Jackets that keep a rider warm in the winter are, for the most part, too confining in the summer.
The result is a fragmented market for motorcycle clothing, with products that work best only in a very narrow range of temperatures and conditions.
For example, Joe Rocket has been a leader in hot weather riding gear with their very popular Phoenix jacket(and pants), and other companies like REV'IT! offer some of the best cold and wet weather motorcycle clothingavailable.
But we figured that sooner or later, technology would give us the Holy Grail: a single motorcycle riding outfit that's flexible enough to provide comfort in all conditions while also offering decent protection in case of a fall.
The Joe Rocket Alter Ego jacket and pants combination come about as close to that goal as current technology will allow. The concept was to provide the owner with the ability to add or remove sections of the jacket and pants to compensate for various temperature and weather conditions.
Although the Alter Ego outfit looks like yet another Joe Rocket take on a short jacket/pants riding outfit, the difference is that the "Rock Tex 660" fabric sections of the Alter Ego's jacket and pants can be un-zipped and removed, revealing a Phoenix-like mesh underneath that offers plenty of air flow. Joe Rocket calls this their "Meta Sport" system, and apparently they have a patent pending on the design.
Both the jacket and pants have full-length zip-in liners, which provide additional protection from wind and are claimed to be 100% waterproof.
All of this would be moot without comfort and safety, but the Alter Ego pair also scores in this regard. Manufacturers have come a long way with nylon-like textiles, and both the jacket and pants are soft and comfortable. The jacket includes some relatively hefty soft padding on the elbows, shoulders and back.
And there's a bonus: the elbow and the back padding are duplicated in the jacket liner, with removable and somewhat stiffer padding backing up the non-removable pieces in the jacket's shell. This gives, in effect, a double layer of padding but without noticeable bulk.
The pants have padding in the knees only, but it's removable and is placed in back of the thicker abrasion-resistant Rock Tex 1050 material on the outside of the knee and shin area.
The Alter Ego jacket can be assembled in several different configurations to suit whatever riding conditions the owner may experience.
With practice, the jacket (or pants) can be quickly converted by removing the entire red colored solid panel that covers the front and back of the jacket.
The removable section is held to the jacket with two heavy zippers in the front and two more smaller (and nearly invisible) zippers that run along the sleeves in front and back.
I don't think it's possible or advisable to perform the conversion  while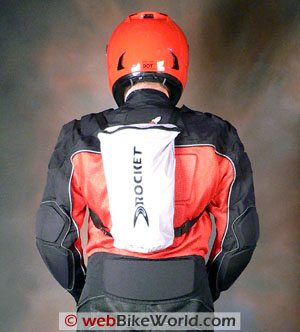 wearing the jacket, but that's not really an issue. With practice, the entire process takes less than one minute.
This leaves the black area (photo left) on the shoulders and running down the arms as the only solid (i.e., non-mesh) fabric on the jacket and reveals an open mesh that looks like it was lifted directly from the Joe Rocket Phoenix all-mesh clothing line.
The full length internal liner can also be removed from the jacket. The liner connects with zippers and it has snap connectors behind the shoulders and in the wrist area to hold it in place.
The manufacturer claims (via a tag attached to the jacket) that the liner is "100% waterproof".
The jacket has an 8″ (~20 cm) zipper for attachment to the Alter Ego pants. Most of the Joe Rocket clothing line uses this standardized 8″ zipper, allowing various types of jackets and pants to be used together.
The liner cuffs are somewhat different than the type normally found on this style jacket; they use elastic at the ends, which apparently is designed to help prevent moisture intrusion in wet weather.
The elastic pulls on the owner's wrist when the jacket is put on or taken off, so we think it would have been better to have a second snap at the wrist to hold the cuff in place.
The mesh jacket "module" has two slash pockets, accessible through zippered openings on the outer removable panel, or directly when the panel is removed. Each pocket is about 14 cm (5-1/2″) wide and about 16 cm (6-1/4″) deep. A pocket of about the same dimensions is located underneath the jacket's left breast just inside of the main zipper, making it handy for storing a wallet.
The outer removable panel and liner can be stuffed into a very light nylon backpack that comes with the Alter Ego jacket. The backpack is roughly 28 cm (11″) wide and 35.5 cm (14″) long with a zipper across the top (or bottom, it doesn't matter how it's worn) and it has two adjustable nylon web straps. It makes a decent storage sack for the removable bits, whether it's worn as intended or placed in a tank bag or elsewhere.
In our experience, Joe Rocket clothing fits very close to advertised size, at least in the U.S. versions. The jacket in these photos is a men's size large, and it seems identical to a men's U.S. street jacket size of 44.
So basically what we have here is an "ultra" version of the Phoenix jacket — with everything attached, the Alter Ego jacket provides good wind protection and warmth, with the added potential for protection against rain.
We haven't tried it in a strong downpour, but so far it's been acceptable during various light spring showers. Throw on a sweater or turtleneck underneath and the jacket also works well in colder weather. We've used it down to temperatures in the mid 40's (Fahrenheit) with no complaints.
Joe Rocket's marketing material claims that the Meta Sport system offers "wind cheating warm, air flowing cool, water-proof and modular". Other than the protruded grammar, we'd have to agree.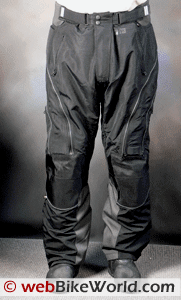 Joe Rocket Alter Ego Pants
If the pants in these photos look slightly large, that's because they are.
We ordered the size XL because we're so used to ordering one size up from normal to get motorcycle clothing that fits.
We were surprised yet again to find that Joe Rocket clothing runs true to size.
I'm not complaining; it's good to know that not all motorcycle clothing fits like it was made for a runway model.
The size XL Alter Ego pants would probably work best for a men's size 37/38 waist and 31/32 inseam. We have a size large on order as a replacement.
The pants have a removable panel section that starts just above the knees and continues across the back.
The zippers can be seen in the photo (left) as the two lighter colored lines starting at knee length and moving towards the back of the pants.
The animated photo at the top of this page has one frame that shows the model holding the removable pants panel in his hands.
The Alter Ego pants are made from Rock Tex 660 with Rock Tex 1050 reinforcements in the knees. The pants also have a full-length removable and (claimed) waterproof liner. They're comfortable to wear in a wide range of temperatures, but we do notice some moisture buildup when the liner is in place.
The liner also uses elastic at the ankles, but the liner cuffs are not attached to the pants, which seems to be a design oversight. Whenever the pants are removed, the elastic on the ankle holds the liner on the leg as it's being removed and the liner turns inside-out. This makes the pants more difficult to remove than they should be.
The pants are also comfortable without the waterproof liner, and they have a soft mesh non-removable lining sewn inside, which does help by providing some space for air flow around the legs. Most of the "clammy" feeling that one gets in motorcycle clothing occurs when the garment directly touches the skin, so an extra fabric liner or cotton undergarment usually helps.
Each pant leg has a very long side zipper that opens to about 67 cm (26-1/2″), which makes it easier to enter the pants or to fit the leg over riding boots.
The pants have an adjustable waist; there are Velcro tabs on either side and a strap that runs through a D-ring which can be adjusted over a fairly wide range. Even though the pants are about two waist sizes big for me, I am able to snug them up with the waist adjusters with no problems.
The pants have two external slash pockets, closed with zippers. Each is about 14 cm (5-1/2″) wide and about 16 cm (6-1/4″) deep.
The Alter Ego pants offer good air flow when the panel is removed, but they have only minimum padding and the liner holds some moisture. Our opinion is that the pants aren't really as revolutionary as the jacket. When the weather heats up, we'll try the Alter Ego jacket with the Joe Rocket Blaster leather perforated pants, which should prove to be a good combination.
Conclusion
The Joe Rocket Alter Ego jacket and pants outfit provides a good solution for a reasonable, all-season motorcycle riding suit.
There are some compromises in the design because the various zippers and panels add complexity, but there's probably no way around this while still offering the versatility to work in conditions ranging from complete blocking of wind and rain to full and open air flow in hot weather.
This could probably be the ideal complete riding suit for motorcyclists whose resources won't allow owning separate outfits for hot weather, cold weather, rain and various points in between. It would also make a great suit for motorcycle touring, where weather extremes of all types can be experienced in a single day.
w

BW

 Review: Joe Rocket Alter Ego Jacket & Pants
Manufacturer: Joe Rocket
List Price (2005): Jacket – $249.99; Pants –  $199.99. Extra large sizes priced slightly higher.
Sizes: Jacket: S to XXXL. Pants: S to XXL.
Made In: China
Colors: Jacket – Black, Black with Blue, Gray, Red. Pants – Black.
Review Date: April 2005
Product Notes: Warranted for one year from date of purchase.
Note:
 For informational use only. All material and photographs are Copyright © webWorld International, LLC since 2000. All rights reserved. See the webBikeWorld® 
Site Info page
. Product specifications, features and details may change or differ from our descriptions. Always check before purchasing. Read the
Terms and Conditions
!
Owner Comments and Feedback
---
From "D.J." (August 2011): "I'd like to comment on the Joe Rocket Alter Ego pants. Firstly, I love them! They're not perfect, but they're about as close as possible for an all season pair of pants.
I find they fit me great, I'm quite tall and slim and after checking the sizing guide on the website I opted for the small and they're a perfect fit, and don't look bulky when on.
I've currently only ridden them in summer in England, however this means they have been tested on hot sticky days as well as times when it's absolutely pouring down. So far I haven't had any rain make its way through the inner layer even in torrential downpours. If it's hot and wet though, I find I still get damp on long journeys due to the lack of breathability in the pants when the waterproof liner is in.
To put the liner in can be a bit of a pain when you have to stop, remove boots and mess around with zips and hidden poppers etc., but on the plus side I have found that the pants dry very quickly when the weather clears up or when you get inside which is a big plus as I hate getting into wet clothes.
In warm weather as long as you're going over about 30mph there is a good enough amount of ventilation to keep cool, and this is when wearing full length trousers underneath.
I would have liked to see some adjustment on the bottom of the outer layer as I find they can ride up my boots when I'm riding. Also a means of fastening the waterproof layer nearer to the bottom of the pants would have been good as they have a tendency to not slide over the foot when trying to remove the pants.
I have not used these pants in winter yet, and this may be their biggest downfall as I don't think they will provide enough thermal insulation to be a truly all season pant, however a thicker pair of trousers underneath should do the trick.
All in all, I would highly recommend these pants, especially at a good price, when searching for a new pair I couldn't find anything similarly specced in the same price range."
---
From "B.C." (04/11):  "I thought I'd add a comment regarding the pants. I crashed at 55mph wearing a pair of these and slid down the road largely on bike and butt. By the time I came to a stop the pants had worn right through in the butt. I stopped just in time to prevent major road rash and flesh loss back there.
You mentioned the 1050 denier material is in the knees, so I'm guessing it isn't on the butt. Most quality motorcycle pants have thicker and more abrasion resistant material on the butt of the pant. (Hmmm, sure makes you wonder about the people wearing chaps. That would be some pretty painful skin grafting.)
---
From "CJA":  "I got the Alter Ego Pants and jacket about 6 months ago. The pants are junk, the slider on the fly zipper broke apart and the pant leg zippers malfunction frequently. I sent an email to Joe Rocket to which I got no response but I discovered they have a one year warranty with receipt.
I guess that seems reasonable on the one hand, but on the other hand when I had an issue with an Alpinestars jacket I own I had a response within hours and they fixed the jacket no questions asked. Anyway, what's the point of replacing a low quality zipper with another low quality zipper.
The Jacket is more serviceable but it's no all season solution by any means, I would say that it's a great jacket for riding in the summer with hot days and cool nights; also good if your crossing a mountain pass where it's cool at high elevation but cooking when you drop elevation.
On its own it's not much good for fall or winter riding, you'll need separate insulating layers if its cold and if it rains any harder than a sprinkle you will get wet. There is a rain liner but you'd be better off just wearing an insulated waterproof jacket in the first place. I'd recommend this jacket as a flexible summer riding jacket only."
---
From "L.T.":  "I just received my pair of Alter Ego pants, and overall I am quite pleased with them. I don't have a lot of grounds for comparison, though, as I am just getting back into two wheels again after a 20 year hiatus, and everything seems lighter, easier, and more comfortable…definitely not a bad thing.
In your review of the pants, you noted : "The liner also uses elastic at the ankles, but the liner cuffs are not attached to the pants, which seems to be a design oversight. Whenever the pants are removed, the elastic on the ankle holds the liner on the leg as it's being removed and the liner turns inside-out. This makes the pants more difficult to remove than they should be."
While this is true, the liners also unzip up past the knee. Taking advantage of that zipper, I have not experienced any problems removing the pants, even over boots. The biggest complaint I have is that all of the zippers are made of plastic, and not metal. I expect the reason I will be ordering my next pair, or some different set of pants, will be because the zippers failed."