Three-time world speedway champion Jason Crump (pictured above) is one of the many stars among the colourful characters throwing up dust today (November 4, 2017) at the fifth Ellaspede Dust Hustle.
Crump will be joined by veteran dirt riders Stephen Gall and Geoff Ballard, current pro riders Jemma Wilson, Michael Kirkness and Andrew Brook.
They will race in two full-gate-start pro dirt track races during the lunch break.
UPDATE: Here's video from the event!
Amateur fun
Meanwhile 140 amateur riders, most in crazy costumes and riding ridiculous bikes, will compete for the sheer fun of it!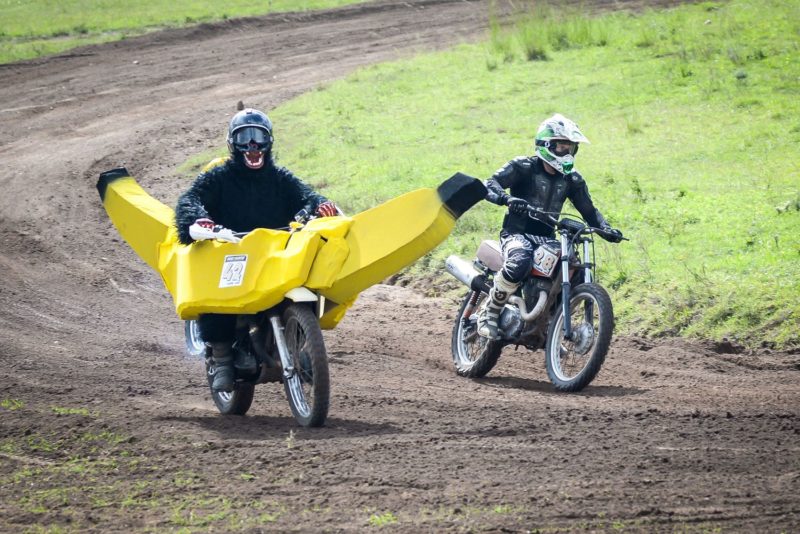 As you can see, not everyone is trying to be Jason Crump!
The fun event at Mick Doohan Raceway, 96 Raubers Road, Banyo, runs from 8am to 6pm with an afterparty from 8pm at Church Bar, Fortitude Valley.
Ellaspede spokesman Hughan Seary says apart from plenty of on-track fun and action, there will be 10 food trucks.
They will be part of the Food Truck Roundup event which is partnering with Dust Hustle. They will be operating from 10am-3.30pm.
There will also be trade stalls and a trackside bar.
Two Dust Hustles
Rather than one event this year held in spring, there will be two events this year with the fourth Dust Hustle held at Biddaddaba in April.

Racing categories for this weekend are Clutchless Scooters & Posties, Old Mates (pre 90), Risky Road Bikes and Enduro & MX.
Entry price is $2 per person or free for kids under 16.
To see what all the fun is about, check out this video of their 2016 Dust Hustle event featuring GP legend Garry McCoy and a host of wacky bikes and riders.
Motorcycles, scooters and sidecars featured included old dirt bikes to choppers and a showdown of modern scramblers from BMW and Ducati.
It was also a huge crowd-pleaser with plenty of on- and off-track action and entertainment for the 2000 spectators.