Retro Leather Jacket With a Modern Twist
The iXS Curtis leather jacket is a different take on retro leather. It also helps to illustrate the range of products available in the very broad iXS catalog. The Curtis comes in two striking color combinations: the chocolate brown shades shown here and a red/black with cream combo.
The leather quality and construction is outstanding, as is the stitching. Many double and even triple rows of stitches and various reinforcements also serve as a styling detail. The threads over the brown leather have a copper hue and pearlescent over the lighter cream accents. It's very subtle and not readily apparent until the light strikes it just right, adding to the fun factor for the Curtis jacket.
There's go in that show however. The Curtis jacket comes with a removable EN1621-2 Level 2 certified Powertector back protector and Powertector "Gladiator" CE certified Level 1 shoulder and elbow protection. That's a big extra that isn't often found in either textile or leather motorcycle jackets at any price.
I'll admit that the styling of the Curtis may not be a bit polarizing; the colors and "Vintage Racing 1979" sew-on patches might not be everyone's cuppa tea. I wasn't sure myself at first. But the perfect fit (for me), the construction quality and the bovine leather that's been slowly breaking in have definitely won me over.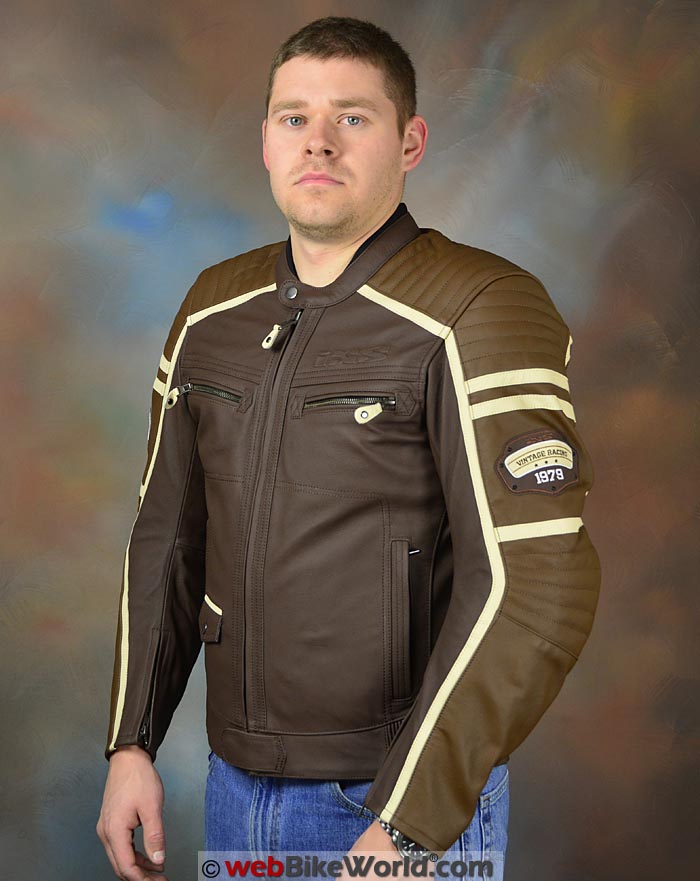 Background
Despite all the modern technology now included in textile motorcycle jackets, I'm still partial to leather. I haven't found a textile motorcycle jacket yet that doesn't have some (or too much) of the Transformers Boy Racer look and, well, textile just doesn't have the je ne sais quoi of leather.
Or the aroma…
There's just something about motorcycling and leather that works. And since I'm a vintage/retro guy at heart, any time a cool-looking leather throwback jacket hits my eye, I'm on it. That's why one day not long ago, while browsing through the extensive iXS catalog, I came across the funky Curtis leather jacket ("classic vintage style with modern protection and features").
It's not pure retro; that is, it's not an exact copy of an original classic leather motorcycle jacket. I guess you could call it "retro themed", similar to the limited edition Icon Strongarm 13 jacket (review) from 2008. I've been following the introduction of the brand to the U.S.A. since it was first announced during the 2014 AIMExpo show (report) and it's taken a couple of years for them to really build up the momentum.
But this isn't a new company; in fact, iXS has a huge selection of just about any type of motorcycle clothing you'd need. So I guess you could say that the Curtis represents another example of this range of designs.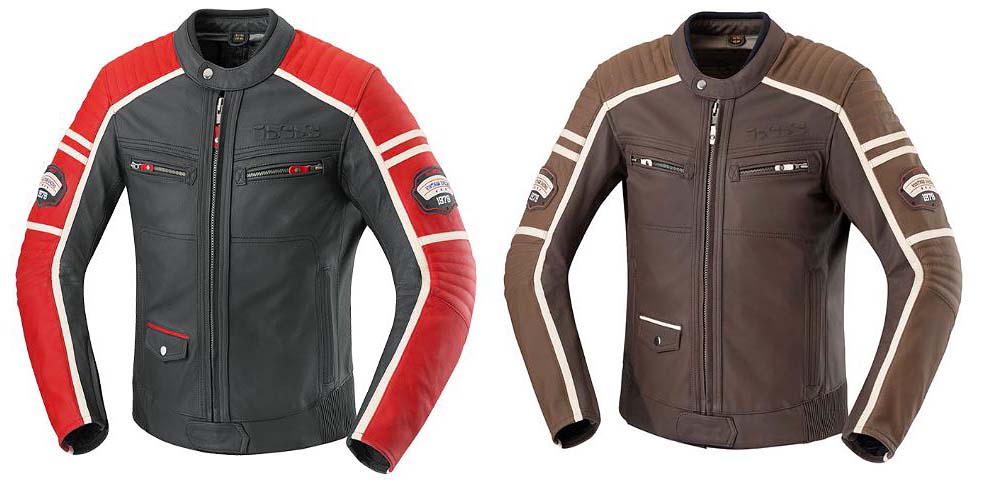 ---
Where to Buy iXS Curtis Jacket
Check Reviews & Prices on Amazon
Check Reviews & Prices On RevZilla
Also: Motorcycle Jackets, Motorcycle Gloves, Motorcycle Boots, Motorcycle Pants
---
The iXS Curtis Jacket
As an old movie buff, whenever I hear "Curtis", I think of Elizabeth Curtis (Deborah Kerr) with Stewart Granger in the search for her missing husband in one of my favorite action films from the '50's: "King Solomon's Mines" (1950) .
But that's just me…
iXS has several other leather jackets to be sure, from classic to modern racer, but the Curtis is definitely different. I've never seen anything quite like it before, either in style or color. There's a red, black and cream version (photo above) but the milk chocolate, latte and cream color combo on the brown Curtis jacket shown in our photos struck me as very unique, so that's what I chose.
The leather is what you might call "3/4 thick". It's not thick like the ultra-classic Schott leather jacket (review) in horsehide and not super-stiff like my old Joe Rocket Speedmaster leather jacket (review) from 2002.
The Speedmaster leather is heavy and stiff and that hasn't changed in 14 years of wear. In fact, the leather in the Curtis jacket already feels better after a couple of rides than the Speedmaster does after 14 years!
Styling
OK, I'll admit that the styling of the Curtis jacket is, well, different. You're probably either going to like it or not. But try my approach — I wasn't sure at first but it's definitely grown on me. To be honest, I could probably do without the "Vintage Racing 1979" embroidered patches on the arms; 1979 refers to the year that the Hostettler Group started selling motorcycle gear.
In fact, Hostettler traces its roots back to 1906 and a bicycle shop owned by the Swiss Hostettler family and it's now grown into a large congomerate, which is also an indicator that there's a fairly powerful backing behind the global iXS brand.
In any case, the choco-brown color is certainly different and I'd have to say that this is one of the few jackets I've worn that gets compliments.
In fact, I've had more than one person ask me about it during visits to the local shops. That almost never happens to me…
One thing I should mention before we go any farther is that the Curtis jacket will not fit all body types. To be perfectly frank, you're going to have to drop that beer gut if you want to wear this one! It's fairly dramatically tapered at the sides of the body and the arms are pre-bent also.
This makes it very comfy on the bike and this size 54 (US 44) fits me perfectly. I'm the farthest thing from a gym rat, but I try to keep a reasonable shape. I'm fortunate to have inherited good genes from my Dad I guess. That's good, because the Curtis jacket, sized correctly, is a very snug fit. But I'm all for a snug and even perhaps a tight fit, because that's what's needed to keep the protection in place during a crash.
What's interesting is that other than a swath of accordion pleats with elastic at the lower waist hem on both sides, there are no other adjustments on the Curtis jacket other than a leather flap at the bottom of the zipper with a metal snap to secure the hem.
Yet the pre-curved and tapered sleeves fit my rather pipe-stem arms nearly perfectly, with a bit of room for those biceps I'll never achieve but not so much room as to feel too loose. In fact, I'd have to say that the arms on the Curtis jacket fit better than most of the jackets I've worn with sleeve adjusters, which never seem to do it for me anyway.
So the bottom line here is that you'll probably have to be in fairly good nick to fit a Curtis jacket. But since the styling is sort of geared towards the younger rider café racer type, that shouldn't be a problem for most owners.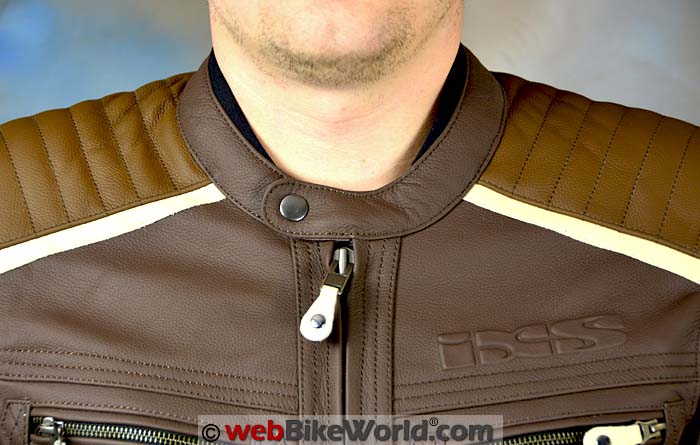 ---
Where to Buy iXS Curtis Jacket
Check Reviews & Prices on Amazon
Check Reviews & Prices On RevZilla
Also: Motorcycle Jackets, Motorcycle Gloves, Motorcycle Boots, Motorcycle Pants
---
Construction Quality
One of the things that really attracted me to the Curtis jacket is the overall quality of the construction and the stitching. There are a few extra leather panels on this jacket as you can see, with the contrasting cream-colored narrow divider lines and the mocha-colored shoulder and arm panels, which differ slightly in tone from the milk chocolate colored body.
But the stitching and construction is immaculate — especially the former, with the very crisp double and even triple rows of stitches adding to both the form and function. The stitch fabric is something in and of itself, with a sort of pearlescent cream on the light colored border lines and a slightly metallic-looking copper used to connect the brown panels.
I don't know how they did it or where they got the textile for the stitching, but it would be a shame to fall and get it scuffed. Double ditto that for the beautiful leather too.
Anything less than perfect stitching would probably ruin the overall effect, because of the many parallel lines formed by the "puffy" look gatherings on the shoulders and down the arms that add a big dose of style to the jacket. It all comes together and the Curtis probably wouldn't look too out of line as a fashionable street jacket either.
Liner
The Curtis jacket doesn't have an insulating liner and that's just fine with me. The liner is an 80% polyester and 20% cotton blend that's a bit different from the standard taffeta type of polyester lining used in most leather motorcycle jackets.
The cotton blend actually makes the lining in the Curtis jacket more comfortable when you're wearing just a T-shirt underneath, because the liner doesn't have that "cold" feel when you first put on the jacket. Instead, the cotton blend adds some softness and comfort.
The absence of an insulating liner makes the jacket easier to wear in a variety of conditions, as I can mix-and-match whatever I need underneath, with the classic white T-shirt and jeans are probably the perfect match.
The attaching lining has a touch of whimsy also, with the "Vintage Racing 1979" printed inside (see the photos in the slide show).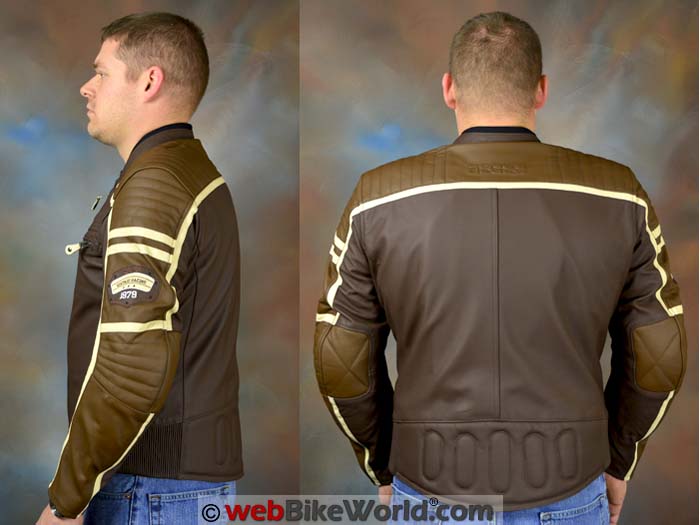 Protection
Many of the iXS jackets and pants have certified CE protectors, with the correct CE markings and documentation supplied. There's a big difference between simply claiming a jacket meets CE standards and actually having it tested and then certified. See our article entitled "CE Certified vs. CE Approved" for more info on that topic.
The Curtis jacket comes with a full array of protection; more, in fact, than most motorcycle jackets come with today. Included are a removable EN1621-2 Level 2 certified Powertector back protector, not the junk padding supplied with most jackets — some even costing lots more.
The Curtis also has Powertector "Gladiator" CE certified Level 1 shoulder and elbow protection. There's also a full-length attachment zipper inside the jacket to attach to iXS pants.
Between this level of protection and the snug-fitting leather exterior, the Curtis has an excellent array of protective features.
Ventilation
There are no vents of any type on the Curtis jacket, so this is a cool-weather riding garment only.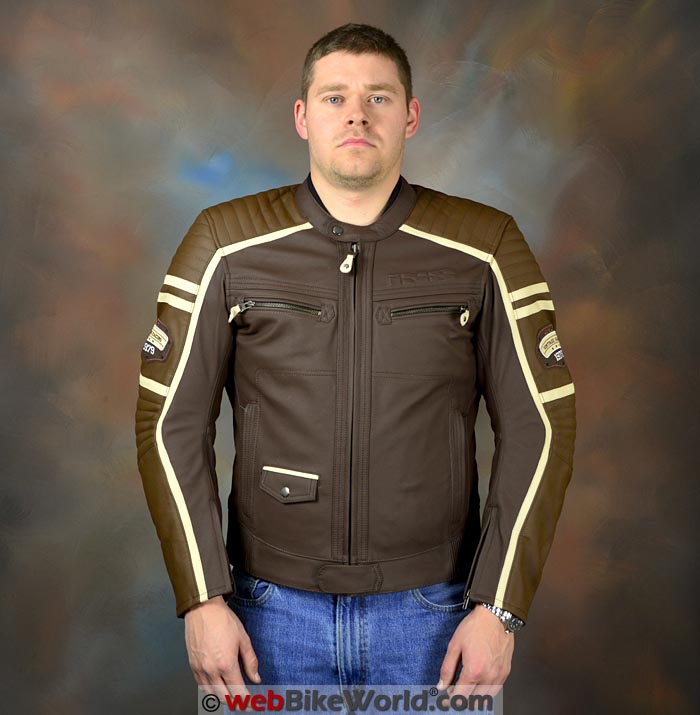 Pockets
The Curtis jacket actually has a surprising number of pockets for this type of jacket and the pockets are nicely integrated into the overall design and styling. There are 5 external pockets and 3 on the inside of the jacket. Two lined external hand pockets have YKK zippers covered by a leather flap with two rows of external stitches for styling.
There's a small pocket that's more or less a coin pocket on the lower right side, covered by a leather flap with a "Star King" brand metal snap. Two horizontal pockets are located at the upper chest. These have brass YKK zippers with contrasting leather pull tabs and they're very deep at around 18 cm (7″).
Inside the jacket in the liner are two pockets, the left is a horizontal pocket with a hook-and-loop closure and on the right side is a cell phone pocket with an elastic top. And there's one more vertical zipper pocket on the right side placket.
---
Where to Buy iXS Curtis Jacket
Check Reviews & Prices on Amazon
Check Reviews & Prices On RevZilla
Also: Motorcycle Jackets, Motorcycle Gloves, Motorcycle Boots, Motorcycle Pants
---
Sleeve Cuff Adjustment
To maintain the sleek external look of the Curtis jacket, the sleeve cuffs have vertical 120 cm (5″) metal YKK zippers only, along the inside of the wrist. There are no buttons, snaps or hook-and-loop but the tapered fit of the arms means that the sleeve cuff fit is just about perfect anyway.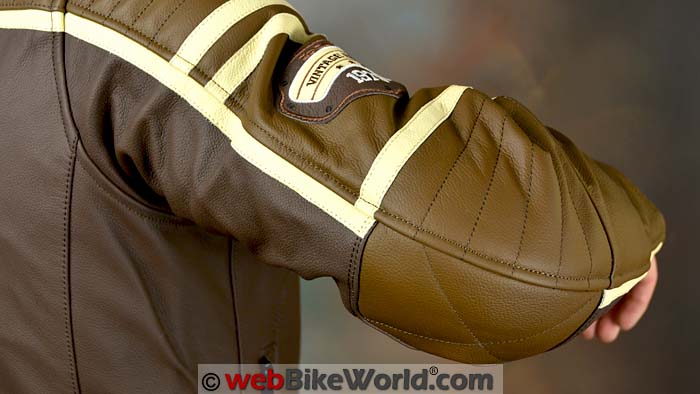 Fit and Sizing
The Curtis jacket is available in sizes from 38 to 50 US (48 to 60 European sizing). The jacket shown here is a size 54 (44 US) and it fits as expected for a US men's size large. The model shown in the photos has a 44″ chest and 36″ waist.
As I mentioned earlier, the Curtis jacket has a tapered fit, as you can see in the photos. You don't have to be a perfect "V" shape but upside-down "V" shapes will have difficulty fitting into this jacket.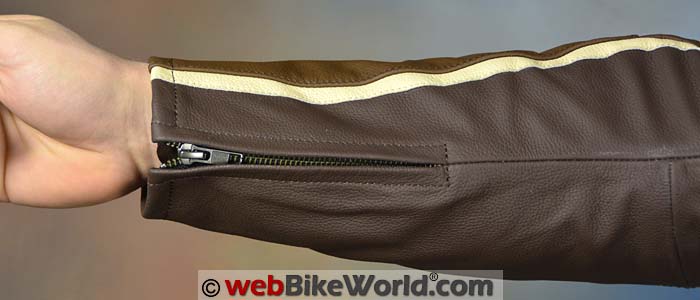 Conclusion
The iXS Curtis jacket is yet another example of the range of motorcycle clothing offered by the Swiss-based company. While the styling may not be to everyone's taste, the Curtis jacket is beautifully constructed and tailored. The milk chocolate tones of the jacket are definitely different but the red and black version is there if you'd like. In fact, it would be interesting to see an all-black version also, sort of a "stealth" version of the Curtis jacket.
Perhaps iXS will consider it, depending upon interest. The inclusion of good quality CE certified protection, including the Level 2 back protector, is a definite plus and the back protector alone is about a $50.00 bonus.
The $529.00 list price is not unreasonable for a leather motorcycle jacket with this level of construction and quality with the back protector included. There's nothing like leather and a jacket like the Curtis should last a lifetime, making it a worthwhile investment.
w

BW

 Product Review: iXS Curtis Leather Jacket
Manufacturer: iXS USA
List Price (2016): $529.00
Colors: Black/red or brown
Made In: Unknown
Sizes: 38-50 US
Review Date: December 2016
---
Where to Buy iXS Curtis Jacket
Check Reviews & Prices on Amazon
Check Reviews & Prices On RevZilla
Also: Motorcycle Jackets, Motorcycle Gloves, Motorcycle Boots, Motorcycle Pants
---
Other WebBikeWorld Jacket Posts