Did you know that your speedo is most likely inaccurate and that the inaccuracy could vary slightly with time?
In these days of low speed tolerances by the police, it is vital that your speedo is accurate or that you are aware of its inaccuracy. To check the accuracy of your speedo, you could go to your mechanic if they have a dyno or "rolling road", but that can be expensive.
Another old-fashioned way to check your speedo is against posted distances on the highway. Some places actually have signs every kilometre specifically to check your speedo. If you arrive at the distance on your trip meter or odometer before you arrive at the sign, your speedo is reading higher than actual speed.
The easiest and most accurate way to check your speedo is against a GPS that displays speed.
Most likely you will find that your speedo errs on the conservative side. That is, it shows a faster speed than your are actually travelling. This is how most manufacturers set their speedos.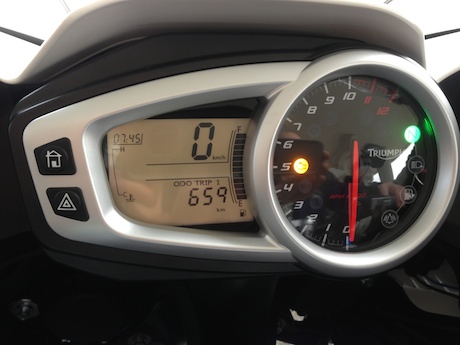 It's also a requirement of Australian Design Rule 18. Up to July 2006, speedos had to be within 10% of the real speed and they could read either way. That led to police in states such as Queensland setting speed cameras to trigger at 11km/h over the speed limit.
However, since July 2006, all new vehicles except mopeds, had to show a conservative reading, only, up to 10%. That puts us in line with most other counties and means the indicated speed is always faster than your bike's actual speed.
With this new rule and more accurate speedos, many police jurisdictions have now reduced their tolerance. In Queensland, the speed camera tolerance has gone from a blanket 10km/h to 4km/h. However, an officer holding a Lidar gun is still allowed to fine you for any speed over the posted speed.
Now, just because your speedo shows you are travelling at a slower speed than actual speed, doesn't mean you don't have to worry about your speedo accuracy.
Some riders build in their own speed tolerance on their speedo, believing it to be inaccurate. But do they know by how much? Are they gambling with their licence?
The good news is that your speedo inaccuracy won't change over the years unless it actually breaks. However, it can vary over the life of your tyres, or depending on what type of tyres you fit?
For example, I recently went from a low-profile road-based tyre on my adventure bike to a high-profile knobby tyre for off-road use. According to my GPS, the speedo inaccuracy was about 6-7% on the road tyres, but is now only 3% on the new tyres. That's because the rolling circumference, or the outside measurement, of the tyre is now greater than the reading taken by the speed sensor.
It can also change over the life of a tyre. Knobby tyres are especially affected because they have a high knob that can wear down considerably before they need replacement. If it decreases by 10mm, that could further change the speed accuracy by 3%. Obviously it's less for a road tyre which doesn't wear down as much.
Another factor which can change the reading of your speedo is tyre pressures. However, you would have to be running a really flat tyre before it changed the rolling circumference and then you have other issues to worry about, anyway! (By the way, the rolling circumference in this case is not the outside of the tyre, but determined by the radius from the hub to the part touching the road.)
The RACQ carried out a pilot survey in 2010 of 25 cars but no motorcycles. They found the average variation to be 5.3% on the conservative side at 100km/h. That is, the speedo reading was faster than the actual road speed.
So the moral of the story is that if you want to be safe, follow your speedo which will always have you riding slower than the posted speed. If you want to squeeze out every allowable km/h, then you'll need to use your GPS or work out your speedo inaccuracy. Also, be aware that if you change your tyre or wheel size, or allow your tyres to go flat, it will also affect your speedo reading.
Meanwhile, please enjoy Ry Cooder's "Speedo" …