The tinted sports windscreen bobs up from behind the Swiss-clock instruments as I pull in the lightweight clutch and switch gears in the precision transmission, then settles down again as I wind on the throttle.
I smile and I nod. This is a bike like no other.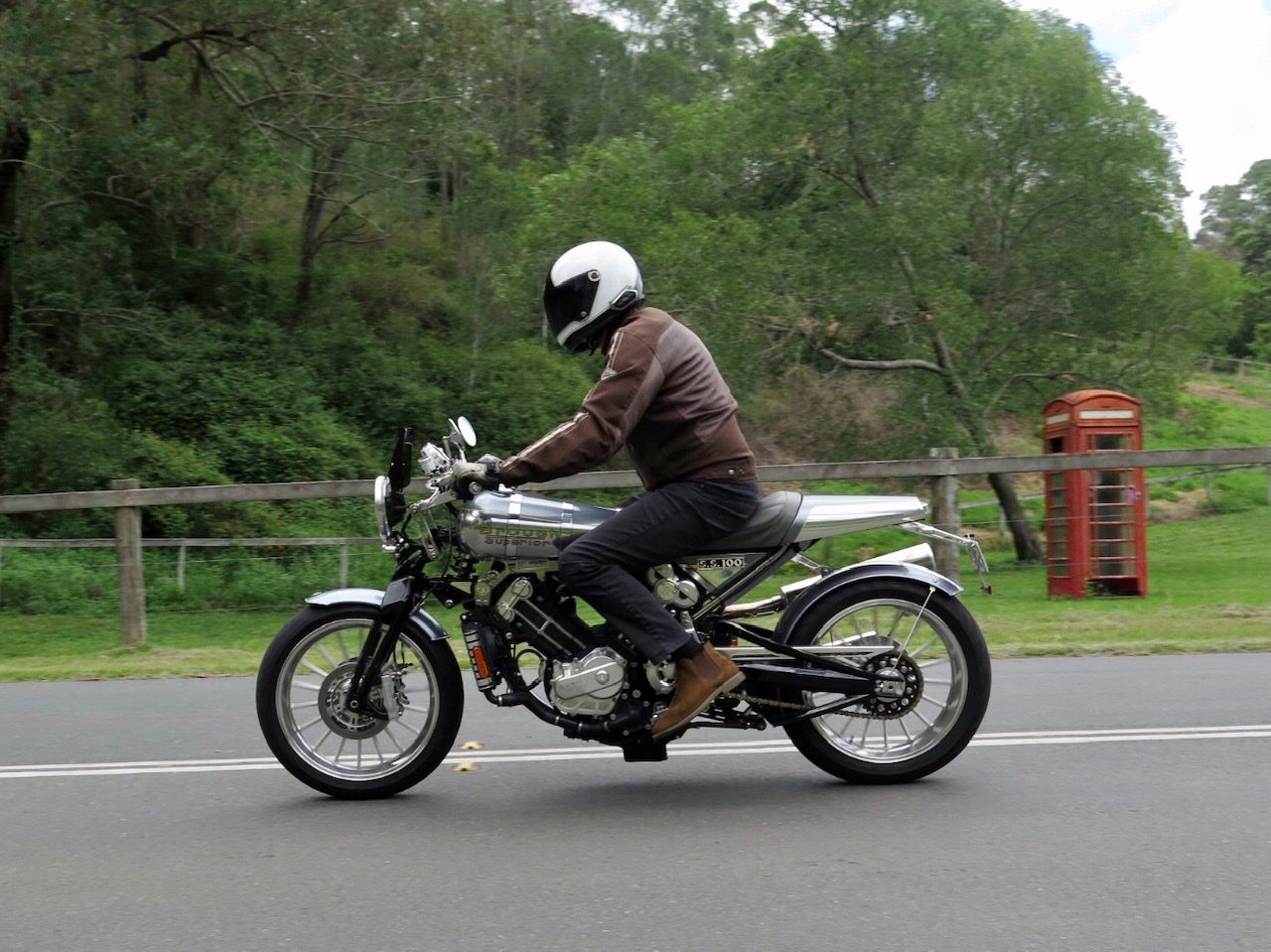 I'm riding the reborn Brough Superior SS100 and alternating with the Pendine Sand Racer model through the verdant back blocks of Brisbane when I have an epiphany about these $A105,000 motorcycles:
Throw out the rule book about writing reviews.
Forget about tech specs.
Don't even think about the cost. (As they say, if you have to ask the price, then you simply can't afford them.)
These bikes are simply out of the realm of the normal PAYE taxpayer/rider.
Luckily for me, I get a rare fantasy ride on these precision machines, thanks to Aussie Brough Superior distributor Fred Drake.
It's a unique experience that is not lost on me. 
Something to savour and enjoy, then hand back in the hope I haven't become too carried and away and troweled one!
Works of art
Rather than riding a "normal motorcycle", these are like riding works of art.
And just like works of art they are more valuable than the sum of their parts. 
For example, The Mona Lisa is worth more than the canvas, a frame and some oil paints.
They also have little to do with the tech specs, although I have, for the benefit of those with a technical mind, included them at the end of this article. 
There are bikes that are faster around a track or more comfortable on the open road. But nothing quite beats the experience of riding something that feels like it came from the current Brisbane Gallery of Modern Art Gallery exhibit, Motorcycle: Design, Art, Desire.
Brough bikes are exactly that: design, art and desire.
Ok, let's address a couple of issues.
At the moment there is only one distributor in Australia so service and warranties issues could be a logistical concern.
However, Fred says he is "adding some dealers ASAP" and is making "a good effort lately with spares and warranty matters".
There are also some anomalies in bolts and various parts due to their handmade nature.
However, these are not commuter nor touring bikes that will do regular or long-distance duties.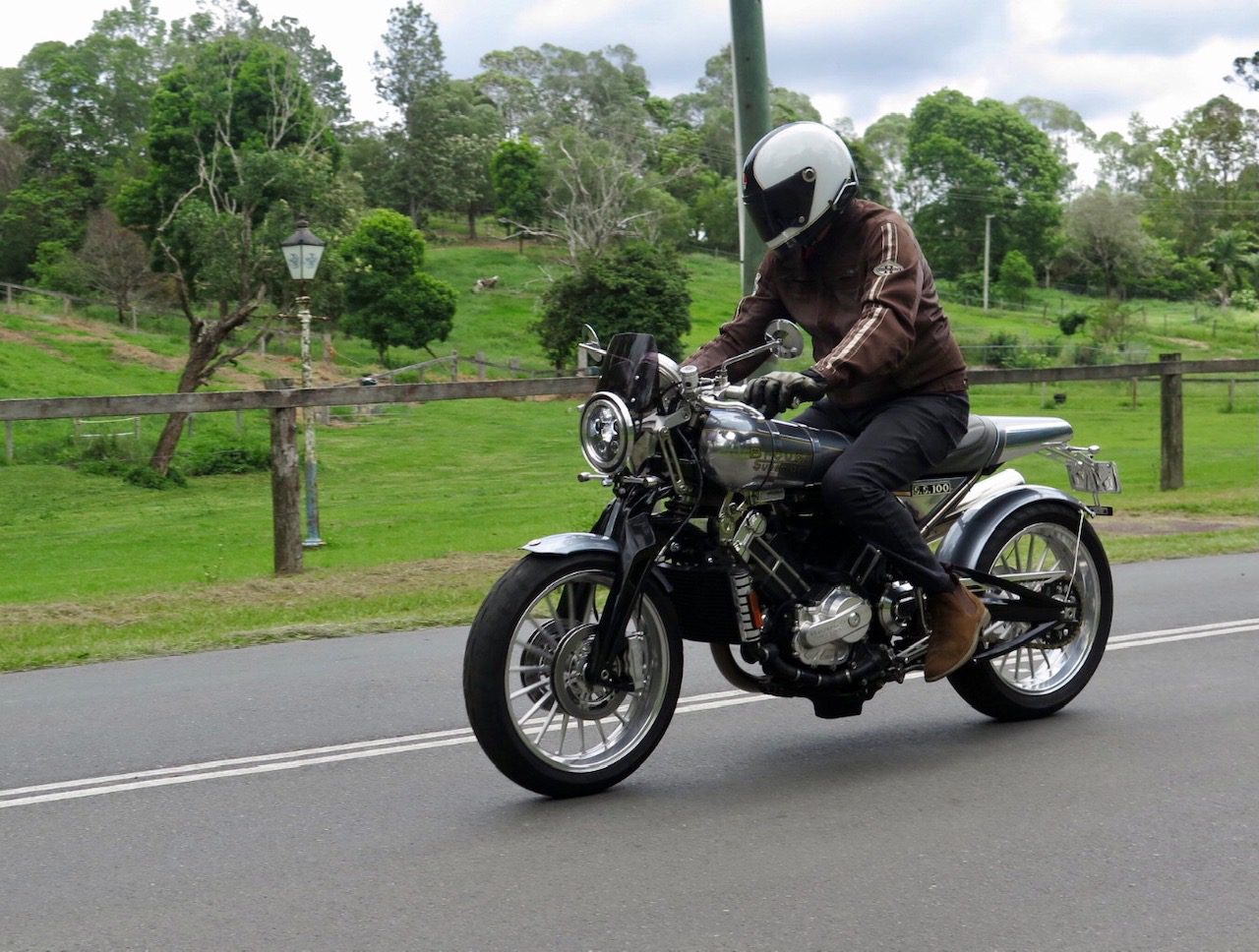 Most will sit on a plinth or a mirror in the pool room to be brought out on a special occasion were everyone can admire their beautiful design.
They are about bragging rights, exclusivity and luxury.
Purchasers of these bikes will most likely know the venerable history of the brand which I have gone into at length in various previous articles.
They will appreciate that history which adds an intrinsic value to the bike and improves the investment value of the machines.
In fact, unlike almost every other new bike, they could even appreciate in value with the years.
Riding experience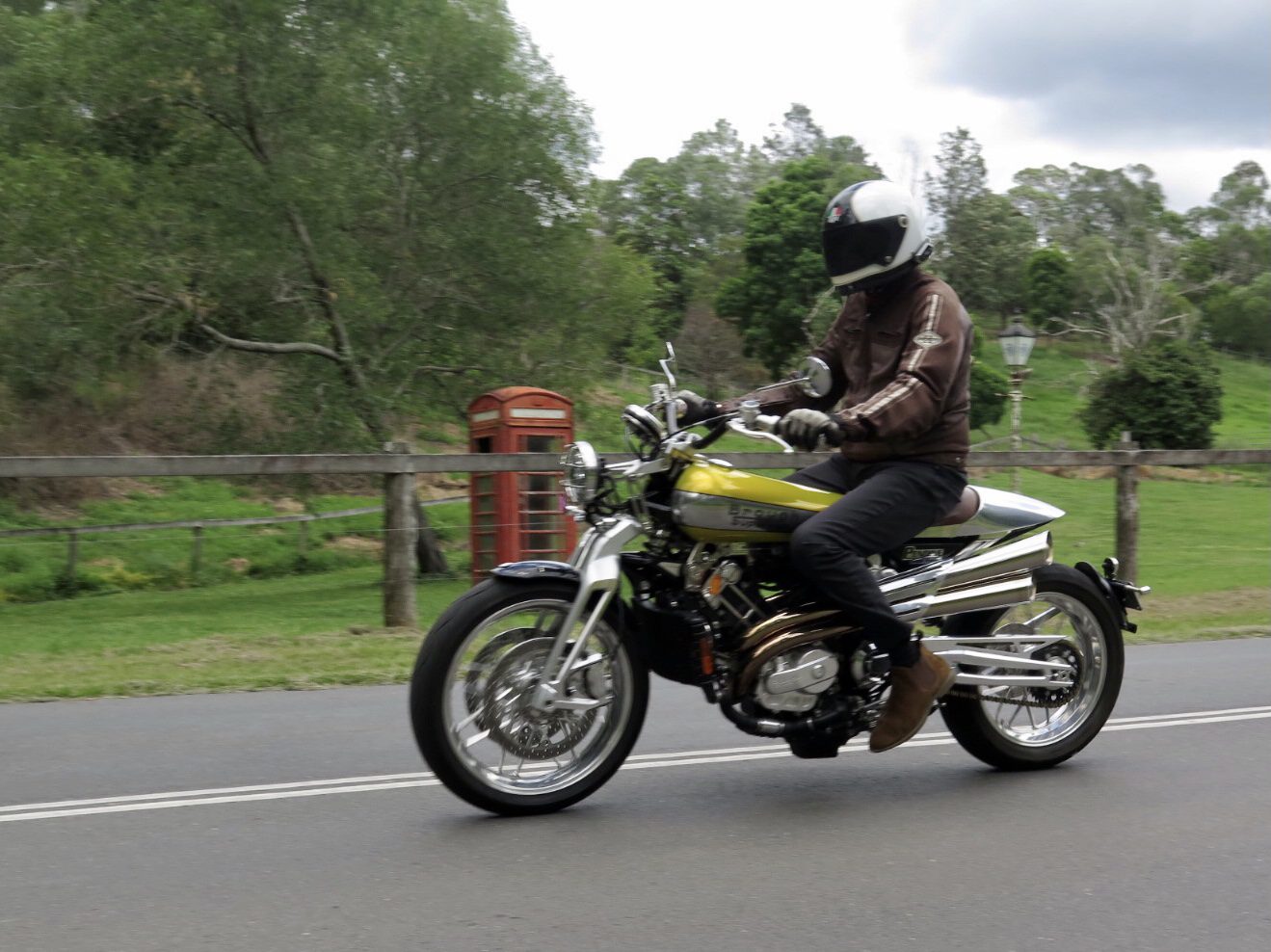 If you need to know about the riding experience, I can tell you they are different to "normal bikes".
The SS100 is a naked sports bike, while the Pendine Sand Racer is a more relaxed riding position with vintage-style beach bars.
They are both powered by a 87-degree twin that feels a little like an older Ducati, but sounds more like a raging, crackling bushfire.
It revs more than most big V-twins, is married to a slick transmission and the bike comes to an abrupt stop thanks to oversized brakes. On the SS100, there are, in fact, four floating front discs!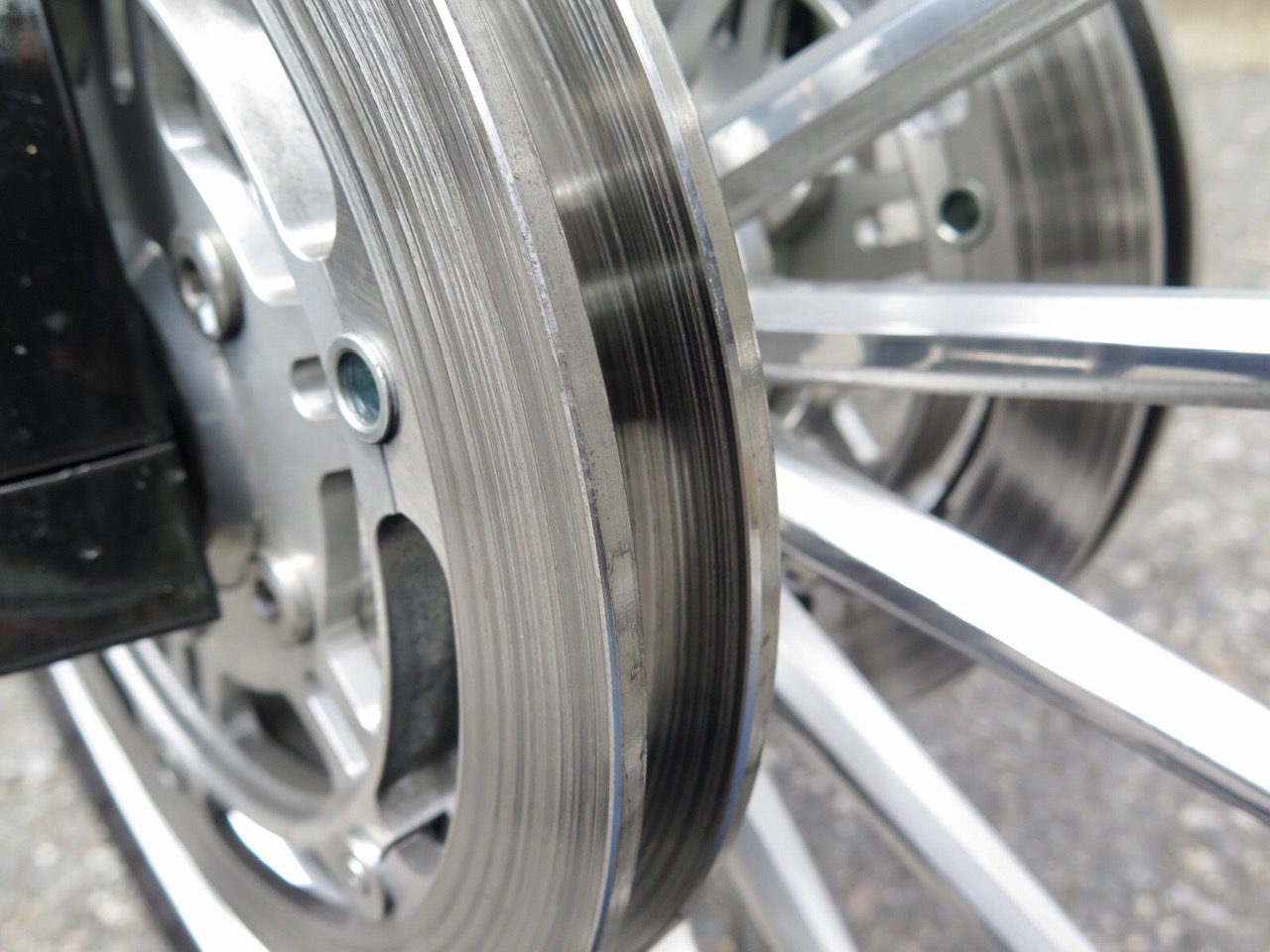 Hitting the brakes or even pulling in the clutch to change gears activates a slight fork dive that makes the headlight and windscreen (on the SS100) bob up and down.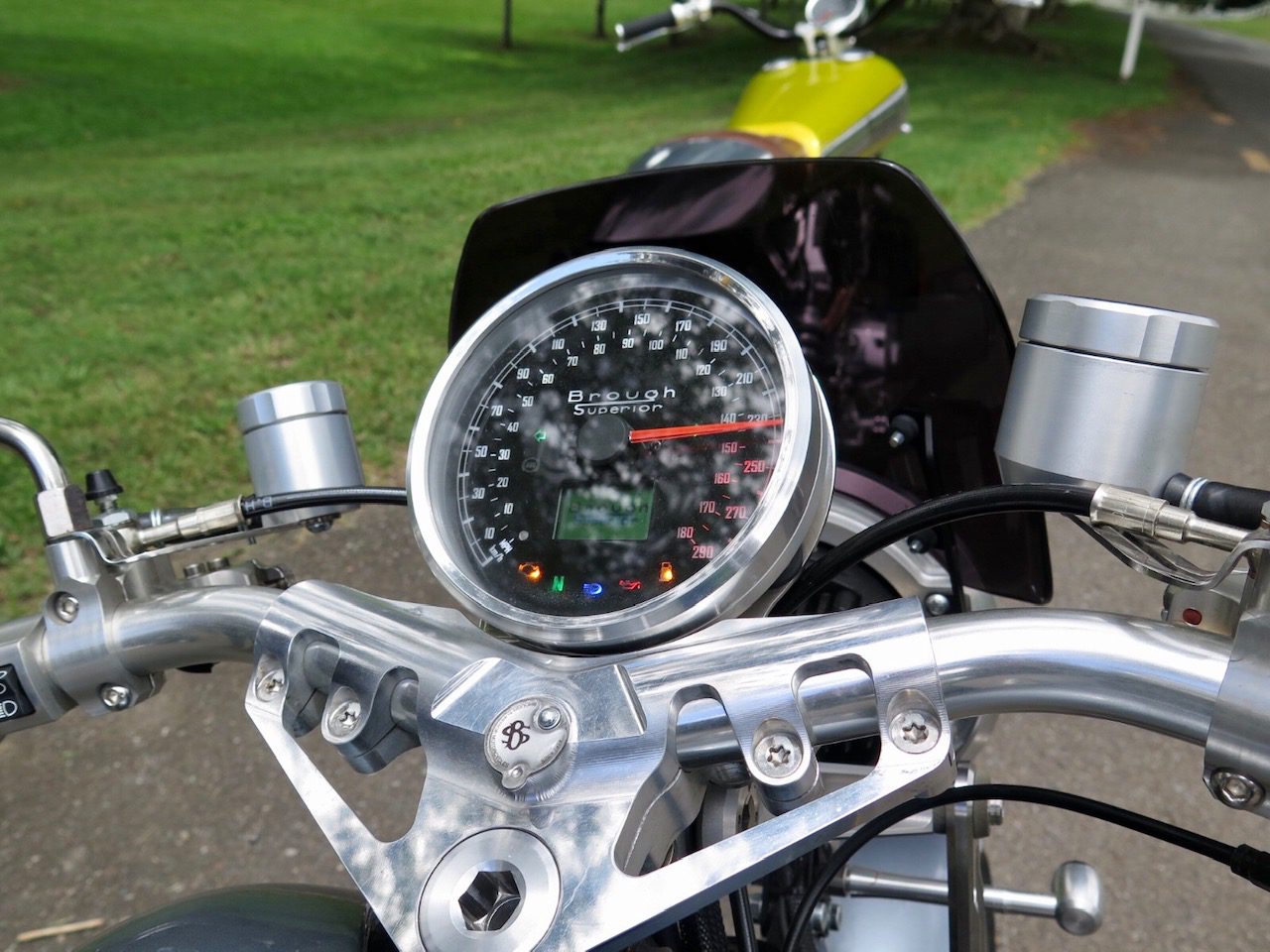 That Fior cantilevered and shock-absorbed front end is yet another unique feature on a bike that surprises at almost every turn.
In fact, customers can elect to change a lot of the trim and details and make this a truly bespoke handmade machine if they are willing to wait a few months.
Despite the price tag, it's not overly technical. 
In fact, there is only ABS and no traction control, multiple screens, comprehensive information, Bluetooth connectivity's blind spot alert, cruise control nor any of the other mod cons appearing on modern bikes. They don't even have a lockable fuel cap!
It doesn't seem to make sense just as a McLaren or Pagani doesn't make sense.
Instead, it will forever remain an interesting and desirable motorcycle.
Brough Superior range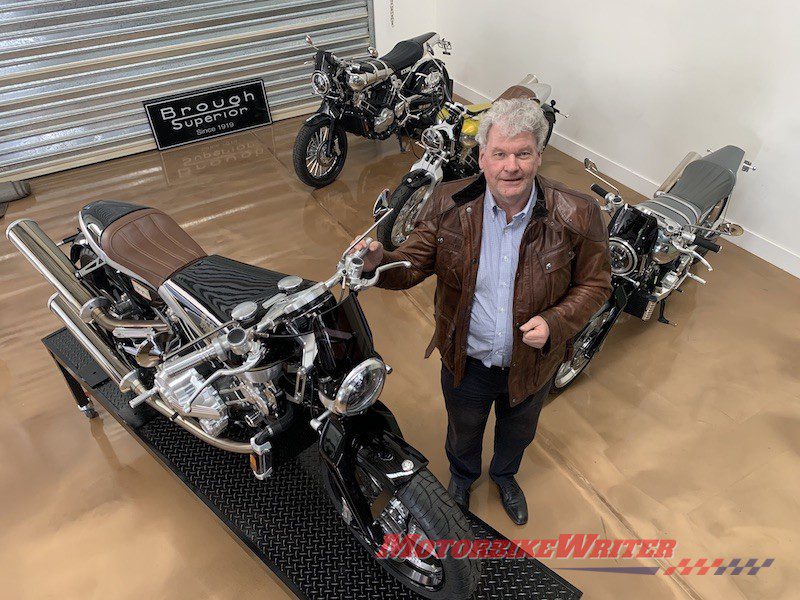 These bikes are part of a small, but exclusive line-up:
SS100, $105,000 (Euro 3);
SS100, $110,000 (Euro 4);
Pendine Sand Racer, $105,000;
Anniversary, $168,000;

AMB 001

, $185,000
They are available for viewing by appointment in Yeerongpilly, Brisbane. Click here for more details. 
Tech specs
| | | |
| --- | --- | --- |
| | Pendine Sand Racer | SS100 |
| Warranty | 2 years, unlimited distance, parts and labour | 2 years, unlimited distance, parts and labour |
| Price | $105,000 plus ORC | $110,000 plus ORC (Euro 3 spec $105,000 plus ORC) |
| Engine | 997cc four stroke, 87 degree V-twin. DOHC, 4 valves per cylinder, Water cooled. | 997cc four stroke, 87 degree V-twin. DOHC, 4 valves per cylinder, Water cooled. |
| Power | 75 Kw @ 9600 rpm | 75 Kw @ 9600 rpm |
| Torque | 87 Nm @ 7300 rpm | 87 Nm @ 7300 rpm |
| Wheel sizes | Front  – 19 x 3.50, Rear – 17 x 4.50  | Front – 18 x 3.50, Rear – 18 x 4.50 |
| Seat Height | 820 mm | 820 mm |
| Gearbox | 6 speed | 6 speed |
| Weight | 186 Kg | 186 kg |
| Suspension front/rear | Fior fork front, dual sided swingarm. 120mm travel Front & Rear. Off set rear shock absorber.  | One piece Fior fork front, dual sided swingarm. 120mm travel Front & Rear.  |
| Brakes front/rear | Disc, 2 x 320mm Front 4 piston caliper, 1 x 230mm Rear 2 piston caliper. ABS. | Disc, 4 x 230mm Front 4 piston caliper, 1 x 230mm Rear 2 piston caliper. ABS. |