A VicRoads brochure has given the wrong impression of ABS (anti-lock brake systems) and even offered advice that riders fit an aftermarket system.
The comments have been considered irresponsible and dangerous by university safety researcher Ross Blackman.
UPDATE: VicRoads has now replied to all the concerns mentioned in this article. Scan down to 'VICROADS REPLIES' for their comments.
The VicRoads brochure delivered with a licence renewal notice states: "A motorcycle with ABS enhances your riding skills and techniques by preventing the wheels from locking, skidding and sliding under".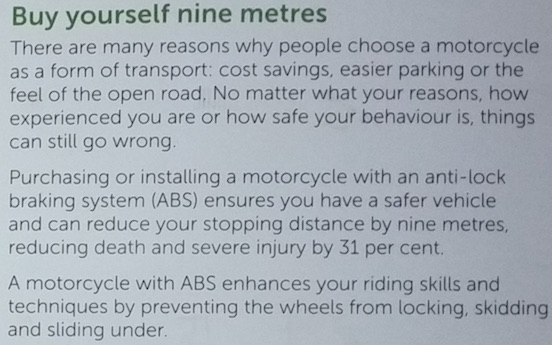 Ross says most experienced riders know that ABS does not enhance skills and technique.
"It can only compensate for a lack thereof," says the research associate at the Centre for Accident Research & Road Safety – Queensland (CARRS-Q) at the Queensland University of Technology.
"While I support the efforts of VicRoads in encouraging riders to choose ABS-equipped bikes (because, yes, they will prevent unwanted lock-ups), ABS should never be seen as a substitute for good braking skills and a clear understanding of how your bike performs under brakes.
"If you can use your brakes effectively and to anywhere near their potential, your ABS will rarely if ever have to do any work. That should be the aim."
The other concern about the VicRoads advice that ABS makes a rider more skilled is that it may prevent riders from seeking more skills through an approved rider course.
The VicRoads brochure also encourages "(purchasing or) installing a motorcycle with" ABS.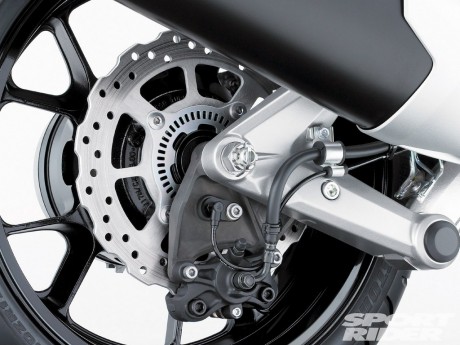 However, aftermarket ABS does not exist. It needs to be developed and tuned specifically for each motorcycle and fitted at the factory as the bike is being manufactured.
Ross says that even if there were such a thing as aftermarket ABS, fitting it should never be undertaken by anyone other than an expert in that field.
"I dare say that it would almost always be more cost effective to replace your bike with one that already has ABS fitted, rather than take on the many technical challenges involved in fitting ABS to your current bike," Ross says.
Advice that riders add ABS might also encourage "backyard mechanics" to doctor their own, with dangerous and illegal repercussions.
VICROADS REPLIES
From Robyn Seymour – VicRoads Director Vehicle and Road Use Policy:
In a recent registration renewal notice VicRoads sought to inform motorcycle riders about the safety benefits of Anti-lock Braking Systems (ABS).

Unfortunately, some of the information contained in this notice did not accurately reflect the benefits that ABS can deliver for riders and why VicRoads encourages riders to purchase bikes with ABS fitted.

Motorcycle ABS is an exciting technology that has the potential to provide significant benefits to riders in a variety of ways and could reduce the number of lives lost and severe injuries from motorcycle crashes by 31 per cent.

VicRoads wishes to make it very clear that ABS does not enhance your riding skills and techniques. It is not a substitute for proper skill development and riding within your abilities – which is essential for the safety of any motorcycle rider.

A motorcyclist can improve their skills in a variety of ways but the most effective is by spending time riding a motorcycle and gaining that experience in a safe environment.

Motorcycle ABS is a rider assistance technology that provides riders with a greater confidence in using the full braking potential of their motorcycle.  Given the reduced risk of crashes and road trauma for bikes with ABS, this provides a safer vehicle for all riders, but particularly novice riders as they develop their road craft skills.

The research in to the benefits of ABS has been undertaken on motorbikes that have been fitted with ABS at the point of manufacture.  

There is no current research as to the benefit of ABS that has been fitted aftermarket. It is far more effective to buy a motorcycle with ABS fitted by a manufacturer than to attempt to fit it as an aftermarket device. To help motorcyclists identify motorcycles fitted with anti-lock brakes on new motorcycles, VicRoads has developed an online resource: www.vicroads.vic.gov.au/saferbikes.

We also note that aftermarket fitting of ABS for motorcycles is a complex process that requires third party engineering certification, so ABS fitment is very difficult for anyone other than the vehicle manufacturer and is best left to them.

VicRoads acknowledges that some of the information contained in the recent renewal notice was poorly worded. However it stands by its position that ABS is an important technology for motorcycles that could significantly reduce the number of lives lost and serious injuries on our roads.  
ABS OVER THE YEARS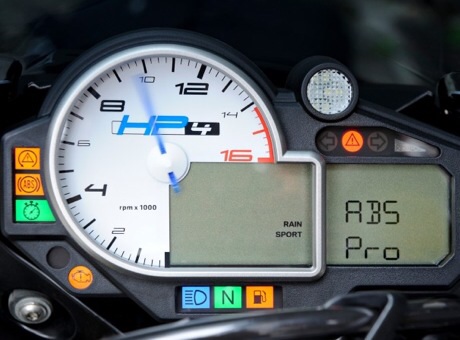 ABS or anti-lock braking systems have been around since 1929 when it was used in aircraft.
The first application on a motorcycle was in 1958 when a Royal Enfield was used in lab tests.
A mechanical ABS was first used in the Ferguson P99 race car, but it wasn't until 1971 that Chrysler introduced it to a production car.
In 1988 the BMW K 100 became the world's first series-produced motorcycle available with anti-lock brakes as an option.
In Australia, more than 200 bike models have ABS as standard or an option. BMW elected to make ABS standard across its full range of 29 models from 2013, including their two scooters.