Interphone F5MC Bluetooth Intercom Review
The Interphone F5MC was just released as the latest in the highly successful line of Interphone F-series intercoms.
The F5MC improves on the Interphone F5 (review) in several ways but keeps the same sleek form factor and ease of use.
Interphone was the first manufacturer to include a "Voice Wizard" spoken status announcement system in their motorcycle intercoms.
The updated Voice Wizard uses text-to-speech technology that gives it what we think it is the best and most comprehensive help system of its type in any motorcycle intercom.
The status announcements or instructions are heard when the user presses a button and then after a short pause, more detailed instructions that are relevant to the particular mode (e.g., Intercom, Phone, FM Radio, Music Streaming, Auxiliary Input, Setup) are then heard.
This is one of the standout features of the Interphone system and it makes it easy to quickly learn what might otherwise be a complex system — important for a modern high-end motorcycle intercom system.
Another new feature is the Interphone "Anycom" function, which allows the F5MC to connect with Bluetooth intercoms of other brands. We easily and quickly connected to several different Sena and Cardo intercoms with no problems.
The F5MC also connects with full-duplex intercom conversations and it can conference call up to four riders at a distance of up to 1.3 kilometers.
It also has music and GPS sharing between F5MC systems.
The system uses Bluetooth 3.0 and supports the HFP (Hands-Free Profile); A2DP and AVRCP. The intercoms also have built-in FM radio with RDS and the sound quality of the speakers is excellent.
The intercom units have a claimed 12 hour talk time and 700 hour stand-by time and so far in our evaluation, this seems correct.
The Interphone F5MC is IP67 certified for dust and water ingress and the mounting system is simple and robust.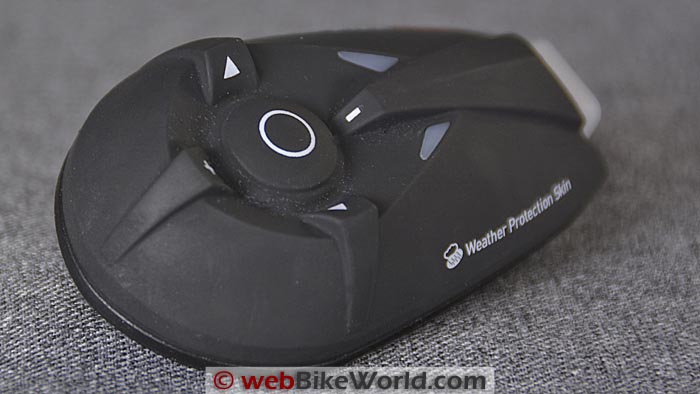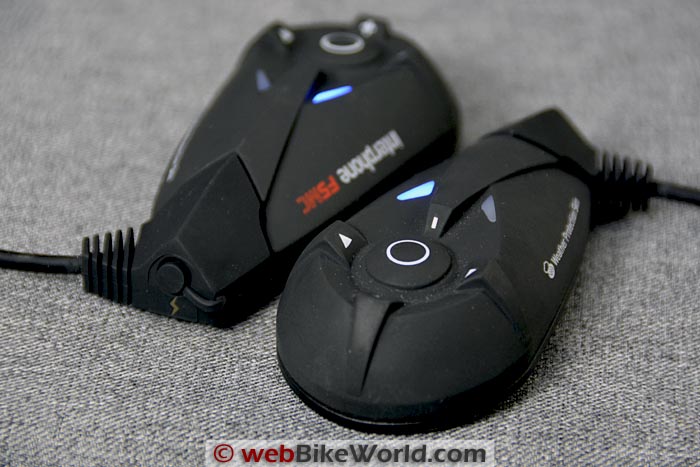 Background
We've been following — and reviewing — Interphone intercoms since the beginning, back when motorcycle Bluetooth intercoms (including Interphone) were in their infancy.
The technology has improved by leaps and bounds during the last 10 years but Bluetooth intercom technology was so bad in the beginning that it's surprising that it took off at all.
For example, most motorcyclists probably don't realize that "pairing" wasn't something that was done at the factory.
Back then, you had a series of buttons to press, beeps to count, LED light blinks to see and fingers to cross in the hope that something — anything — would happen and the two intercoms would actually be able to connect. When they did, it was a miracle.
I also remember having to carry a big "cheat sheet" showing the various button-pushing combinations and LED light flashing sequences to remember which would get the intercoms to perform even the most basic functions…like power up and turn on.
All I can say is, good riddance to those days. Modern motorcycle Bluetooth intercoms are remarkable and the best thing is that just within the last year we now have intercoms that will pair with and talk to other brands.
That was something that webBikeWorld readers have been asking for all along and it's here. See? Persistence and hounding the manufacturers does pay off!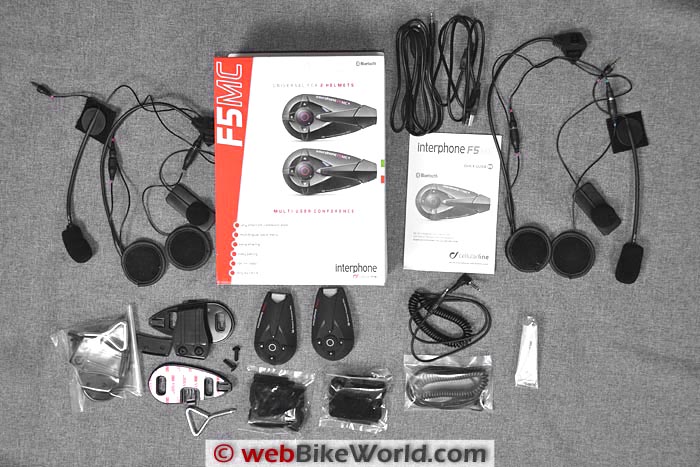 ---
Where to Buy Interphone F5MC
Check Reviews & Prices on Amazon
Check Reviews & Prices On RevZilla
See More: Motorcycle Intercom, Motorcycle Accessories, Motorcycle Helmets
---
The Interphone F5MC and the "Voice Wizard"
The Interphone F5MC is the newest motorcycle Bluetooth intercom system available, just released and ready to go. Burn and I have been using the F5MC for several weeks and we're impressed.
Here's a little secret: whenever I need an intercom system for "quick and dirty" comms on the road for evaluating a webBikeWorld product, it's not the latest and greatest Sena, Cardo, UClear or even Interphone system I grab.
It's the old Interphone F4 (review).
That's because I'm mostly a creature of habit and I know the F4 inside and out. It quickly and easily installs in any helmet and it just works, without a lot of fuss.
I'm now happy to say that the Interphone F5MC is a worthy replacement for the F4.
That's because Interphone kept all the good stuff — most importantly, the ease of use. They also kept the solid, easy-to-use mounting system, sleek profile and quick-find buttons and the F5MC has an improved "Voice Wizard" spoken status announcement and help system.
You may not know this, but Interphone was the first motorcycle Bluetooth intercom system manufacturer to use the multi-lingual spoken status announcement help system in a motorcycle intercom that is now common in many brands.
This means that Interphone has plenty of experience, and it shows.
The Interphone "Voice Wizard" system is a true "TTS", or Text-to-Speech" system and not a limited set of recorded messages on a chip, so the Wizard gives more detailed assistance at every stage of operation.
Modern intercoms have a lot of features which can make them complex and sometimes difficult to use, and some owners of various intercom brands have told us they don't use the more advanced features simply because they can't remember how without reading the owner's manual.
On the road, the Interphone "Voice Wizard" makes it easy to learn and use all of the features of the F5MC with no more cheat sheets required.
You'll note that there are a minimal number of buttons on the F5MC; all you need to remember is the big multifunction button (MFB) in the center and the easy-to-find, "North/South" up/down buttons that surround it.
The "East/West" buttons are for volume control.
Press the up/down buttons to scroll through the spoken menu and press the MFB to select. The Voice Wizard will guide you in your choice of language. A quick press of the MFB button will bring you back to the "home" setting when you need to back out of the menu system.
So what's different about the Interphone spoken help system compared to other brands of intercoms? It's much more extensive and more helpful, to be honest. And once you learn the system you can turn off the Voice Wizard in the setup menu.
We had no trouble putting the F5MC through its paces and we were easily able to use every available feature just by listening to the Voice Wizard, and it all worked smoothly and efficiently — including pairing with other brands of intercoms.

Interphone F5MC Features
The "MC" in the F5MC name stands for "MotorCycle" or "Motorcycle Club"…basically just a designation to differentiate the F5MC from the related Interphone F5 (review) on which it is based.
This means that intercoms in the current Interphone product lineup include the Interphone F3MC (€269.95 for the twin kit), which is a basic rider-to-passenger Bluetooth intercom.
Also the Interphone F4MC (€369.95 twin kit), a mid-range system for bike-to-bike communication; and the F5MC ($499.99 USD/€439.95 for the twin kit), which is the Italian company's top-of-the-line intercom/communications system.
Previous versions of Interphone intercoms are still supported.
New features of the Interphone F5MC include:
Anycom: The F5MC can be paired with other brands of Bluetooth intercoms for full-duplex ("constant on") communications.
Text-to-Speech Multilingual Spoken Status Announcements: Help system that guides the user through the menu choices and options.
Automatic Reconnect: If the paired intercoms move out of range, the system will automatically reconnect.
Music Sharing: A pair of F5MC intercoms can share music streamed from a Bluetooth connected device, such as a cell phone or MP3 player (or cell phone GPS instructions). Sharing is also possible for devices connected via the F5MC auxiliary port.
FM Radio: Improved FM radio reception with a single button press to search for stations (long button press stores the station in your choice of memory location). 88.0 MHz to 108 MHz FM receiver with RDS functionality (adjusts to best frequencies according to zones).Includes 8 preset station memory with Search and Store function and automatic radio muting for incoming calls.
Automatic Volume Control: Choose automatic or manual for "Jet" or full-face style helmets.
Fast Pairing: Pairing can be accomplished with the F5MC is on via the setup menu.
Audio Quality Improvements: Sound and audio quality (and volume) have been improved. Digital Signal Processing (DSP) for advanced audio filtering and wind noise suppression.
Battery Life: Talk time up to 12 hours and standby time up to 700 hours. Charging time from empty: 3 hours.
Range: Up to 1.3 km (0.8 mile) in full duplex mode.
Conference Mode: Up to four F5MC intercoms can be paired and connected.
Mobile Phone: Headset and Hands-free profiles. A2DP and AVRCP profiles for wireless streaming stereo from MP3 player or other A2DP device. Voice dialing, redialing and call reject. Last number redial.
Firmware Updates: Windows PC based.
IP67 Certified: Temporary immersion and dust.
Interphone Remote Control: Compatible with the handlebar-based Interphone remote control system.
Dimensions: Weight: 55 grams. Length x Height x Thickness: 90 mm x 45 mm x 20 mm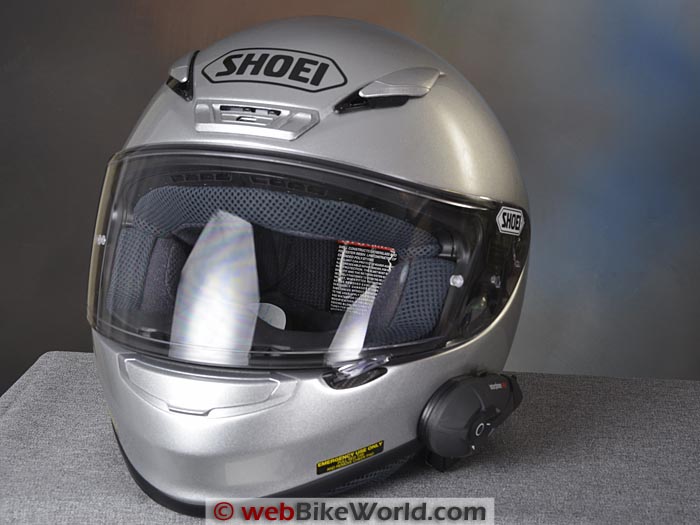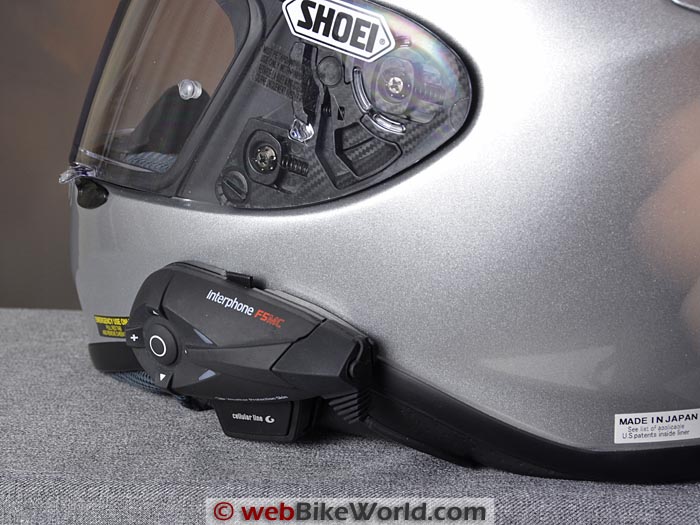 ---
Where to Buy Interphone F5MC
Check Reviews & Prices on Amazon
Check Reviews & Prices On RevZilla
See More: Motorcycle Intercom, Motorcycle Accessories, Motorcycle Helmets
---
F5MC Speakers
The F5MC intercom dual kit comes with two intercom modules and two headsets. The headsets have a stick-on microphone for full-face helmets and two boom mics are also included and can be easily swapped out.
The mics connect to the headset via a standard 2.5 mm input jack.
The speakers measure about 49 mm across and they're about 7 mm thick, including the stick-on half of the hook-and-loop.
The speakers in the F5MC system are admittedly not quite as nicely finished as the speakers on, for example, the Cardo SHO-1 intercom (review) we reviewed recently. The Interphone speakers have a vinyl edging sewn on with a visible end and stitching which seems a bit incongruous with the overall design.
But the speakers are easy to install and they're thinner than the speakers in the UClear HBC100 (review).
They're also mildly flexible, which helps with comfort. The speakers should mount easily in any type of helmet, even a helmet with no dedicated ear pockets.
The speaker itself is enclosed in the fabric speaker cover and the speaker electronics can be removed through an opening in the pocket in the rear…but we don't suggest trying this as you could damage the connections.
The sound quality is excellent but the Cardo SHO-1 system still beats the Interphone F5MC…and every other intercom system available today. But only just.
The volume of the F5MC is more than adequate and it can be adjusted for automatic volume control for a "Jet" helmet, a full-face helmet or the automatic volume control can be turned off for maximum volume, and max volume is very loud.
As in other Interphone intercom systems, the left side speaker is attached to the headset connector but the right side speaker attaches via a 2.5 mm input jack, so it would be difficult to replace the speakers if desired, but hardly necessary.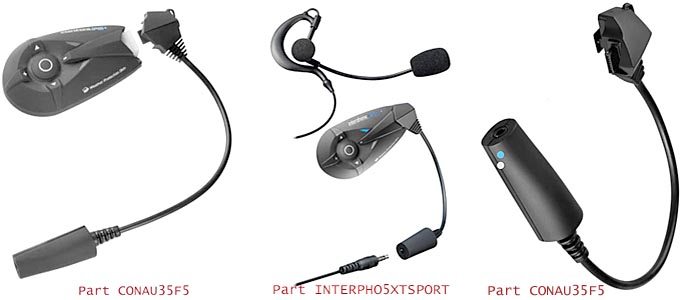 UPDATE: Interphone Pro Sound Audio Kit
Interphone has just released the "Pro Sound" audio kit for the F5MC and other Interphone intercom systems.
The Pro Sound kit includes advanced speakers and a new microphone. The speakers are mounted on very comfortable flush surfaces and have superb bass response, clarity and vastly improved volume over the already-good Interphone F5MC standard speakers.
For more information, read the webBikeWorld Interphone Pro Sound review.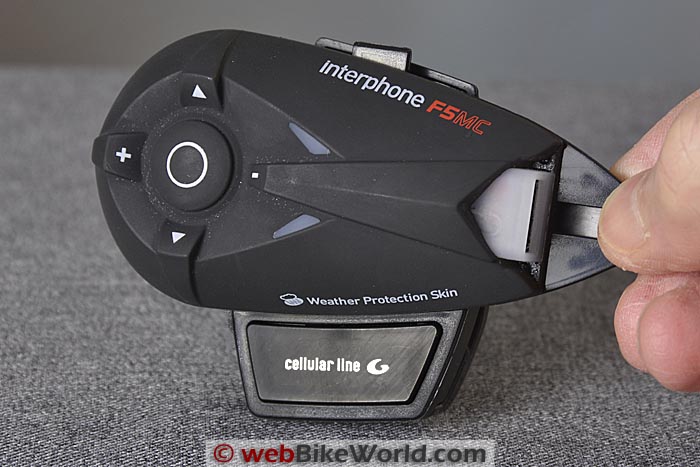 Interphone F5MC Intercom Range
Interphone claims a 1.3 km range for the F5MC and that seems about right based on our usage of the systems, of course depending on local terrain.
The F5MC intercom system works on full-duplex, so no push-to-talk is necessary.
When you're connected, you're connected and you can talk to each other just like the old analog telephones, i.e., over each other without having to do the modern mobile phone walkie-talkie style conversation of waiting for one person's sentence to finish before you can jump in and say something without the digital mess you end up with.
Shocking that in 2014 digital phones are still awful for conversing and nowhere near the quality of old analog telephones, for those who remember…
The quality of the conversational sound with the full-duplex Interphone system is the best we've tried and surely it will be a key feature that will attract more customers to the brand.
F5MC Feature Priority Ranking
The priority or precedence rankings start with a mobile phone connection, which has highest priority, and run down through an intercom connection, then A2DP audio (music player in a mobile phone or MP3 player), then FM radio and the AUX line-in connection has lowest priority.
As an example, if you had the FM radio playing or music streaming, an intercom voice connection will take precedence.
But if the range is exceeded, the system will default back to the radio or streaming music or if the other user presses the MFB button to stop the voice communication, your intercom will start playing the music again if you were in that mode prior to the conversation.
When the pair starts to lose the connection towards the end of the range or when the range is exceeded, some static and broken sounds may be heard through the speakers. The system will automatically reconnect if you come back into range, but you'll hear the static until it does.
You can also press the center multi-function button to turn off the intercom connection to cancel the conversation and end the static.
Hearing static or clicking sounds when the intercoms reach the end of their range seems to be an issue with all of the Bluetooth intercom systems we've reviewed; it would be nice if the system sensed a poor connection and gracefully degraded into silence or music mode and could re-establish a good connection in the background, then gracefully bring the pair back together.
Something for the manufacturers to work on next…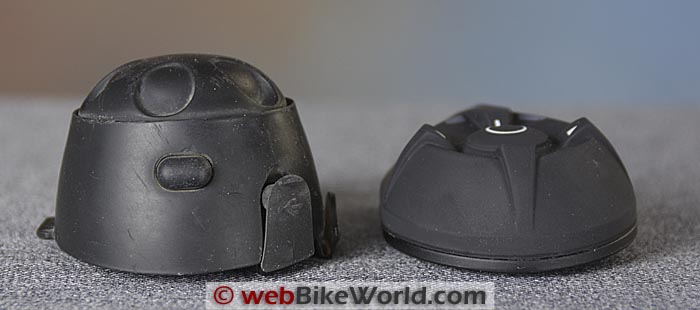 FM Radio Performance
The FM radio in the F5MC has been upgraded and improved from the F5. The intercom module does not have a flip-up antenna or anything like that, so we assume the antenna is either in the intercom module or part of the speaker wire.
The radio has excellent reception though and in a surprise, it even picks up some of the college stations at the low end of the dial, starting at the 88.0 mHz range. No other FM radio in an intercom has done this for us when we've tried it from the same geographic location.
The F5MC radio will even pick up 88.5-1 WAMU (American University radio from Washington D.C.) in our location.
WAMU is a relatively low-powered station that is at the very edge of the outer range here. This is actually pretty amazing, because I have trouble getting a clear signal from WAMU even on an old and highly-regarded Sony ICF-2010 or in the car.
The F5MC Voice Wizard announces both the numerical and letter name of the radio station when connected. Stations are selected by pressing the down arrow to scan down or the up arrow to scan up and the stations can be saved in one of 8 presets.
The sound quality from the FM radio is excellent; as I'm writing this I'm listening to 91.5 WBJC from Baltimore, a classical music station, from the F5MC speakers set up in front of me on the desk.
Music and GPS Sharing
The F5MC will share music or GPS instructions between paired F5MC intercoms when connected via the "Music Sharing" choice in the menu system.
Sharing is only possible at this point between A2DP sources (smartphones and Bluetooth players) and GPS instructions can be shared from a smartphone GPS system.
If one F5MC intercom is connected to a playing music source (mobile phone or MP3 player), the second F5MC intercom navigates through its menu to Music Sharing, then presses the MFB button to start sharing, then the sharing can be toggled on and off with a long press (wait for the beep) on the up or down buttons.
The system works very nicely and the connected F5MC will pick up the music almost instantaneously from the source. Tracks can be selected or paused via the buttons on the first F5MC.
Volume is set individually on each intercom during music sharing.
GPS instructions from a cell phone are also shared; Interphone told us they confirmed it with iPhones and we have confirmed that it works with Android phones. The GPS instructions take precedence over the music so the instructions will come through to both intercoms (when sharing is active), a nice feature.
We did not try a stand-alone GPS system with the F5MC intercoms but our assumption is that GPS guidance from those cannot be shared.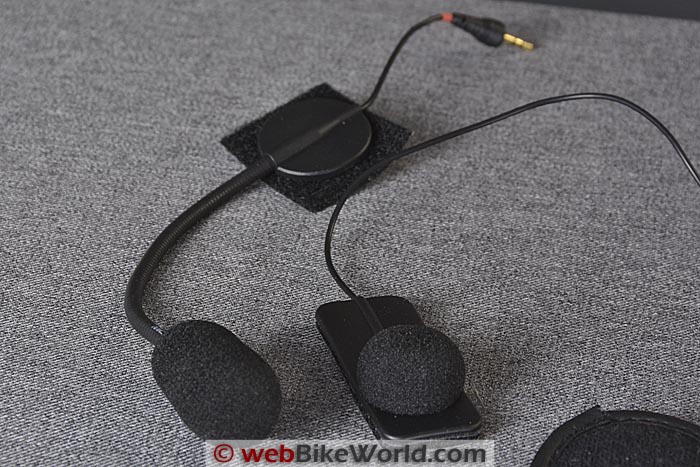 ---
Where to Buy Interphone F5MC
Check Reviews & Prices on Amazon
Check Reviews & Prices On RevZilla
See More: Motorcycle Intercom, Motorcycle Accessories, Motorcycle Helmets
---
"Anycom" Bluetooth Intercom Connectivity
The F5MC also has the Interphone "Anycom" technology, which allows the F5MC to connect to other brands of Bluetooth intercoms. We tried it with a Sena SMH5-FM (review), the Sena SMH10B (review) and the Cardo SHO-1 (review) and it works fine.
To initiate Anycom to connect with another intercom, navigate to the Setup menu, press the MFB button to activate setup, then press either the up or down button to get to Anycom.
Press the MFB button again to start an Anycom search for the non-Interphone intercom, which must first be placed in phone pairing mode. The Voice Wizard will guide you through.
It works seamlessly for any of the intercoms we tried.
It's quite a thrill to connect to another brand of intercom — something webBikeWorld readers have been requesting for years. Interphone isn't the first to have the feature; in fact, brand sharing is common on all of the latest crop of intercoms we've reviewed.
But again, it's always a thrill to connect with other brands.
The sound quality is excellent when connecting to other brands of intercoms on both ends; i.e., both in the F5MC and in the other brand of intercom. The F5MC Anycom system will drop you in full-duplex (i.e., "always on") mode for conversation with the other intercom brands.
Charging
Note that the F5MC USB charging port is at the rear of the helmet mount, not on the intercom module. So the intercom must be charged while mounted on the helmet.
While this may seem to be a somewhat non-standard approach, it does allow the intercom to be charged while riding by connecting a USB cable to the helmet mount, using something like aBurns Moto USB port (review) or the 3BR waterproof USB port (review) or the Burns Moto USB charger (review).
Interphone does offer an accessory wall charger (Item ACHINTERPHONEF5) that allows you to charge the intercom units once they are removed from helmets. This accessory is suitable for all of the Interphone "MC" systems.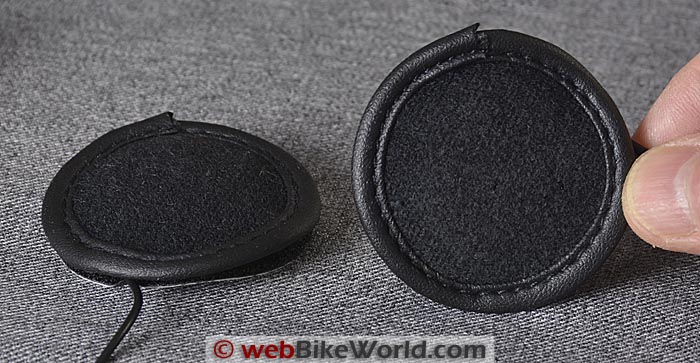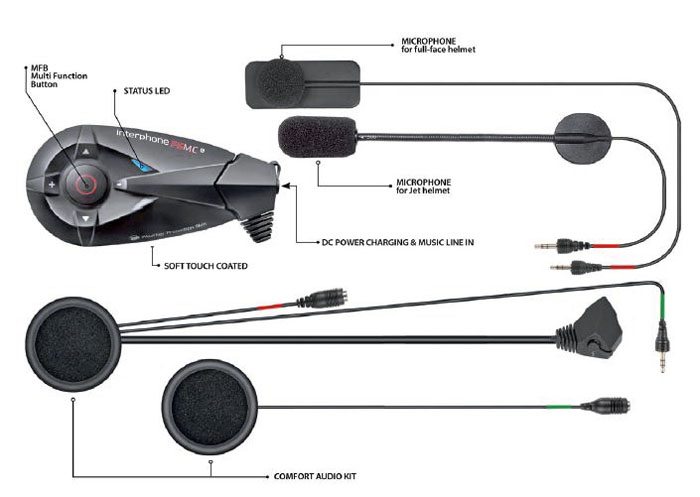 Conclusion
Most of the newer motorcycle Bluetooth intercom systems available today have nearly identical feature sets, differentiated only by the method used to access each feature.
Even though the systems are nearly equivalent in terms of performance, some intercoms are more difficult to use or the features are less accessible, which can result in a less satisfying owner experience because the more detailed or complex features may not be used as often.
The Interphone F5MC is among the easiest systems to use of any that we've reviewed, especially considering it's a high-end, complex modern Bluetooth intercom system.
The Voice Wizard takes the credit for this, although there will still be a small learning curve for the owner, as there always is with the more complex high-end systems.
The full F5MC owner's manual is available online in .pdf form (here's a direct link to the English language version) but after a quick read-through, we found the extensive Voice Wizard help system to be all we needed to guide us through even the most obscure menu choices.
While other intercom manufacturers have implemented voice guidance systems of varying degree, the Interphone Voice Wizard is probably more comprehensive than any other system available today and it's also fast and easy to understand.
The F5MC also has a quick response time during button presses, which overall makes the system very enjoyable to use.
The sound quality and features of the F5MC are equivalent of the best intercom systems available today, which is both quite an accomplishment for the industry and a very good thing for motorcyclists, because this relative standardization of features and capabilities makes using an intercom easier and more relevant.
Choosing a system is difficult but the Interphone F5MC is at the top of the list due to its combination of features, robust build quality and ease of use, both with the physical format and the Voice Wizard help system.
NEW! The Interphone F5MC is a 2014 webBikeWorld Motorcycle Product of the Year!
w

BW

 Review: Interphone F5MC
List Price (2015): $499.99 USD/€439.95 (dual kits)
NOTE:
 The webBikeWorld evaluators wear properly fitted ear plugs for intercom evaluations. This is reflected in the opinions on sound quality and speaker volume. Your experience may differ. Always protect your hearing when riding a motorcycle (
more
).
Note:
 For informational use only. All material and photographs are Copyright © webWorld International, LLC since 2000. All rights reserved. See the webBikeWorld® 
Site Info page
. Product specifications, features and details may change or differ from our descriptions. Always check before purchasing. Read the
Terms and Conditions
!
---
Where to Buy Interphone F5MC
Check Reviews & Prices on Amazon
Check Reviews & Prices On RevZilla
See More: Motorcycle Intercom, Motorcycle Accessories, Motorcycle Helmets
---
Owner Comments and Feedback
---
From "C.A.L." (June 2015): "I hope you find these comments interesting for your F5MC review. After some time looking for a good intercom system, I got a close look at the F5MC + Pro Sound kit and its handlebar remote controller (RC).
I bought it just a week ago and my personal review is very positive in general terms. I could not get to use the intercom yet. But, for the rest, everything works just perfect and from my handlebar.
My helmet is a BMW system 6 EVO and it took me some time to adjust the pro sound speakers for SCHUBERTH to the ear pockets of the BMW helmet. Just some scissors hand work and Velcro instead of sticker did  a perfect helmet fit.
The sound is just great and the automatic adapting volume works just fine… More noise means louder sound, and vice-versa.
Thanks I had the RC (Remote Controller), I installed the main unit almost on the back of the helmet using the helmet adaptor (not the sticker). That way the unit can not be seen and makes no wind noise nor creates any turbulence.
And the helmet keeps the guarantee and its physical integrity in case, for example, I want to sell it.
The smartphone pairing is very easy. The stereo music streaming plays just very well in the helmet. I could not try the phone GPS guidance but I guess it will work just as the rest of the smartphone sound output through Bluetooth.
The FM radio works well. The battery seems to last as advertised (I just charged it once).
The setup was easy thanks to the voice guidance of the system. I didn't try the AnyCom feature yet. The RC is just great and makes riding and intercom much safer, and I hope it also helps me to avoid police fines! (at least they can happen in Spain).
Two cons interphone has to work on, from my personal point of view:
First, the RC central button is difficult to click (there could be a specific button and the current joystick for the north, south, east, west directions).
Second, there should be a smartphone app to easily configure the system, specially the FM stations. The firmware is only available for PC (which is fine for me but maybe not for everybody else), but its installation is straight forward.
I could installed the R110 version immediately and painlessly. I hope this helps anybody trying to acquire this type of systems.
webBikeWorld helped me a lot. Thanks."
---
From "H.S." (September 2014): "I just wanted to share the fact that unfortunately me too I had to return my F5MC duo kit to my dealer since it seems incompatible with my GPS BMW Navigator IV (= rebranded Garmin Zumo 660).
The Bluetooth connection between the GPS and the F5MC always gets disconnected after a while, leaving me without GPS voice instructions and sometimes even without intercom as well.
Interphone's support told me they were in touch with Garmin regarding some issues, but were unaware of specific issues with the Zumo 660. They send me back to my dealer as both units of the duo pack could be defective, which is to my opinion highly unlikely.
It is really a pity since otherwise the product is performing well, is very well built and is very user friendly. Should I get a confirmation about the GPS connection issue being fixed, I will not hesitate to buy the set again. I hope my feedback will be useful to others."
Editor's Note: After talking to some industry reps, here's a summary of what appears to be the problem. The Garmin connectivity problem is an issue with other intercom manufacturers also.
First, Interphone understands the connectivity issues and they are working on it. More than one Bluetooth intercom manufacturer has told me that connectivity with the zumo 660 has always been hard due to problems with the zumo 660 in managing different Bluetooth profiles.
Here's what happens: The zumo 660 (and BMW Navigator IV) is able to connect two devices, a mobile phone (HFP profile) and Bluetooth headset (HFP, A2DP profile).
But problems appear when the sat-nav has to switch from one to another profile (e.g., If you are listening to music (from the zumo 660) and receive a phone call and switch back to music or if you receive vocal messages from the navigator, the zumo 660 freezes up most of the time.
Apparently, when Garmin became aware of these problems, they tried to solve them but with difficulty and they acknowledged this.
With regards to Interphone, they told me that currently the best thing to do is make sure both the Garmin device and the intercom is updated with the latest firmware. Then they are trying to work directly with Garmin to collaborate on a solution which will also prevent issues with devices.
In the meantime, I'll post any information I receive about this issue.
---
From "J.H." (August 2014): "The F5MC does not seem to be compatible with the Garmin Zumo 660. The audio quality of both navigation instructions and music when heard through the F5MC via Bluetooth is so poor that it is unusable.
My dealer replaced the F5MC unit under warranty but the replacement unit was no better. I contacted Interphone in Italy via the support page on their website. They advised me by email  that they know there is a problem using the F5MC with Garmin products, and they are working to find a solution but don't know when they will be able to release a fix.
I have returned the product to the dealer and have returned to using my old F4 which works perfectly with my Zumo 660."
Editor's Reply: We have received many comments over the years involving owner problems with Garmin products and intercoms of any brand. Don't know why this is but it seems that Garmin has some type of non-standard Bluetooth implementation that just seems to have problems with motorcycle intercoms.
---
From "K.M." (August 2014): "Thanks for the review of the F5MC from Interphone. As you say in your review pages, someone will always have an additional observation and here's mine.
I previously owned an F4 twin kit and have now purchased an F5MC twin kit. My first impression was the charging procedure upon opening the kit.
Gone is the old mains plug with twin leads that will fit easily and directly into " removed from helmet" controllers. In comes no included charger, an included USB charge cable that won't fit directly into the controllers unless a headset cable is plugged in, because it utilizes the headphone socket to charge…yet you do not mention this in your report.
Why would you not mention this flaw to tell potential purchasers that you have to charge the unit connected to your helmet unless you have a spare headphone kit that you can plug in externally with all the mess of all the cables attached?
The ability of the F4 to remove and charge directly on the table with just the control unit attached was a plus in my view and that of retailers who have confessed their dismay over this hardware backward step. If the manufacturer included of a "dummy" socket just for recharge purposes this would simplify the charge connection procedure and eliminate the need for the headphone harness to even be connected at all.
Finally, there are recent firmware updates available and readers should immediately utilize this upgrade which should resolve a number of F5MC issues. Thanks for you Reviews but a mention of the above may help some people,
Editor's Reply: We added a section on charging. Note that most of the new intercoms (e.g., Sena SMH10, Sena 20S) no longer come with a charger, they're USB charged only.
I don't find the F5MC charging system to be a problem; in fact, I think it's something of an advantage because the system can be charged while you're riding by connecting a USB to the back of the helmet mount. So, it's a tradeoff, although it would be nice if they had an accessory charger that would connect to the intercom units only.
---
From "M.S." (April 2014): "After reading yet another great review on webBikeWorld, and in particular, the latest addition to the Interphone range. I have a question that I hope you can answer?
I'm currently awaiting a response from Interphone direct, but from reading your review, it would appear that you have already tested the setup that I'm looking to achieve…
My preference is music streaming from my phone (Android HTC Desire), and receiving instructions from my Garmin Zumo 350lm, I've even been into a local retailer, and they couldn't set the headset up to achieve this? When the music was being played, and GPS instructions were transmitted, it was just a garbled message breaking into the music, after a solid hour of trying, the retailer had to call it a day!
So…my question is, how did you achieve the setup? I'm assuming there's a way of acquiring a type of multi-pair command? Hope you can help…?"
Rick's Reply: Sorry for the confusion! The GPS instructions that are referenced in the article are coming from the smartphone. You can share smartphone GPS and music simultaneously, but I don't know about stand-alone GPS units, I'd assume that they cannot be shared.
Neither I nor anyone who help me locally own a Garmin GPS or other stand-alone GPS, so we weren't able to try that with the F5MC. I edited the "Music and GPS Sharing" section to explain this more clearly.
I will say that without exception, every time we publish an intercom review, someone will write to tell us there's a problem connecting a Garmin product. I'm not sure why this is, but Garmin GPS units just don't seem to have a standard Bluetooth implementation and if there's a connectivity issue, inevitably it's with a Garmin GPS.
UPDATE From "M.S." (May 2014): "Just for feedback for future reference, the Sena SMH10R (review) does exactly what I need: music streaming, and interception of the Garmin instructions, then music fading back in….
So, if you're asked the question, then it does it easily. 30 minutes to download drivers etc, 5 minutes to pair phone and GPS, and it worked like a charm!
Installing took a little longer, I wanted a discrete fit, and as a bonus, the SMH10R matches the profile of the Shoei RF-1200 (review) perfectly (cut outs match!)."
---
From "M" (April 2014): "Thank you for the review. Can you tell me something about range when connected via Anycom feature with other brand device? Is it usable only for passenger conversations? Or when riding with friend on two bikes it is also possible to communicate? (A friend owns scala rider G9) Thanks!"
Rick's Reply: Yes, when the F5MC is connected via the Anycom feature to intercoms of other brands, you get "open mic" full-duplex bike-to-bike communications at long distances. We tried it with a few other intercoms and the distances vary, depending on the brand but it's generally about the same range as listed in the individual intercom specifications for each brand/type.
Other WebBikeWorld Intercom Posts