"My life was so terribly destroyed in front of my face," says rider rights advocate Judith Kuerschner who is fighting an injustice after her husband, Mick Pedersen, was killed in a collision with a driver turning in front of him.
Now Judith is not only working to restore the honour of her husband, but also claim justice on behalf of all motorcyclists treated unfairly and prejudicially by police and the courts, as well as develop improved driver education programs.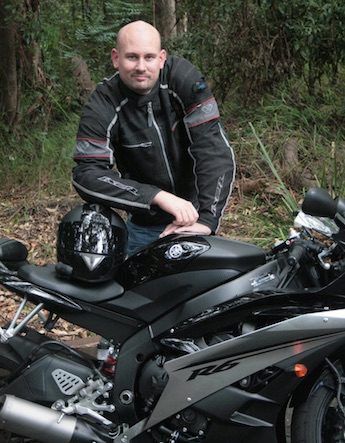 She claims that in her case, the Northern Territory police sided with the driver from the start of investigations, didn't take proper statements, ignored her eyewitness account and fabricated evidence.
Judith says her sad and emotional tale began over 18 months ago when she and Mick were out riding with a couple of friends on a local NT road, popular with motorcyclists. The accident happened on a 1km straight stretch of 100km/h road with no road markings or signs banning overtaking.
"All four of us were following a driver, and her passenger with their dog, in a white Subaru along this straight stretch of road. The first rider overtook her, no issues, the second rider, along with my husband, went out to overtake her as well about half way along this straight stretch of road.
"As my husband was alongside her, she clearly moved towards the right hand side of the road, and, with a single flash of her indicator, began to veer on to the wrong side of the road to cut the corner on to an unmarked dirt track leading to a hole in the fence to crown land where trespassers are not permitted.
"As I was on my motorcycle some 50m behind the scene, I was in the unfortunate position as the only witness to the event; a fact the police have ignored from day one."
Mick was impaled on the 'A' pillar of the Subaru and killed instantly, just 3 1/2 months shy of their third wedding anniversary and four months shy of his 40th birthday.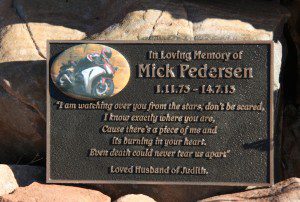 "My life was so terribly destroyed in front of my face," says Judith.
But this was merely the beginning of Judith's 18-month nightmare.
She says that even before investigators had attended the scene, the police released a statement to the media accusing her husband of illegally overtaking.
She says investigators went to the home of the female driver and her partner but didn't take statements, allowing them the evening to "get their stories straight". They went to the police station the next day to give their statements.
Judith says police called to the home of the other two riders – neither of whom were aware of the crash until they returned to look for Mick and Judith some time after – yet did not contact her or attend her house for a statement.
Instead, they negotiated to secure her statement through a third party and were "not even all that keen to take my statement at all".
Judith says she gave two supplementary statements in the two days after her initial statement, but they were not documented.
"Right from day one the sergeant informed me that I'd need to be prepared for the driver never to be charged," she says. "I didn't realise this would include no traffic offences either, but it did.
"Their attitude, expressed to my mother-in-law, was that she (the driver) had suffered enough."
Judith claims the police fabricated evidence, contaminated her husband's blood sample with THC and accused him of speeding, despite the absence of any supporting evidence. Judith eventually secured a legal intervention to force police to re-test her husband's blood sample.
"They have lied and tortured me for over 18 months – further exacerbated by the miscarriage of justice that continued with the Inquest," she says.
Judith claims the Coroner speculated on her husband's culpability and didn't even check that the dates of the inquest or the fatal crash were listed correctly in the report.
Judith is now applying to the Supreme Court for a new inquest.
"Justice, for the death of my husband, is all I seek," she says.
"The police have treated his death with as much care as that of a dead kangaroo on the side of the road – they have treated his life with no more value than that of road kill.
"While I can't go back and change the actions of the driver and prevent this from having happened, I can certainly change the way the police go about their business, their attitudes towards motorcyclists (and other minority groups) and their treatment of victims such as myself."
Judith is now also working closely with the Australian Motoring Enthusiast Party over proposals for changes to driver education and is helping plan the first Road Safety Summit in May 2015.
If you believe you have been presumed guilty by police investigators or suffered an injustice by the courts, please contact us.