The 2017 Indian Roadmaster Classic is a perfect mix of traditional styling and modern technology for a supremely comfortable long-distance tourer with class.
There is no doubting the retro feel of the 1950s Chevy bodywork and that rustic cowboy tanned leather with the Indian tassels.
But it also now boasts perhaps the most advanced and user-friendly infotainment system on any motorcycle yet.
The seven-inch Ride Command infotainment system with touchscreen has all the information you would ever need and has the best sound system on any bike I have experienced.
It is now available on the Roadmaster Classic for the ride-away price of $38,995 for black and an extra $1000 for the two-tone options of Willow Green and Cream, or Indian Red and Cream. (Ride Command is also available on the Roadmaster hard bagger for $40,995 and on the Chieftain range.)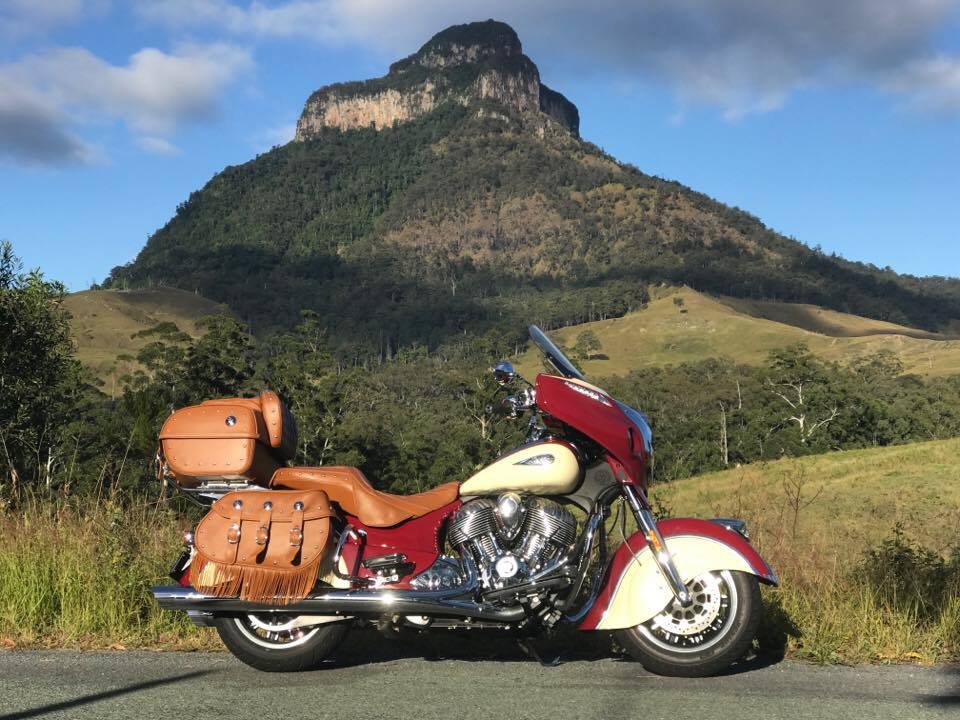 I road tested a red-and-cream Roadmaster Classic on a 1500km+ ride into NSW, over bumpy roads, on super-smooth highways, across the twisting and testing Oxley Highway and into bitterly cold conditions in the New England Highlands.
When I finally arrived home after three long days in the saddle, I still felt fresh.
This is one of the most comfortable, stylish (if tassels are your thing), well-mannered, hi-tech and entertaining touring bikes yet produced.
Infotainment
The Ride Command system sits nice and high on the comprehensive dashboard and is easy to see in all lighting conditions.
You don't need to avert your eyes too far from the road to see every piece of information on offer.
The screen is flanked by two analogue dials with small LCD screen inserts.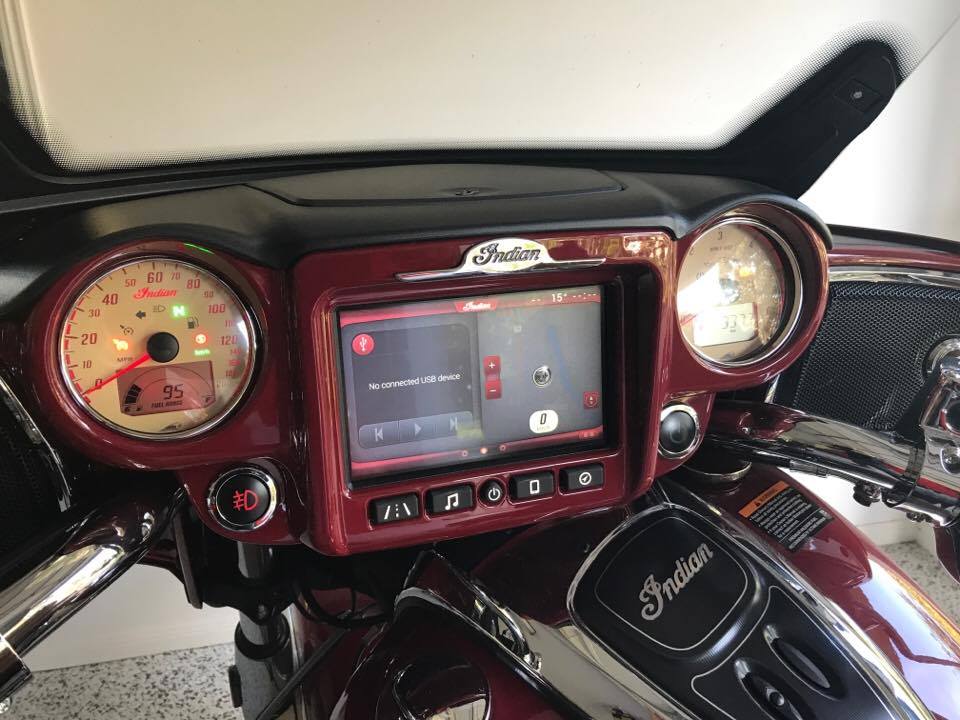 On the left is a conventional dial speedo with the fuel range constantly displayed in the insert screen. That is so handy and it is surprising more manufacturers don't do this.
On the right is an analogue tacho with the odometer and gear indicator in the insert screen.
The Ride Command screen has five buttons underneath that provide quick access to the main functions: on/off, slit screen, music, Bluetooth and navigation.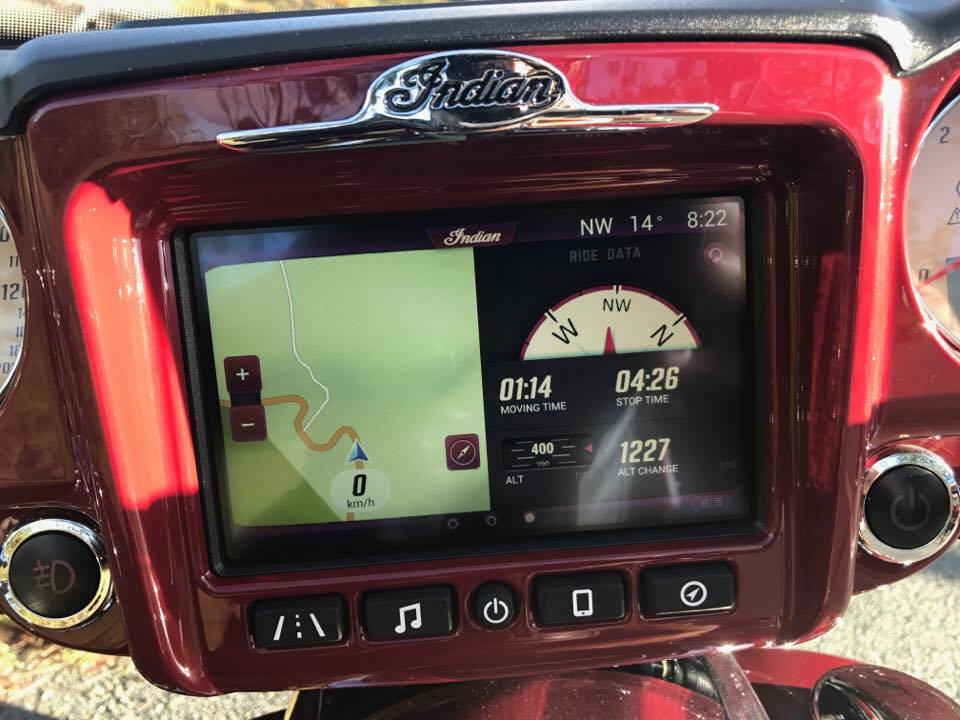 The split-screen function allows you to split the screen vertically and display two different features.
You can choose from eight different screens: trip one and two, vehicle status, vehicle information, audio, bluetooth status and map.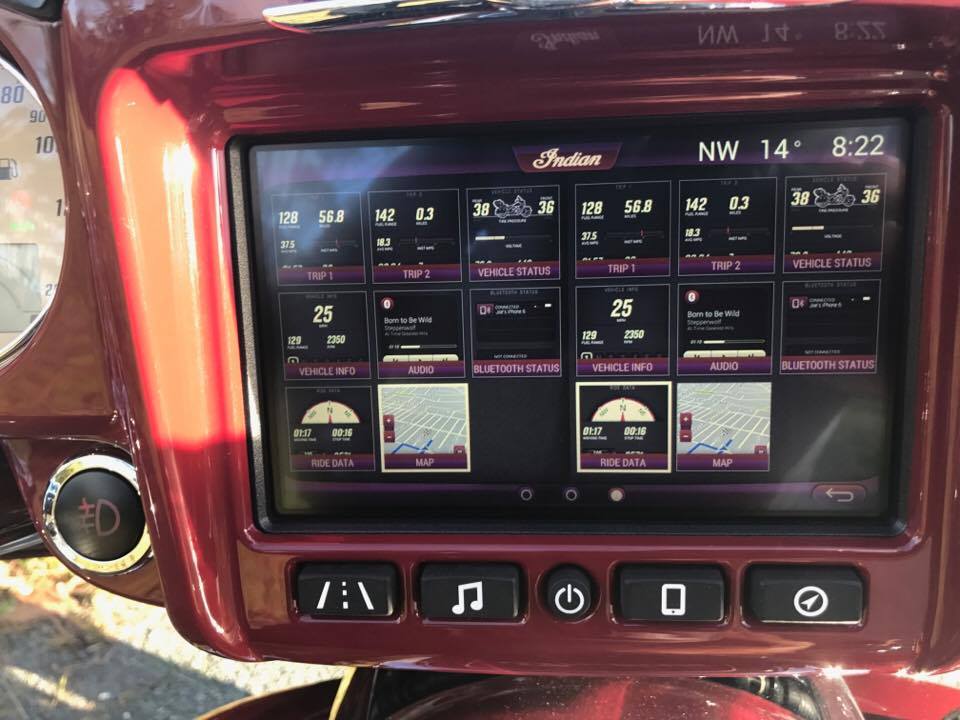 The amount of information available is stunning and includes fuel range, average and instant fuel economy, average speed, moving and stopped time, tyre pressure, voltage, engine hours, oil change, etc.
I fully expected it to show my horoscope!
Across the top of the main screen, no matter what you select, there is another small display in the display showing compass bearing, temperature and time which, like the fuel range and gear position, is very handy.
Despite all the information and choices available, it is not daunting technology. In fact, because it is touchscreen, it is intuitive and I was able to navigate around, change sound equaliser settings, navigate, select music, etc, without having to read the instruction manual.
Some functions are not available while on the move for your own safety, but it can still be a distraction.
Thankfully functions are so easy to access, you will not have your eyes diverted for long and because it sits high, the road ahead is always in your periphery vision.
The touch screen function works perfectly. It even allows you to pinch the screen to zoom in and out on the map like on your phone or tablet screen.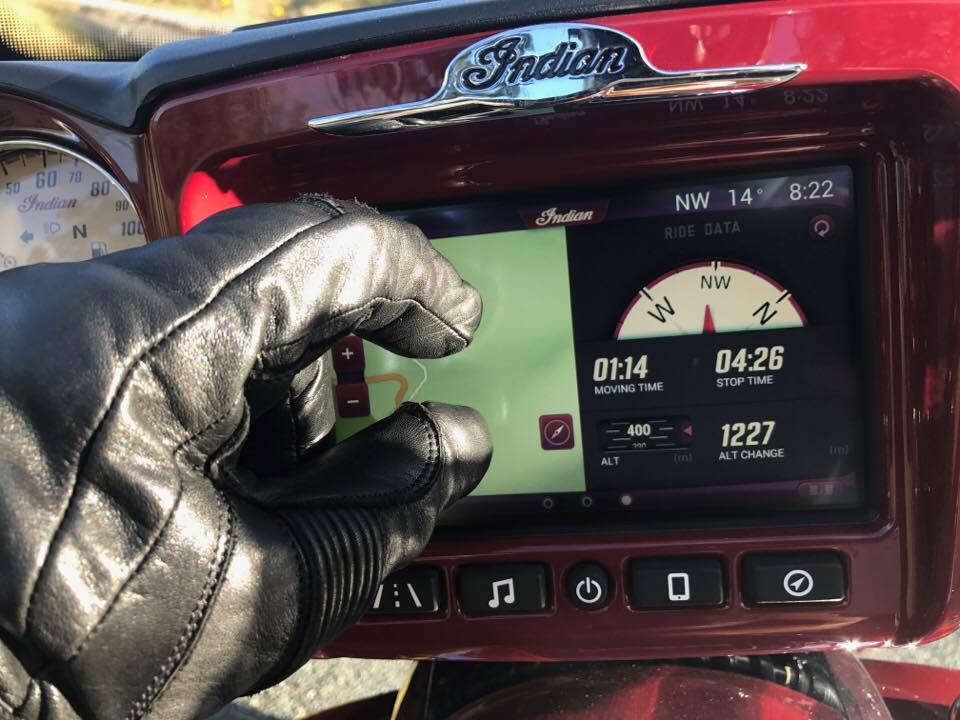 I rode in very cold conditions and found the touchscreen even worked with thick winter gloves.
There are also control buttons on the left switch block so you can access most functions without having to take your hand off the bars.
A function I really like is when you are low on fuel it asks if you would like the sat/nav to guide you to the nearest servo.
Apart from being a great source of such relevant, helpful and interesting information, it also has a great sound system.
I normally don't like stereo systems on bikes because you can't hear anything over 80km/h thanks to wind noise.
However, with the electronic windscreen in the high position, it was very quiet and I was able to clearly hear the speakers which are also set nice and high and pointed right at you.
Even at 110km/h on the highway, it was as clear as a bell. No distortion. And I could hear subtle sounds in the background – including little bells!
Interestingly, the volume control goes up to 11, not 10, but 11. Maybe that's a reference to the ThunderStroke 111-cube engine, but I'd like to think it's a humorous reference to the cult Spinal Tap movie.
You can Bluetooth your music and/or your helmet to the system, or plug your music directly into a USB in a little compartment on top of the dashboard. It is lined with rubber to take out some of the road shock.
I plugged in my big iPhone7+ which was a tight squeeze that crimped the connecting cable.
I'm also concerned that in summer, in that exposed position under black plastic in the blazing sun, the heat could stop the device from working.
It didn't happen on this trip because it's winter, but I've had a phone stop working when placed in the top map pocket of a tank bag, so it could also happen here.
Other technology
If it seems I got carried away with the infotainment system, I did.
It made those long highway stints go by so much quicker.
However, there is a lot of other tech here that makes your journey more comfortable.
Thankfully, there are heated grips and seats that helped warm me up one morning on the New England Highway where the temperature was -3.5, but felt like -7.2, according to my weather app. That doesn't include the windchill factor which subtracts one degree about every 10km/h.
The grip button is mounted on the tank and easy to access with 10 degrees of heat control, while the two-stage seat heat control switch is on the left side of the pillion seat and a bit more difficult to find when on the move, especially while wearing winter gloves.
Unfortunately, they didn't work too well.
The seat became too hot no matter which position was selected and the grips seemed to vary in heat for no reason at all. Perhaps there is a bug with that particular controller.
The electronic windscreen can be operated via a button on the left switch block.
It goes up and down about 10cm, but doesn't really go down far enough, leaving the top of the screen annoyingly in my field of vision for eye-balling a corner apex.
I left the screen at its top level so I could see through it and get the best wind and cold protection.
In summer, it could be a problem getting enough cooling fresh air.
In some lighting conditions the screen also had a glare right in my field of vision, but it was quickly rectified by dropping the screen slightly.
How does it ride?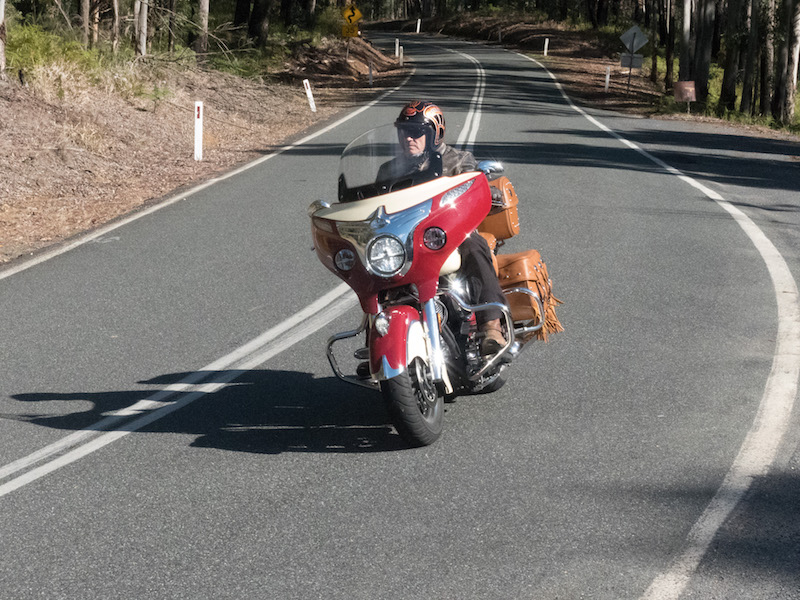 Ok, it's a motorcycle, so how does it ride?
Well, this is simply the most comfortable long hauler there is, with the added ability to carve up some twisty roads.
The riding position is neutral with plenty of room to move your feet around on the floorboards and adjust your backside in the soft and generous leather seat with an easy reach to the bars.
In this position, you have commanding control of the bike.
Or you can hook your feet up on the engine bars when cruising the highway and relax.
I did a three-hour stretch without stopping and felt like I'd just ridden to the corner shop.
Although the Roadmaster Classic weighs just over 400kg with fuel and no luggage, it picks up easily off the side stand and, once moving, it feels light and easy to manoeuvre through traffic and perform feet-up u-turns.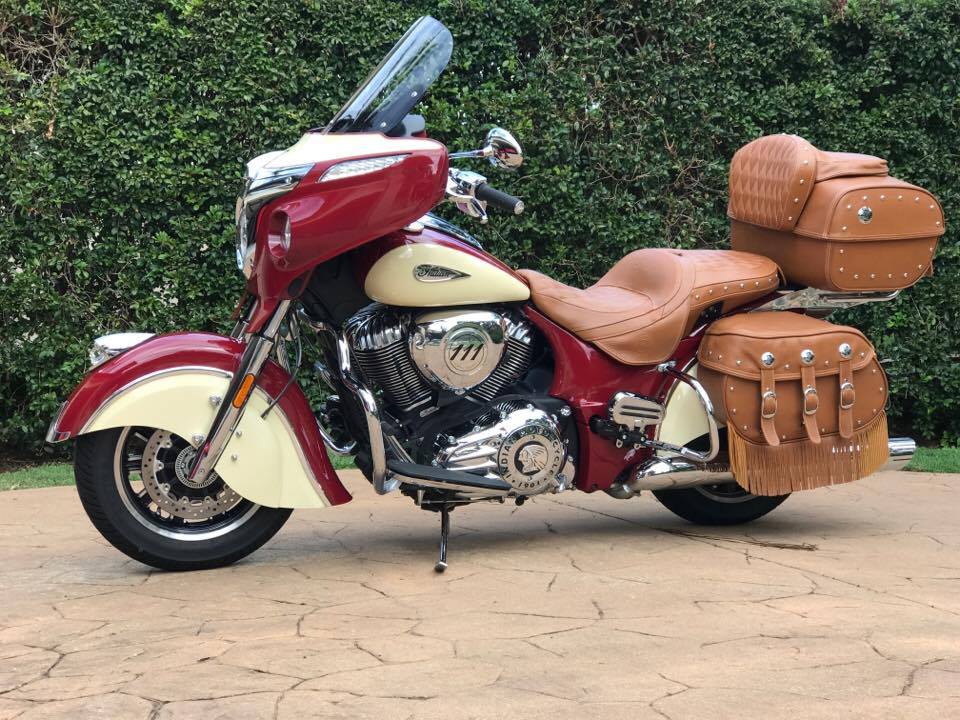 The steering head angle is sharper than the Chief, so it turns a little easier and more precisely, yet it still has plenty of highway stability.
However, that big fork-mounted fairing does mean it gets the highway wobbles if you follow another vehicle's turbulent air, even just another bike.
Ride is on the plush side, swallowing up some enormous potholes and bumps caused by recent heavy rain.
Consequently, the rear end tends to float a little which makes bumpy corners unsettling.
The floorboards are slightly tilted up which provides greater cornering clearance than any other cruiser and I only scraped them a handful of times on the tight Oxley Highway.
Head-to-head with a Harley tourer, the Roadmaster would be in front over a smooth twisty section because of its extra clearance, but would lag behind on rough corners.
Brakes are strong with plenty of bite and control for a hefty cruiser and the ABS is smooth and unobtrusive.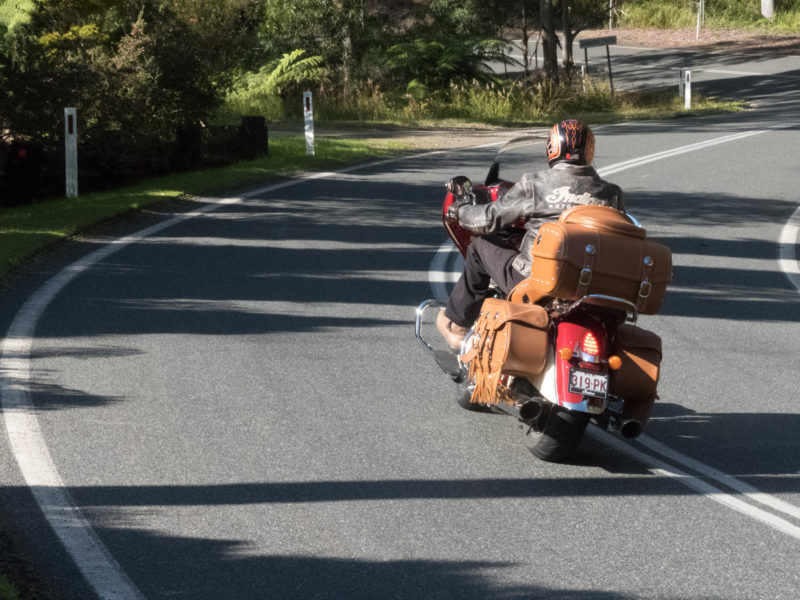 In fact, I could hardly feel them at all, but was thankful they worked when I pulled up sharply to get a photo one frosty morning. I stupidly hadn't figured the road would be icy!
The 111 ThunderStroke engine and six-speed transmission seem to be more refined than when I first experienced them on the Chief range.
It idles at just 800 revs and hardly vibrates at all. Under load, it gets a nice grainy feel and pulls strongly in most revs.
At 100km/h it ticks over about 2200 revs and hits peak torque at 3000 revs, so roll-on overtaking is easy without having to drop down a gear.
The gears don't clunk as much as before and neutral is very easy to find.
Niggles
This is a touring tour de force, but there are still some niggles I have.
I feel like an old grouch bringing them up but if you are spending this much on a bike you expect perfection!
Apart from the windscreen glare, heating problems, floating back end and the dash-top music compartment, here is my list of other niggles:
The GPS doesn't show distance to the next town, or even display the next town when you zoom out. It also rarely shows the names of the road you are on nor the road at the next intersection.

Fuel economy was 6.1L/100km for my trip, which is not as good as I expected with a lot of legal highway cruising.

This bike had a stage 1 exhaust fitted which sounds nice under load, but has an annoying drumming sound at highway cruising which gave me a headache. I also don't understand why you would spend money on a great sound system then drown it out with a loud exhaust.

While I can understand some people prefer the leather saddlebags and top box, I prefer the security and convenience of the remote-lockable hard bags. Instead, there are eight clasps to fiddle with and if you are constantly stopping for photos, like me, it becomes annoying. However, there is a convenient weatherproof zip pouch on top of the top box for convenient access to small items such as spare gloves, wallet, etc.
Conclusion
I'm not exactly a tassels guy, but I have to admit, this certainly draws attention and admiring glances.
More than once I saw people in cars taking photos as I passed them on the highway and pedestrians stop to take a photo when it was parked.
It rides well, punches strongly, is supremely comfortable and has more technology and entertainment than you can imagine.
So if you are looking to do a lap of Australia in comfort, style and grace, check it out.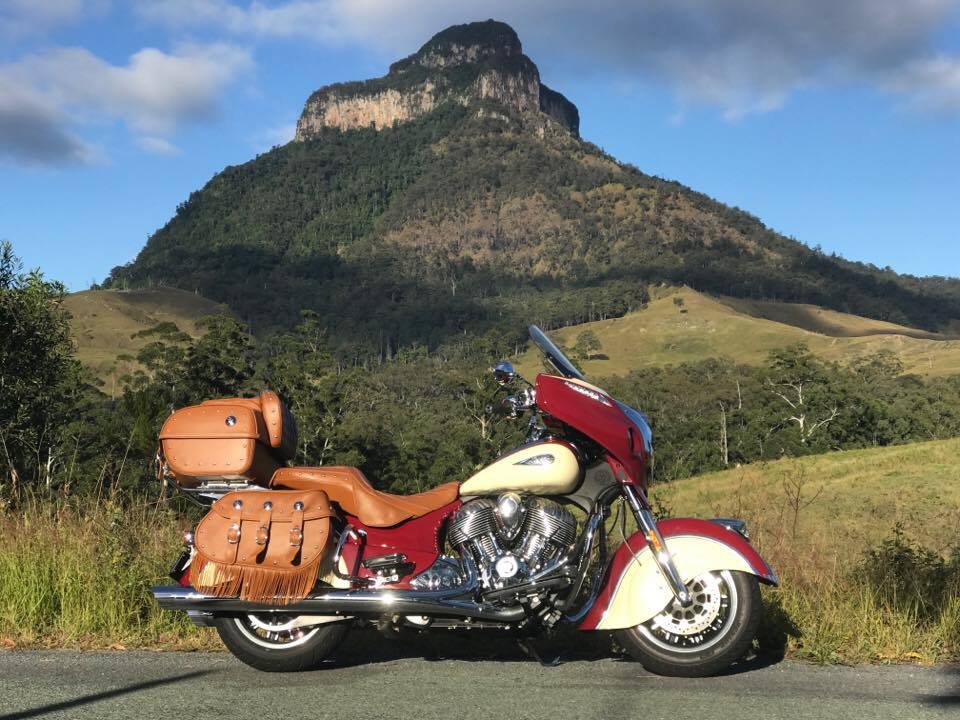 2017 Indian Roadmaster Classic
Engine: Thunder Stroke

 111 (1811cc) V-twin

Bore x Stroke: 101 x 113mm

Compression: 9.5:1

Transmission: 6-speed, wet clutch, belt drive

Power: N/A

Torque: 161.6Nm at 3000rpm (119.2ft-lb)

Suspension: Telescopic 46mm fork (119mm travel); single shock with air adjustment (114mm travel)

Brakes: 300mm floating discs, four-piston caliper (front); 300mm floating disc, two-piston caliper (rear) ABS

Wheels: 16 x 3.5in; 16 x 5in

Tyres: Dunlop Elite 3 130/90B16 73H; Multi-Compound 180/60R16 80H

Wheelbase: 1668mm (65.7in)

Seat: 673mm (26.5in)

Clearance: 140mm (5.5in)

Height: 1491mm (58.7in)

Length: 2630mm (103.5in)

Width: 1000mm (39.4in)

Rake/trail: 25°/150mm (5.9in)

Fuel tank: 20.8L (5.5g)

Wet weight: 406kg (896lb)