Indian Motorcycle Australia has announced two new dealerships in Queensland to replace the company dealership in Brisbane.
The opulent two-storey Fortitude Valley dealership will close on 24 July 2020.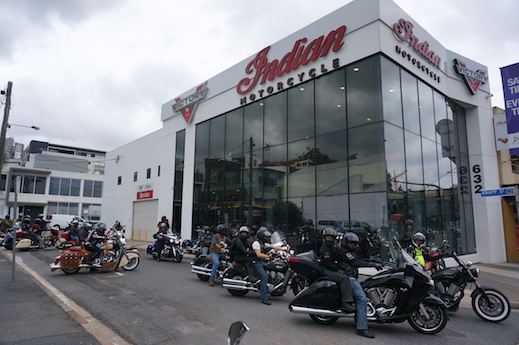 Existing dealerships
It will be replaced by joining two existing multi-brand dealerships.
One will be a TeamMoto dealership in Moss St, Springwood, south of Brisbane, and the other an Ultimate Motorbikes dealership on Lawrence Drive, Nerang, on the Gold Coast.
In January, the company surprised its customers when it announced it would close its four company-owned dealerships in Brisbane, Sydney, Melbourne and Perth.
Sources told us it was part of a long-term plan to move from company-owned dealerships to independent dealerships.
In February, they signed an agreement with TeamMoto, the biggest dealership network in Australia. Its owner, MotorCycle Holdings has 48 franchises operated from 31 dealerships and eight retail accessory locations in Queensland, New South Wales, Victoria and The Australian Capital Territory.
The deal did not preclude the company from signing on more dealers as this latest announcement shows.
Ultimate Motorbikes also has dealerships in Springwood and Ipswich and is also owned by MotorCycle Holdings.
TeamMoto will also sell Indian motorcycles at Penrith and Auburn in western Sydney, and Keilor East and Dandenong in Melbourne.
A statement on a dealer for Perth is yet to be made.

An official Indian Motorcycle Australia statement says the new dealerships will include:
Indian Motorcycle trained sales staff;
Full model lineup of Indian Motorcycles;
Demo fleet for test rides;
Indian Motorcycle trained technicians for all service and warranty work;
Large range of accessories and apparel on display; and
Shop rides and events (when possible).
"The expansion of our dealership network and moving out of the central city locations will give our customers greater and easier access to our dealerships nationwide and provide more than one location in each of the state capitals, providing more options for our customers," they saids back in February.
"We have very high standards when it comes to how and where the Indian Motorcycle brand is represented and the level of service our dealerships offer our customers."
Their statement said parent company Polaris was working with MCH to keep current staff employed at the new dealerships.
No other market around the world had experienced the luxury of palatial company-owned Indian dealerships which offered a heightened customer service for the revived brand. 
Many in the industry and in the company, as well as customers, acknowledged that it was an excessive and unsustainable business model.