Indian Motorcycle has increased engine capacity to up the ante over Harley-Davidson with select Thunderstroke models now having a 116 engine, replacing the 111 (1818cc).
Actually it's 115ci (1884cc), but it's still a 20% power boost over the 111.
The "116" was previously an aftermarket upgrade big bore kit, but is now standard in the Springfield Dark Horse, plus all Chieftain and Roadmaster models.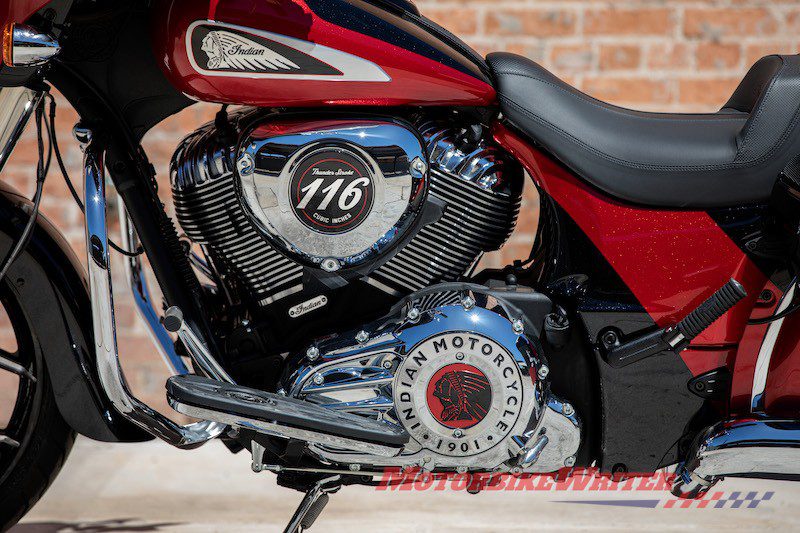 It features a new high-flow cylinder head with 168Nm of torque.
The engine capacity move leapfrogs Harley-Davidson's Milwaukee-Eight 114 (1868cc) engine which is available in select models, such as the new Low Rider S. (We will road test it at the Australian media launch in Sydney next week, attended by Harley boss Matt Levatich.)
However, it's still short of Harley's CVO models with the Milwaukee Eight 117-cube (1923cc).
There is no word on the rumoured Indian Challenger models powered by a new liquid-cooled 1770cc engine called the Powerplus.
Aussie rideaway pricing
| | | |
| --- | --- | --- |
| Model | 2020 price | 2019 price |
| Scout Bobber | $19,995.00 | $19,995.00 |
| Scout Bobber Twenty | $21,995.00 | |
| Scout | $19,995-$20,995 | $19,995.00 |
| Scout 100th Ann | $22,995.00 | |
| Chief Classic Dark Horse (111ci) | $30,995.00 | $29,995.00 |
| Chief Vintage (111ci) | $32,995-$33,995 | $32,995.00 |
| Springfield (111ci) | $34,995.00 | $35,495.00 |
| Springfield Dark Horse (116ci) | $36,995.00 | |
| Chieftain Limited (116ci) | $38,995.00 | $37,995.00 |
| Chieftain Dark Horse (116ci) | $38,995.00 | $37,495.00 |
| Chieftain Elite (116ci) | $49,995.00 | |
| Roadmaster (116ci) | $41,995-$43,995 | $40,995.00 |
| Roadmaster Dark Horse (116ci) | $41,995.00 | |
Indian Motorcycle Australia and New Zealand marketing manager Chris Gale says the price difference for the same model in the table above is for two-tone or metallic paint options over the single or standard paint.
Engine capacity upgrade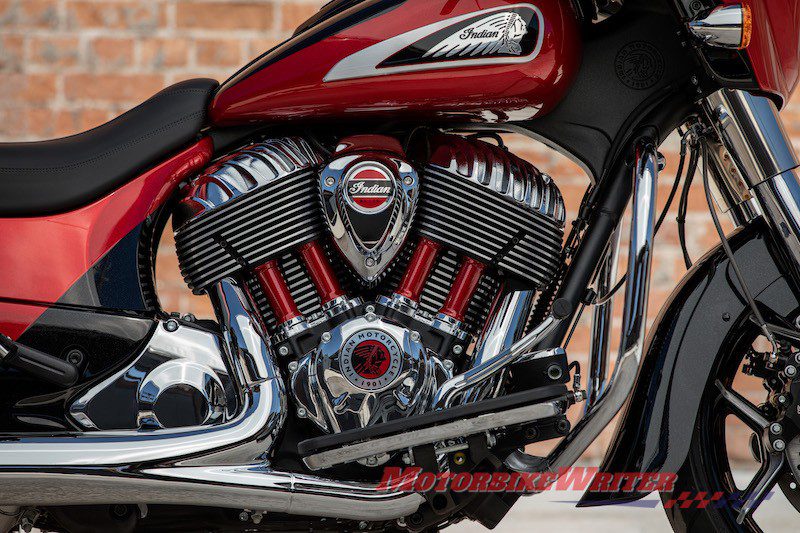 The engine upgrade follows the recent announcement of Scout upgrades and two new models, the Bobber Twenty and limited-edition 100th Anniversary.
The Thunder Stroke 116 features rear-cylinder deactivation to keep riders cooler when sitting for long spells at the traffic lights.
Harley introduced the feature in 2009 and still features it on Touring and Softail models.
RideCommand update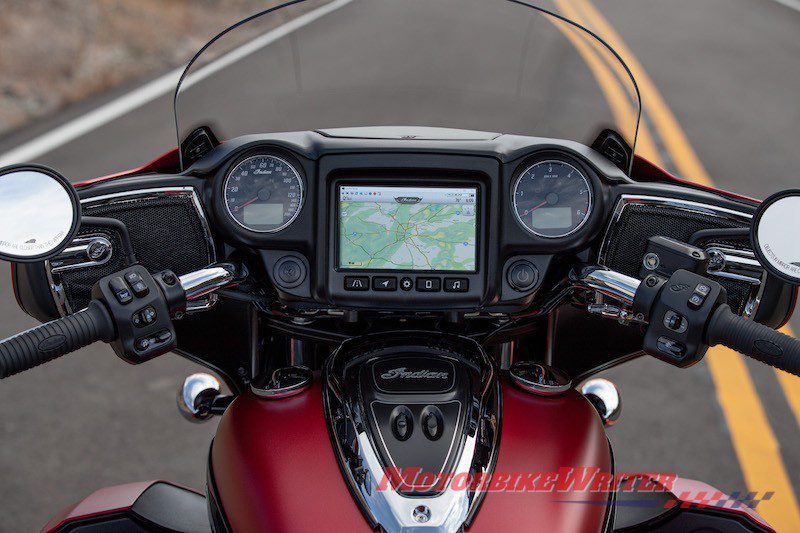 Indian has also revamped their very comprehensive RideCommand infotainment system and app.
It now features a quad-core processor which they claim will make it faster to load and respond.
New features include "Google-like" predictive destination search capabilities and customisable 18cm touchscreen.
Roadmaster Dark Horse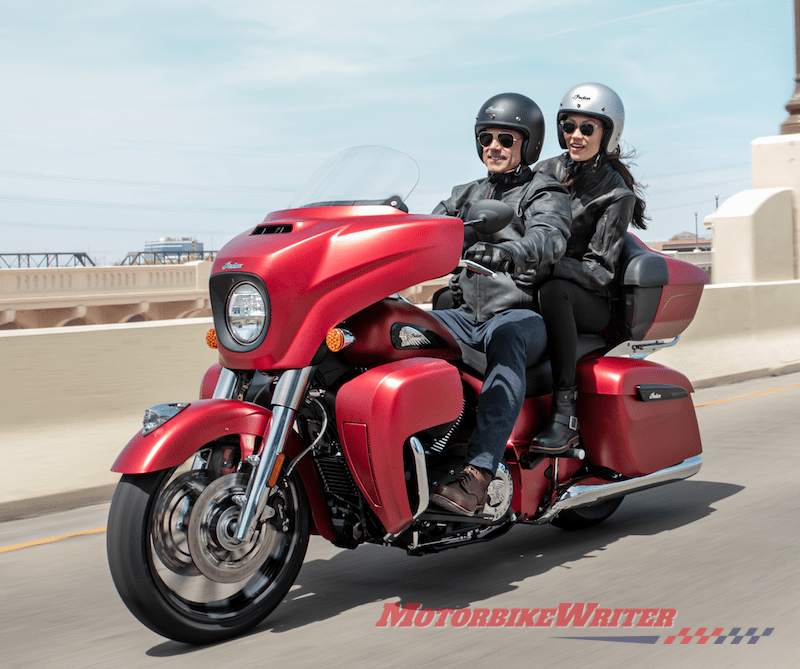 The Roadmaster Dark Horse features a streamlined fairing, slammed saddlebags, 19-inch front wheel with an open fender, an extended reach Rogue gunfighter seat, blacked-out engine and matte paint.
Springfield Dark Horse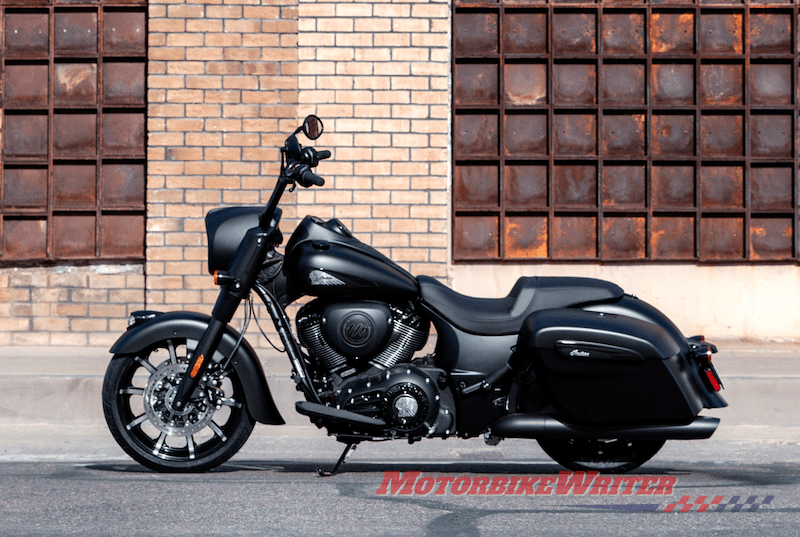 This is similar in style to the 2020 Jack Daniel's Limited Edition Indian Springfield Dark Horse launched at Daytona Bike Week.
It features slammed saddlebags, Rogue seat, 12-inch mini apes and blacked-out finishes.
Chieftain Elite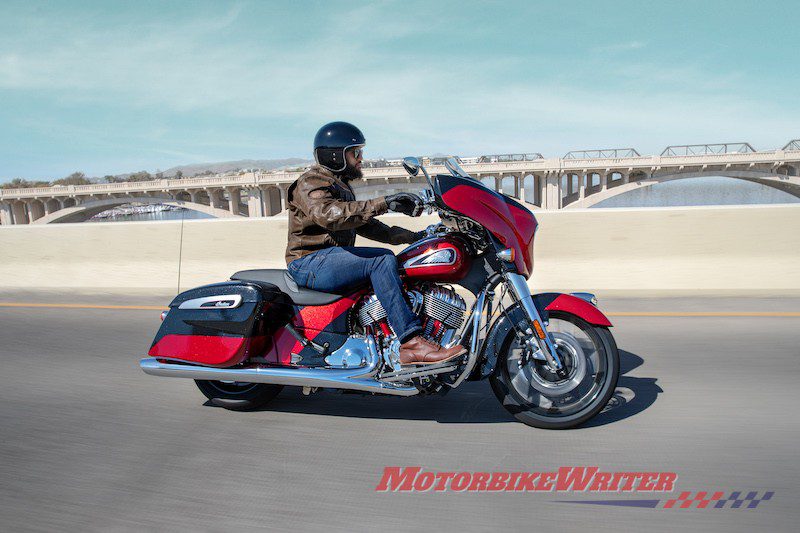 The big tourer gets a streamlined fairing, slammed saddlebags and PowerBand Audio Plus system.
It comes in a two-tone Thunder Black Vivid Crystal over Wildfire Candy paint with matching motor highlights and badging, Precision Machined Elite wheels, Pinnacle Mirrors, Select Rider Floorboards, and a Flare Windshield.
Chief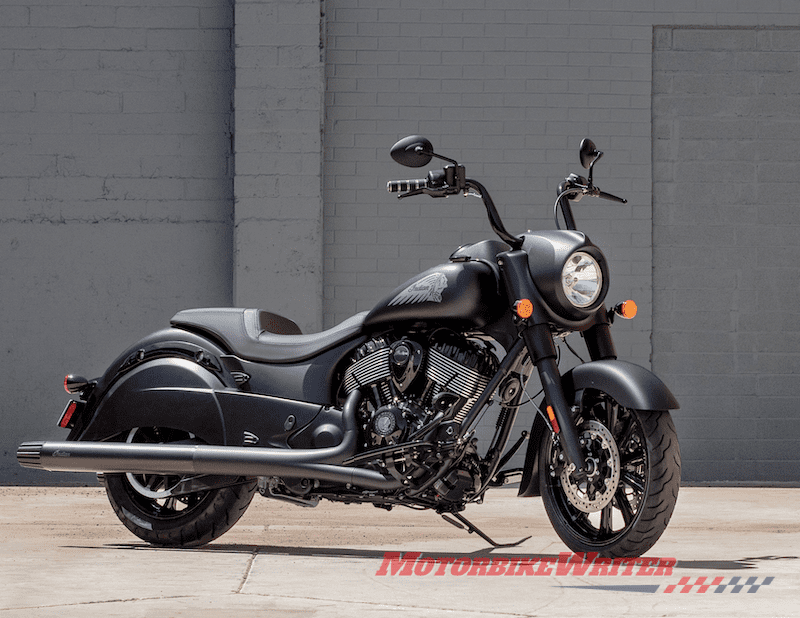 Even though they don't get the engine capacity upgrade, Chief Dark Horse and Chief Vintage now have the same chassis as the Springfield and Springfield Dark Horse to improve handling.
They also now have adjustable rear suspension and a 17-inch front wheel.
Roadmaster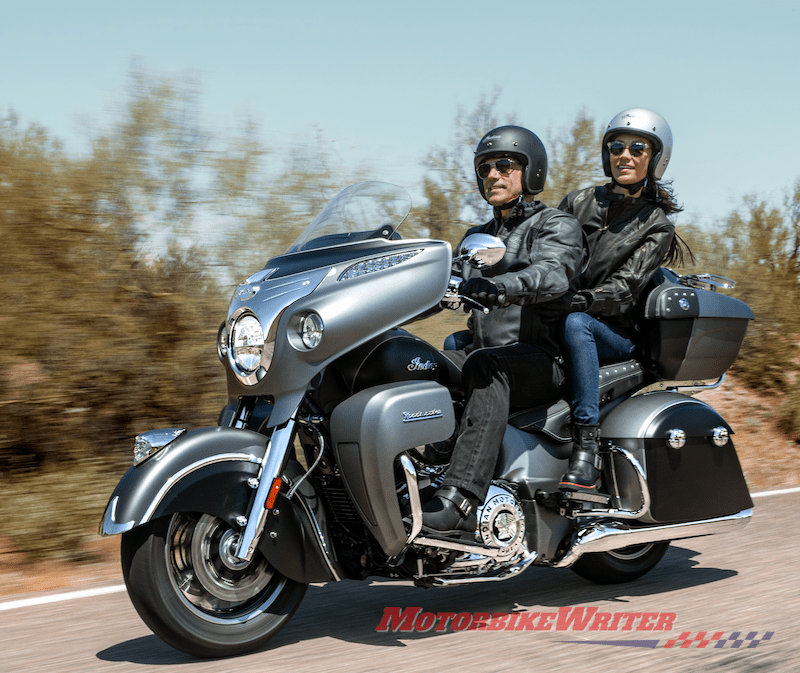 Indian says the 2020 Roadmaster is lighter but don't quote figures.
The top box has also been redesigned.
Colours
Chief Dark Horse: Thunder Black Smoke
Chief Vintage: Thunder Black; Willow Green over Ivory Cream
Springfield: Thunder Black; Burgundy Metallic over Titanium Metallic
Springfield Dark Horse: Thunder Black Smoke; Sagebrush Smoke; White Smoke
Chieftain Dark Horse: Thunder Black Smoke; Ruby Smoke; Titanium Smoke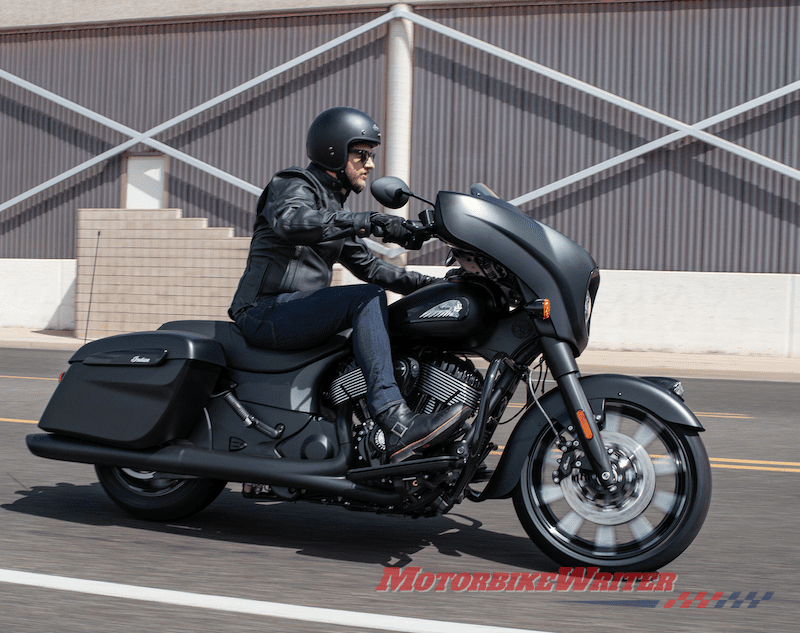 Chieftain Limited: Thunder Black Pearl; Radar Blue; Thunder Black Pearl with graphics package
Chieftain Elite: Thunder Black Vivid Crystal over Wildfire Red Candy
Roadmaster: Thunder Black; Burgundy Metallic; Pearl White over Titanium Metallic with black Pinstripe; Titanium Smoke over Thunder Black Smoke with silver pinstripe
Roadmaster Dark Horse: Thunder Black Smoke; White Smoke; Ruby Smoke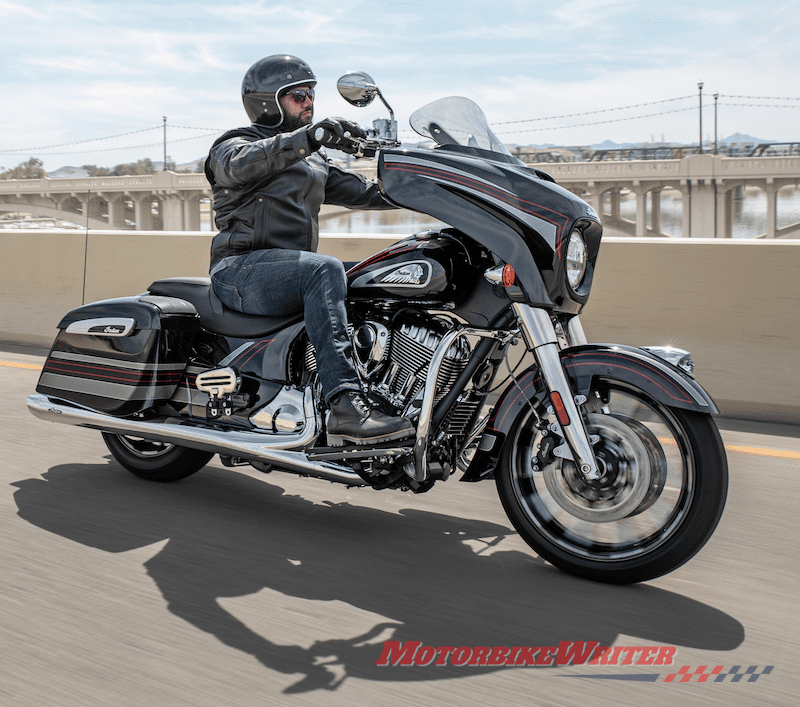 Accessories
Stage 1 Slip-On Exhaust in black or chrome;

Stage 1 Oval Slip-On Muffler Kit and Stage 1 Performance Air Intake (4 power increase on 111 and 8% on 116);

Stage 2 Performance Cams (13% horsepower increase on 111);

Thunder Stroke 116 Stage 2 Performance Kit includes cams, higher flowing fuel injectors and throttle body (17% horsepower boost when paired with both Stage 1 accessories);

Thunder Stroke 116 Stage 3 Big Bore Kit (20% more horsepower);

Headdress Passenger Floorboards;

Headdress Rider Floorboards;

12" Quick Release Passenger Sissy Bar;

Passenger Backrest Pad; and

12-inch Ape Hanger Handlebars for Chief and Springfield models.

2020 Springfield