Indian Motorcycle is heading back to the Bonneville salt flats while sister company Victory motorcycles has tackled the Isle of Man TT Zero (electric bike race) and Pikes Peak International Hillclimb.
It seems parent company Polaris is keen to show the performance credentials of its motorcycle brands and cash in on its enormous cred at Bonneville, thanks to Burt Munro.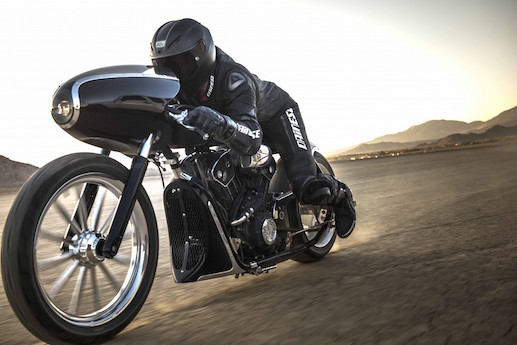 The minimalist Indian is called the Black Bullet. It will be displayed at the Sturgis Motorcycle Rally in August, 2015, then hit the salt flats for the World of Speed in September.
Indian Motorcycle commissioned Jeb Scolman who also built the Spirit of Munro streamliner to mark the launch of the Thunderstroke 111 engine before the launch of the renewed Indian Chief in 2013.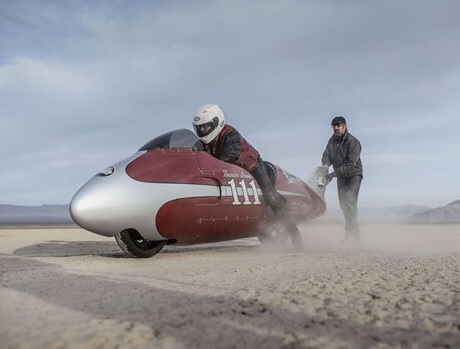 The Black Bullet features a 1200cc Scout engine, so we presume it is a bored-out version of the 1133cc in the production model.
There is no word from Indian about what land speed record they will go for, but the 1200cc class seems obvious.
Whether it scores a record or not, it certainly will be one of the tastiest looking bikes on the salt this year. A highlight of the handcrafted minimalist Black Bullet is its radical bullet-shaped fairing.
But don't expect this to become a foretaste to a production model. There are no doubt more Scout variants in the pipeline, just as there have been on the Chief platform.
However, we don't expect something as radical as this.
The salt flats assault is an obvious effort to remind us of Burt Munro's lifelong pursuit of speed records as portrayed in the Hollywood film The World's Fastest Indian.
On August 26, 1967, Burt Munro set a record of 183.586mph (295.453km/h) on his Indian 953cc Fuel Streamliner in the AMA Land Speed Record in Class S.A. 1000, according to the American Motorcycle Association.
However, some 36 years after his death, Burt's son John found a mathematical mistake that robbed his father of a higher record.
His speed was supposed to be the average of his north run of 184.710mph and his south run of 183.463. However, John says the average is actually half a mile-per-hour faster at 184.087mph.
The AMA has since amended the record.