Indian Motorcycles is believed to be launching three new models as soon as next week called the Chieftain Elite, Chieftain Limited and Roadmaster Classic.
Here are the clues: The bikes were listed with the California Air Resources Board (CARB) last week and American motorcycle journalists have been invited to an Indian "event" in Southern California next week.
So it sounds like the new models could be unveiled very soon.
Chieftain Elite
The term "Elite" has not been used on any Indian models before.
We expect it could be like Harley-Davidson's Custom Vehicles Operation (CVO) models with all the bells and whistles.
However, we don't expect it will have a bigger engine like the CVOs as the CARB documents don't specify any engine changes.
All new models are still powered by the same 111-cube Thunder Stroke engine as the rest of the Chief and Roadmaster models.
Chieftain Limited
The term "Limited" is used by Harley on its Ultra Touring model, but there is no reason to believe it will have the same use with Indian.
Perhaps it will be a limited edition with special graphics, like their Jack Daniels models.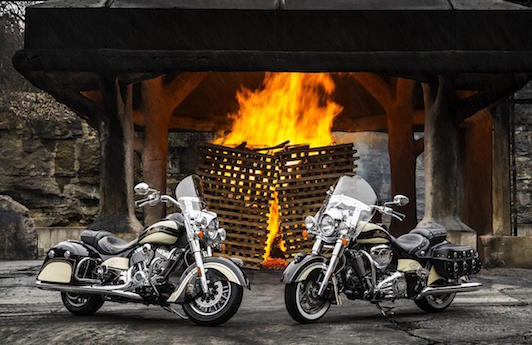 Roadmaster Classic
As for the Roadmaster Classic, there are a couple of options.
Harley distinguishes its Road King Classic from the Road King with wire wheels and leather bags, rather than mags and hard panniers.
However, Indian uses the term "Classic" in the Chief range to signify a basic model, so it could be a stripped-down Roadmaster.
Whatever the new models are, we expect to see them unveiled soon.
It usually takes a few months before they arrive in Australia, but we can imagine they will want them here quickly too fill the showrooms as they empty out of Victory stock now that their sister company is ceasing production.