FTR stands for "flat track racer", but even the Indian FTR 1200 Race Replica is much more than that and not the narrow-focussed bike many might think.
It arrives in Australia in three models all at ride-away prices:
FTR 1200 basic black for $20,995;

FTR 1200 S in red and grey or titanium and black for $22,995; and

Race-Replica with Akrapovic exhaust, red frame and FTR750 flat track racer tank graphics from $24,995.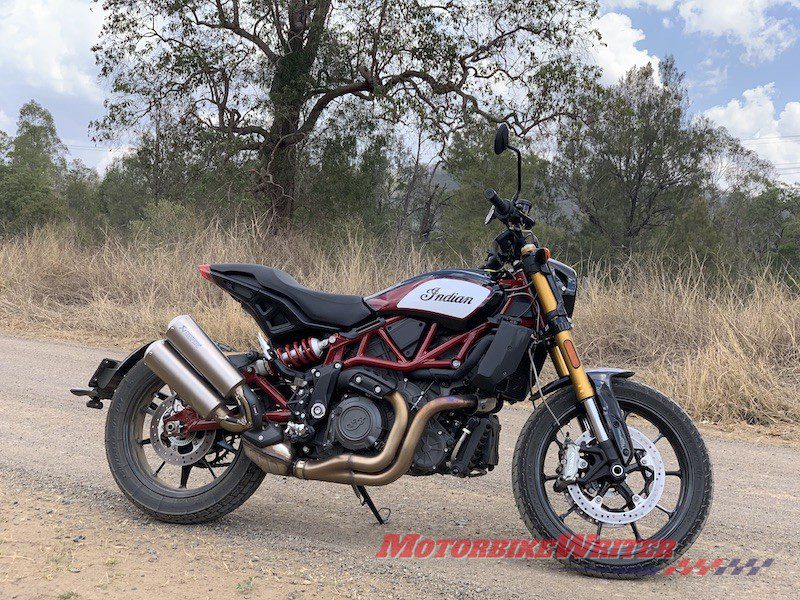 And right now Indian Motorcycle Australia is doing a deal where new (and previous) buyers get $2000 worth of accessories of Indian gear free.
Indian Motorcycle in Brisbane let me loose on the Race Replica to trial on the tar and dirt.
Motoring out of town I was surprised at how well the big 1200cc bike handled the tame duties of riding through traffic.
This could very well be a reasonable commuter with its high riding position and light clutch pull.
Which started me thinking that this could be more than just a flat track racer or "street tracker".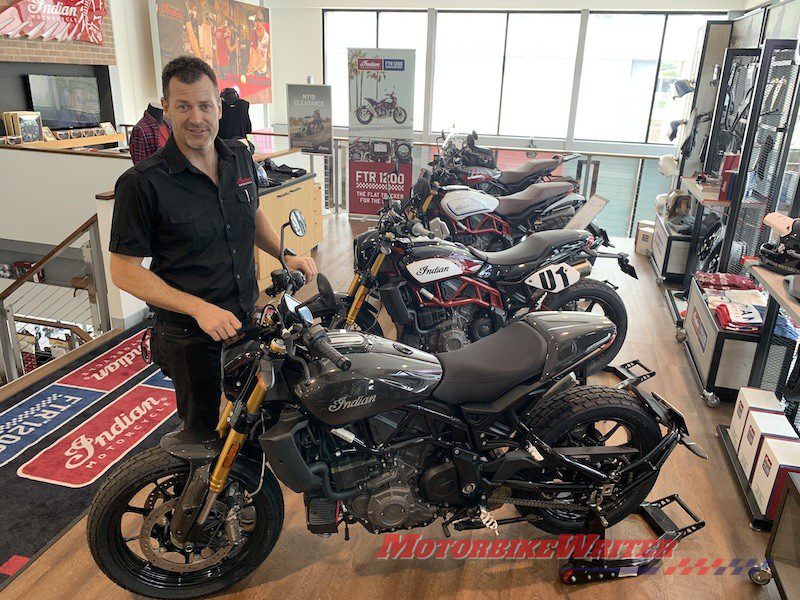 In fact, Indian motorcycle has four accessories packs that turn it into a semi-tourer with some luggage capacity, a rally pack for adventure, a sport pack full of bling and a tracker pack.
It's difficult to know where this sporty, naked road bike with some dirt capabilities sits in the market.
Here are some of the comparative bikes that went through my head as I rode around the Brisbane hinterland: Ducati Monster 1200 (from $22,990), KTM 1290 Super Duke R ($26,795), BMW S 1000 XR (from $22,850), Triumph Speed Triple R ($20,990) and Yamaha MT-10 SP ($21,499).
that's by no means a complete list and you could probably also include some of the big adventure bikes or the wilder street fighters like Ducati's coming V4 Streetfighter.
Powertrain
The comparative bikes have a wide variety of engine configurations.
But if you love a meaty V-twin feel with plenty of torque and vibe, this 1203cc 60-degree V-twin mill should satisfy.
Now let's go straight to the controversy over spluttering fuelling issues experienced by owners.
I didn't experience it on my first ride as the bike was warmed up and I was eager to twist the throttle.
The issue is really evident when the bike is cold or warming up where some even say it can stall.
It's also more evident in smooth on/off throttle riding, such as slower-speed manoeuvres.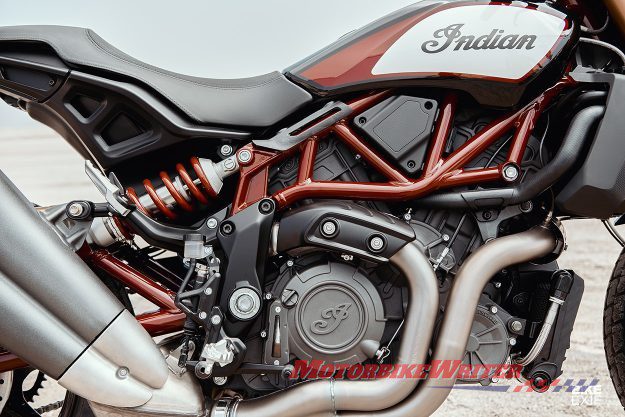 There seems to be a flat spot just off idle and a lurching on constant low throttle.
The issues are very similar to those I experienced on the early Scout models.
Indian fixed that issue with a software update, so I don't understand why they let this loose without fixing the issue first.
I found I quickly got around the issue by slipping a bit of clutch at slow speeds and just winding on the throttle a little more vigorously at other times to bypass the flat spot.
It's more evident in the "sport" engine mode than the "standard" or "rain" modes.
Power is ok at 92kW at 8250rpm, but it runs out of a bit of puff, especially in the short first gear.
Thankfully the engine has so much grunt, you twist the throttle and slip through the gears and ride the big 120Nm wave of torque.
I love the deep and mellow tone of the Akrapovic pipes which have a devilish crackle on the overrun. (Listen to the video below through your home stereo for best results.)
While not as slick as a Japanese transmission, the six-speed box with slip assist clutch is faultless with neutral easy to find.
Despite some hard charging on test, the instruments told me the 13L tank would give me a touch over 220km of range.
Power is evenly spread across the rev range, but there is a nice bump around 3500 revs.
It sits at 3700 revs on 100km/h in sixth where you can roll on the throttle for overtaking without having to swap any cogs.
The standard model doesn't get traction control, but the S and Race Replica do.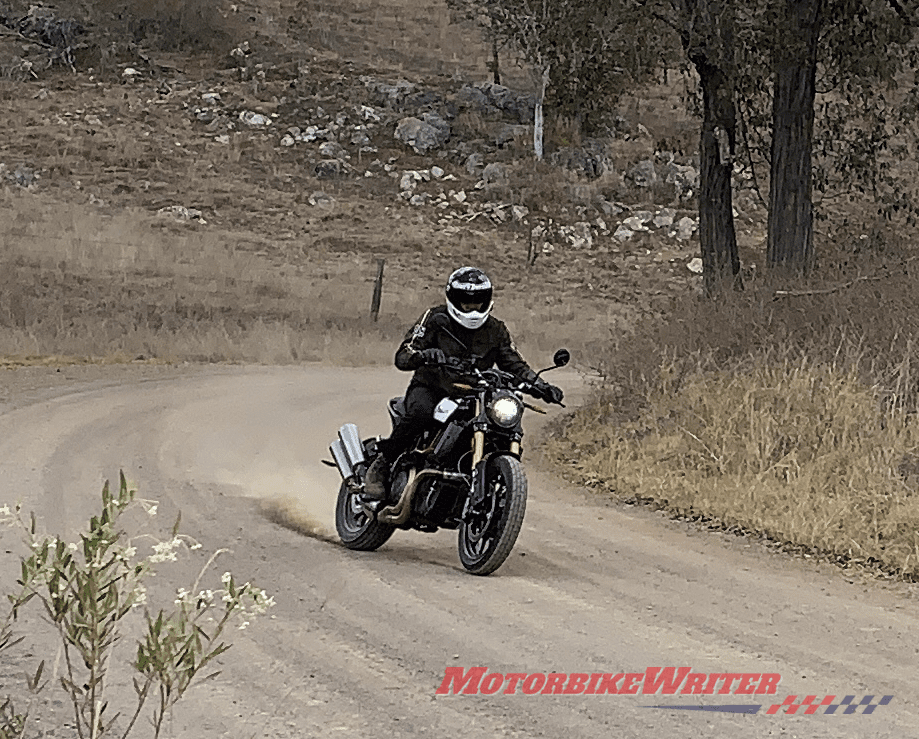 You can turn it off in all modes, but it also turns off the ABS and wheelie control. I'd prefer a little more latitude to turn off each individually and, ideally, the option to turn off the rear ABS only for riding on dirt. 
But it's a predictable traction control that not only saves you on wet or gravel roads, but also allows a little bit of controlled slip.
Styling
This is another controversial point.
The concept production bike with its high pipe and FTR750 influences was cutting-edge, raw and manic looking. It attracted a lot of attention.
Of course the production version with its lower pipes and "plumper" belly were a little tamer. Some were disappointed.
But it still cuts a sharp figure in the urban landscape and turns heads wherever it goes, especially with its stunning LED lighting front and rear.
It's tall with a choice of seat heights of 805mm or 840mm, but the seat is narrow allowing me at 183cm to plonk both feet flat on the ground when stopped.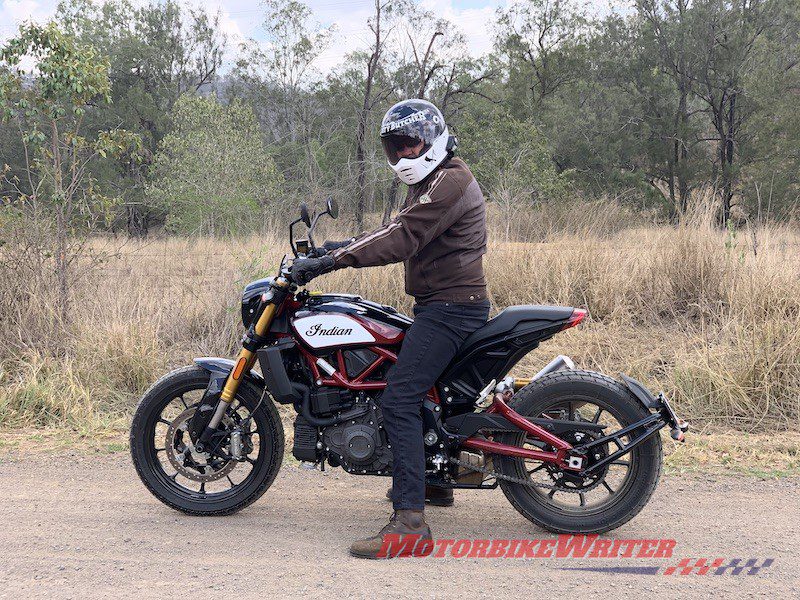 The seat is also very firm, but you can get a slimmer "race" seat or a more comfy touring seat option.
I found the standard seat good for a couple of hours in the saddle by which time you will be glad you are in search of a fuel stop, anyway.
The ProTaper bars are nice and wide, but a little low if you want to stand up in the saddle for off-road duties. A higher set of bars is also available.
Riding position is neutral except for the tight knee bend thanks to the high pegs. I think they could be lowered a little without any clearance issues as I never once scraped the pegs.
The mirrors are big and ugly, but could be replaced. However, they offer a good rear view with no elbows in the way or blurred images.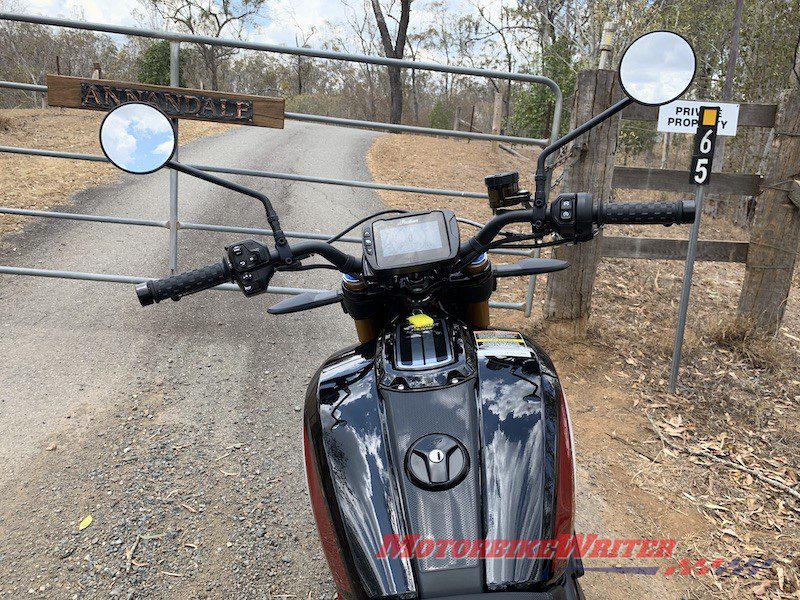 They are just short of the wide bars but high, so lane filtering can be tricky around SUVs and utes with high and wide mirrors.
My biggest concern was the heat that comes out of the rear cylinder head which is about 30mm from the backs of my thighs.
In slow traffic and while waiting at the lights, it gets very hot. A heat shield or leather pants would be mandatory for commuting duties.
While the basic model has a single, round instrument pod, the S and Race Replica have a smart TFT anti-glare touchscreen about the size of an iPad mini with all the info you would ever need and more.
Not sure why the screen doesn't go all the way to the edge of the pod, though.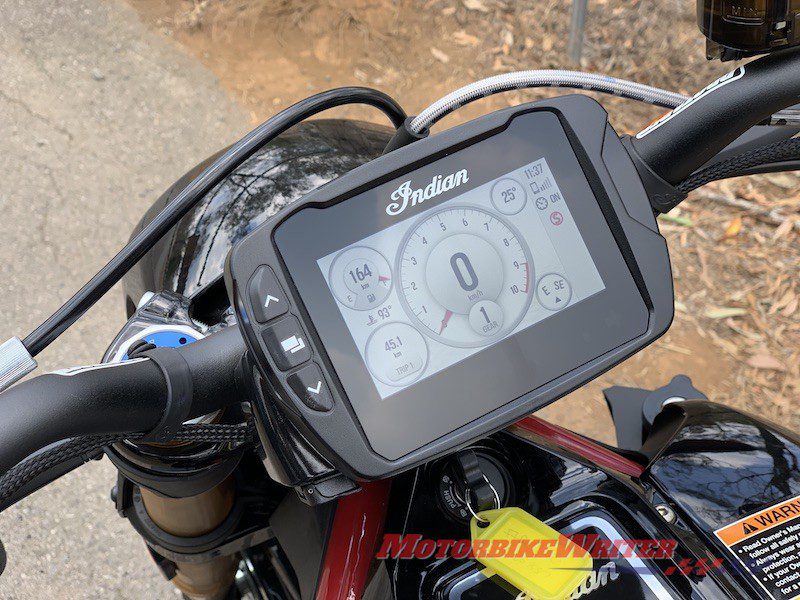 You can personalise your info, link to your phone, change modes, monitor phone calls, and manage your music, etc.
All info is available via the touchscreen which works well with all types of gloves, or you can use three lots of controls on the instruments and bars.
The indicators are self-cancelling which is a great safety device, but they stay on a little too long. Perhaps that can be adjusted in servicing.
Like all Indian products, the quality of fit and finish is exemplary.
Surprisingly, there is some messy wiring around the triple clamp, the controls are toylike, and the ugly catalytic convertor box underneath is an eye-catching eyesore.
I'm also not too sure about the models with the isolated rear fender.
Many other bikes now have these, but the FTR 1200's rear wheel hugger/fender is attached by massive pieces of metal and it's all a bit too chunky.
Overall, it's a stunning steed with thick paint and a host of options including different coloured tank panels.
Handling
This American-made motorbike comes with German-made Sachs suspension on all three models.
Standard has preload adjustment on the back, but the S and Race Replica are fully adjustable.
It feels firm around town and is stable on the highways.
On bumpy back roads and gravel roads, it's also compliant enough to soak up the big hits and has good high-frequency damping to cope with corrugations.
The FTR rides nicely on all types of road surfaces and won't jar your spine or jackhammer your hands.
The 43mm forks are robust and provide confidence in cornering even if the 19-inch front wheel makes steering a little ponderous.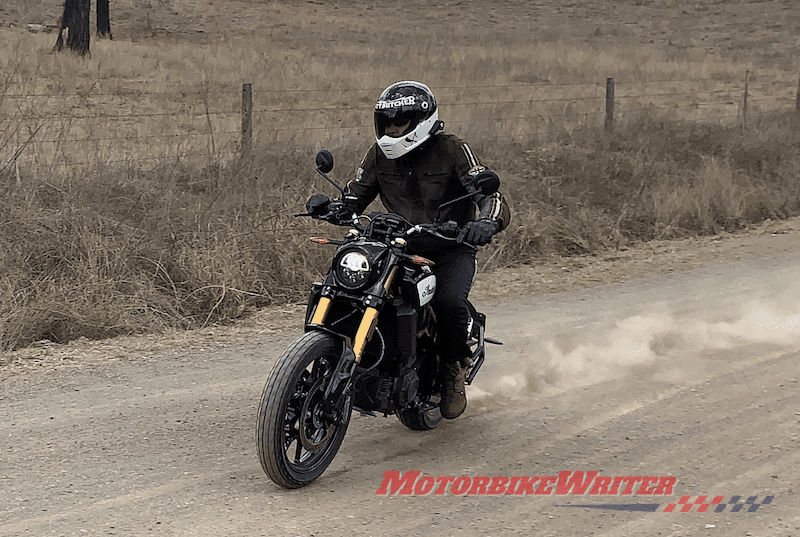 However, the weight distribution with the fuel tank located centrally and under the seat, makes it easy to change direction quickly through a series of tight esses.
The 19/18-inch tyre combo is strange and the flat-track tread pattern is handsome if a bit noisy on the highway and slightly vague when leaned over on the sharp edge.
The Dunlops were also quite slippery in the wet, although it had only just rained after a long dry spell, so the roads were very oily.
Brakes are strong and the rear is not just there for show. It works well in the gravel to dig in and steer the bike, but on those wet roads it locked up too soon and the ABS took some time to come on.
Conclusion
This handsome steed will turn heads while turning you on across several different types of terrain.
It's a street tracker, a streetfighter and a mild tourer and adventurer.
Indian FTR 1200 Race Replica tech specs
| | |
| --- | --- |
| Engine | |
| Engine Type | Liquid Cooled V-Twin |
| Displacement | 1203 cc |
| Bore x Stroke | 102 mm x 73.6 mm |
| Compression Ratio | 12.5:1 |
| Electronic Fuel Injection System | Closed loop fuel injection / 60 mm bore |
| | |
| --- | --- |
| Performance | |
| Peak Torque RPM | 6000 rpm |
| Peak Torque (95/1/EC Nm) | 120Nm |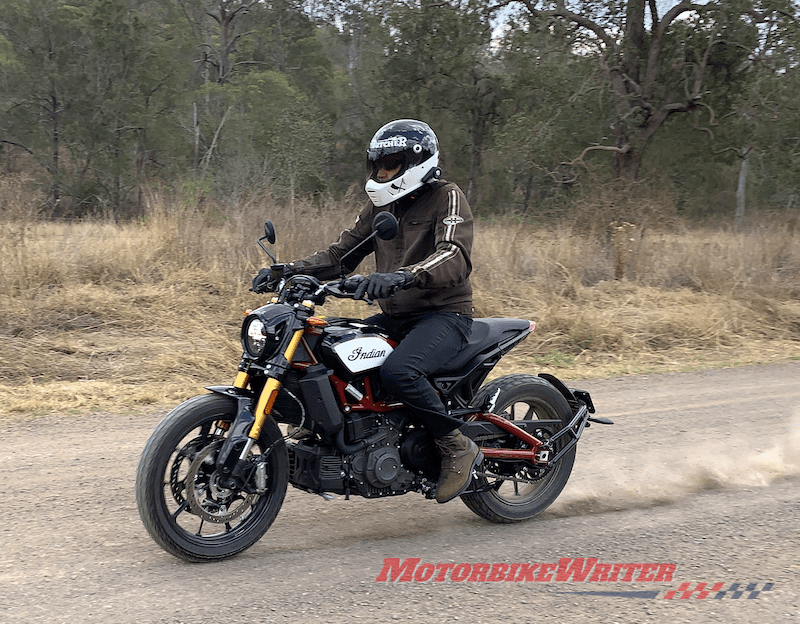 | | |
| --- | --- |
| Chassis | |
| Suspension: Front – Type/Travel | Inverted Telescopic Cartridge Fork / 150mm |
| Suspension: Rear – Type/Travel | Monotube IFP / 150mm |
| Brakes/Front | Dual / 320mm x t5 Rotor / 4 Piston Caliper |
| Brakes/Rear | Single / 260mm x t5 Rotor / 2 Piston Caliper |
| Tires/Front | 120/70R19 60V |
| Tires/Rear | 150/70R18 70V |
| Wheels | 19″ x 3″ & 18″ x 4.25″ |
| Exhaust System | 2-into-1 |
| | |
| --- | --- |
| Length | 2287mm |
| Width (INT) | 850mm |
| Height (INT) | 1297mm |
| Weight (Empty tank / full of fuel) | 225kg / 230kg |
| GVWR | 430kg |
| SEAT HEIGHT | 805mm/840mm |
| Lean angle | 45° |
| Wheelbase | 1524mm |
| GROUND CLEARANCE | 183mm |
| Rake | 26.3° |
| Trail | 130mm |
| Fuel Capacity | 13.0L |