2013 has undoubtedly been the year of the Indian Chief.
Thanks to Polaris profits and industrial acumen, the iconic American brand was reborn at the Sturgis Motorcycle Rally in August and has this month finally hit Australian shores.
It's a bold statement and a classic ride, but with modern technology and high-quality build.
Read my early review here.
Now the "base model" Indian Chief Classic has been given even more style with the Big Chief Custom from the Polaris Industries Industrial Design team.
The customised Classic, displayed at the International Motorcycle Show at the Javits Center in New York City, is adorned with an array of factory accessories and a custom paint scheme.
But more importantly it gets two traditional features that many fans thought would be standard on the bike when unveiled in a media flurry.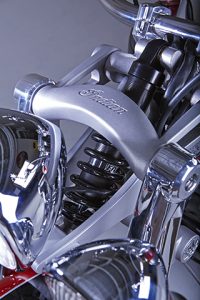 They are a girder fork and springer seat.
Some Indian fans were disappointed, others thought it was a sensible nod to modern technology.
However, one wonders if Indian might be considering the forks and springer seat for future models.
I hope not. Both are throwbacks to the early days of motorcycling before proper suspension was invented.
These girder forks are made of beautiful sand-blasted billet aluminum and sit astride a custom 23-inch front wheel, which seems to be the latest trend among many North American custom chopper shops.
They look fantastic.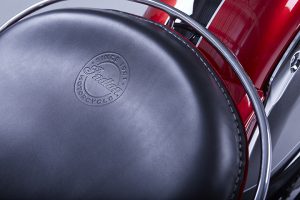 But it's style over function.
Girder forks were known for being unstable, sticky and heavy. It is no wonder they were quickly phased out.
Similarly, the springer seat is style over function.
Springer seats were invented before rear suspicion to give the rider some level of comfort over bumpy roads.
They might be fine on a hard tail bike, but if you have rear suspension as well, all you do is bounce and swivel down the road with no feeling of connection with the bike.
Harley-Davidson dabbled with a Crossbones Softail with a springer seat a few years ago. It was highly unpopular and has since been dropped from the line-up.
At least this springer seat has a cantilever design to dampen some of the pogo-stick feel.
Anyway, Victory and Indian Motorcycles Australia and New Zealand marketing manager Adrian Givoye says the seat and forks won't be available as accessories.
"It was purely a one-off concept," he confirms.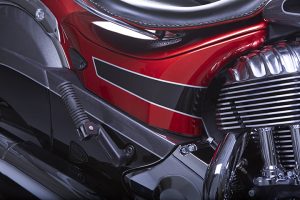 The "Pinnacle Series" of Indian Motorcycle accessories on the Big Chief Custom includes a cam cover, primary cover, chrome grips and beach bars.
It is capped off with Stage 1 exhaust and Fish Tail Tips. I rode a Chief at the launch on the Tweed Coast earlier this year that had this exhaust and it is an absolute aural joy.
Other custom accessories include floorboard pads featuring the "War Bonnet" Indian head, a heel shifter and chrome rear fender bumper.
Givoye says the accessories aren't available here yet."We  are still only just getting the core stuff delivered per the brochure," he says.
"As such I can't give you any costs or ETAs on these right now. I will speak with our contact in the US and see if I can get some kind ofindication."