Like many riders, you want an Indian Chief Classic – even lust after it – but until now you couldn't have one because demand far exceeded supply. Now supply is catching up with demand and even the marketing department at parent company Polaris Industries is releasing models for press evaluation.
I went to the Indian Chief media launch last year in northern NSW and instantly fell in love with all three models. However, it has been impossible to get another bike for a longer test ride and even the few available for demos at the dealerships have been busy with shoppers taking them for tests.
I recently snagged an Indian Chief Classic and Vintage for a short test and all my original impressions were instantly confirmed. (I'm taking a Chieftain for a longer test next week, including a 1500km round trip of northern NSW – stay tuned for more.)
While we shot the above videos, we were stopped by passersby wanting to take photos, ask questions or just drool. It's a real head-turner. If you like that traditional look, you will be bowled over by a closer inspection which shows quality trim and build such as internal bar wiring, steel braided brake lines, acres of chrome and fine details such as the Indian Chief head stamped on the front chassis stem and the foot brake reservoir.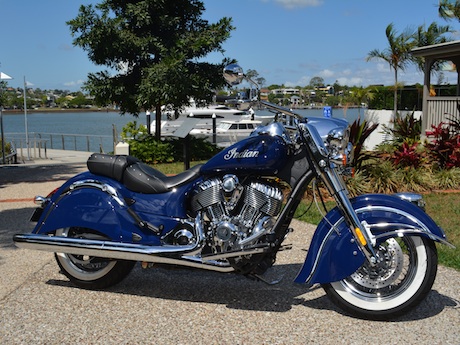 We had a blue Classic Indian Chief and a black Vintage for our test. However, the most popular bike seems to be the blue Vintage and I have to agree. But no matter what colour – black, red or blue – the paint is thick and lustrous. These were demo models, so they have been sitting in the sun and rain all day and have been ridden frequently by customers.
Apart from a few scratches from careless riders, the paint and chrome are holding up nicely. The pale brown leather saddle and bags are gaining a nice patina of wear about them which gives the bike some lived-in character. However, the black leather seat is starting to show signs of wear on the piping.
The Indian Chief Classic is like a Harley Deluxe, just chrome, traditional looks and nothing else. It's $27,103 while the Indian is $28,995. The Vintage bagger with quickly detachable screen costs $31,495 and is like a cross between the Heritage Softail ($27,899) with the features and handling of the Road King ($30,030). However, the Indians add cruise control and internal wiring as standard.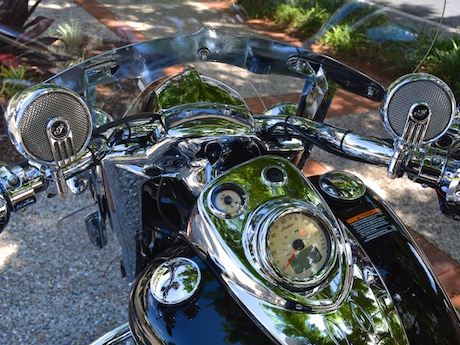 While our Classic test bike was stock, the Vintage came with a few extras from the long list of accessories such as Bluetooth handlebar-mounted chrome speakers so they don't look out of place, extra fringes on the valances, lower deflectors and aftermarket pipes which turn the already baritone exhaust into a deeper, bass growl. They don't bark like some aftermarket pipes, but provide a throbbing soundtrack to your ride. Thankfully the quiet and refined engine is still very quiet and refined with no intrusive mechanical noise to disrupt the exhaust symphony, even after a few thousand kays around the test block.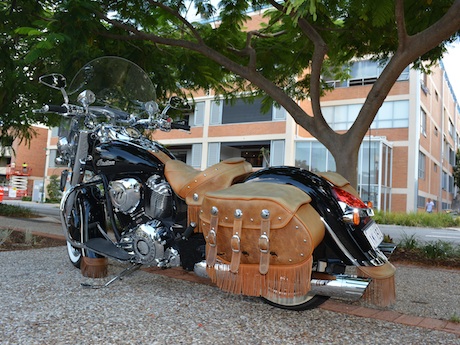 The heart of the Indian Chief is the 111 cubic-inch Thunderstroke engine which doesn't feel as torquey as the 103 Harley engine, but is more robust in the middle with a nicer top end. The throttle rolls on with a little elasticity, rather than an abrupt tug like you get from its American colleague.
Gears have become no notchier than on the zero-kilometre bikes I rode on the review. Neutral is still easy to find and changes don't feel clunky. Top gear is also useable and not a way-overdriven autobahn-only gear. Click it into sixth at 80km/h and you can still roll on for sedate overtaking without need for a downshift or two. At highway speed it ambles along at 2250 revs which is the start of the sweet spot for accelerating.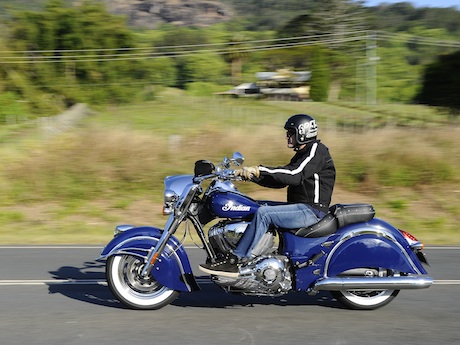 Here, you simply switch on the cruise control and enjoy the comfortable ride. The cruise actually works very well, but they should have followed Harley with a move to the left switchblock. Out on the open road, the screen on the Vintage is a welcome addition. It's high enough for protection but also easy to see over the top. Plus it can be quickly detached. However, it traps a bit of heat and throws a bit of the engine whine back at you, so I'd be taking it off in summer. The big "knuckle" heads are very close to your nether regions, so a good flow of air is vital. In winter it should be quite comforting, though.
Riding position is neutral and comfortable thanks to the well-padded seats and soft leather. I actually think the brown is softer than the black. I also like the big floating floorboards which take any vibration out of your feet. I don't usually like tank-mounted instruments as you have to shift your gaze too far from the road ahead, but the tank sits reasonably high, so it's not a big issue here. Besides, I love the grandfather-clock look of the instruments. Of more concern is the chrome around them which flashes sunlight in your eyes at certain angles.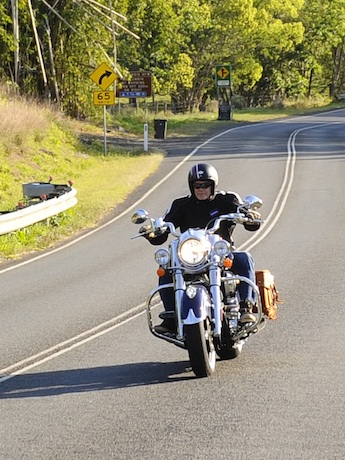 Brakes feel a little vague and soft on initially application, but they have good feel and plenty of effect, with just a little bit of front dive. The ABS is very smooth and non-intrusive.
The Indian Chief is one of the best-suspended cruisers on the market and has better lean angle than the Touring Harleys. It rides well, not crashing through the lumps and bumps, and never hitting the bump stops. However, it seems to steer a little stiffer and slower than the big H-Ds. That provides some stability, but it makes some of the around-town stuff a little tiring. I also found the long and wide beach bars bounce a bit over some of the bumps, but they don't vibrate the mirrors or your hands.
You can get accessory bars which might be a little firmer. In fact, there are so many accessories, you can turn the Indian Chief Classic into a Vintage, only with black leather instead of the brown. If that's your thing.
Indian Chief Classic and Vintage tech specs
Prices: $28,995 (Classic), $31,495 (Vintage)
Warranty: 2 years, unlimited km
Service intervals: 800/8000km or 12 months
Engine: air-cooled 1811cc Thunderstroke 4-valve V-twin
Bore x stroke: 101 x 113mm
Compression: 9.5:1
Power: not stated
Torque: 139Nm
Transmission: 6-speed, wet multi-plate clutch, belt drive
Suspension: 46mm telescopic forks, 119mm travel; single rear shock, 94mm travel
Brakes: 300mm floating discs (twin front, single rear), ABS
Tyres: 130/90B16; 180/65B16
Wheels: 40-spoke 16×3.5, 16×5
Seat: 660mm
Whee;base: 1730mm
Length: 2629mm
Wet weight: 370kg (Classic), 379kg (Vintage)
Fuel: 20.8L tank, ULP