The free Fire Aid Ride this Sunday (23 February 2020) will be the first in a series of rides every two months for the rest of the year to draw visitors to towns that have been drastically affected by the recent bushfires.
There is no fee to join the ride but riders are asked to spend their money locally and to donate to the Fire Aid Ride GoFundMe page.
Click here for more details on how riders can help various bushfire appeals.
Inaugural Fire Aid Ride
The first ride this Sunday takes off from Macquarie Park, Windsor, in Sydney's northwest from 9am and heads along the Putty Rd to the popular motorcycle stop, Grey Gum Cafe.
Donations will go to the Putty Rural Fire Service and local businesses.
Among the riders will be TV and radio presenter Osher Gunsberg, radio presenter Brendan 'Jonesy' Jones and designer and TV presenter Barry Du Bois.
Yamaha Australia will provide a recovery vehicle and mechanic.
Local charities, farmers, vendors and makers will establish a mini-market at the cafe. 
There will also be live music, 'Buy a Firefighter a Beer Bar', food from local vendors and riders can buy a special event patch.
While the Grey Gum Cafe escaped damage, owners Kim and Will worked tirelessly preparing up to 80 meals a night to keep firefighters fed. 
A GoFundMe page was started in November to help the cafe cover costs. It raised more than $20,000 of a $5000 goal!
Fire Aid Ride series
No dates or locations have yet been organised for the other rides in the Fire Aid Ride series, but stay tuned for details. 
The events are being organised by Sydney rider Jimmy Woodriff with the help of Mark Hawwa who established the now-famous The Distinguished Gentleman's Ride.
There are no administrative costs with the full amount of funds raised going toward local firefighter services and businesses. 
The Fire Aid Ride series is not designed as a fundraiser, but to encourage tourism to fire-affected areas.
"There's not a lot of people in Australia who haven't been impacted by these fires," says Jimmy.
"Now that the fire threat has eased there's a real economic, social and psychological danger to people in affected areas, giving back should be our focus.
"Going to meet people, saying g'day, spending money with them or just rumbling through towns on a bunch of cool bikes and being present tells our regional communities that we care, that they're not alone.
"We're planning to visit and bring more cash, bikes and smiles to other areas of NSW every two months to help stimulate these shattered local economies."
Organisers hope riders will spend their money with local businesses such as petrol stations, cafes, accommodation venues, and shops.
There are several bushfire charity rides in other states that you can attend. Check your liked Facebook pages.
Or simply go for a ride with your mates.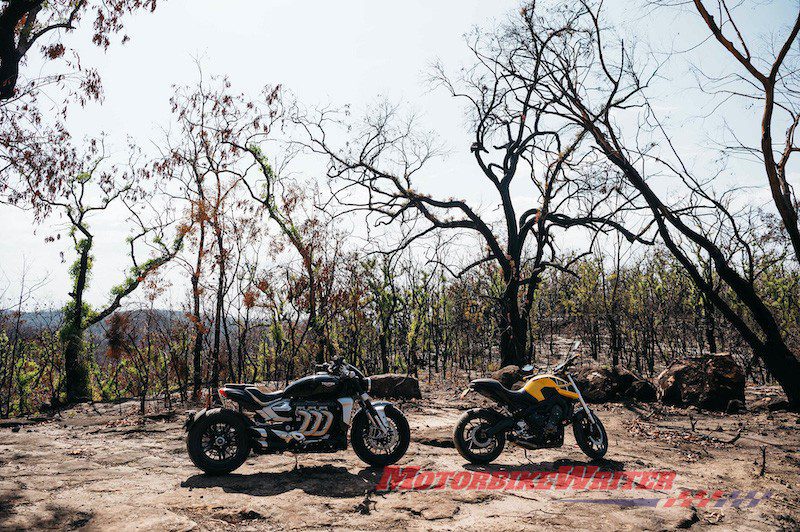 Fire Aid Ride
When: Sunday, 23 February 2020

Time: 9am until 3pm

Where: Meet at Macquarie Park, Windsor; End at The Grey Gum International Cafe, Putty

.