It sounds like a bargain to import a motorcycle from overseas where they may be cheaper, but there are also pitfalls for riders.
Bruce Hartwig, consultant to Queensland Imports, which is one of about 14 federally registered workshops for complying imported used vehicles, says the easiest and cheapest motorcycles to import and comply are in standard trim. "Highly modified choppers are difficult to import and can be very expensive," he says.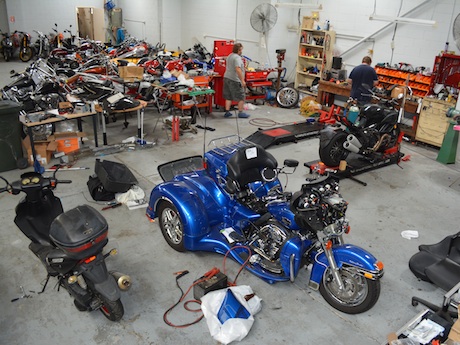 Even bikes in standard trim may require modification by a company such as Queensland Imports. Most of those compliance changes involve lights (size, colour and distance from the rear of the bike), but may also involve the exhaust, handelbars and number plate holder. He says most are an easy fix, but choppers with a low seat and high bars can be expensive to remedy.
If you are after an historic bike, the news is a little better as bikes made before 1989 are easier to comply and those made before 1975 when there were no Australian Design Rules only need a roadworthy certificate.
Note that the rules on importing vehicles changed in 2018. You will be able to import vehicles that are not already imported by official distributors, have comparable standards to Australia, are no more than 12 months old and have no more than 500km on the odometer. You will also be able to import only one vehicle every two years.
Bruce says costs to comply a bike start at about $2500, which includes fitting new tyres and brake pads, metric speedo, amber indicators and reflectors.
He says most people buy bikes from the US and it costs about $1000 to ship from LA. "You can get cheaper quotes, but check whether it includes quarantine and other fees," he warns. You will also need to pay GST on the landed cost of the bike.
He says that these costs make it unviable to import cheap bikes. He says the general rule of thumb is that if it's $5000 cheaper than you can get it in Australia, it's viable if the current exchange rate is good. It becomes unviable when the Australian dollar is below 80c.
"More expensive bikes are better value, but it depends on their accessories, mileage and the rarity of the bike. Some people want to import Royal Enfields from India, but you can buy them here for under $5000." He says the most popular brands to import are Harley-Davidson and Ducati.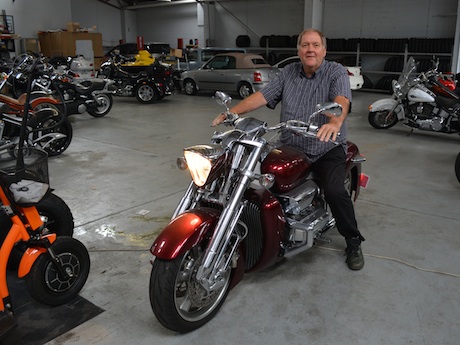 Qld Imports can also find suitable vehicles, buy them, ship them, handle all the compliance issues and even deliver them to the new owner. The whole process can take up to 10 weeks.
All vehicles to be imported into Australia require an Import Approval. They can be imported under the Specialist and Enthusiasts Vehicle Schemes (SEVS) for modified performance machines or as an unrestricted vehicle through the Registered Automotive Workshop Scheme (RAWS) using a company such as Queensland Imports.
Bruce is a rider and collector of bikes, some of which he plans to sell. They include two Honda Runes, a Heritage Softail, a Ducati Diavel, BMW R 1150R, Kawasaki Mean Streak, Honda Goldwing and a three-wheeler Grinnall Scorpion powered by a BMW K100 engine.
He owns a business, Sapid, which does testing and approvals for modifications – such as single seat modifications for cheaper registration in Queensland and trike conversions – and individually constructed vehicles which can be motorcycles using an Australian or imported frame, or trikes or sidecars, or wheelchair sidecars.
Vehicles which can be imported under SEVS are on the SEVS register. However, being on this list does not mean that anyone has actually done the testing to allow them to be sold as used imports.
Vehicles on the unrestricted imports list are mainly motorcycles and are mainly from mainstream manufacturers.
Email Bruce with you queries about importing bikes: mailto:[email protected]
Australian Vehicle Imports (QLD Imports Pty Ltd) Vehicles Currently Approved 
Make
Model
Range
Prices Starting from#
Harley-Davidson
Dyna
All Models

2012 and later may incur some additional costs depending on the speedo and lamps fitted. This could be as much as $1500

Screamin Eagle models may incur an additional charge of $500 depending on speedo fitted.

$2500
Rocker
$3500
Softail
$2500
Sportster
Touring
Touring 2
Tri Glide Trike
$5500
Street Glide Trike
V Rod
$2500
Indian
Chief 2
Bomber, Classic, Dark Horse, Deluxe, Roadmaster, Standard, Vintage.
$3000
Chief
1/119/99 to 31/12/2003
$3000
Scout
1/1/1999 to 31/12/2003
Spirit
1/1/1999 to 31/12/2003
Norton
961 Commando
$3000
Honda
Valkyrie Rune NRX1800
1/1/2003 to 31/12/2005
$3000
VFR1200
1/06/2009 to Current
$2500
Goldwing GL1800
1/1/2001 to 31/12/2010
$3000
Ducati
851
$3000
996 / 998
996, 996R, 998, 998S, 998R, 998FE
907 IE
1098/1198 H7
1/1/07 to current

1098, 1098S, 1098R, 1198, 1198S, 1198R, 1198SP

Streetfighter
Streetfighter, Streetfighter S.
Multistrada 1200
1/1/2010 to Current
$2500
Diavel
1/6/2010 to Current
$3000
GT1000
$2500
Monster
1/1/93 to current.
Includes 400, 600, 750, 900, S4, S4 FOGARTY, 620 I.E., 750 I.E., 900 I.E., 620S, 800S, 1000S, 620, 800, 1000, S4R, 620 DARK 1 DIS., 620 DARK 2 DIS., 1000, S2R DARK, S2R, 620 DARK, S2R 1000, S4RS, 695, S2R 800, S4R TESTASTRETTA, S4R S TESTASTRETTA, 696, S4R TRICOLORE, 1100, 1100S, 796
$2500
916/996
$2500
Suzuki
GSXR 1000 K7
1/1/2007 to 31/12/2008
$2500
GSXR 1000 K8
1/1/2007 to 31/12/2008
Henderson Excelesior
Super X
1/12/1998 to 31/12/1999
$3000
Bimota
YB9 SRI
1/1/1996   to 31/12/1998
$3500
SB6
1/1/1994   to 31/12/1998
Yamaha
V Max 3UF
1/1/1989 to 31/5/2008
$2500
R1 YZF-R1 GEN 2
1/11/2008 to current
R6 YZF-R6
1/1/1999 to current
XV1900
XV1900A, Roadliner, Roadliner S, Roadliner Midnight, Custom Raider, Custom Raider S, Raider SCL, Stratoliner, Stratoliner S, Stratoliner Deluxe, XV1900CTC
$3000
VMax VM17
$2500
Kawasaki
Vulcan VN800
01/01/1999 to 31/12/2006
$3000
Vulcan VN1600
Classic, Mean Streak, Nomad
Vulcan VN2000
Classic LT, Classic, Limited, 2000
American Iron Horse
Classic
01/01/2000 to current
$3000
Stalker
1/1/1999 to 31/12/2004
Texas Chopper
TX / TA     1/9/2001 to 31/12/2008
Legend
Thunder Mountain Custom
Black Hawk
1/1/2003 to 31/12/2007
$3500
Victory
Vegas
Zach Ness, Arlen Ness, Vegas, Jackpot, 8-Ball, Low
$2500
Boss Hoss
1990 – 04/2003
$3500
Big Dog Motorcycles
Ridgeback
1/1/2004 to current
$3000
Mastiff
1/9/2000 to Current
Bull Dog
1/9/1997 to Current
Big Bear Choppers
Venom
1/1/1998 to Current
$3000
Saxon
Hotrod Sceptre
$3000
Toyota
Coaster 30
All must be complied as Campervans
$2200
Coaster 50
Estima CR30/40
Estima TCR10 / 20
Hiace 2WD /4WD
Hino
Rainbow Motorhome
1/1/1989 to 31/12/1995
$2500
Mitsubishi
Delica
PD8W, PE8W, PF8W,PD6W, PF6W PD4W
$2200
Pajero Convertible
V23C, V24C, V25C, V26C
Nissan
Cube BZ11
1/10/2002 to Current
$2200
Skyline R33
1993 to 1998
S13
1/1989 to 12/1999
Chevrolet
Blazer 4WD
$2200
Freightliner
M2 Business Class
1/1/2004 to Current
POA
Motortrike
V Rod trike
1/1/2002 to 31/12/2006
$3500
Gold Wing trike
GL1800
GG Taurus
Taurus Trike
$4000
Rewaco
RF1
$3500
Boom
Low Rider
$3500
California Side Car
Daytona Trike
$3500
Prices for all vehicles are subject to vehicle inspection. Additional costs may be incurred for non standard or modified vehicles. Prices quoted include GST.