Variant Helmet Review Summary
Variant Helmet Image Gallery
The Icon Variant is comfortable, with better than average air flow through the top vents and excellent visibility.
It's my favorite of all the "Enduro" styled helmets I've worn so far.
Adventure Touring motorcycle sales have continued to increase in many countries around the world, according to reports.
That's mostly because owners are finding out that the this style of motorcycle is much more versatile than a sportbike or cruiser.
They're a lot of fun to ride and customize and they're probably cheaper to insure.
They're just as useful for touring as they are for street riding, commuting and, of course, plunking around the outback.
Of course, no Adventure Tourer is complete without an "Enduro" or "Dual-Sport" styled helmet.
This helmet style has become popular along with the rise of the Adventure Tourer (and, to a lesser extent, with the never-happened Supermotard craze).
And besides the helmet, there are specialized boots, jackets and pants to complete the outfit.
And that's where the new-for-2010 Icon Variant comes in to play.
Icon is probably not the first brand you'd think of when it comes to Adventure Touring.
They're better known for hard-edged street/stunt focused gear for, er, the younger set. Adventure Tourer riders tend to be older and — hopefully — wiser? No R 1200 GS stunts for them! Although, come to think of it, that would be an interesting sight…
We've reviewed several Enduro styled helmets on webBikeWorld over the years, giving us a pretty good database for comparison.
Some of these helmets have been more successful than others, and I haven't worn them all, as the reviews were written by several contributors. But I've had experience with a few and I'd have to say that at this point, the Icon Variant is my favorite.
Not that there isn't room for improvement in the breed, but the Variant fits me better than the others and just seems to have that certain je ne sais quois that makes it feel right at home on my head.
Of course, there is one factor to note when discussing any of the Enduro-type helmets: they're very sharply focused in terms of styling and they only look right on a dual-sport bike. I think one might look rather silly wearing an Icon Variant while riding a GSXR or, say, a Gold Wing, for example.
But, since there are now so many Adventure Touring and dual-sport bikes being enjoyed and ridden (and more on the way every year — will we see the Tenere and the new Aprilia Tuareg in North America sometime soon?), sales of Enduro or Adventure Touring helmets should also remain strong.
So let's take a look at the newest entry, the Icon Variant.
Icon Variant Paint, Graphics and Overall Quality
The Variant is currently available in a handful of rather muted solid colors, including Black, Black Rubatone, Medallion (a sort of metallic taupe), White and the Silver shown in our photos.
Twenty bucks more buys the "Etched" Variant, with a wilder skull graphic in silver, blue and red. I'm a bit puzzled over the Etched graphics. I don't know — a skull on an Adventure Touring helmet?  My adventures haven't been quite as adventurous…
All I can speak for is the quality of the Silver version shown here. It's neither the best nor the worst paint and surface finish I've seen, with a few dust specks, a couple of wavy spots and some untrimmed edges on the plastic parts.
My honest opinion is that overall, the paint and finish isn't quite up to the quality I've seen on other Icon helmets. This is a bit disappointing, considering that the solid-color Variant has a list price of a not-inexpensive $370.00.
Fortunately, this is far from a deal-killer for me. The price of the Variant may be justified by the construction and overall feel of the helmet.
The shell is not the expected polycarbonate, but a composite of fiberglass, Dyneema (claimed to be "the world's strongest fiber" and which is misspelled on the Icon website as "Dynema"), and a bit of carbon fiber thrown in for good measure — and low weight.
This combo has made the shell as solid and as stiff as any helmet I have ever handled and which led to a comical situation when one round-headed rider tried it on. Or, rather, tried to take it off.  More on that in the "Fit" section…
The removable liner material used in the Icon Variant is especially nice; it feels soft and comfortable and the white material is an interesting contrast, as long as it stays clean.
Icon has their "Hydradry" logo splashed all over the fabric, so apparently they consider it something special.
The sun visor or sun peak or whatever it is called on the top of the helmet is definitely the primary distinguishing characteristic of the Icon Variant and indeed, of "Enduro" helmets in general.
On some examples of the breed, the peak is an ill-fitting beast, but this one has a very solid feel on top of the Variant and I predict no problems with it.
However, it's placed in such a way that makes face shield removal and replacement a bit of a chore, and in fact I was too scared an impatient to work through the details so we neither photographed nor videotaped the procedure.
You're on your own on this one. [UPDATE: Icon created a video to demonstrate the face shield removal procedure – November 2010.]
Score:  All told, I'll give the Icon Variant an "Excellent" rating for overall construction, while the paint gets only a "Neutral" from me. See the ratings descriptions in the summary table at the end of this page.
Icon Variant Helmet Fit, Internal Shape and Liner
The Icon Variant has a fairly neutral internal shape, which makes sense, as this shape will fit the majority of riders. It is probably the classic definition of a neutral-shaped helmet and round-heads who have tried this one say that it can feel tight on the side and in front at the forehead.
I find the helmet very comfortable, especially with the soft Hydradry liner fabric.
The padding feels adequate to slightly plush, although I'm surprised that the ear recesses on either side — I can't really call them ear pockets — seem very shallow.
My ears don't fit; the recesses are cut off at the top lower than normal due to a wide band of the Hydradry fabric that surrounds the head at a slight downward angle, running past where the top of an ear pocket might normally be situated. T
his folds my ears down when I put the helmet on and I have to rotate it around to make my ears fit…barely.
This also made it difficult to wear eyeglasses with the Variant — even a pair of thin wire frames. The sides of the helmet do feel a bit tight and, combined with the shallow ear recess, there isn't enough room for the back of the "hook" on my glasses to fit behind my ears. This will most likely vary, depending upon the rider's head shape and eyeglass type.
The slight tapering of the sides of the helmet from top to bottom — sort of a reverse ship builder's tumblehome — and the very stiff composite shell led to a comical (at least some of us thought it was funny) situation.
One round-headed rider borrowed the Variant during a group ride but, returning hot and sweaty, he couldn't pull it off his head.
The very stiff shell used in the Variant is very difficult to spread open in the usual fashion by pulling the chin straps apart. We didn't think the helmet would come off his head and there was some panic until it finally and painfully came loose.
It made me think of Captain Kirk's line to the policeman about Spock's ears: "He got his head caught in a rice picker when he was a kid" (The City on the Edge of Forever).
So round heads beware may be an appropriate catchphrase for the Variant. This one is a size L, listed by Icon as a peculiar 23-1/3″ to 23-1/5″ circumference, which is a very narrow range.
I think it's just about spot on for an expected size large, and should fit a neutral head shape of approximately 59.0 to 60.5 cm.
Personally, I find the Variant to be more comfortable than any of the other Enduro-styled helmets I've tried.
In fact, I think this is one of the best features about the helmet and I think it fits me more comfortably than any of the other Icon full-face helmets I've tried.
One other curiosity is the amount of chin room, which I would have expected to be generous but in reality doesn't feel much different than a full-face helmet.
My chin doesn't come close to touching the inside, but there just doesn't seem to be as much room as I thought there would with this type of helmet.
Also, something about the liner or the padding makes my head feel hot; noticeably more than when wearing other helmets.
I'm not sure why this is, although the material does seem to work well at absorbing the moisture, but it almost feels like the liner and padding is acting as an insulator.
My notes show that on one cool 68 degree day, my head felt hot inside the helmet, despite the good air flow provided by the venting system in the Variant (more on that below).

More information on helmet fit can be found in the webBikeWorld Motorcycle Helmet FAQ page, along with the chart that lists the helmet weights of webBikeWorld reviewed helmets and also by shape on the webBikeWorld Motorcycle Helmet Shapes page.
Score:  I'll give the Icon Variant an "Excellent" for fit and comfort for neutral shaped heads.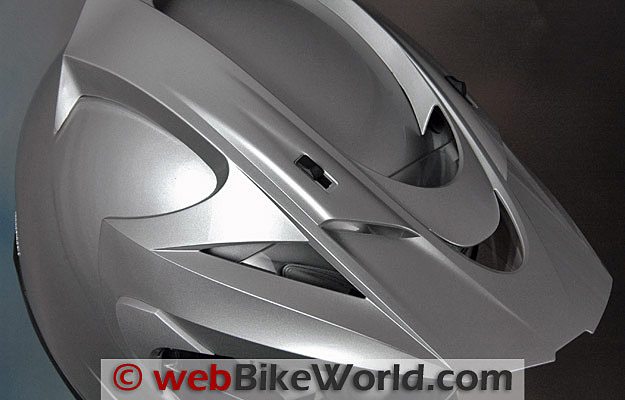 Icon Variant Face Shield and External Sun Visor
The 2.1 mm thick "bubble" style face shield used on the Variant actually has surprisingly good optical qualities considering the extreme curvature across the width.
It raises through only three positions however, but the first opening is too wide for just slight defogging.
The shape of the chin bar means that opening the face shield to the first position blasts quite a bit of air at the rider's nose and eyes; in effect, it works best when fully opened or fully closed.
[UPDATE: Icon informed us that they have now changed the design to allow a small first opening for defogging – November 2010.]
The highest position doesn't put the face shield out of the rider's line of sight, due to interference with the sun visor peak on top. Also, the face shield doesn't fit as tight as I'd like against the eye port gasket, and this one did leak slightly along the top.
Icon says the face shield is treated with an anti-fog coating, but like most of the factory treatments, I wouldn't count on it. The weather is too warm to tell just now.
Although I like the Enduro styled helmet, I'd have to honestly say that I'm not really sure about the utility of the design.
The sun peak that is the signature of these helmets don't really do much.
We tried many different combinations of riding positions and times of day and the peak on the Variant doesn't extend far enough to block the sun, so other than that Adventure Touring look, I've always been puzzled about what these sun peaks really do.
They just don't seem all that functional, and if you really are going to ride Adventure Touring style, which includes off road, a Shark Evoline Series 2 (review) is probably more versatile.
But then, neither do rear spoilers on cars or carbon fiber rocker covers, so who knows.

Also, the sun shade peak does add drag and lift and it can be felt when moving the head side to side. At certain speeds and head angles, the peak will flutter and vibrate. This is an issue in general with the style of helmet and not necessarily confined to the Variant.
The Variant does not include an internally rotating sun visor. Also, we did not try to remove the clear face shield on this one; the rotating mechanism on the side is covered by plastic parts and I just didn't have the time or the ambition to tackle a shield change.
UPDATE: Icon now has a video illustrating the Variant face shield removal process.
Score:  The Icon Variant face shield gets an "Excellent" for optical qualities but the design only rates a "Poor" from me.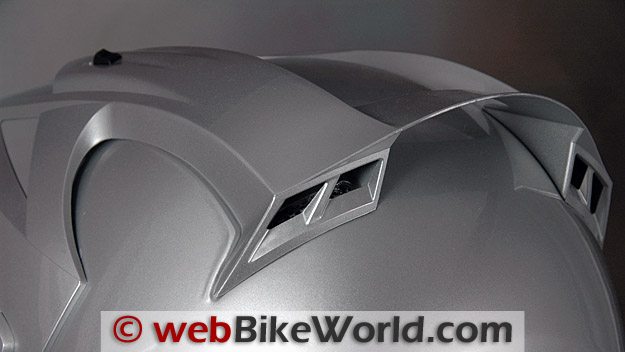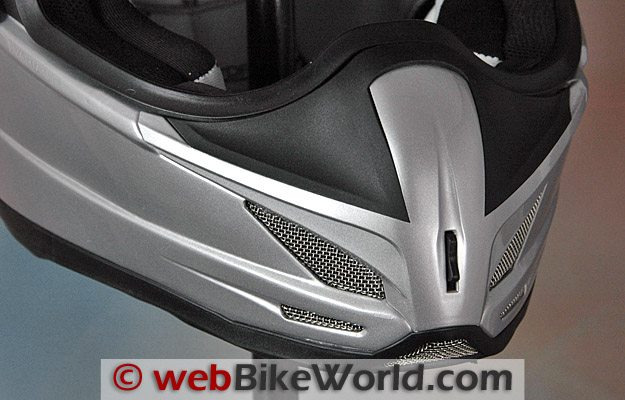 Ventilation and Air Flow
The Variant makes one good use of the peak on top — it provides a ram-air effect by catching the air flow in the two large scoops covering the top vents and forcing the air down into the helmet. The vents are opened by slider switches on the top of the peak.
The helmet also has dual brow vents just above the eye port. Each is covered with a slider and the combination of the four vents does a good job at ventilating the top of the helmet, with surprisingly little noise.
The chin vent on an Enduro-styled usually looks very large, due to the prominent beak.
On the Variant, it's covered with metal mesh. It has a tiny rocker switch that opens a small panel only in the bottom part of the mesh that faces forward and down. This part of the vent doesn't add much to the volume of air flow.
The mesh covers on each side of the beak do allow a lot of air to pass through the chin bar, but only if two well-hidden panels are opened on the inside of the chin bar. I rode with the helmet for a couple of weeks before I discovered that these vents could be opened from the inside.
After scratching my head wondering why so little air was coming through what looked like a lot of mesh surface area, I poked around under the large chin curtain while holding a flashlight and found the sliders inside. I guess I should have read the owner's manual first…
The rear exhaust vents on the Variant are incorporated into the spoiler formed by the rear of the top sun peak and they are matched by a smaller pair of mesh-covered vents at the bottom rear of the helmet.
The system works to push air in through the front and pull it out the back, certainly better than any other Enduro-styled helmet I've worn and probably better than most full-face helmets.

Score:  I'll give the Icon Variant an "Excellent" rating for venting and air flow.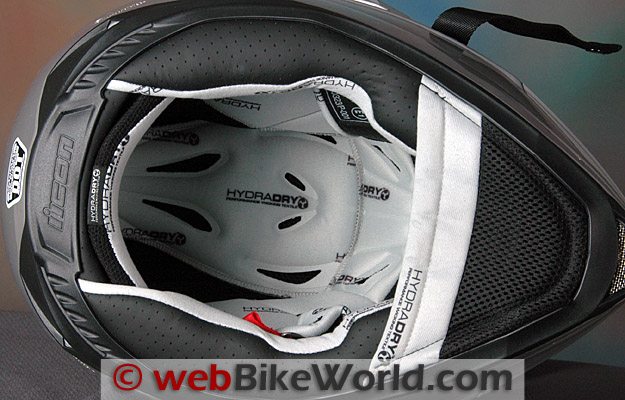 Icon Variant Sound Levels
The Variant is relatively quiet for an Enduro-styled helmet, with some wind noise heard through the vents and a bit of whistling around the top peak, depending on conditions. As I mentioned earlier, side winds can also cause the peak to flutter or vibrate.
The very large chin curtain helps control the turbulence underneath the chin bar, so overall I'd rate the noise levels as well controlled, especially for this type of helmet.
Note that our helmet evaluations are a combined effort of several riders over time on different types of motorcycles with and without windscreens.
Evaluators wear correctly fitted, high quality ear plugs (even when evaluating motorcycle intercom systems).
Always protect your hearing when riding a motorcycle. See the wBW Earplug Reviews for more information on choosing and wearing earplugs.
Note also that perceived noise levels will vary, depending on the individual.
Noise can be caused by many factors, including helmet fit, the type of motorcycle and windscreen, wind speed and direction and even the rider's clothing.
For more information on helmet noise, visit the wBW Motorcycle Helmet Noise page.

Score: The Variant gets a "Good" from me for reasonably controlled noise levels.
wBW Video: Icon Variant Helmet
Helmet Weight
The Variant shown here in size large weighs 1697 grams (3 lbs., 11-7/8 oz.). This is coincidentally exactly the same as the size XL HJC CL-XS (review) Enduro-styled helmet reviewed on webBikeWorld.
For comparison, the Variant is in the neighborhood of the Arai XD (review) (Enduro) in size XL at 1693 grams or the new Bell Star 2010 (review) in size XL at 1696 grams.
Also the aforementioned HJC CL-XS (review) (Enduro) in size XL at 1697 grams and the HJC CL-16 (review) in size XL at 1702 grams.
This is a reasonable weight I think for this type of helmet and I'm sure the composite shell contributes to its good showing.
The helmet feels well balanced, although as with any Enduro-styled helmet, the top peak can cause some lift, making the helmet feel slightly unbalanced as the lift mimics a top heavy sensation.
See the wBW Motorcycle Helmet Weights page for a chart that compares the weights of all of the helmets we've reviewed. The wBW Motorcycle Helmet Shapes page lists the helmets by head shape and weight.
Score:  The Variant gets a "Very Good" rating for its reasonable weight for this style helmet.
Miscellaneous
Icon says that the helmet meets several worldwide safety standards, including DOT in the U.S.A., ECE 22.05 in Europe and Australian and Japanese safety standards. Warranty is one year.
The North American version has a double D-ring retaining system.
webBikeWorld Overall Opinionator – Icon Variant
Picks…
…and Pans

Overall good ventilation.
Relatively quiet for this type of helmet.
Very solid shell feel.
Good fit.
Comfortable liner.
Stylish.

Paint and surface finish and details need improving.
Face shield needs small first opening for defogging.
Too much torque or twisting when face shield is lifted.
Style works best only with specific bikes.
Conclusion
The Icon Variant is a comfortable and good-looking example of the Enduro-styled helmet. It feels good and it feels solid and it has excellent visibility and ventilation.
It's my current favorite for this type of helmet and it's priced significantly lower than the Arai XD series, without all that much difference.
More wBW Motorcycle Helmet Reviews
wBW Review: Icon Variant Helmet
Manufacturer: Icon
List Price (2010): $370.00-$390.00
Colors: Solids and graphics
Made In: Korea
Sizes: XS-3XL Shell Sizes: Unknown
Review Date: August 2010

Rating Scale is subjective: Unacceptable, Poor, Neutral, Very Good, Excellent, Outstanding.
Note: Item provided by a retailer, distributor or manufacturer with these Terms and Conditions.
Note: For informational use only. All material and photographs are Copyright © webWorld International, LLC since 2000. All rights reserved. See the webBikeWorld® 
Site Info page
. Product specifications, features and details may change or differ from our descriptions. Always check before purchasing. Read the
Terms and Conditions
!
Owner Comments and Feedback
---
From "S.W." (May 2012): "Not really a comment I want you to post on your website but more just to think about in your review.
You mentioned that this helmet wouldn't look good on any bike besides adventure touring when in fact I actually see more people wearing them on super sport bikes. And they look amazing.
It's a huge craze with motovloggers and their followers.
This helmet is actually, by icons description, an urban street riders helmet, not an enduro styled helmet. This was meant to be a cross between dirt bike and street riding. It was suppose to bring the aggressive look of the dirt bike helmet to the streets with the practicality of the visor.
When Icon made this helmet they actually had the everyday street rider in mind. Not the adventure touring guys. I actually ride a super sport bike and have ordered my own variant to wear around the streets.
It's an amazingly aggressive looking helmet that everyone loves. The reason it doesn't look like all the other enduro styled helmets in that it's more aggressive is because it's not for them. It's for us street riders.
Look at the description of the helmet on icons website as well as the video they've made for it. Not one of the four bikes the guys in that video are on is an adventure touring bike. They are all sport bikes."
Editor's Reply: Apparently the Variant has found a use, with motovloggers who find it works for mounting a camera. I'm glad to hear it.
Note that just because Icon says it's not a dual-sport helmet doesn't make it so. The marketing department will basically say anything to make a sale.
There's an old saying: "If it looks like a duck and quacks like a duck, it's a duck." The Variant looks identical to all the other dual-sport helmets out there, which, by the way, I also think are rather odd and of very limited use.
We reviewed the Variant in 2010 and to this day I have never seen a rider on the road wearing one, so my guess is that it's not very popular. In any case, that's the opinion.
---
From "F.C." (8/10):  "I just read your review on the Variant and I would like to give my personal opinion on it. For me this is a helmet with a lot of extreme pros and cons, when I find a feature so magnificent then I find another that is very problematic.
At first I loved it but now after 4 months using it I am about to replace due to practical reasons.
The helmet does look great, specially when you hold it on your hand or you put it in your head, it is much nicer then just looking at photos.
And sure you will call a lot of attention anywhere you go, it is very common that people come to me to praise the helmet. Yes it makes me feel good 🙂
The visor are like the review say very good and I am professional photographer so I am very exigent about optics. Also the field of view is better then other helmets I had used so far, it is really wide and this is great.
The same goes for the black visor, which make the helmet even cool.
The fitting is perfect for me. I have to tell, I don't have much experience with helmets, used just 4 until this one, but I can tell I feel very comfortable and very security using it.
I bought two of them, one for me in Rubatone and other for my girlfriend in Silver Etched, the finishing is just gorgeous and the quality in my opinion is excellent, one time my girlfriend let her etched drop in the wooded floor and it did not scratched the paint at all.
However I would like to point several cons.
The design of the helmet is huge and it will not fit inside an external case (I don't know about you guys in other countries but here in Brasil we leave our helmets in this externals cases, we don't like to carry them around).
Ok that is how it is but for me it is becoming unpractical that is why I am going to replace it.
The second worst problem with the helmet is the extreme noise and vibration. I am a guy that like to ride with minimum engine and wind noise. When you close the visor you can feel that the external noise is cut by half, that should be good, but once you start riding it makes a lot of wind noise.
Start at 40 Km/h with minimal, at 70 it is noticeable and start to annoy, at 90 km/h is very loud and annoying and the sun blocker start to vibrate, at 120 km/h becomes extreme noise and the sun blocker vibrate a lot.
This is not a problem at urban areas but it is for me when riding on speedy roads outside of cities.
The problem is that the system is too much complex and difficult to change the visors, you wont do that on your day to day, and probably not even eventually, only when you really have to change it for a new one.
You have to take off the caps, unscrew, disassemble, then reassemble the other visor but this is not easy too, then screw it again and replace the caps.
What I did in very short words was to use kind of a resin glue (araldite here in Brasil) to cover the screw hole on the sides of the black visor.
Then with a lot of attention and very precisely placed it over the transparent visor and draw the new holes, then I made the holes, then I disassembled, and placed the black visor on top of the transparent one and used longer screws to fix both in place.
It is so perfect that I can even place the side cover back, now I use the black visor for day and when I need to ride with low light I just push it up and it stays there without problem.
Back to this same problem, if you think to use sun glasses instead of the black visor, think again, there is no space for you to place any glasses inside the helmet, like the review says and I doubt it is from person to person it is just too tight in there.
By the way we speak about visors, the Golden and the Silver visors are in my opinion total garbage in opposition of the high quality black and transparent visors, that is because both of them have a different tint from inside, they are brown and for some reason they reflect a lot of my own face in the visor.
When I used it first time I didn't understand what was wrong, it appear to be an optic defect because of all that distortion, but then I realized it was my face that was being reflected inside the visor and over my own vision.
To make it simple to understand, my face was like over the road, over the cars, over everything I was looking at. Very big distraction and not usable in my opinion.
Then come minor problems:
The air circulating system does not work at all for me, I tried closing and opening them all on mild and hot days but I did not felt any difference, very disappointed.
The visor system only have 3 detents.
The visor antifog system is good but not very good, for example it will fog if you are stopped and keep the helmet on with visor closed for 2 or 3 minutes (setting up GPS or wearing the back protector or gloves) and the outside temperature is around 55 F it will start to build moisture, not really fog.
Overall the helmet is one of the most beautiful design I ever saw in this category and it is extremely comfortable but all the visor problems put it down a lot in my opinion.
The size and the noise problem I guess are natural of its own design, so I don't think it is a design flaw at all but just how it is but it is not compatible with my needs."
---
From "T.B." (8/10):  "Just read your review, great stuff!!!  I've had my own Variant for about 5 weeks and swap between it and my Shoei RF-1000 depending on my riding needs.
Thought I would provide a few bits of feedback as well.
The vent switch on the chin guard controls wind against the inside of the face shield for defogging purposes.
Switching face shields requires you to pop off the plastic covers, then use a flat head screwdriver (or the icon provided tool) to unscrew bolts on either side. At that point you pop the face shield off. Not as simple as my RF-1000.
My RF-1000 is nice and snug in a size Large. I originally ordered the Variant in a large as well. Big mistake. Helmet shake was horrible. I sent it back and got a medium. It's very tight, but very comfortable. Wind shake at speed is all but gone.
Overall I extremely pleased with my Variant. I went with the red etched to match the red frame on my Hypermotard. It works great. My only disappointment is the effort it takes to switch face shields. I end up running the light smoked shield as a result."