Mesh Jacket Review Summary
Review Summary
The bottom line is that the TiMax 2 is a very nice mesh jacket, but in the end, it's a mesh jacket. Is it worth 2X the price of your everyday garden variety mesh?
Mesh Jacket Image Gallery
You have to give a lot of credit to Icon. After all, they busted in to a market jam-packed with motorcycle clothing brands from A to Z and beyond. Yet they've managed to mix it up pretty nicely.
Icon sort of just appeared out of nowhere a couple of years ago with a selection of very unique designs and an in-your-face, expensive and massive ad campaign that has been a huge success.
Their ads snookered me, and I'm not easily snookered. So I've been on the lookout for Icon clothing when I found this TiMax 2 mesh jacket in a local shop and was pretty impressed at first glance. I'll also admit that I got taken by a classic marketing hook: perceived value. That's the psychological quirk that makes consumers think that the higher the price, the better the product.
The all-time master of perceived value pricing is Mercedes Benz. Think about it: in Germany they're taxi cabs, but slap a $60k price tag on it in the States and all of a sudden it's a status symbol. Anyway, I went for it, despite the $300.00 price tag on this jacket. The TiMax 2 feels substantial and I figured that for 300 bucks, it has to be the World's Most Sophisticated mesh jacket, right?
And besides, the wording on the sleeve tag indicated that it had all sorts of special titanium armor inside… The bottom line is that the TiMax 2 is a very nice mesh jacket, but in the end, it's a mesh jacket. Is it worth 2X the price of your everyday garden variety mesh? Let's take a look…
The Icon TiMax Mesh Jacket
The first thing you notice is the big metal plates on the shoulders and back.
The plates even had that clear plastic peel-away anti-scratch coating over them when the jacket was new — the same stuff that protects the LCD screen on an iPod when it's new.
Icon claims the jacket has "genuine titanium armor plating" and yes, they're 1) plates and 2) titanium (according to the label).
But I'm not sure I'd call them armor though; they're more like decorations.
The "armor" underneath the plates feels like padding to me and there's no hard armor in the elbows, shoulders or back either, as near as I can tell.
But maybe it doesn't matter? Until someone runs some scientific testing on how the various types of armor and fabrics actually protect us, we're left with guesswork and crossed fingers.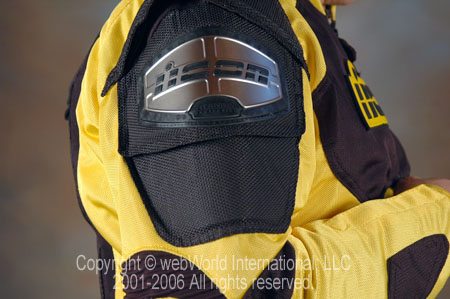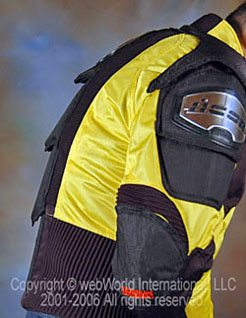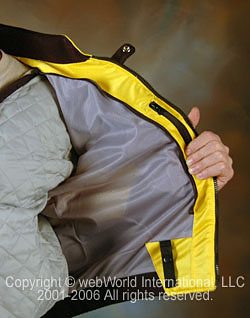 Articulated Padding
The next thing that really stands out on the TiMax 2 is the articulated padding on the back of the jacket.
These are covered with "titanium reinforced" mesh and each panel contains some fairly stiff, non-removable padding.
I will say that these pads appear to be of higher quality than the wimpy stuff that rides in the back of most motorcycle jackets.
The shoulders, unfortunately, are left out of the TiFest — their "armor" consists of a sewn-on epaulet with some thin padding underneath and that's it. Hey Icon, how 'bout some shoulder armor for the 300 smackers?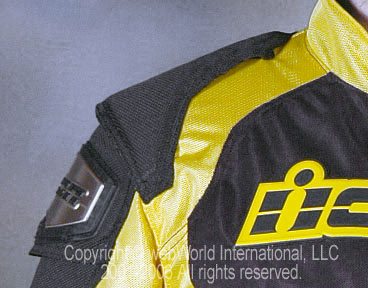 Protection
The TiMax 2 does use CE-approved removable protectors in the elbows that feel similar to the Knox type found in many jackets.
Although the TiMax 2 doesn't have cinch straps on the sleeves to keep the protection in place, there's lots of elastic used in the elbows and all over the jacket, which makes it more comfortable by moving with the rider's body while also keeping the protectors in place.
The elastic is sewn all around the black titanium mesh fabric covering the elbows and it also surrounds the waist in a very wide elastic swath.
This is definitely more comfortable than any cinch straps I've tried, which can get uncomfortable and even cut off circulation.
The elastic makes the jacket feel snug without having to use any cinch straps and D-rings that might (theoretically) snag on something as you're sliding along on the ground after a crash.
More Padding
The last bit of padding is sewn into horizontal ribs down the lower front.
The padding here is very soft and has only been added for styling reasons, in my opinion. I would think that it's too soft to actually do anything.
The collar on the TiMax 2 stands up a bit higher than expected, but it's not a problem and is actually pretty comfortable. It's lined with a sort of foamy type of microfiber.
I wonder where they come up with all these fancy new materials all the time?
The collar is basically of the open variety; the front of the jacket has only a single snap to hold it closed, up at the top of the zipper.
This is kind of surprising, because there's no room for adjustment, although the snap is located up near the top of the collarbone, a spot with a smaller range of size requirements than the neck.
The jacket has two-row stitching on nearly every seam. The stitching, the quality of the materials and the overall construction seems very good.
The TiMax 2 has a removable insulating liner, which may seem rather strange when you think about it.
An insulating liner inn a mesh jacket? If I had my 'druthers, it would be for a waterproof liner instead, which would block both the rain and the wind.
But I will say that I got caught in a chill as the sun went down on a couple of rides coming home from work this week and I pulled the liner out of the tank bag and zipped it back in, which does make the jacket nice and comfy.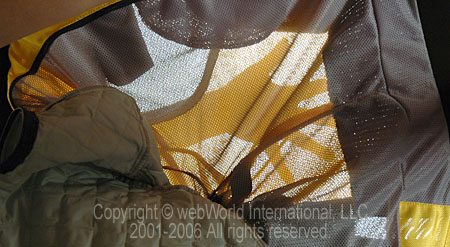 When I first tried on the TiMax 2 in the shop, it felt thicker or bulkier than other mesh jackets, due to a combination of all the padding and the quilted liner.
I was concerned that the jacket wouldn't flow as much air as I wanted on those really hot days.
But I've been very surprised — the TiMax 2 flows lots of air.
Maybe it's the titanium mesh or maybe it's the technology of what now must be the third or fourth generation of motorcycle mesh jackets, but the fabric has a tight weave yet it flows lots of air.
I noticed when I purchased the jacket that it was missing a waist attachment zipper that would allow it to connect to a pair of mesh or leather pants.
I was concerned about this until I realized that Icon has cleverly sewn in three loops inside the back of the jacket.
I'm assuming — because I haven't seen any information to the contrary — that these are designed for a standard street belt; the belt loops can be snapped over a belt worn with a pair of jeans.
None of us remember seeing anything like this before and we think it's actually a good idea. It might be nice to have, say, 5 loops rather than 3, but in any case, they seem to work better than nothing.
So I'm assuming also that the TiMax 2 is designed to be worn over a pair of jeans (like the Joe Rocket Steel or Sliders Kevlar jeans we reviewed not too long ago) and not with matching leather or mesh pants.
Go to the Icon website and if you have enough bandwidth to get past the very heavy use of Flash animation, you'll see that most of the models appear to be wearing jeans.
In fact, click on the "Pants" category on the Icon website and all you'll find is 6 pairs of what look like jeans or textile pants. So that's why we're assuming that the loops in the TiMax 2 are meant to be used as belt loops.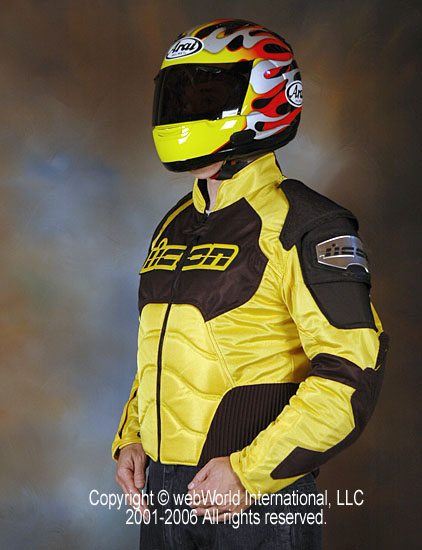 Conclusion
Three hundred dollars seems like a lot of money to pay for a mesh jacket, but the Icon TiMax 2 does have some nice features that make it stand out from the competition.
If your riding outfit consists of a pair of jeans and a mesh jacket, this is probably the one to have.
It seems more robust than any of the other mesh jackets I've seen so far this year, but hang on, because we have two more jackets and a pair of mesh pants from Alpinestars that are in the works.
w

BW

 Review: Icon TiMax 2 Mesh Jacket
Manufacturer: Icon
List Price (2004): $300.00
Colors: White, Red, Yellow, Black, Blue.
Made In: China
Review Date: June 2004
Note:
 For informational use only. All material and photographs are Copyright © webWorld International, LLC since 2000. All rights reserved. See the webBikeWorld® 
Site Info page
. Product specifications, features and details may change or differ from our descriptions. Always check before purchasing. Read the
Terms and Conditions
!
Owner Comments and Feedback
---
From "M" (9/09):  "Hello!  I am also one that purchased the Icon TiMax 2 mesh jacket and I absolutely love it.
I have owned a few jackets and none seemed to be what I was wanting for the hot weather.
The other 3 jackets I own, 2 of them are Joe Rocket and one Fox, are nice jackets but they don't seem to let much air through. Also, the back does get hot on long rides in warm weather because of padding and little airflow.
The Icon TiMax jacket has air flow all over. Wither the back padding the way it it, it allows air flow to keep my back cool. As far as the armor, I feel totally protected. The only thing I might prefer would be maybe a more protective back armor.
The padding seems great and very scuff resistant, but doesn't provide a lot of back support in case of a fall. I would highly recommend this jacket though."
---
From "A.F." (8/08):  "With gas prices as high as they are, I see more and more people riding motorcycles and scooters.
I live in the Phoenix, Arizona area so while I'm fortunate for year-round riding weather, the summers here in the desert can be unbelievably hot… torture even.
So most riders I see don't wear the proper protective gear, I think, mostly because of the heat. It can be appalling.
All the time I see riders just wearing a tank top, shorts, and sometimes flip-flops.
I am an advocator of proper protection so I always suffer through the discomfort of wearing a jacket (along with the helmet, ear plugs, pants, etc.) even when it gets over 115+ deg F.
So when I saw the Icon TiMax 2Mesh jacket I loved the styling of it but was unsure of how cool it could be.
Well, I finally got one and I absolutely love it!  I have a couple of other hot-weather jackets and while they work well as protection and to keep me relatively cool, they don't work nearly as well as the Icon TiMax 2 Mesh jacket. Why?
Your article mentions one of the reasons, the mesh, while it looks like a tight weave, really moves a lot more air than I would have thought.
The second reason is the articulated back armor. I feel that this feature should get more attention.
The panel pieces overlap and have a loose knit mesh in-between.
Because of this design, they act like a vent and the air flow through the jacket is exceptional, especially all the way through to the back of the jacket.
My other jackets have the regular back pad insert that, while they give great protection, they make me feel like I'm wearing a heat pad on my back because no air gets through and they are basically acting like an insulator.
Now, I don't know how well they protect you compared to a CE approved back pad (the titanium weave and the padding seem pretty exceptional), but if you're worried about crash protection as well as preventing against heat stroke, this jacket should be on your shopping list.
I am surprised that more companies haven't copied the design. It is definitely "cool".
I love your website. Keep up with the great articles."