Waterproof Boots Review Summary
Waterproof Boots Image Gallery
A sturdy, light weight, nice looking touring boot. But are they waterproof?
As my husband can attest, I'm something of a gear collector.
I have a whole section in my closet dedicated to riding jackets and pants. There are 4 helmets sitting on the shelf and so many gloves that I had to dedicate an entire cabinet to their storage.
The only exception to this is boots. I'm not really a shoe person.
My daughter has a pair of shoes to match every outfit; she has over 20 pairs of black shoes alone. I have five pairs of shoes — total!
So when it became apparent that I needed different boots for motorcycle riding, I sat down and prioritized my boot demands, because this one pair was going to have to do it all.
My first priority: they have to be waterproof.
My previous boots were decidedly not waterproof. In fact, they seemed to actually suck in any water that was around them.
On our last motorcycle trip it rained nearly every day, so I triple-waterproofed my boots before we left with a spray-on sealant.
Yet in the first moderate shower we rode through, the boots had a major breach within minutes and my feet ended up wet and cold for most of the trip.
Also, the boots must have the ability to breathe, to allow moist air to escape.
My second priority: safety.
I figure I'm much more likely to drop the bike on my foot at a standstill than have a total accident. I base this on the fact that I have indeed dropped my bike several times on my foot at a standstill.
Thus, my boots may be responsible for saving me from a broken foot should this happen again.
One more priority: comfort. I have foot issues, so it's extremely important that the boots fit well, are easy to get on and are comfy to walk and ride in.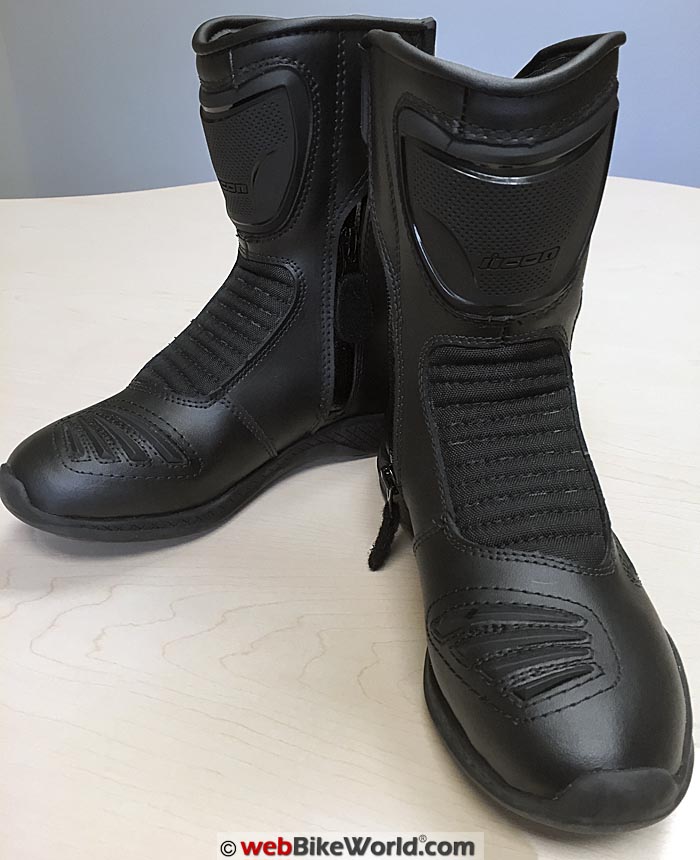 Icon Reign Boots
After weeks of research, I discovered the Icon Reign waterproof boots (it helps that they were on sale at the time).
I've never owned any Icon gear, because most of it seems to be sportbike-oriented and they like to put their name on everything in very large letters.
According to a company spokesman, Icon was started in 2002 by a small group of ex-Thor motocross gear employees as a "rebuke" to the road race and cruiser gear that was dominating the market at the time.
The Reign waterproof boots appeared to be a good compromise between looks, comfort and safety, so although I ride a cruiser and these boots are not really meant to be typical cruiser attire, I thought I'd give them a try.
Plus, their design team is located in Oregon, so I figured they should know a thing or two about waterproofing boots!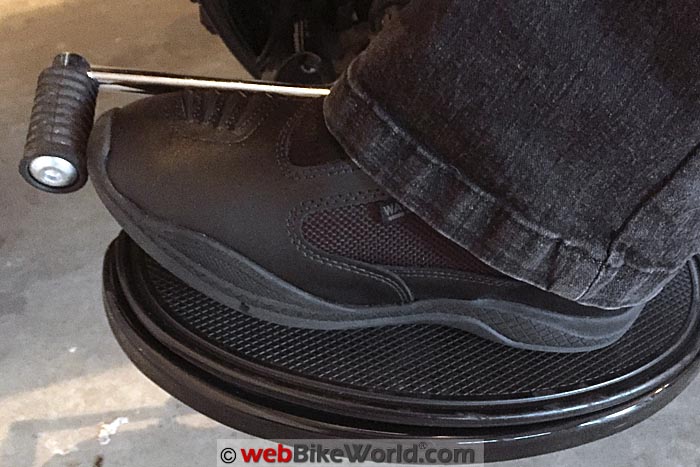 Construction
My first impression right out of the box was "Wow, these boots are light!" The uppers are made of a combination of leather and ballistic nylon that really helps to keep the weight down.
Also, the leather is thick and substantial feeling and the whole boot has a very sturdy feel, with very even stitching. All of the sections are double-stitched, although there are a few loose threads.
The soles have good grip and an arched recess to keep them from slipping off the pegs. There's also something called an "Axialmetric" steel shank for torsional stiffness.
The soles have minimal glue overrun onto the uppers and the boots purportedly have 100% waterproof seam-sealed construction (we'll see about that) and a waterproof and breathable inner lining.
Also, the tops of both boot toes have a stylized raised-rubber ribbed shifter pad to prevent wear.
Overall, the Icon Reign boots are very nice looking. Icon has minimized the branding to discreet black-on-black logos only on the outside of the ankle and shin guard.
The boots fit under all of my riding pants and regular boot-cut jeans. I can wear them under my slacks at work and they don't really scream "motorcycle boots".
Although one of my co-workers plays the Star Wars theme every time I walk by in them — apparently she thinks they look a bit like Stormtrooper boots!
Boot Height
The Reign boots are 9′ tall, which puts them at mid-shin level for me. But there are large rear grab handles or loops in the rear that makes it very easy to pull the boots on.
The waterproof lining and the zipper gusset end just below the top of the zipper, so that still gives you 7′ from the sole to the top of the liner, which is enough for the pant legs to cover.
Also, the soft silver mesh liner material slides very easily against your socks to make entry and exit very slick.
Zipper Issues
The boots also have some nice touches, like a large zipper pull with hook-and-loop fabric backing that allows it to be secured under the top flap.
The top flap also has a rubberized pull tab so it can be easily released and it secures to the boot with hook-and-loop material, but it does tend to come loose when I'm walking. It would have been nice if they had made the flap a tad longer.
The zipper seems to be the weak point; it's a nylon-tooth zipper branded as YKK and claimed to be waterproof.
But on the first pair of boots I ordered, the zipper separated the first time I tried to pull it up. I was able to zip it back together, but I was a little more careful when I got the second pair.
I worked the zipper up and down a few times on the replacement pair before putting them on.
The left zipper worked pretty smoothly but the right one jammed about halfway up, so I ended up putting a small dab of petroleum jelly on it to help it along.
Before attempting to close the zipper, I walked around for a few minutes to try and reduce the pressure points.
The ankles are quite snug, so there is a lot of pressure on the zipper and I think that's the problem.
Probably a more robust zipper, perhaps with larger metal teeth, would help.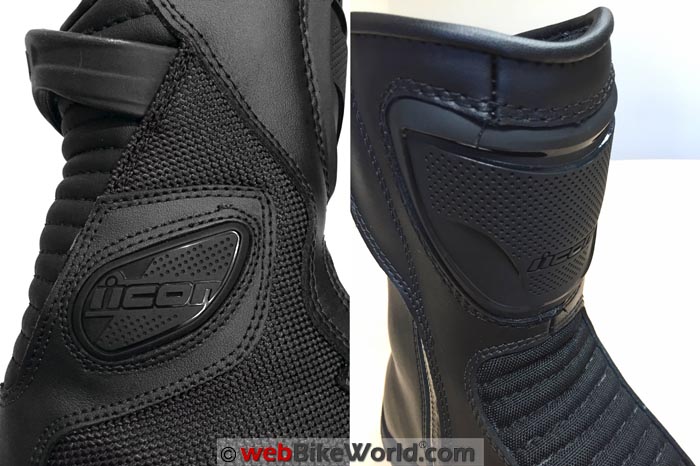 Water Resistance
Since waterproofing is my Number One priority, I won't make you wait any longer for the results of the "Bucket Test".
I put the boots on, stepped into a tub with 5′ of water, started the timer and sat down to wait.
After 5 minutes I stepped out and the boots were heavier, so the outer layers had soaked up some water…but my socks were bone dry!
I set the boots out to dry and checked them periodically throughout the evening to make sure no water seeped through later, but the insides remained dry.
So they passed the bucket test, but how would they work under real-world wet riding conditions?
Normally I don't intentionally ride in a downpour — I'm more of a fair-weather biker.
But in the interest of a comprehensive review, I waited for the next rainy day, donned my rain gear and headed out.
My bike throws a lot of water onto my feet when the road is wet, so it was a good "real world" test.
Guess what? The boots passed with flying colors. My feet remained snug and dry…which is more than I can say for my hands. Darn — it looks like I'm going to have to look for some waterproof gloves to buy next!
About That Breathability…
It's been pretty cool here so it was difficult to assess how well the boots breathe while riding. I did wear them around the house and office though and my feet never got hot or sweaty.
Bottom line: I would not choose these boots to hike up a mountain, but they're perfectly fine to wear on the bike and for general walking around.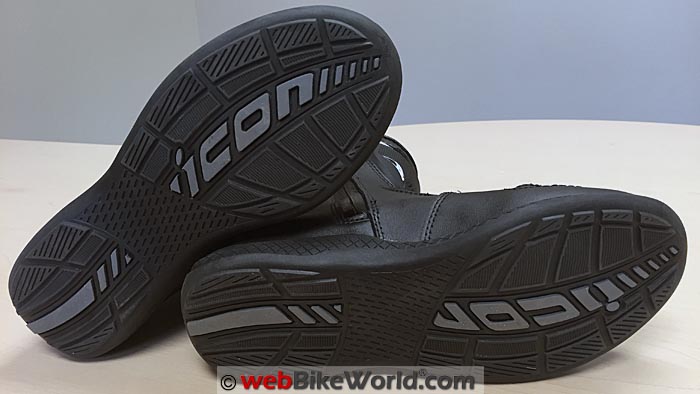 Safety and Protection
In the past, my boots have always been the short, cruiser-specific type. They were comfortable but really offered no more protection than a work boot or perhaps even less. I really wanted something that would provide more protection for my shins and ankles.
The Icon Reign boots have a substantial injection-molded shin guard, a hard ankle protector on the outside and another hidden ankle protector on the inside.
The soles are also quite stiff, with good resistance to flex and twisting.
The boots are also CE Level 1 rated for impact and abrasion/cut resistance, CE Level 2 for transverse rigidity and they comply with the EN-13634:2010 guidelines.
They also meet the optional requirements for ankle and shin impact protection, resistance to water and fuel penetration, and slip resistance.
This makes them way more protective than any of the other boots I've owned, which weren't tested or rated for anything.
The only thing they don't have is any reflective material of any sort, but my pant legs are long enough that they would cover up the reflective patches anyway, so that's not a deal-breaker for me.
Sizing
I normally wear a US size 6.5 shoe, so I first ordered the Icon Reign boots in the same size. I was able to get them on easily but my toes were right up against the tip of the boots and the ankle area was quite tight.
I returned them for a size 7, which fit much better.
So keep that in mind and if you wear thicker riding socks like I do, it would probably be best to order 1/2 to 1 size up, since the boots seem to run a bit small.
The ankles on the size 7 boots still feel quite snug, but this gives them a very supportive feel in that area and there are no hot spots, so that's good.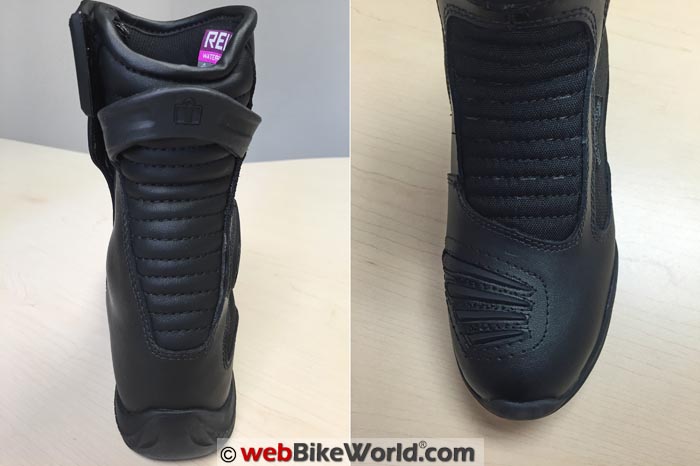 Fit and Comfort
I'm probably not the best person to critique comfort in motorcycle boots. When I buy shoes I usually have to try on numerous pairs before I find one that is comfortable.
In fact, I once had to try on 25 different pairs of sneakers before I found one I could live with.
Buying boots online was a definite risk for me, but I didn't have a lot of choice because only one motorcycle shop in town carries women's boots, and they only carry one brand.
That said, in the end it worked out well and the Icon Reign boots are now really quite comfortable.
Out of the box, however, the boots felt stiff and Frankenstein-ish, but after wearing them around the house for an hour or so they softened up quite a bit. And over time, they have become more comfortable.
I wouldn't have minded a little more height in the toe box also, because it puts a little pressure on the top of my toes, but that's how most footwear fits me and I'd have to say that the Reign boots did get more comfortable over time.
Flexibility
The boots have accordion flex panels in the front and rear, but the front panel was more flexible when the boots were new.
These panels give a slight forward flex to the boots, which is great if you have standard or rear-set foot pegs…but not so good on a feet-forward cruiser.
The stiffness forces my toes into the tips of the boots when I'm in the riding position with a heel/toe shifter.
I can get the toe of the boots under the shift lever, but it was a little more challenging getting the boot to flex enough so that I can use my heel to shift.
I'm still lifting my entire foot to upshift, but I've gotten used to it.
Keep in mind I'm quite short and I ride a big bike so my legs are stretched out in front of me; anyone with longer legs or on a motorcycle with a different riding position shouldn't have a problem.
Conclusion
I really like the Icon Reign waterproof boots. The more I wear them, the more comfortable they become and the more I like them.
I quickly became used to the different feel on the bike and I really haven't thought much more about it since the first ride (which is a good thing).
I did the waterproof testing last and I was really glad the boots passed, because I was already excited about wearing them on our next long trip.
The best part: although the list price is $170, you can find them on sale for around $100.00, a great value!
w

BW

 Review: Icon Reign Waterproof Boots
Manufacturer: Icon Motorsports
List Price (2015): $170.00
Colors: Black or gray.
Made In: China
Sizes: 6-10 Women; 8-13 Men
Review Date: November 2015
Note:
 For informational use only. All material and photographs are Copyright © webWorld International, LLC since 2000. All rights reserved. See the webBikeWorld® 
Site Info page
. Product specifications, features and details may change or differ from our descriptions. Always check before purchasing. Read the
Terms and Conditions
!
Owner Comments and Feedback