Although no prices have been announced yet, the Honda Africa Twin stacks up well against the opposition – at least on paper.
In Europe, it will cost €12,100 for the base model which is $A18,000, but of course you have to factor in freight, import duty and on-road costs, so it should be around $20,000.
SEE MORE HONDA AFRICA TWIN PHOTOS
Remember, that's for a base model without ABS and maybe some other hi-tech features and creature comforts.
So we thought we'd see how it stacks up – on paper at least – with some of its competitors in the burgeoning adventure motorcycle segment.
COMPETITORS
The main competitor will be the R 1200 GS, the top-selling adventure bike worldwide and for good reason. Other competitors in the big-bore adventure market with varying levels of dirt-road competency are (in alphabetical order) the Aprilia Caponord, Ducati Multistrada, Kawasaki Versys 1000, KTM 1050 and 1190 Adventure models, Moto Guzzi Stelvio, Suzuki DL 1000 V-Strom, Triumph Explorer 1200 and Yamaha Super Tenere.
MV Agusta is also planning on releasing a litre-sized adventure bike, but we suspect it would be more of a road-based bike like the new BMW S 1000 XR.
PRICE
We'll only quote the base model prices and you have to remember that the equipment levels vary substantially here with some of these having a host of hi-tech gizmos. In fact, all models quoted at least come with ABS standard.
Also bear in mind that some are retail cost and you have to add on-road costs. Others are ride-away prices. To distinguish we have (ra) after the price for ride-away pricing.
The R 1200 GS costs $21,950, Caponord $20,000 (ra), Multistrada $22,990, Versys $16,999, KTM 1050 $17,995 and 1190 $$23,995, Stelvio $23,500 (ra), V-Strom $15,490, Explorer 1200 $20,490 and Super Tenere $19,990.
ENGINE
The Honda has a new 998cc parallel twin with 69kW and 97Nm. Compared with the rest of the field, it's a little underpowered, although adventure riding isn't just about power, but more about smoothness of power delivery and controllable low-down torque.
Like all but the Guzzi, the Honda is water-cooled which means more power and cooler running, but also more vulnerability for the radiator in an inevitable adventure-riding spill.
Here are the others: Aprilia 1197cc V-twin, 92kW and 115Nm; BMW 1170cc boxer twin engine, 92kW and 125Nm; Ducati 1198.4cc L-twin, 117.7kW and 136Nm; Kawasaki 1043cc in-line four-cylinder, 88kW and 102Nm; KTM 1050cc  V-twin 70kW and 107Nm; KTM 1195cc V-twin 110kW and 125Nm; Moto Guzzi 1151cc transverse V-twin 77kW and 113Nm; Suzuki 1037cc, V-twin, 74kW and 103Nm; Triumph 1215cc triple, 101kW and 121Nm and Yamaha 1199cc parallel twin, 82.4kW and 117Nm.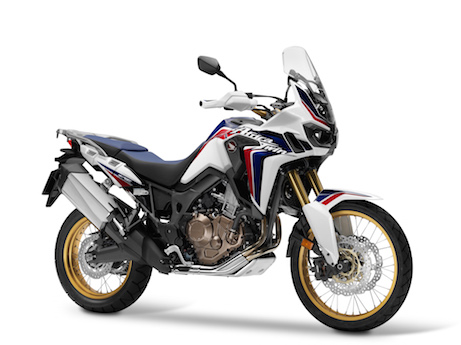 WEIGHT
This is a very important part of the equation in adventure touring. These big-bore bikes are also usually big weight and the lighter the better for handling rough and slippery conditions.
Honda is the lightest at 228kg fuelled, along with the Suzuki.
The other wet weights are: BMW 238kg, Ducati 232kg, Kawasaki 250kg, Moto Guzzi 296kg, Triumph 259kg, Yamaha 265kg.
We only have official dry weights for the KTMs and Aprilia, but you can add about 25-30kg for the fuel and oil: Aprilia 247kg, KTM 1050 212kg, KTM 1190 212kg.
TECHNOLOGY
Honda dips out with non-ABS in the base model, although that may be an attraction for some adventure riders.
We still don't know exact specs so we have no idea if it has grip or seat warmers, tyre pressure monitors, cruise control, engine maps, etc. The base model doesn't seem to have traction control, but it is available in the higher-spec Hondas.
The top-of-the-range model features dual-clutch transmission (DCT) which is a clutchless shifter that you can use as a manual or automatic. No other bike has this. DCT also features hill descent/ascent.
None of the Africa Twin models seems to have electronic suspension as is available on the Aprilia, BMW, Ducati, KTM and Yamaha models. It's a most useful feature when tackling a variety of road conditions and loads.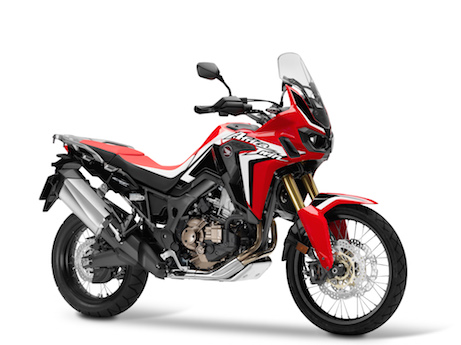 TANK
Fuel capacity and economy are important on adventure bikes where big distances in remote areas are common.
The Honda only has an 18.8-litre tank and there is no word on economy, so we're guessing range of at least 350km, which is passable.
It's the smallest tank of all. Most have 20-litre tanks, but the Guzzi has a massive 32 litres.
Tank sizes and economy (where available): Aprilia 24L tank; GS 20L and 4.1L/100km @ 90km/h; Ducati 1200 20L, 4.9L/100km; Kawasaki 21L; KTM 23 litres; Moto Guzzi 32L; Suzuki 20L; Triumph 20L; Yamaha 23L.
TYRES
The Honda Africa Twin is the only bike here with a 21-inch front wheel and deep profile which indicates an off-road orientation.
However, BMW and KTM do pretty well off road with 19-inch fronts.
Tyre sizes: Aprilia 120/70 R19 (front), 170/60 R17 (rear); BMW 120/70 R19, 170/60 R17; Ducati 120/70 R17, 190/55 R17; Honda 90/90-R21; 150/70 R18; Kawasaki 120/70 ZR17, 180/55 ZR17; KTM 1050 110/80 R19; 150/70 R17; KTM 1190 120/70 ZR19, 170/60 ZR17; Moto Guzzi 110/80 R19, 150/70 R17; Suzuki 110/80 R19, 150/70 R17; Triumph 110/80 R19, 150/70 R17; Yamaha 110/80R19, 150/70 R17.
SEAT
Seat height on these behemoths of the bush are usually pretty high. To some that's great for standing, but for others, it shatters confidence that they can't get a firm foot on terra firma.
Like several others, the Honda has a variable seat height (850/870mm) which is exactly the same as the GS.
Seat heights: Aprilia 840mm; Ducati 825-845mm; Kawasaki 840mm; KTM 1050 850mm; KTM 1190 860/875mm; Moto Guzzi 820-840mm; Suzuki 850mm; Triumph 837-857mm; and Yamaha 845mm.
WINNER?
As a purely paper exercise, the Ducati is unbeatable as a lithe, high-tech, rideable machine.
However, there are far more real-world important factors such as handling in various terrains, styling, reliability, ruggedness, etc that will only be revealed in a road test.
And what about the purely subjective style test? We reckon the Honda's rather pretty, in a retro and rugged Dakar sort of way!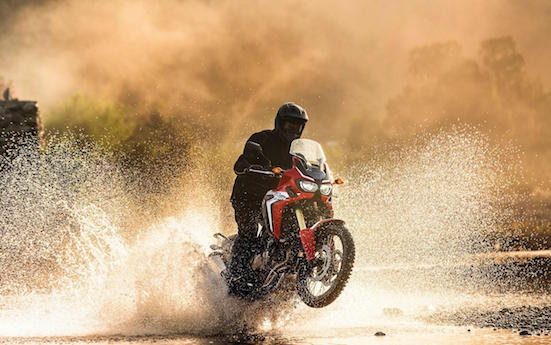 Honda Africa Twin CRF1000L tech specs
Engine: liquid-cooled, 8-valve, 998cc parallel twin
Bore x stroke: 92×75.1mm
Power: 69kW (93hp) @ 7500rpm
Torque: 97Nm (72lbft) @ 6000rpm
Transmission: 6-speed manual or DCT semi-auto
Dry weight: 208kg (212kg with ABS, 222kg with Dual Clutch Transmission)
Wet weight: 228kg (232kg with ABS, 242kg with DCT)
Fuel capacity: 18.8 litres
Length x width x height: 2335 x 875 x 1475 mm (92.7 x 34.4 x 58 in) STD, 2355 x 930 x 1475 mm (92.7 x 36.6 x 58 in) DCT
Wheelbase: 1575mm
Seat (Standard/Relaxed): 870/850mm
Clearance: 250mm
Tyres: 90/90-R21; 150/70 R18