Australia's only entrant in the 2016 Dakar Rally, NSW rider Toby Price, is in second place at the half-way point of the gruelling event with more stage wins than any other rider.
Toby won stage six, his second stage win in a row and his third for the rally, to be just 35 seconds adrift of Portuguese Honda rider Paulo Conclaves overall.
Cheer on Toby by sending a message of support to his official Facebook page.
Stage 7 was shortened after severe thunderstorms created a river on the salt flats which became impassable.
Toby finished fifth in Stage 7 while Conclaves was 31st, some 12 minutes behind the stage winner.
However, the Portuguese had stopped to help a competitor for 10 minutes at the start of the stage, so on adjusted time he stays in first and moves a couple of minutes ahead of Toby in second overall before the rest day with six stages to go.
Still, Toby's second position at half way is stunning given his plan going into the rally to be conservative in the first half of the rally.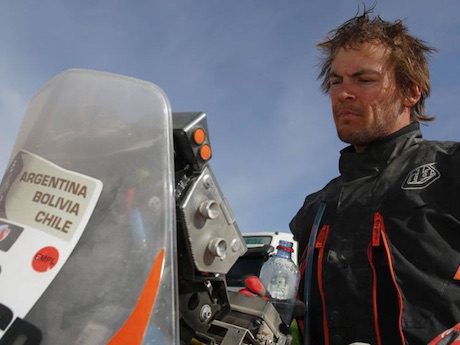 The 27-year old
Hunter Valley
rider last year achieved a stunning and significant third place. He was not only the top-placed rookie but also the equal highest-placed Aussie finisher in the event's history after fellow rookie and privateer Andy Haydon placed third in 1998.
Now he has the hopes of a nation riding with him to ascend to the top step of the podium.
You can cheer on Toby by watching the daily video updates from the rally on SBS at 5pm and send a message of support to his Facebook page.