Honda Australia has drastically undercut the independent importer of its Grom fun bike by a hefty $2000.
The overgrown pit bike was released in 2013 and became an instant hit in the US through aggressive marketing and the official stunt video shown above.
They now have a hipster Grom mod scene with some outlandish versions, an Australian forum site and Motorcycle USA magazine honoured it with their prestigious bike of the year award in 2014.
However, Honda Australia couldn't see any need to import it, so independent Joe Stephens of Aussie Grom decided to secure the import rights in September 2015.
Joe has since sold more than 50 at $5999 ride away with a three-year warranty.

However, Honda has now seen their error in not importing the Thai-made fun bike and is bringing them in mid-year at $3999 ride away as an introductory offer.
No doubt that price is designed to take business back from the independent importer. Presumably when he gives up, "Big Red" will increase the prices.
The Grom looks like a monkey bike on steroids, has a low 754mm seat, a super-light 102kg weight, low centre of gravity, 124.9cc single-cylinder four-stroke engine, inverted forks, fat 12-inch tyres and a four-speed transmission.
The build quality is high as expected from Honda with surprisingly comprehensive all-digital instruments including a speedo, tacho, clock, fuel gauge and two trip meters.
Joe also imports a host of accessories including a Yuminashi 164cc big-bore kit at $1000.
Other accessories include a belly pan ($230), braced swingarm ($300), wider wheels ($249), tail tidy ($50), solo seat cowl ($189), Tyga muffler, bionic fairing ($120), flyscreen ($40), Fatbars ($50), bar-end mirrors ($75), adjustable levers ($50) and Ohlins forks ($400).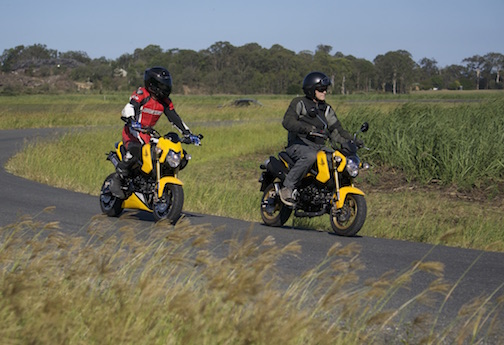 ROAD AND TRACK TEST
Our high-performance bike tester, road racer Jake Dolan, cut a few laps at the Gold Coast Motorsport Centre kart track on the standard bike and a kitted-up version before we headed on to public roads for further testing.
First thing we both noticed was that, even though it's a compact bike, the rider ergonomics suit most adult sizes.
I'm about 6' and my knees were a little far up the tank, but I otherwise it felt quite comfortable for short sprints.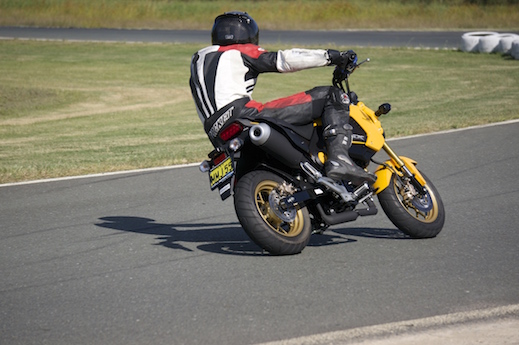 We recorded a top speed of 88km/h on the standard model and 119km/h (with wind assistance) on the kitted version.
Jake says the standard bike is smooth with sharp steering response, but a little jerky at times which makes it difficult to predict mid-turn on a track.
"It's better suited to the street," he says. "It's agile and zippy in short distances with a comfortable riding position, although the clutch was a little inconsistent at times."
The four-speed transmission is smooth, but neutral is difficult to find.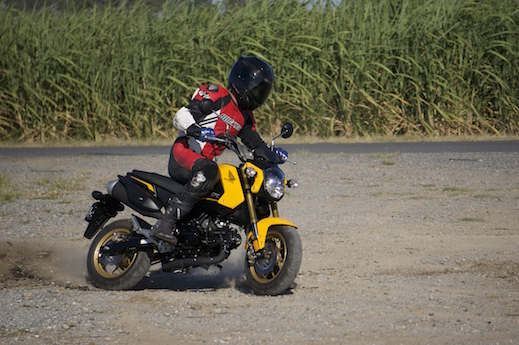 Jake says the modified version was noticeably more powerful and faster with a nice exhaust note, although the high compression made it difficult to start. It probably needs a battery upgrade.
"It wasn't as comfortable because of the lower and wider bars and the aftermarket levers were difficult to operate with the brake jamming on to my fingers," Jake says.
"The lower bars put a lot of weight over the front which felt unstable at the apex of a corner.
"The mirrors, although edgy and stylish to look at, were too small and an inconvenience due to placement. They made the already wide bars even wider. It would make lane-filtering impossible."
Out on public roads, the plush suspension soaked up the bumps and we even took them for a short, but fun, off-road session.
"I think these bikes would be a fun and good-looking alternative to a moped or scooter," says Jake.
"They are kind of like a motard version of a thumpstar or pitbike, but registered.
"They would be a joy to ride around a city or for a short commute to work. If I was in the market for a scooter I would possibly consider one."
We can't wait for the scrambler version!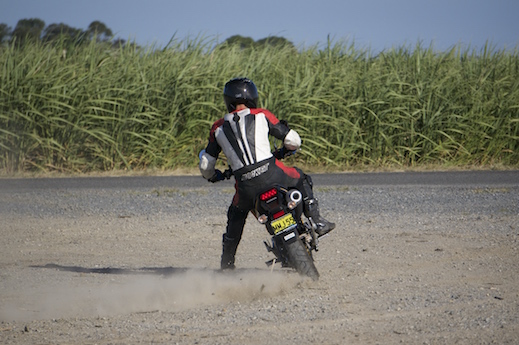 Honda Grom
Price: $5999 ride away

Warranty: 3 years

Engine: 124.9cc air-cooled single-cylinder four-stroke

Compression: 9.3:1

Transmission: 4-speed, chain drive

Suspension: 31mm inverted fork, 9.9cm travel; single shock with steel box-section swingarm, 10.4cm travel

Brake: 220mm disc with hydraulic dual-piston calliper (front); 190mm disc with hydraulic single piston calliper (rear)

Tyre: 120/70-12; 130/70-12

Rake: 25°

Trail: 81mm

Wheelbase: 1198mm

Seat: 754mm

Fuel: 3.8 litres

Wet weight: 102kg