Honda TRX 90 Specs – Weight, Seat Height and Top Speed
The TRX 90 is a 251lb youth model ATV manufactured by Honda Motors. When I find one for sale I like to inspect it because the TRX 90 is a perfect starter ATV for young riders, if properly maintained. What I like about the TRX 90, besides the black plastics, is finding it with obvious signs of owner care and proper maintenance.
This is a 2003 Honda TRX90 which typically cost $3000 when new but as you can see this particular quad has received some high performance parts. The Maxxis tires for example, not the stock big bubble version.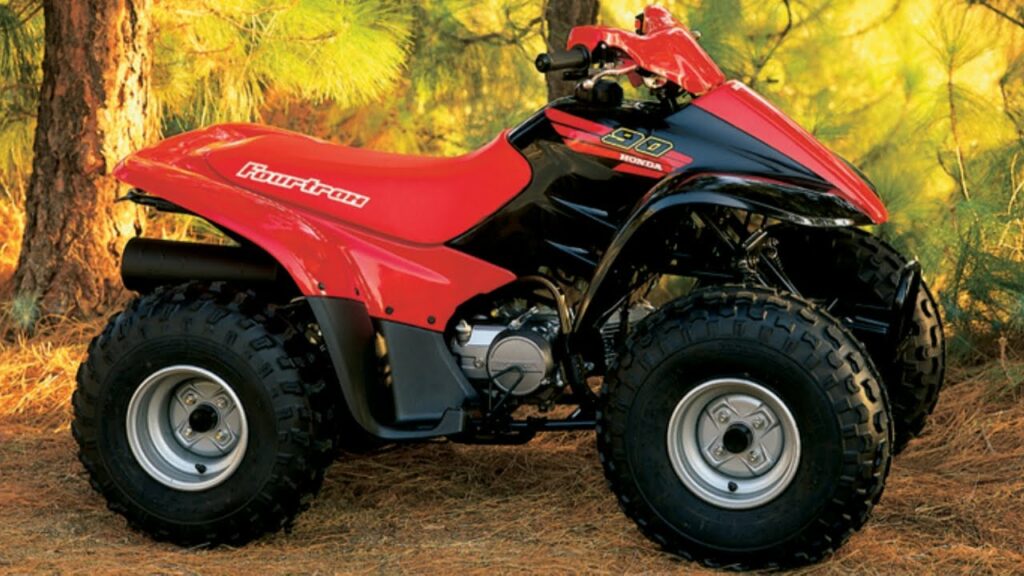 Searching for a youth ATV requires a checklist of safety features and this particular machine has them including the full footrest, which covers both front and rear wheels, and a rev limiter, attached and in working condition.
Honda TRX 90 Specs
ATV Model Type: Youth Sport ATV
BASE MSRP(US): $2,649.00
ATV Warranty: 6 months
Honda TRX 90 Engine: Single-Cylinder, four-stroke
Honda TRX 90 Seat Height: 26 Inches
Valve Configuration: SOHC
Engine size/displacement: 86cc
Honda TRX 90 Top Speed: 23 MPH w/ rev limiter
Carb Type: Carburetor
Transmission Type: Automatic Clutch
Number Of Speeds: 4
Primary Drive: Chain
Reverse Gear: None
Front Tires: 20 X 7-8 inches
Rear Tires: 19 X 8-8 inches
Front Brakes: Dual Sealed Drum
Rear Brakes: Sealed Drum
Wheelbase: 38.7 Inches
Honda TRX 90 Weight: 251 lbs
Fuel Capacity: 2 gallons
Honda TRX 90 Top Speed
The top speed of a Honda TRX 90 ATV is 23 MPH. Being a youth ATV the top speed is regulated by a rev limiting safety feature. Despite being a small ATV designed for young riders, the TRX 90 weighs 251 lbs and so it would be dangerous to go any faster. Removing the rev limiter is possible, but not recommended.
More about the Honda TRX 90 ATV
The TRX 90 has been a popular and common first ATV for youngsters due to some really great features. It has an electric start which kids, and parents, appreciate. It has a sporty look and feel but doesn't have excessive speed. It's simple and fun to ride, and to learn how to ride on. Honda achieved all of their goals with this model and as long as you follow all of the safety recommendations, including mandatory supervision for anyone under age 16, it's relatively safe.
Less noticeable kid-friendly features include taller handlebars to help prevent a child being launched over them during a sudden stop. Smaller brake levers tailored to small hands require less strength to operate safely. Honda TRX 90 floor boards have raised foot pegs and centered mud guards to prevent mud from accumulating in the peg area.
The TRX 90 has a low center of gravity to help young riders avoid a rollover situation. The shocks have large bottom-out plates to absorb bumps more evenly. The TRX 90 is a beginner level trail ATV intended for your riders. The only thing I wish Honda would have added from day one is a swing-arm rear suspension. I do appreciate the plastics, they mimic it's big brother in appearance, the 450r ATV.
Honda TRX 90 Value
The Honda TRX 90 is regularly available for $500 to $900 used in the ATV classifieds, on Craigslist, on Kijiji and on eBay. If you intend to let a young rider use the TRX 90 make sure that it still has all of the safety features intact and that they are in good working order. Performance parts are available and it's common for young riders to want to improve the performance of this starter quad as they get older. Learn more about ATV values.
Honda Motors currently sells the TRX90X starting at $3,099 + delivery fee. It is beginner friendly and has a wide power band to make it simple to operate on the ATV trails. Beginner riders need to focus on the fundamentals of control and Honda made sure the stock factory setup was ready to do just that.
Honda TRX 90 Maintenance and Safety
Despite being designed for young riders, the TRX 90 is no different than any larger ATV when it comes to safety and maintenance. Make sure to inspect the ATV regularly for signs of wear and damage, change the fluids regularly and it's a virtually problem free quad most of the time.
Trouble-shooting and fixing common problems and performing carb tuning on this ATV is easy and straight forward. A volt meter can help you diagnose electrical problems, such as with the push-button starter switch and battery connections. A tire pressure gauge will help you keep the tires at their proper pressures. I recommend you take the time to include cleaning in what the youngster learns, washing down the plastics after every ride will keep your TRX 90 looking fantastic for a long time.