Honda hopes to convert adventure riders to automatic transmissions with one of three models of Honda Africa Twin expected to be available in Australia next year.
It will arrive in Australia in January and pricing will be announced shortly, says Honda Australia spokesman Glyn Griffiths.
SEE MORE HONDA AFRICA TWIN PHOTOS
The standard model comes in silver, while an ABS model and an ABS with automatic dual clutch transmission (DCT) will be available in a choice of "CRF Rally" and "TriColour" combinations.
"We are anticipating a greater percentage of our sales will be the ABS model (non-DCT) and feel that the DCT model will gain traction as the market accepts this technology in the adventure touring segment," he says.
The Africa Twin has never been available in Australia before, but now it will arrive to take on the rapidly growing big-bore adventure bike market.
Like most of the new breed of big-bore adventure bikes, there is a tonne of new technology.
In particular, this is the first to offer a semi-automatic transmission with no clutch lever.
The DCT features the standard manual mode, allowing the rider to shift gears through a handlebar trigger, as well as two automatic modes. 'D' mode is for better fuel economy and cruising, while 'S' mode has more power, with three different shift patterns to choose from: S1, S2 and S3.
It also has a 'G' switch on the right side of the instrument panel to improve traction and machine control by reducing clutch slip and has incline detection, which seems to hold the gears on a steep uphill and drop down gears for descending a slope.
We're not sure what adventure riders will think of this new technology and Honda will have to do a lot of convincing to switch these riders over to clutchless automatics. However, it could be a handy system for those who are new to off-road riding.
It also features Honda Selectable Torque Control (HSTC) system from the VFR800X Crossrunner which is a type of traction control with three selectable levels.
Riders will also be able to turn off the ABS system for the rear wheel, which is ideal for dirt riding.
At its heart, the Africa Twin is powered by a parallel twin with 69kW of power at 7500rpm, 98Nm of torque at 6000rpm. It features a 270-degree crank shaft that Honda claims will improve feel for rear wheel traction.
The engine is housed in a steel semi-double cradle frame.
The bike weighs from 226-242kg fully fuelled, depending on transmission.
There are no details at this stage on the suspension except that it has upside-down forks. However, we're fairly sure it is a traditional system rather than electronic, or they would have been crowing about it.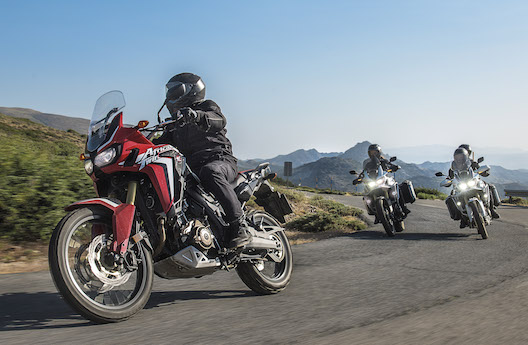 Honda CRF1000L Africa Twin
Engine: liquid-cooled, 8-valve, 998cc parallel twin

Bore x stroke: 92×75.1mm

Power: 69kW (93hp) @ 7500rpm

Torque: 97Nm (72lbft) @ 6000rpm

Transmission: 6-speed manual or DCT semi-auto

Dry weight: 208kg (212kg with ABS, 222kg with Dual Clutch Transmission)

Wet weight: 228kg (232kg with ABS, 242kg with DCT)

Fuel capacity: 18.8 litres

Length x width x height: 2335 x 875 x 1475 mm (92.7 x 34.4 x 58 in) STD, 2355 x 930 x 1475 mm (92.7 x 36.6 x 58 in) DCT

Wheelbase: 1575mm

Seat (Standard/Relaxed): 870/850mm

Clearance: 250mm

Tyres: 90/90-R21; 150/70 R18