Honda Australia has recalled the rear carrier rack for their Monkey mini-motorcycle as it has insufficient strength to carry its maximum payload of 3kg.
The official recall notice, issued through the Australian Competition and Consumer Commission (ACCC) says the rear rack may crack and fall off if overloaded.
It says it could possibly fall into the path of traffic or other road users "increasing the risk of an accident or injury".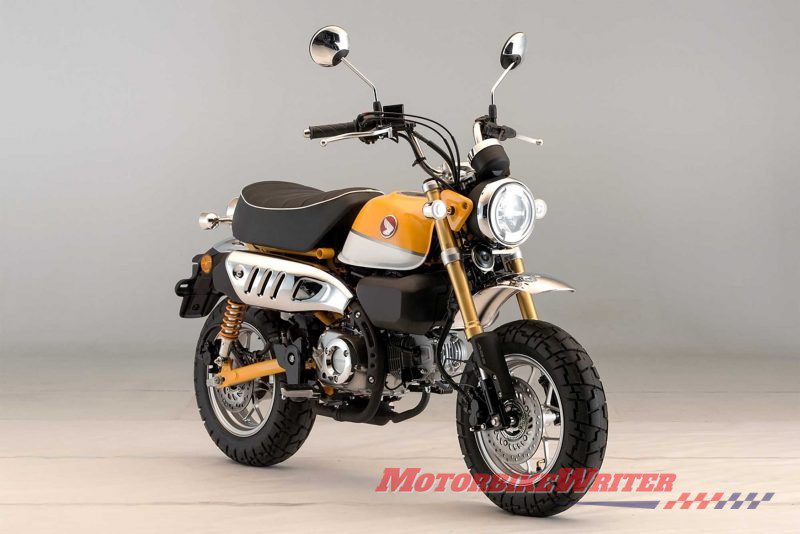 Owners should contact their nearest authorised Honda motorcycle dealer and arrange to have the rack removed. The purchase and installation cost of the rack will be refunded.
This is the third recall Honda has issued this year.
The others involved a locking rear wheel on learner-approved  2019 CBF300N, 2018 CBR300R and 2017 CRF250L models and CFR450L dual-sport bikes with the horn dropping off!
Even though manufacturers and importers usually contact owners when a recall is issued, the bike may have been sold privately to a rider unknown to the company.
Therefore, Motorbike Writer publishes all motorcycle and scooter recalls as a service to all riders.
If you believe there is an endemic problem with your bike that should be recalled, contact the ACCC on 1300 302 502.
To check whether your motorcycle has been recalled, click on these sites:
• USA
• Canada