Honda is about to reveal details of its road-legal MotoGP-spec motorcycle, the Honda RC213V-S, and we wonder if anyone really cares!
(If you do, it will be unveiled today, June 11, 2015, at 11am Central European Time (about 8pm AEST) and you can watch the live unveiling by clicking here.)
Apart from the worst name in the history of motorcycling, it will have a ridiculous price tag of close to a quarter-of-a-million dollars and is expected to be rideable only by professional racers with little of its abilities fine-tuned for real-world roads.
So what's the point, except bragging rights and filling up another space in some rich IT geek's showroom garage?
The prototype bike was unveiled at the EICMA Motorcycle Show in Milan last November looking just like the race bike, but with mirrors and indicators.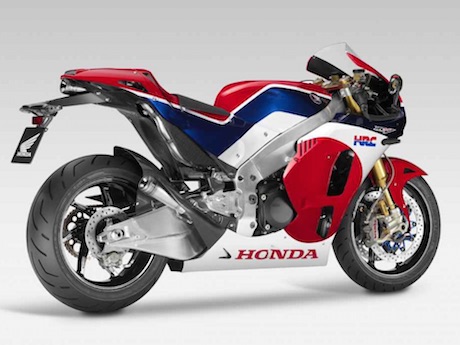 No technical specifications were revealed, but if it is anything like Ducati's Desmosedici, it will be almost unrideable except for an elite few.
And none of them will be able to ride it on the road anywhere near its capabilities, so it will be a track bike. In which case, off come the mirrors and indicators!
Instead of building a collector bike, couldn't Honda have further developed their Fireblade with some of the rider-aid electronics and features of the new Yamaha R1, Ducati Panigale 1290, BMW S 1000 RR or April RSV4 RF?
Honda's most expensive road bike yet will only be available in limited numbers.