Honda Odyssey FL350 In-Depth Guide
This Honda Odyssey FL350 ATV was recently rebuilt and it runs strongly, an impressive feat after being idle for 15 years. New parts include stock axles, factory u joints and new rear shocks. I'm inspired to share what I know about the 1977-1985 Honda Odyssey FL350 Go-kart with you.
The Honda Odyssey FL350 has an air cooled 329.1cc two-stroke single-cylinder engine. The bore is 78.5mm and the stroke is 68mm. It has a 32mm piston value carburetor with reed valve. An automatic clutch and V-Belt torque converter with reverse transmission make it fun to ride. Honda Odyssey FL350 weight is 602 lbs. dry.
The Honda Odyssey ATV line has a reputation for being well built and lasting a long time, unfortunately as the years go by parts and information become harder to find. If you happen to come across a Honda Odyssey for sale don't let a little dust or faded paint frighten you off, what's underneath is a lot of fun and they are solidly designed. The Honda Odyssey fl350 has earned a loyal following thanks to how long they last with proper maintenance, a Honda Odyssey buggy may outlast the desire to drive it.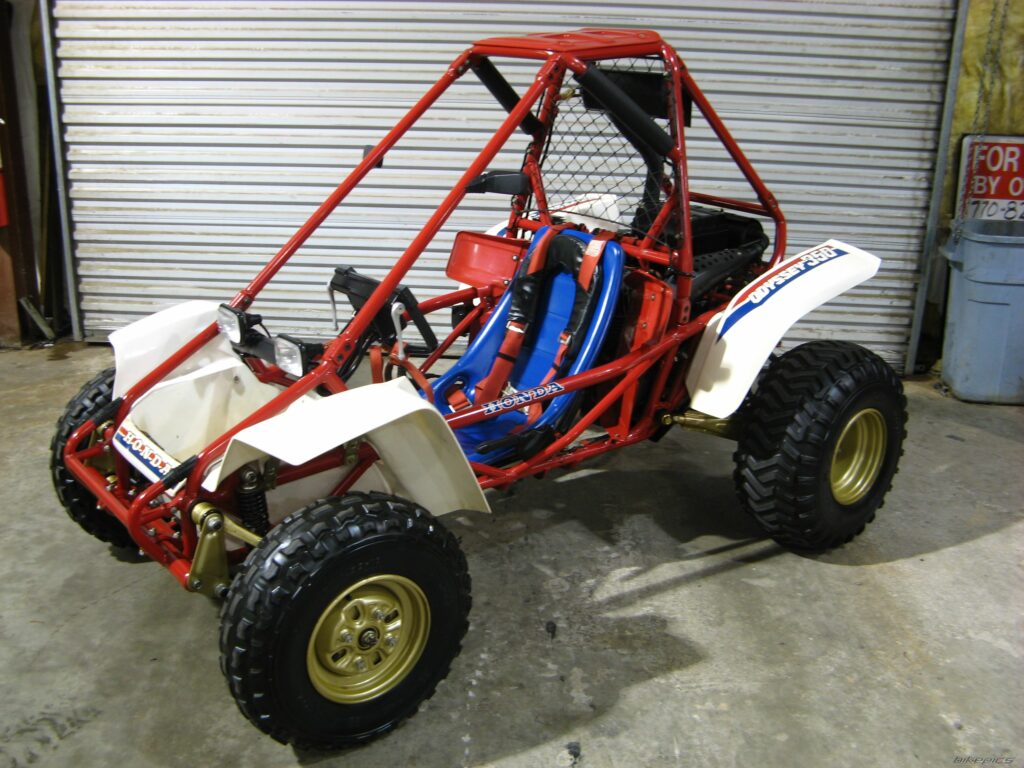 Honda Odyssey 350 Specifications: 1977 to 1984
1977 to 1984: ground clearance is 5.51 inches
Turning Radius: 1977-80 = 17.4 feet, 1981-84 = 14.1 feet
Dry Weight: 1977-79 = 397 lbs, 1980 = 408 lbs, 1981-84 = 423 lbs
Maximum Climbing Angle: 1977-84 = 35 degrees
Stopping Distance: 1977-84 = 20 meters from 50 kmh / 61 feet @ 31.25 mph
Engine Type: 1977-84 = air cooled 2-stroke engine
Engine Displacement: 1977-84 = 248cc, 15.1 cubic inches.
Compression Ratio: 1977-84 = 6.6:1
Idle Speed: 1977-84 = 1500 rpm
Spark Plug: 1977-84 = NGK BR7ES
Brakes: 1977-84 = Self adjusting cable actuated disc
Parking Brake 1977-84 = Cable actuated shoe and drum
Headlights: 1977-79 = 6V-35W, 1980 = 12V-45W, 1981-84 = 12V-60W
Taillight: 1977-79 = none, 1980 = 12V-3W for Canadian Models Only, 1981-84 = 12V-3W
Ignition System 1977-80 = Points and Condenser, 1981-84 = Capacitor Ignition System (CDI)
FL350 Top Speed = 55 MPH stock (learn more)
1985 Honda Odyssey ATV FL350R Specs
Engine: 329.1cc / 20.08cid, 2-cycle, Air-cooled
Fuel: Premix 20:1 with a minimum of 89 octane
Starter: Electric and recoil
Ignition: Solid state CD
Clutch: Automatic
Transmission: V-belt torque converter with F/N/R gearbox
Length: 85 inches
Width: 61 inches
Height: 54.7 inches
Wheelbase: 61 inches
Ground clearance: 8.3 inches
Fuel capacity: 3.8 gallons, including 0.7 gallon reserve
Tires: Front: 21 x 7-10 high flotation
Rear: 24 x 11-10 high flotation
Suspension: Front: Dual-trailing arms w/hydraulic shocks, 4.3 inches of travel
Rear: Diagonal link-type w/gas charged shocks, 5.9 inches of travel
Brakes: Front: Dual hydraulic drums
Rear: Hydraulic disc
Honda Odyssey ATV Dry weight: 584 pounds
Note: The FLR350 Honda Odyssey has strong collector interest and prices for complete FLR350 models has risen accordingly, Honda Odyssey FL350 parts are increasingly scarce. Contact ATVStyle on Twitter to talk about the FL250 or FL350 ATVs.
HONDA FL250 ODYSSEY VIN Info
Dave on Twitter asked me why FL250 Honda Odyssey ATV VINs don't compare to those of traditional ATV VINs. The answer is that Honda Odyssey ATVs were produced from 1977 to 1985 and don't use traditional 17 digit VIN numbers. Instead Honda used an independent VIN system of their own design for FL250 Odysseys and the following is their breakdown by year.
1977: FL250*1000001 – 1011921
1978: FL250*1100001 – 1112345
1979: FL250*2000001 – 2012620
1980: TB04*2000001 – 2006315
1981: TB040*BC400001 – BC406324
1982: TB040*CC500001 – CC514700
1983: TB040*DC600001 – DC617555
1984: TB040*EC700051 – EC703225
If you own a Honda Odyssey ATV, or are interested in buying one, read my post on ATV values to find out what it's worth. Current Honda Odyssey 350 classifieds place a value range of $500 to $2500 depending on condition however some have been sold for more in restored condition. Parts scarcity is leading to a need for custom modifications yet a premium is placed on original stock parts.