To celebrate 40 years since the Honda Goldwing was introduced to the world at the Cologne Motorcycle Show, the Japanese manufacturer has released a two-tone 40th anniversary model.
The tour-de-force tourer looks great in two-town paint, but the standard single colour models are also available in red or silver.
Honda Australia marketing manager Glyn Griffiths says the anniversary model will arrive around January. However, he says no price or spec will be released for a while.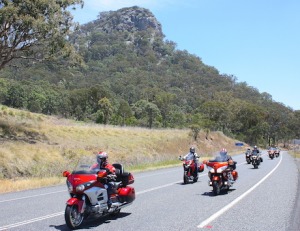 Since its inception, the Goldwing has gone on to become one of the most significant bikes on the road with sales of more than 640,000. That may not be as many as some other popular models, but remember this is an expensive bike, so that's quite a significant figure.
To those who haven't ridden one and deride its armchair status or call it a "boat anchor", maybe you're just jealous.
I've ridden several Goldwings and I still can't believe how nimble they feel out on the road. They have high clearance, big lean angles, sports-tourer-standard handling, awesome brakes, creamy transmission and a lusty mill, all in a package that offers most of the comforts of home.
It's an engineering marvel and certainly doesn't deserve some of the disapproving comments it gets.
However, it's water off a duck's back to owners who proudly take their big tourers on transcontinental journeys, putting in big miles and usually two-up. They also have an owners club with strong membership.
When the Goldwing was launched, it was powered by a 999cc flat-four. Over the years, it's grown in capacity to a GL1100, GL1200, GL1500 and has been an 1832cc flat-six since 2001. Rumours of a two-litre mill continue, but have so far failed to materialise. Goldwings were built in Ohio between 1980 and 2010, but have been made in Japan since.
The current model costs $35,799 (+ORC) and features a host of hi-tech equipment such as an airbag, heated seats, cruise control, satnav, electronic reverse gear and a six-speaker audio system with MP3 and iPod connectivity.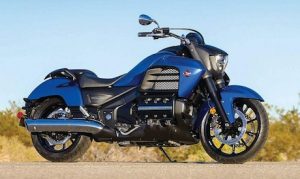 Last year, Honda added the stripped-down F6B ($25,199) which next year gets cruise control and a black exhaust.
Honda has also returned the Valkyrie model to the ranks. It has no fitted luggage and comes in black or special order blue for $20,199.