Honda Goldwing has shed some weight, but gained some street cred.
The new F6B (flat six bagger) is a menacing-looking stripped-down Wing with no top box, sporty windscreen and without some of the Goldwing's creature features such as cruise control, reverse gear, GPS and an airbag.
That also means it weighs less. However, with that silky smooth and torquey flat six underneath you it still feels like you are riding on the back of a charging rhino.
Now Honda Australia has made it even more attractive with free 12-month "platinum" roadside assist, a Sena Bluetooth stereo headset and a $200 Caltex fuel card.
The offer also extends to the Goldwing and VT750C cruiser until the end of December.
I've just been testing the new F6B in Melbourne traffic and on a run down to the Mornington Peninsula.
Coincidentally I have a Sena Bluetooth 3.0 stereo headset so I can make and receive phone calls, listen to music and talk to my pillion (wife) who also has a unit in her helmet.
The interesting thing is that the F6B comes with a stereo system like the Goldwing, but with that short windscreen, I can't hear the stereo system above 60km/h because of the wind noise and buffeting.
I reckon they could ditch the stereo and save you some more money and weight.
Most riders these days seem to have Bluetooth units and I have found very few bike sound systems that can be heard clearly at speed – the new Harley Touring range is a notable exception.
They also make GPS virtually obsolete as your phone can dictate the turn instructions over the headset.
Like the Goldwing, the F6B is a capable long-distance tourer with fat and comfy seats, an unstressed engine, silky transmission and a plush ride.
Yet it also has the ability to pour on the power and carve up the bends with the best of them, thanks to the sportbike-inspired aluminum twin-spar frame.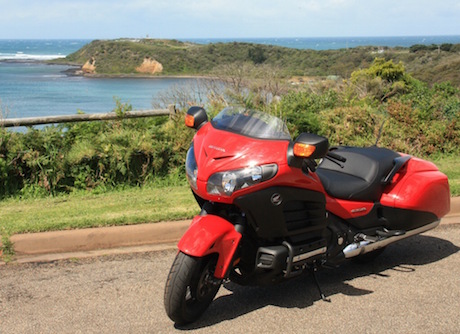 You can grind the pegs if you really lean it over and it holds a stable line with no wallowing in bumpy bends.
Although it only has five gears, three would almost be enough thanks to the massive torque in the engine.
Around town you can slot it into fifth gear at 60km/h and still have plenty of roll-on acceleration.
I accidentally started off in third gear up a hill with my wife on the back and it didn't baulk.
Changing up through the gears is as smooth as cream and won't cause your pillion to rock back and forth.
Pillions will love the wide seat and the big hand grips, but you probably should invest in an accessory sissy bar as they can slide rearward if you take off too quickly.
The top box and armrests of the Goldwing obviously make a pillion so comfortable they could go to sleep, but it adds about 30kg of weight. Without that weight there really is no need for a reverse gear.
I also found my long-legged pillion can easily get on by just hoisting her leg over without having to stand on the foot pegs to mount.
And since it weighs so much less, it's easier to lift off the side stand, even after your pillion is seated.
Despite losing the top box, there is still plenty of room in the panniers for a full-face helmet in each side or a medium-sized backpack.
They lock with the ignition key in a lock at the rear.
It would be nice if there was a button on the dash that unlocked and locked the panniers once the ignition key was in place. Several times on our trip we wanted to quickly access the panniers but had to switch off, get off, go around the back and insert the key.
It's no big deal, though.
More of a deal is the sporty windscreen. It looks fantastic and gives the bike a "slammed" look from front to back; a bit like you've ridden under a boom gate and had the top knocked off. But you cop plenty of wind buffeting over 60km/h.
It could easily be 20cm taller and you would still be able to see over the top and get more weather protection.
There are taller accessory windscreens, but it would be great if they could make a mechanically adjustable screen similar to the new BMW R 1200 GS which works by twisting a knob. Simple, but effective and no need for heavy motors to power an electric screen.
The F6B may be just a styling exercise and a stripped-down Wing but it becomes something totally different from its big touring brother.
It is now more of a challenger for cruiser baggers such as the Harley Road King and Street Glide, but with more refinement.
And don't think it won't get admiring looks. I had people hanging out of car windows on the highway taking photos and giving me the thumbs-up.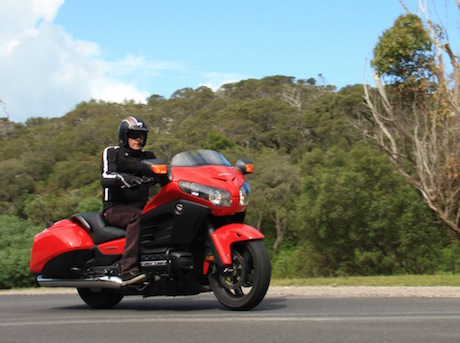 Honda F6B Goldwing tech specs
Price: $24,990 (+ORC)
Warranty: 2 years
Engine: 1832cc SOHC liquid-cooled 12-valve flat-6
Transmission: 5-speed including overdrive, shaft drive
Dimensions: 2605mm (length), 945mm (width) 1455mm (height), 1690mm (wheelbase), 725mm (seat), 125mm (clearance)
Fuel: 25 litres (including 4.4-litre reserve)
Kerb weight: 385kg
Tyres: 130/70R – 18; 180/60R – 16 inch
Suspension: 45mm telescopic fork with anti-dive; Pro-Link Pro-Arm with electronically-controlled spring preload adjustment
Brakes: 296 x 4.5mm dual hydraulic disc with Combined 3-piston callipers, ABS, floating rotors and sintered metal pads (front); 316mm ventilated disc with 3-piston calliper, CBS, ABS and sintered metal pads (rear)