Years before Honda thought about stripping off its Gold Wing to make the brawny F6B and the naughty naked Valkyrie, Terry Bloomfield had the same idea.
About five years ago he paid $5000 to an Adelaide school teacher for a 1984 GL1200 but immediately ran into red tape.
"I had all sorts of dramas getting it registered because it's an American import and the RTA in NSW are a law unto themselves," he said.
"I had to get a copy of the import certificate which I didn't get from the seller. Until I could produce that they wouldn't register it even though it had been registered in Australia for 12 years.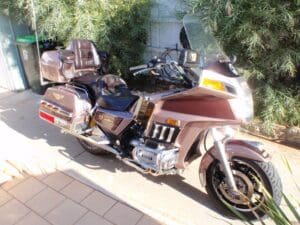 "It took nearly 12 weeks to sort the paperwork out and finally a very nice lady in Canberra sent me a copy of the import papers."
Terry says it wasn't in good nick, cosmetically.
"The plastics were starting to break up and it was a pretty daggy bike," he said.
"I thought about giving it away, then I thought I'd take everything off.
"They've only got a plastic cover which doesn't have a fuel tank in it and all the guards and everything are plastic. It's just all engine underneath."
He also converted it to solo seat, ditched the rear foot pegs and swapped the air forks for basic hydraulic units for a plusher ride.
He retained the rear air suspension, but threw out the heavy compressor and pumps it up manually as required.
"I weighed everything I took off and it came to 58.5kg. It now weighs about 200kg."
After stripping it down, he took it for a rego inspection and it went through "without a hiccup".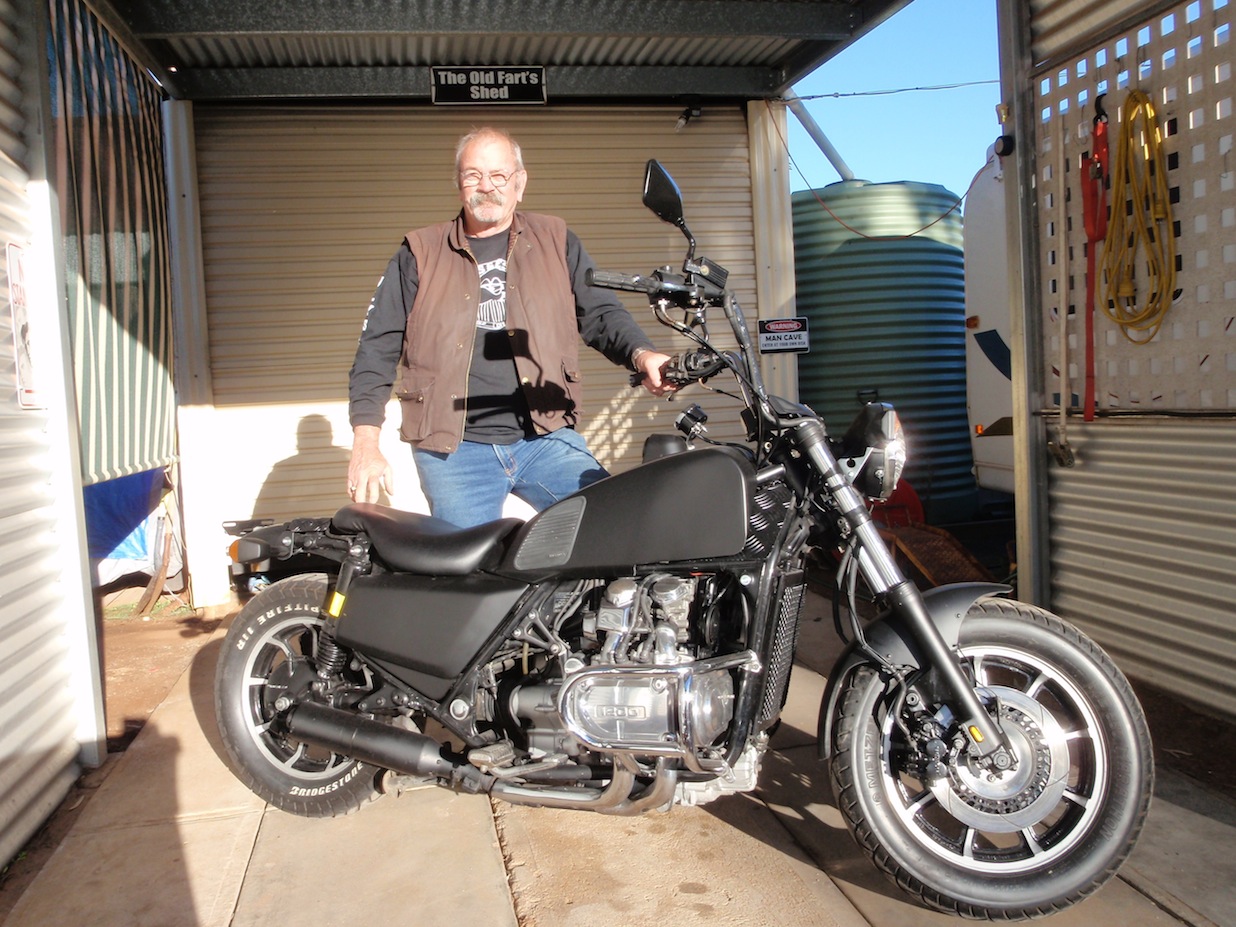 "No questions were asked about the single seat or any other mods as nothing was changed to alter the bike's structure, frame wise."
Terry reckons it goes "like a scalded cat".
"All is good now and it's a fun bike to ride, with the 58 kilos removed the bike is still ultra smooth and for a 28-year-old bike it really performs," he says.
"I recently fitted new head gaskets and had the heads shaved and then I polished the intake ports. I changed the timing belts and fitted Gates Green Stripe belts and changed out the pressed metal belt tensioner bearings to Toyota Celica Bearings."
Terry says the wiring was a nightmare as there are micro switches and lots of hidden electrical "nasties".
"I never marked the wiring when I removed everything and when I tried to fire the bike up it took me about five hours to sort it all out again," he says.
"I ride it to work, weather permitting, and use it on Sunday for Ulysses rides," he says.
"It's just a fun bike, but not something I'd ride from here to Adelaide as the seat has been thinned down to about 30mm of foam."
He calls it the "Black Rat" and reckons his friends had no idea what it was because he took all the badges off as well. He's now put a couple of badges back on it to avoid confusion.
"I just love it. I have had a few offers from people to purchase the bike but it's a great hack to cruise on."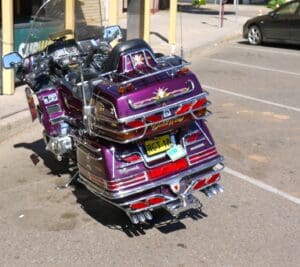 Terry also has a purple GL1500 that he calls the "Bling Wing" as it has "every bit of bling on it you could think of".
He wouldn't mind parking a new GL1800 in his garage as well, and he really likes the look of the new F6B and the coming Valkyrie.
"Since I was 15 I've always had a bike in the shed," the 64-year-old building maintenance worker says.
"My first was a BSA Bantam and I graduated up through A10 BSAs and some Bonnevilles, a Matchy 500 single, and more recently a Triumph America and a couple of V4 Honda 1000s in the back of the shed.
"I've also just bought a 650 V Star for my wife and she still has a little 100cc Lead Scooter.
"It's pretty full on."
He's also planning to make a diesel bike.
"I am think about fitting a 20hp V-twin diesel stationary motor into a frame and using a tapered pulley system for the drive; no gearbox," he says.
"Anyway that's still on the back burner for now. I am still nutting it out."