A couple of months ago I bought a 1980 Honda CX500 with restoration intentions.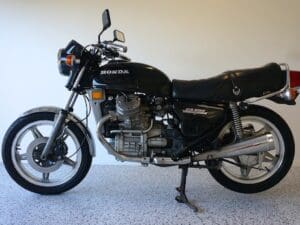 The idea was that it would be a good bonding project with my daughter's partner, Mitch.
However, life intervenes and I haven't had a lot of time to put into it while Mitch has been way too busy with his job to help, although he's found a couple of opportunities to take it for a short ride with me.
Apart from being distracted by a couple of electrical and clutch issues that have surfaced, I've done minimal cosmetic work except for a basic clean-up and replaced the horrible chromed chopper-style grips with brown jelly units.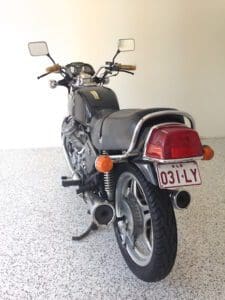 Meanwhile, we've been considering which direction to go: restoration or customisation?
Many readers have suggested I restore it to its former glory while others have suggested cafe racers, bobbers, street trackers and scramblers and some have even suggested the garbage dump!
It's in pretty original condition, so we considered restoring it to its former glory, but then we realised its former glory was rather ugly. It was actually called the "plastic maggot" because of the ugly little instrument/headlight cowl.
But even worse is the view from the rear. Just look at it from behind with that skinny tyre and fat seat and bulky taillight. It's a bottom only a mother could kiss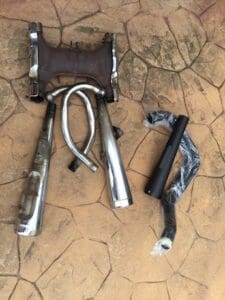 So at Mitch's suggestion, we are going the custom route.
Nothing too drastic yet. So far we have only ejected the massive two-into-two exhaust that weighs 10.4kg.
In its place we went for a matt black two-into-one system that weighs only 4.1kg.
I've stripped some of the paint off the fuel cap and fuse box over the triple clamp to reveal a nice "rustic" metal finish, so we're thinking of stripping the tank back to the bare metal to see what that's like before deciding whether to paint it or just seal it.
We've also ordered a seat, but it hasn't arrived as yet. We considered getting the current seat reupholstered and cut down a bit, but that was an expensive option.
Thankfully, there are so many Honda CX500s being customised – probably because they look so much like a Moto Guzzi but with (supposedly) reliable electrics – there are plenty of readymade seats to choose from.
We eventually chose a brown leather cafe seat from Motorcycle Seats Direct in the US.
It wasn't the cheapest, but they have a good reputation and leather only cost an extra $20 than the vinyl option.

Hope you like what we've done or planned so far. We'll update you along the way and you can share your constructive criticism with us.