Honda 400ex In-Depth Guide
The Honda 400EX is a 375lb all-terrain vehicle(ATV) manufactured by Honda Motors Company from 1999 until 2009. It has a 28 horsepower engine and the Honda 400EX has a top speed of 72 MPH. The 400EX also sports a sturdy steel frame with removable sub-frame and exceptionally rigid cast aluminum swing-arms. Triple disc brakes provide much needed stopping power and an aggressive body style compliments the drive line well.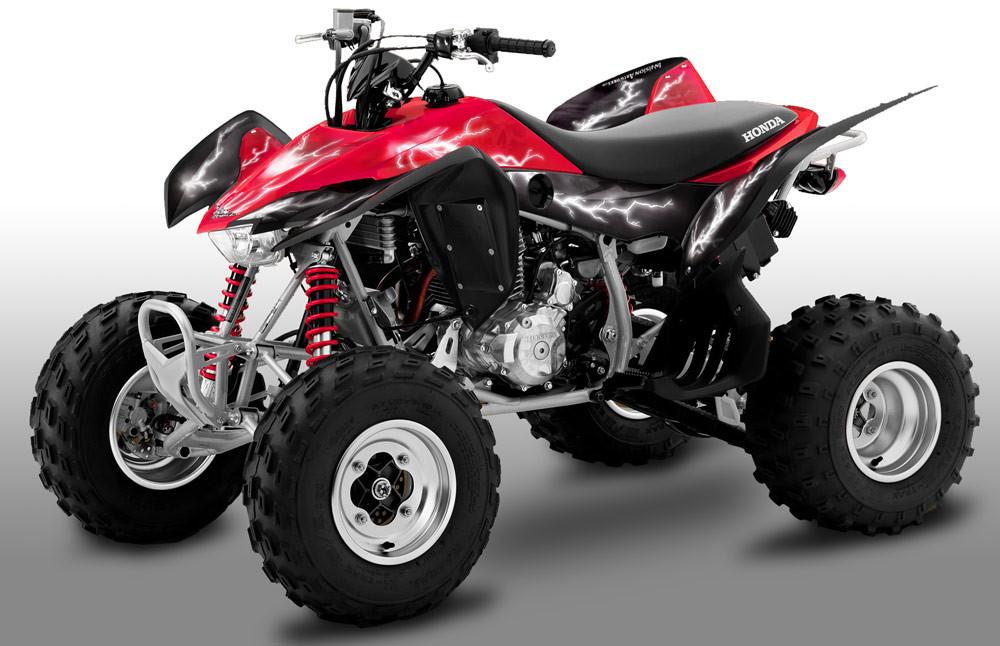 Honda 400EX specs include a high performance 397cc dry-sump, air-cooled, four-stroke single cylinder engine. A radial four valve combustion chamber (RFVC) takes care of creating horsepower. Honda paid particular attention to camshaft timing in order to meet the tough requirements set for torque and usable horsepower. The motor has dual intake and dual exhaust ports for maximum engine efficiency. The TRX400EX has a five-speed transmission with Reverse to round out it's arsenal of go fast.
Honda 400EX Specs
Years Made: 1999 – 2009
Model name: TRX400EX
Engine : RFVC, dry-sump, 1-cylinder, 4-stroke
Displacement : 397 cc
Bore and Stroke : 85 x 70 mm
Carb : 38 mm piston-valve with accelerator pump
Cooling : Air-cooled
Starter : Electric
Clutch : Manual
Transmission : 5-speed with reverse
Final Drive : O-ring-sealed chain
Ignition : CD with electronic advance
Suspension Front : Independent double-wishbone with Showa shocks, 5-position spring-preload, 8.2 inches of travel Rear : Pro-Link fully-adjustable single Showa shock, with 9.1 inches of travel
Brakes Front : Dual hydraulic 174 mm discs Rear : Single 220 mm disc
Tires Front : 22 x 7-10 knobby radial Rear : 20 x 10-9 knobby radial
Honda 400EX Top Speed: 72 MPH
Length : 72.2 inches
Width : 45.3 inches
Height : 43.7 inches
Wheelbase : 48.4 inches
Honda 400EX Horsepower: 28 HP
Honda 400ex Seat Height : 31.9 inches
Turning Radius : 10.5 feet
Ground Clearance : 4.3 inches
Honda 400EX Weight : 375 LBS
Fuel Capacity : 2.6 gallons including 0.4 gallon reserve
Colors : Black, Red
400EX Top Speed : 72 MPH
1999 Honda 400ex specs were virtually unchanged through 2009
The extremely popular and fast Honda 400 EX ATV remained a top enthusiast choice for many years and is finding it's stride in the collectible market. It's a fun, reliable and sturdy little ATV. Honda released their all new TRX 450R ATV model and stopped production of the EX 400 in 2009. It may become harder to find high performance TRX 400ex parts but the TRX 400EX was a runaway hit and many were produced. 400ex parts can be found on most auction and classified sites used from ATV parts resellers, or new from Honda Motors co.
Honda 400EX Piston Sizing and Overbore
400ex pistons vary by engine, natural wear and as a result of boring out the cylinder to increase the overall CC rating of the engine. Standard 400ex piston size to CC ratios are as follows
85.00mm = 398cc(standard)
85.50mm = 402cc
86.00mm = 407cc
87.00mm = 416cc
88.00mm = 426cc
89.00mm = 435cc
These sizes are affected by natural wear over time. If you measure your piston opening and find it has a reading of 85.35mm then it is most likely an 85.25 400cc engine with 0.10 in overbore. Select your 400ex piston size and rings accordingly when you plan your rebuild.
Additional information about the Honda 400EX ATV
"Sportrax" 400EX enthusiasts today refer to the Honda 400ex as the best ATV ever made. While you could do wheelies and jumps along with your friends the chances were that your ATV would still run when theirs needed repairs.
Another factor that made the Honda 400EX popular is the fact it was equally comfortable on the track and on the trails. It's clutch was beginner friendly and overall it's a great sporty little package even today. The only downside to it's design, and it's not a huge downside, is that it could not reverse. The drive-train only moves in one direction, forward.
Honda 400ex Top Speed
In stock brand new condition the Honda 400EX was clocked at a top speed of 72 MPH on pavement. It took a little bit of coaxing to reach that speed. Common performance upgrades included Elka shocks and ITP bead-locks. I know because I see a lot of used 400EX quads still sporting them. Overall value and durability along with performance and customization has given the 400EX a spot in the "best ATV ever made" competition, to many it's the champ. Check out the ATV Brands page to see how the TRX400EX model helped secure top spot for Honda in our popularity poll.
Honda 400ex Oil Type and Capacity
A Honda TRX 400EX ATV requires 10w40 ATV oil and has an oil capacity of 2 Quarts. Fully Synthetic oil is not required unless engine performance has been increased with after-market parts or has already been using synthetic oil.