The description of what constitutes an adventure motorcycle has been stretched even further by Honda which introduces its entry-level CBF190X or Night Hawk.
The bike looks like a cross between their CB500X and new Africa Twin, particular in its tri-colour paint scheme. It comes after Honda recently announced they would produce the world's first adventure scooter, the X-ADV.
The Japanese company is also considering building a 400cc Bulldog adventure bike.
Honda Australia says they are not looking at importing the scooter, so they are unlikely to bring in this small-capacity adventurer, even though the CB500X has been very popular.
At the moment it is only intended for the Chinese market, but if it proves popular, it could open up a new sector for young adventure riders.
It also makes us ponder exactly what constitutes an adventure" motorcycle or scooter.
To us, an adventure bike means it is comfortable on the road, including highways, for long trips into the country where the roads turn to dirt. That means it needs a balancer in the engine and/or cush drive, and comfortable riding position and seat.
It's not a dirt bike with dual-sport tyres as they vibrate too much and are unstable at highway speeds. It's also not intended to conquer tough single-track conditions or race around an MX track or enduro circuit.
An adventure bike also needs to have some luggage capacity for overnight camping adventures.
Whatever your description of an adventure bike, it seems to continue to be challenged by manufacturers.
The new category of lightweight 400 and 500cc adventure bikes is being led by Honda, with newcomers including the Royal Enfield Himalayan and anticipated BMW G 310 GS and KTM 390 Adventure.
Night Hawk revived
The CB190X was unveiled at the recent China International Motorcycle Trade Exhibition in Chonqin.
It's also called the Night Hawk which revives a model name from the 1980s. The Nighthawk 250 was a wire-wheeled road bike.
The CBF190X has high and wide MX-style handlebars, long-travel front suspension, large fuel tank and Dakar-style windshield.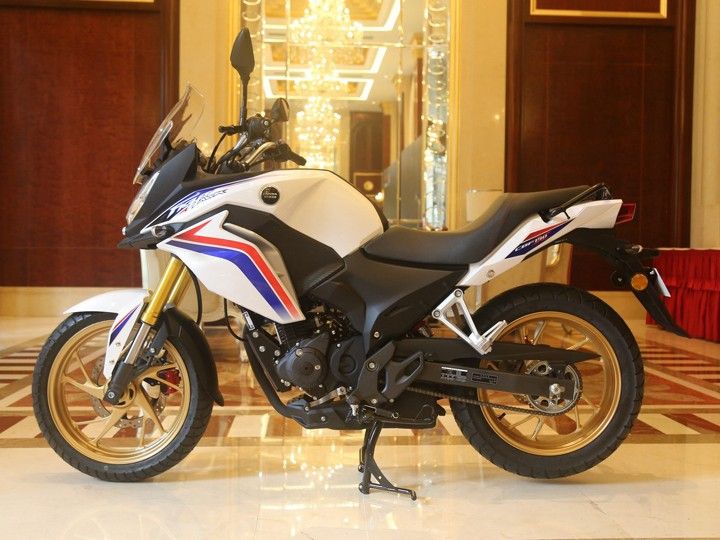 It is powered by a 184cc air-cooled motor with 12kW at 11,000rpm and 15Nm of torque at 7000rpm mated to a five-speed gearbox.
The Nighthawk 250 had drum brakes, but this has single petal discs. The Night Hawk weighs just 148kg.