From a sad and glum Greymouth to streams lined with bright wildflowers, from squally seaside rain to sparkling sunny lakesides, from straight and boring roads to the highest road in New Zealand that challenges the Stelvio Pass for excitement …
This is day five of our 14-day Hobbit Odyssey motorcycle trip. A day of high contrasts and some surprising coincidences.
We fire up the trusty Harley Road King on a chilly morning in the mining port town of Greymouth and head south along the beach road that so many people have promised us will be exciting.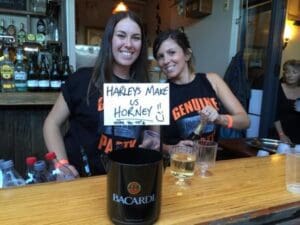 However, the first section is just plain boring and grey and glum and windy and dull. The only excitement comes from a one-lane bridge you share with slippery, wet train tracks.
Meanwhile, we're keeping an eye on a front coming in off the Tasman Sea and wondering when it will hit.
But soon enough the sun comes out, we glimpse snow-capped mountain peaks, the churning mountain streams rush down in lime-green suds and we enter glacier country where the roads begin to curl up and over the headlands.
Our spirits lift as we near Franz Josef Glacier. It's a trendy little Euro-tourist town where the visitors come to fly over the glaciers, tramp the forests, mountain bike the hillsides and kayak the streams.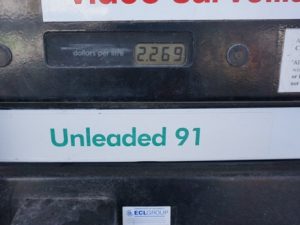 But it's wallet-gouging and extortionately expensive. Fuel is $2.26 a litre and an extra $1 for paying with credit card and there is a 15% surcharge at all the cafes for the holiday. What holiday?
We chow down on a beautiful seafood chowder before returning to the twisties that climb the headland to Fox Glacier.
We debate riding up the gravel road to view the glacier, but Mrs MBW tells me we haven't come this far to miss it. Turns out the road is pretty good quality.
Here we meet up with three Dutch cyclists pedalling their way around New Zealand at 100km a day.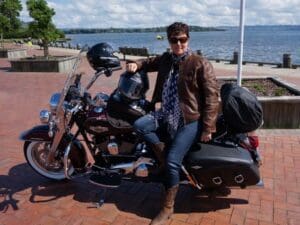 One rider, Stephan Van beek, has a blow-up palm tree on the back which he says is his penalty for being the slowest rider the day before.
We start talking motorbikes and it turns out he's coincidentally the sales manager for Pinlock which makes the effective anti-fog visor insert that I have on my Harley helmet.
Not long after we get back on the road, I'm glad I have my Pinlock visor, because it starts to hose down and we pull in to a gravel layby to pull our wet gear on.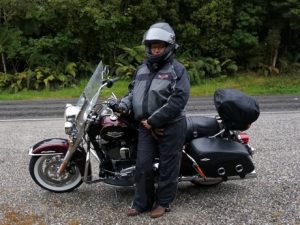 We're a little damp and the wet gear is frustratingly difficult to pull on. Mrs MBW vents a few expletives and throws a bit of a tantrum.
So our ride into Haast is miserable and slow. I'm tense from the mini tanty and not enjoying the slippery conditions. Haast is a beachside summer resort but right now it looks like the end of the world as the rain beats steadily down – although the servo attendant says it's "just drizzle".
We're hesitant about the famed Haast Pass ahead of us in these conditions and contemplate staying overnight for a nanosecond, then Mrs MBW apologises for the tanty and urges me to forge on.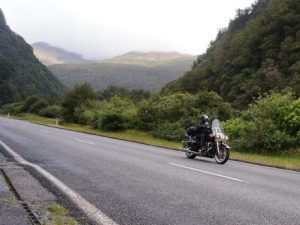 We are glad we did. The roads here are grippy despite the rain and the route is a hoot up to Haast Gate. The Harley is gripping well and the steering is precise and yet forgiving in these conditions.
The rain eases a little as we hit Haast Pass and it's really not what we expected. The road unwinds a little and eases on through a pleasant valley as the rain stops and the sun strains to shine through.
It's pleasant enough, but not the challenge I was expecting.
And then we hit Lake Wanaka and a sign warning about motorcycle crashes in this region.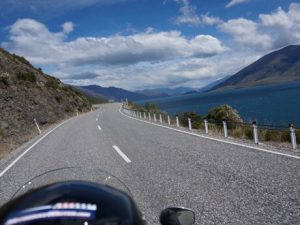 On the dry and sticky road that snakes down the massive lake, my tail and my spirits are up. I can see why riders rate this road so highly.
The drivers are pulling over and letting us through to continue our shenanigans.
But now the sun is starting to warm us up so we pull over at Wanaka to peel off the steamy wets.
There's a rodeo on here and no room at the inn, so we quickly check in on hotels.com and grab an expensive room in Queenstown.
Now, we could take the easy and long option and go via Cromwell. That's over 100km.
The other option is the Crown Peak Highway – New Zealand's highest road – and just 67km from Queenstown. But there's high winds and the threat of more rain over the peaks.
"No question about it," says Mrs MBW, "We're going up and over."
And what a rewarding ride it is.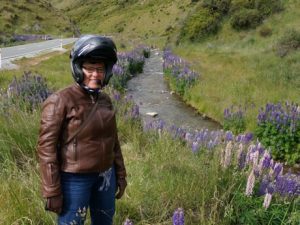 It starts in the beautiful wildflower valley where the river and road coil among a carpet of yellow, purple and pink wildflowers that waft on the mid-summer air.
Mrs MBW says it's put a big smile on her face, but I'm too busy smiling at the wiggly and grippy tar unrolling before my front wheel.
Up and up we climb, easily passing rental campervans and leaving several centimetres of floorboard in our wake.
The view at the summit toward Queenstown is gob-smackingly, jaw-droppingly, heart-achingly stunning.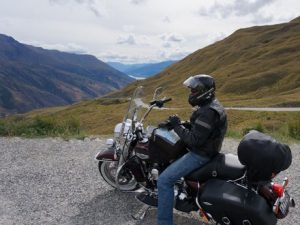 But the ride down the other side is the pearl in our day of contrasts. Endless switchbacks and a velcro surface have me comparing it to the Stelvio Pass. No, I think it's better.
Tonight we're staying in an expensive hotel – about the only room left in town. Tomorrow we're heading back up Crown Peak Highway and staying another day in Queenstown.
Anyone got any suggestions for a day in this Kiwi playground?