The bottom-of-the-line HJC CS-R1 has nice graphics but mediocre venting, a slightly strange internal shape and a flimsy face shield that fogs easily.
But, in a 2012 update, I discovered that it works very well indeed on the BMW scooter (blog)!
Is more better? Yes for horsepower; no for just about everything else.
Well, almost everything else…
HJC has been pumping out new helmet designs about as fast as TV execs come up with "reality" shows, but their strategy has finally got me stumped.
We were — and are — big fans of HJC helmets, because the brand is known for high quality and a robust feature set at reasonable prices.
But the CS-R1 is apparently designed to do combat with the multitude of bottom feeders that have appeared over the last year or so: the under-$100.00 motorcycle helmet.
Competing at the bottom is always a risky proposition though, because a misstep can affect the reputation of the company and the rest of the product line. If the bottom-of-the-line helmet is too good, why would customers spend more?
And if it's no good, they may walk — from cheap helmets and from the brand itself.
You don't see Shoei releasing new designs at the drop of a hat, although I suppose some might say that may or may not be a good thing.
I guess I'm conservative when it comes to messing with what's working.
I'd rather see continuous improvements on a solid product line that covers the market, rather than a scattershot approach, trying to be all things to all people.
If you're getting a hunch that I wasn't very fond of the new HJC CS-R1, you're right.
Even at an incredibly low price of $79.99 for a solid color and $89.99 for the good-looking "Flare" graphic shown here, my feeling is that a few bucks more can buy a nicer helmet — like maybe theGMAX GM68S.
Low price has its costs (if you'll pardon my twisty logic), and there are a couple of features on the CS-R1 that were a turn-off for me, although very price-sensitive motorcyclists may and probably will think differently and may consider the helmet a screaming deal no matter what.
I'll always wonder about people who try to save a few bucks on their brain protection, but who knows. Let's take a look…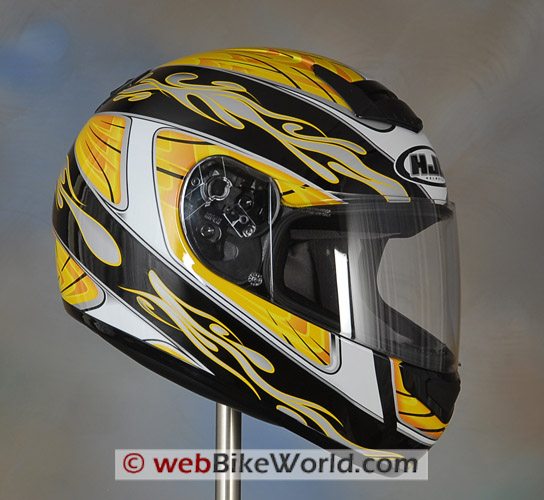 Paint, Graphics and Overall Quality
The Flare graphics are actually pretty nice, although not ground-breaking in either design or execution.
I specifically ordered the yellow because there aren't many helmets available in that color or other bright "safety" colors, and many webBikeWorld visitors have been wondering where they could find bright-colored helmets.
The paint and graphics are evenly applied and the helmet overall looks better than it should for 89 bucks.
The silver used in some of the striping has a slightly metalflake look, which adds some depth to the design, although I can see the backing on the decals that serve as the backing in places where the silver color is too thin.
Uncharacteristically for HJC, there are at least a half-dozen noticeable dust and dirt bumps under the clear coat, but they're only noticeable under close inspection.
Nevertheless, this isn't expected from HJC and it may be an indicator that some corners were cut.
Or, maybe a new paint process is being used or possibly even an off-off-shore supplier has been contracted to do the work (the helmet is labeled as Made in China). Also, the clear coat seems slightly thinner on the right side of the helmet than the left.
But overall, the paint and finish is very good for such an inexpensive helmet.
And the helmet doesn't feel cheap when it's handled, like some do. It feels substantive and first impressions are, well, impressive, with little important bits like the gasket around the bottom, which fits perfectly.
The interior is pretty basic and the padding is on the thin side and feels stiff when compared to other helmets, especially compared to our current low-buck benchmark, the GMAX GM68S, which, as I and many others think, has a very comfy lining, cushy padding and an excellent fit.
The fabric used in the lining of the CS-R1 is made from "Nylex", and it feels slightly plush but thin and it doesn't make up for the also thin and stiff-feeling padding.
But at least the liner is removable. Remember not too long ago when a removable helmet liner was a feature found only in high-end helmets?  Not any more, and I'll bet the reason is that it's actually easier to install a removable liner on a modern production line.
I'll confess that I almost never remove a liner anyway, because I almost always wear a separate cloth "skull cap" liner whenever I ride.
We share a lot of helmets back and forth and the last thing you want to do is wear someone's icky helmet. Yuck!
Score: I'll give the CS-R1 a "Very Good" rating for graphics and design and for overall quality and a "Good" for paint. See the ratings descriptions in the summary table at the end of this page.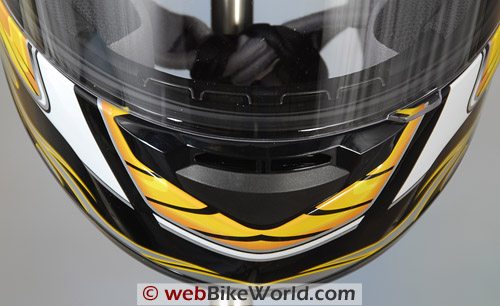 Helmet Fit and Comfort and Internal Shape
I'm of mixed feelings regarding the internal shape of the CS-R1. In their quest to fit everyone and anyone, it feels to me like HJC gave it a "long oval" fit in the upper half of the helmet, with a somewhat rounder profile in the bottom half.
After loaning the helmet to a couple of friends with different head shapes, the consensus is that the CS-R1's fit tends slightly towards the long oval shape, although it will probably give an acceptable fit to anyone other than those with a very round head shape.
The internal profile makes it feel like it has a too-tight band along the top, which squeezes my head and makes me sweat.
I didn't notice this at first, but after a couple of longer rides and after swapping the CS-R1 with both the GMAX GM68S and the Arai Quantum II (review), the CS-R1 started to feel uncomfortable.
When I have a helmet that feels like it has an unusual fit, I usually switch out a couple of helmets during a ride, going from a helmet that I know fits me to the helmet that is being evaluated.
It's like using a benchmark or a touchstone as a form of comparison, and this method usually brings the foibles into sharp focus.
In any case, the fit of the CS-R1 just seems to me to be unusual, and it may bother some but not others, so be aware — thus my mixed feelings on this topic.
The CS-R1 in size XL also fits smaller than I expected at the top because of the different shape. I think it feels more like a size large up top and maybe like a normal XL on the sides.
If this all sounds confusing, it's because it is; the helmet just doesn't feel like it is made to the standard internal shapes that I've been used to.
The lower part of the chin bar seems higher in my line of sight than other helmets; I have to push the helmet down on my head to move the chin bar down, which may be a result of the slightly long oval fit up top.
I also hope that this unusual type of fit isn't something we're going to see on new HJC helmets, because this is the second HJC helmet in as many reviews (see the HJC FS-10 review) that feels a bit strange to me.
For more information on choosing and fitting a motorcycle helmet, please see the wBWMotorcycle Helmet FAQ page, which also includes a discussion on head shapes.
Score: Based on my experience, I can only give the CS-R1 a rating of "Acceptable" for fit, although if its internal shape matches your head, that probably rises to a "Very Good".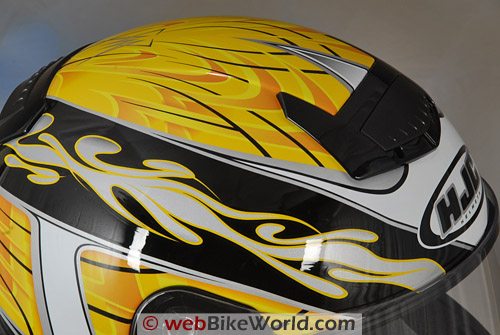 Ventilation
The CS-R1 has poor venting and air flow, in my opinion. The slider covers for the vents are not designed very well; they don't have a horizontal tab or nub to grab, which would make them easier to open and close.
The surfaces of the chin vent and top vent are smooth, making it very difficult to open or close the vents when riding, especially when wearing gloves.
The chin bar doesn't have flow-through vent holes, so the air that comes in the chin vent is directed up on to the back of the face shield only.
The top vents consist of two rudimentary holes, but once their uncovered, the holes lie on a nearly horizontal plane, and the result is that not much air gets in.
But the vents are, unfortunately, perfectly suited for the "blowing over a Coke bottle" effect — that is, as the air flows over the top, the vent holes create a high-pitched whistling noise that can be very annoying.
The combination of the tight upper liner and the lack of air flow up top makes my head feel very warm and sweaty, even in cool riding conditions. The only other vents are two holes tucked way up under the back of a thin spoiler at the rear of the helmet.
These holes are supposed to act as exhaust vents, but it's hard to see them and it's impossible to know if they are actually doing anything.
But this is all a moot point, because the vent holes inside the helmet that go through the foam are covered by the liner.
The two holes in the front go directly up to the vents, and the two holes in the back go directly up to the rear exhaust, but they're all covered by the lining, so there just isn't much in the way of air flow inside the helmet anyway.
Like all helmets, some air does come up from under the chin bar when the rider is moving, but other than that, nada.
Score: I'll give the CS-R1 a "Poor" rating for venting and air flow.
Helmet Weight
The size XL CS-R1 shown here weighs 1605 grams (3 lbs., 8-5/8 oz.), which is about mid-pack in the 84-odd helmets we've reviewed on webBikeWorld (see the wBW Motorcycle Helmet Weightschart).
The CS-R1 feels relatively light, and it's in good company, with about the same weight as the Osbe X-Race (review) at 1601 grams.
This company includes the Shoei TZ-R (review) at 1606 grams; the Baehr Silencer (review) (aka FM F10) at 1607 grams and the Shoei RF-1000 (review) at 1610 grams.
The helmet also feels well balanced when riding, although it does seem to be slightly more prone to buffeting movement than other helmets in the collection.
Score: I'll rate the CS-R1 as "Very Good" for its acceptable weight, although considering that it has a bare minimum number of features, it should probably be even lighter. The polycarbonate shell probably adds a few ounces.
Face Shield
Now we come to what I consider to be the worst feature of the CS-R1, the face shield.
Quite frankly, if the face shield on our example is indicative of the face shields on all of the CS-R1's (and I have no reason to believe otherwise), I'm surprised and disappointed with HJC.
The face shield feels thin, it doesn't feel secure, it feels too flexible, it is very twisty and bendy when it's lifted, and the worst part is that it has only two notches to hold it open.
The first open position puts the bottom edge of the face shield absolutely directly in my line of sight; the next notch opens the face shield all the way up.
This is unacceptable in my opinion; a face shield needs several detents to hold it in a variety of positions, but it should at least allow the rider to crack it open just a touch for ventilation.
I think the problem is caused by the design of HJC's "RapidFire" face shield removal mechanism.
In their quest to make face shield removal ever more quick and easy (I wonder who needs to remove their face shield so often anyway?), HJC has designed a system that yes, allows the face shield to be removed very easily, but only gives two opening positions.
I'd give up ease of removal for the ability to position the face shield up and down to a comfortable position any day.
The RapidFire removal system is, I think, too basic, because at least two riders had the face shield pop out of the left-hand side.
The face shield does have a rocker switch to lock it in the closed position, but I just don't have a lot of confidence that the face shield will stay in place.
The face shield itself seems like it isn't quite as crystal clear as it could be, although it does measure about 2 mm thick, which seems to be a standard.
It also seems very prone to fogging, like it wasn't treated with any anti-fog coating at the factory.
The eye port seems about average from side-to-side and slightly shorter than normal from top to bottom. But the face shield problem has really tainted my opinion of the CS-R1 overall.
The face shield is one feature that the rider interfaces with more often than just about anything else, and a flimsy-feeling face shield can make or break a helmet. This one is not good, in my opinion.
Score: I rate the CS-R1's face shield operation and feel as "Unacceptable". The clarity is "Acceptable".
wBW Video: HJC CS-R1 Helmet
The CS-R1 transmits slightly more noise than average. As I mentioned earlier, air blowing over the top vents causes them to produce a whistling noise and most speeds and at certain angles of attack.
The helmet also seems prone to turbulence-induced, low frequency "booming" noises around the bottom when riding behind a short fairing. That said, it's not the loudest helmet I've tried by any means and it's not bad when there is no cross-wind and no fairing to cause turbulence.
Overall I guess it's acceptable for an 89-dollar helmet, but it could probably be better had more attention been paid to the design, especially considering that the outside surface is rather "clean", without scoops and things that might create noise.
I think the minimal amount of lining and padding on the inside probably doesn't help matters.
Remember that we always wear correctly fitted, high quality earplugs and an extra helmet liner when riding, and we strongly recommend that you always wear hearing protection also.
See the wBW Earplugs and Hearing Protection page for more information on choosing and wearing earplugs.
And also remember that your experience with noise levels will probably be different because it depends on many factors, including your head shape, the motorcycle configuration, prevailing winds and more.
Score: I'll give the CS-R1 a "Good" rating for noise control.
Miscellaneous
The CS-R1 meets the DOT safety standard only and it has a "polycarbonate composite" shell. It uses the preferred D-ring attachment system and the chin strap has a retaining snap. The padding under the chin strap is thin but acceptable.
The ear pockets on the CS-R1 are covered with a thin layer of the lining fabric, but I wouldn't say that the pockets are large. I can fit my full-temple eyeglasses on my head when wearing the helmet.
Conclusion
The CS-R1 is a disappointment to me, mostly because of the flimsy face shield, but also because the thin and stiff feeling padding and different than expected fit.
I'd have to question HJC's strategy to compete at the very low end of the helmet market. If they are going to do this, you'd think that they would have put their resources to work and come up with an outstanding offering in this price range, but they haven't.
We've seen an amazing number of very good helmets with a less than $100 price tag recently, and I think at this point there may be other helmets that offer a more refined design for the same price.
But, since HJC helmets can be found just about anywhere, they'll probably sell a lot of CS-R1's. I just hope HJC makes some improvements on the face shield for "Version 2.0".
Addendum
In a strange twist of fate — and a good example of how variable motorcycle helmet opinions can be — I tried to sell the CS-R1 in the webBikeWorld "Garage Sale", where we sell the lightly used leftover produced from the reviews.
It was listed for about one year and never sold, even at a $39.00 reduced price! So, I decided to keep it.
One day, I pulled it out of the box and wore it on my new BMW C 650 GT scooter (blog).
I was surprised at how quiet the CS-R1 was — it's works beautifully in combination with the scooter's windscreen, which directs air over the top of the helmet. The air passes smoothly over the sliding door of the CS-R1's top vent.
The CS-R1 is much quieter when riding the scooter than my normal go-to helmet, the Arai RX-Q (review), which is very noisy with its top scoops that roar in the wind stream passing over the top of the scooter's windshield. I've been wearing the CS-R1 ever since.
It just illustrates what we've said many times in our helmet reviews: small variables can make a big difference in the conclusions about a particular helmet.
wBW Review: HJC CS-R1 Helmet
Manufacturer: HJC Helmets
List Price (2008): $79.99 (Solid); $89.99 (Flare graphics).
Colors: Solids, Metallics, Graphics.
Made In: China
Review Date: January 2008
Note: For informational use only. All material and photographs are Copyright © webWorld International, LLC since 2000. All rights reserved. See the webBikeWorld® Site Info page. Product specifications, features and details may change or differ from our descriptions. Always check before purchasing. Read the Terms and Conditions!
Owner 

Comments and Feedback
---
From "T.O.": " I had to stop wearing this helmet after just 3 months of owning it because of an apparent defect in the face shield. It started coming loose, completely separated from the helmet.
The final straw was when I was headed into a tight turn where some people were standing and I reached up to open the face shield so I could see better.
The thing came off in my hand and it could have ended very badly, but I was able to stop safely holding the face shield in my clutch hand. HJC America refuses to replace the helmet or give me credit toward a new helmet.
I am a longtime HJC customer, but am now looking at other value brands. I am very disappointed in the company and will dissuade others from using its helmets."
---
From "E.":  "(CS-R1) feels a bit big, comes down far on sides, slightly long oval shape but fits round head without pain.
Top vent noisy when sitting upright, a bit quieter when leaned forward, quiets down when closed. Noise is air moving over vents up top, also rushing noise underneath, but overall about medium when it comes to noise.
Can't tell on top venting, air comes up from underneath. Chin vent good. Vents need horizontal molded bumps to grab on to, but they work ok.
face shield lets it down, first notch opens it half way, and it feels flimsy (measure it) when it comes down past that last notch to close, it twists. Also twists at every notch, only 3 notches and not evenly spaced, first one too big, next one smaller, third smaller yet.
Makes a cracking sound when face shield is opened. Overall, face shield feels cheap and since that's the one moving part used most often, affects overall feeling of cheapness on helmet.
Not sure why they're moving to these cheaper feeling face shields. Graphics and paint very nice quick release face shield tab to lift face shield is on the small side (on left)
Overall though good helmet for the price, compare with Zox?"