Historic motorcycle racing is roaring back into life this weekend at Queensland's historic Lakeside Park Raceway.
There will be plenty of eye candy for spectators from today (September 26) with bikes ranging from 1920s vintage models to those built up to and including 1990.
The Shannon's 2014 Australian Historic Road Race Championships, hosted by the Queensland Early Motorcycle Sports Club (QEMSC), also celebrate 50 years of motorcycling racing at Lakeside.
QEMSC president Gene Lopeman says it is a significant historic point in Australia's proud motorcycling history.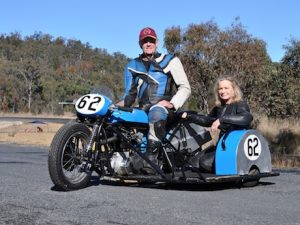 "That's a lot of years of hard racing and many long hours of dedicated maintenance of old bikes. A lot of deep friendships have been forged over those 50 years, some of them from when the Lakeside track was built by enthusiastic volunteers, with borrowed equipment, back in the '60s. "
That volunteer-built track went on to become the only Australian raceway to achieve heritage listing, following a campaign led by QEMSC vice-president Ian Milton to save it from permanent closure. Many of the great names in Australia's motorcycle racing history cut their teeth on this track.
"This race meeting also marks the first time in 12 years that Lakeside has been used for historic motorcycle racing," says Gene. "The track's a favourite with a lot of race goers and recent upgrades have put it back on the racing calendar, much to everyone's delight. Several million dollars have been poured into this track and I've never seen it look as good as it looks today."
Organisers anticipate more than 300 entrants of both solo and sidecar riders from all over Australia and New Zealand. Internationally renowned former champions including Graeme Crosby and Kork Ballington will be on hand over the weekend to sign autographs and to participate in Sunday's parade of champions.
"This will be a top weekend for motorcycle enthusiasts and people who just love the adrenalin rush of watching close racing up close," says Gene. "It's a great chance for a nostalgic trip back to the classic designs and engines of yesteryear. It seems everyone has a connection of some sort to motorcycles.  Who knows, it might be just the impetus needed to get a few retired riders back into the saddle again."      
THE SHANNON'S 2014 AUSTRALIAN HISTORIC ROAD RACE CHAMPIONSHIPS
Where: Lakeside Park , Kurwongbah (30 km north of Brisbane)

When:September 26-28. Friday qualifying, Saturday and Sunday title races

How much: Weekend $40, Friday $10, Saturday $30, Sunday $30