High Visibility Review Summary
Next time you see an advertisement for a motorcycle rain suit, check out the color.
Chances are it will be black or some dark shade of green or gray.
This has always been a source of amazement to me.
Because if I'm riding in the rain (an admittedly rare occurrence if I can avoid it), the worst possible color choices I can think of for my outerwear would be black, green or gray!
At the very least, the upper part of the body should be as bright and visible as possible at night and in the rain, fog or around sunrise or sunset.
If I could get a jacket made from orange LEDs, I'd wear it! (UPDATE: They're here!)
In the meantime, this "Fluorescent Blouson Over Jacket" by BikeSeen is just the ticket.
It's similar to the very bright and very visible fluorescent jackets worn by police and rescue personnel in the U.K.
This high visibility jacket is CE certified and meets the European standard EN471:1994 for "high visibility warning clothing" and also the EN343 foul weather protection standard for garments.
The word blouson is not commonly used in the U.S.A., but it's derived from the French and is defined as "a garment (as a dress or blouse) having a close waistband with a blousing of material over it (Merriam-Webster Unabridged Dictionary).
These type of high visibility jackets are often seen throughout Europe on personnel who must have the highest levels of visibility for safety reasons whilst working in traffic.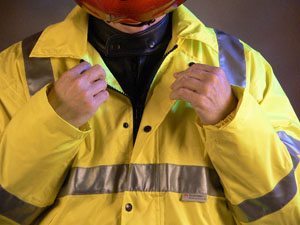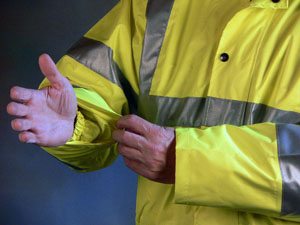 The BikeSeen High-Viz Jacket
The BikeSeen blouson shown here is specifically designed for motorcyclists.
It has a loose enough cut to fit over every type of motorcycle outer jacket we've tried, yet it isn't too bulky.
The size large fits perfectly over a U.S. men's size 44 jacket, and it folds up into a relatively small bundle, which can be carried in a tank bag, saddlebag or under the seat or tail piece of some motorcycles.
The jacket is nicely made of 100% nylon.
It's fully lined with a nylon taffeta fabric, right down to the elastic double cuffs, which are designed to keep water from intruding up the sleeve (see photo).
The waistband also has a wide section of elastic on either side, allowing the jacket to fit snugly over most any type of motorcycle jacket outerwear with comfort.
A huge nylon zipper with nice, big teeth for ease of use with gloves is hidden behind a full-length outer flap that is secured with 5 heavy-duty nylon snaps.
The jacket also has a normal type of collar and an internal loop for hanging on a hook.
Here's a tip: the collar can be folded inwards when riding so that it doesn't interfere with the helmet, and it looks a bit more streamlined for motorcycle riding.
There are two outer slash pockets on the jacket, each about 180 mm wide by 180 mm deep (7″). The pockets have a simple flap with no zipper or other closure.
The inside left breast has a simple pocket that measures approximately 150 mm wide (6″) by 180 mm deep. It secures with a small section of "hook and loop" fastener at the top.
Wearing the Jacket
One of the tradeoffs in wearing a waterproof outer garment over motorcycle clothing in the rain is the difficulty in keeping the wearer cool underneath the waterproof layer.
The BikeSeen high visibility jacket has two grommeted holes underneath each arm, but the holes don't continue through the inner taffeta lining.
The jacket kept us dry during a relatively short rain storm, but it can get a bit warm underneath.
This can be relieved somewhat by opening up the zipper during a lull in the storm, although that has the side effect of causing the jacket to billow out in the back during certain combinations of speed and aerodynamics.
The color of this high visibility jacket is called "Royal Gold". It's a highly visible fluorescent yellow, with huge strips of 3M Scotchlite reflective striping across the front, the back and around the arms.
The photo at the top of this page illustrates the "on/off" lightning effect of the reflective striping in a simulated day/night environment.
High-Viz On and Off the Bike
What's nice about having a jacket like this is that it's much less expensive than purchasing a high visibility yellow motorcycle jacket.
Many riders are not fond of high visibility colors for every day riding, and owning this jacket is a good compromise, because it can be easily thrown on over any other type of outerwear when the conditions call for high visibility.
The jacket can also, of course, be used for street wear whenever the weather demands high visibility, such as walking the dog at night — something I do quite frequently.
I live in a rural area where the roads have no sidewalks, and I'm sure that the BikeSeen jacket has made me much more visible than ever before.
The BikeSeen Fluorescent Blouson Over-Jacket retails for only £25.00, with free shipping in the U.K. and a maximum of £5.00 shipping anywhere else in the world.
Conclusion
BikeSeen carries several other high visibility fluorescent jackets, vests and other products at very reasonable prices. Check out their unique motorcycle backpack with hideaway shoulder straps and high visibility reflective cover.
They also sell the TinWolf reflective motorcycle vest, which was covered in a recent webBikeWorld review, along with the Helmet Halo, the "Visi-Belt" and other high visibility products for both bike and rider.
Note: Apparently BikeSeen is no longer in business as of April 2008.
w

BW

 Review: BikeSeen High-Visibility Jacket
Manufacturer: BikeSeen (As of January 2008, the company is apparently no longer in business).
List Price (2005): £25.00
Made In: Unknown
Colors: Fluorescent yellow or yellow/blue.
Sizes: S-2XL
Review Date: June 2005
Note:
 For informational use only. All material and photographs are Copyright © webWorld International, LLC since 2000. All rights reserved. See the webBikeWorld® 
Site Info page
. Product specifications, features and details may change or differ from our descriptions. Always check before purchasing. Read the
Terms and Conditions
!
Owner Comments and Feedback
---
From "B.L.":  "After reading this article, I thought I would send you my recent discovery at Mills Fleet Farm, and similar stores, in Minnesota.
They carry the fluorescent yellow, safety jackets, worn by road construction crews in nearly every state, which are insulated, waterproof, and available at a decent price. They are available in light, and heavy versions, with, or without, matching, waterproof pants.
The prices I found, ranged from $110-$140, for the jacket, which looks virtually identical to the one featured in your article.
I purchased a waterproof riding jacket, a week before I discovered the safety jackets available locally.
The jackets are nice, highly visible, and they include reflective taping, from the manufacturer.
For someone looking for high visibility, warmth, and waterproofing in a jacket for riding, I recommend shopping at your local safety equipment stores.
They also offer a webbed, fluorescent, reflective tape vest, for less than $30, which will fit over other jackets, making you extremely visible on your bike, day or night. Cheers!"