Who says Hogs don't fly!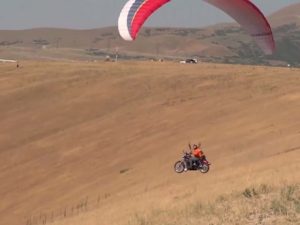 Steve Mayer, owner of a Utah paragliding store, has strapped on some outrigger wheels to a Harley Sportster and fitted a paragliding chute, then driven off into the skies to prove Harleys give you wings.
The stunt took place at Mt Timpanogos in Utah near Salt lake City with the 300+kg Sportster taking a while and some strong winds to get lift.
It then soared a couple of hundred metres into the air, before touching down quite majestically, thanks to the outrigger wheels.
The stunt was put together for the local Harley dealer by Jared Willardsen of Virality Farm stunt company.