A North of England man will attempt to set a new Guinness world record for a "high chair wheelie" sitting on the handlebars while doing a wheelie at 200km/h (124mph).
This outrageous event takes place this weekend (15-16 August 2020) at Elvington Airfield, North Yorkshire during the Motorcycle Wheelie World Championship.
The bike he will be using is a Suzuki GSX-R1000 K3 which is fully stock, performance wise.
However, he fitted a hand-operated rear brake, straight bars and an electronic gear shifter.
Jonny Davies aka 'Stunter Jonny' is a 28-year-old based in County Durham and is the current British and Scottish Stunt Champion.
To be successful, he needs to beat the current record of 108mph which was set by Irish man Enda Wright in 2006.
Top speed wheelie records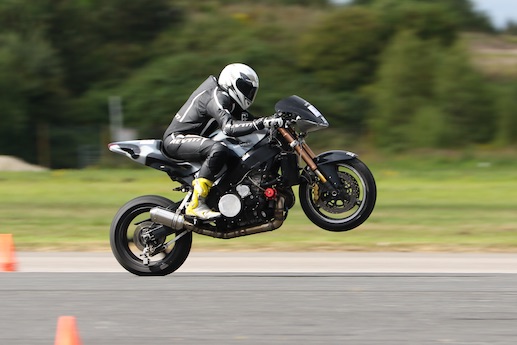 The high chair wheelie is one of many conventional and unusual record attempts on a range of machines at Elvington Airfield.
This is the first event run by Straightliners since COVID-19 lockdown began. They usually host about 40 events around the UK.
They have included speed records by a shed, a shopping trolley, toilets and more!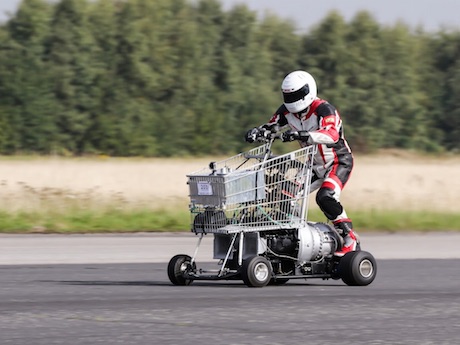 For the Motorcycle Wheelie World Championship participants need to achieve a kilometre wheel and the fastest over 210mph (337km/h) is the winner.
All runs are electronically timed under the auspices of the UK Timing Association (UKTA) with competitors receiving a personal performance print-out showing their times and speeds.
Drivers and riders will be entitled to a number of runs depending on how many people are taking part.
Runs take place on a first-come, first-served basis. COVID-19 social distancing rules will be applied.