A brake light that sticks to the back of a helmet and alerts tailgating drivers the rider is slowing down may be illegal in some states.
The Brake Free light is currently being crowd funded and Aussie rider Raphael Chan has signed on to receive and test the unit.
It consists of a slim unit stuck with adhesive tape that lights up whenever the rider slows, whether using the brake or just engine braking, as is often the case.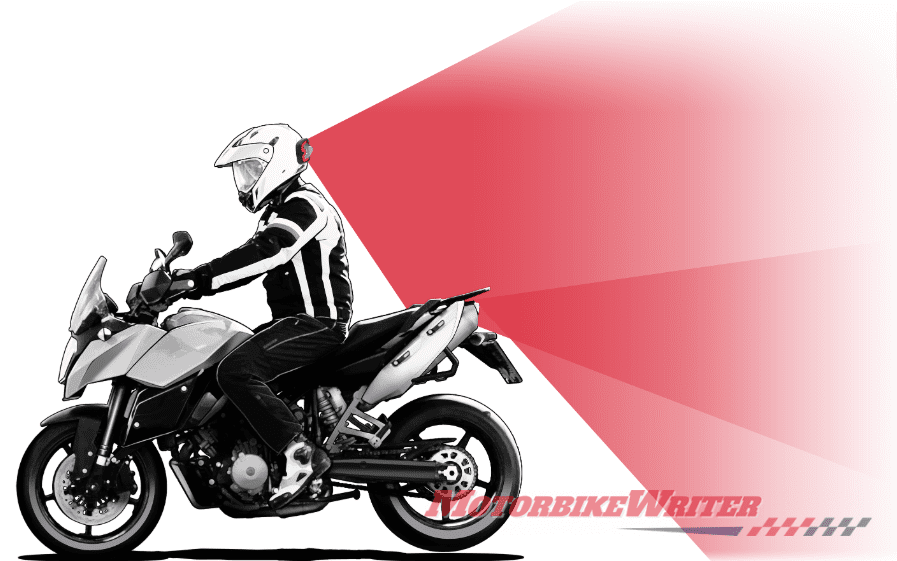 However, he contacted Motorbike Writer to find out if it is legal in Victoria after reading articles on our website about fines for having a camera attached to the helmet.
"Asking a police officer at the local cop shop hasn't shed any light. He was just guessing at the answer and gave the safe answer of 'no' but to ask VicRoads," he says.
"I'm trying to find out if it is a clear cut black and white NO to sticking anything to your helmet, or if it's still open to interpretation depending on the policeman or under review for clarification.
"If it's still a grey area, then I am prepared to risk a fine and increase my safety by testing the unit."
Illegal in some states
Our understanding is that Victorian and South Australian police still believe it is illegal to attach anything to a helmet by any means, while NSW Police have held off issuing fines until Australian helmet rules are homogenised across all states.
That could take some time.
Meanwhile, Raphael and other supporters of this safety device to avoid being rear-ended are in a legal abyss.
The device is similar to the Smart Brake Light that we sell on our website because we believe it is a key safety feature.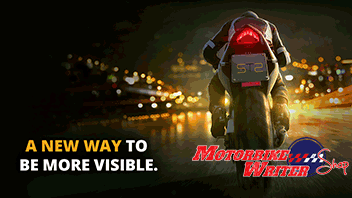 However, that does not affect the compliance of helmets.
'Expert advice'
We asked police and relevant departments in all states for their advice on whether Raphael would be fined for wearing the helmet.
A few replied and none was particularly certain.
Queensland Police HQ flat out refused to give legal advice. That's strange since their officers give legal advice when they issue a fine!
How can a police officer on patrol confidently issue a ticket? How can they possibly have more knowledge on all the relevant road rules and laws than police HQ and relevant transport departments?
However, stranger things have happened and police have been found to incorrectly issue fines before.
Interestingly, Queensland Police have no concerns about action cameras and a previous state Police Minister actually suggested riders wear them for evidential reasons!
VicRoads just quoted us the usual Australian Standards stuff.
When we pointed out that the standard only applies at the point of purchase, they agreed.
They also admitted there is "no road rule specific to brake lights fitted to helmets" and said it would be open to police interpretation of the rules.
Great. So, no firm decision!
Novelty covers
We had similar concerns over the legality of wearing novelty helmet covers such as Santa hats won on charity toy runs.
On both issues, most police say that so long as the attachment doesn't interfere with the function or safety of the helmet it can be attached.
But how do we know it won't affect the safety of the helmet?
Safety experts say helmets are designed so that in a crash and slide, nothing will catch on the ground and rotate your head, leading to neck injuries. But there is no empirical evidence to prove it does adversely affect safety.
Victorian Police were the sole objectors to Santa and other novelty helmet covers.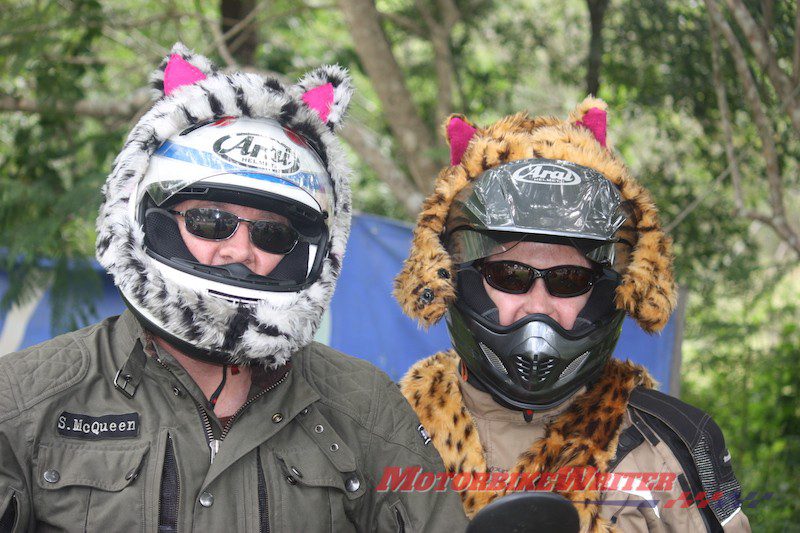 On the issue of the brake light, they said helmets must comply to the Australian Standards.
"As far as I am aware (the standards) do not allow for the attachments to motorcycle helmets to be made," the spokeswoman said.
South Australia police said it was an ADR issue, but the brake light is not attached to the bike, so how could that affect helmet compliance?
Western Australia police flick-passed it to the light manufacturer to work with each helmet manufacturer to ensure that the helmet remains legal according to Australian Standards when the light is attached.
That's virtually impossible. Do they know how many helmet manufacturers there are in the world!
WA police say you cannot alter the structure of an approved helmet by drilling holes, placing stickers or painting a helmet.
"So sticky adhesive pads for accessories are dependent on the quality of the helmet," they say.
Conclusion
Our answer is "user beware"!
If you're like Raphael, you may think your safety is more important than risking the off-chance of a fine.
The onus is then on the rider to challenge a fine in court and risk the ensuing costs.