There are mixed emotions about the ability of a national helmet forum today (February 19) to resolve the confusing helmet standards across the nation and the varied interpretations by law enforcement.
Standards Australia has invited members of the public to participate in the helmet forum in Sydney to discuss changes to helmet laws (and MotorbikeWriter will be there on a special web link to report on the outcomes).
It comes at a good time as Queensland has recently ruffled the feathers of retailers, legislators, distributors, helmet testers and importers by changing the rules on helmets to accept the UN standard.
The forum is therefore a timely opportunity to bring some sanity to helmet laws.
There can be some optimism in the fact that State Government Transport Ministers around Australia have either indicated representatives from their departments will attend or that they will be considering the information presented at the seminar.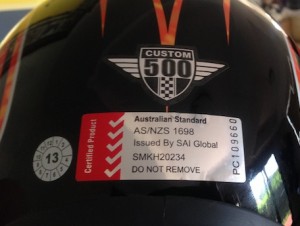 However, the agenda for the four-hour forum seems to be jam-packed giving little time for real discussion and the likelihood of being hijacked by attendees with vested interests in keeping the confusing, expensive and replicated standards testing system in place.
Issues that could and should be discussed are the extra Australian tests required that impose a higher retail price on helmets, consistent standards across all states and a clear decision on whether helmet cams and bluetooth units are allowed to be fitted to helmets.
And it would be good if the forum kept in mind that the helmet safety standards are there to serve the end user – we riders – not companies or individuals with vested commercial interests.
As the forum gets underway, it is an opportune time for riders to register their concern about the laws and call for uniformity and sense via the online petition.
Don't forget to return to MotorbikeWriter later today for a report on the forum.