Riders around the country are awaiting the results of a court case in Victoria tomorrow (Thursday February 11, 2016) where a motorcyclist is charged with wearing a non-compliant helmet because it was fitted with a GoPro.
This will be the sixth time Max Lichenbaum has appeared before the Frankston Magistrates Court over the 2014 fine in what can only be described as a farce caused by police prosecution ineptitude.
On the last occasion, the judge reduced the fine to $150, but Max plans to fight the fine.
His defence counsel, Malcolm Cumming of Maurice Blackburn Lawyers says they have a two-fold defence argument.
He says the Australian Standards only apply to a helmet when sold, not when worn, but if the judge rules against that argument, he says the relevant rules are too difficult for the public to access.
Read the full text of his arguments here.
Longtime helmet campaigner Wayne Carruthers believes that if they pursue the case "to the full" Max will be acquitted.
"But since the initial judge dug his heels in, it may go on to higher courts."
That would make it a test case across the country as riders have been charged with similar offences in NSW. However, there appears to be no problem in other states and territories with riders wearing cameras on helmets.
In fact, police in Victoria and most other states wear similar helmet cameras.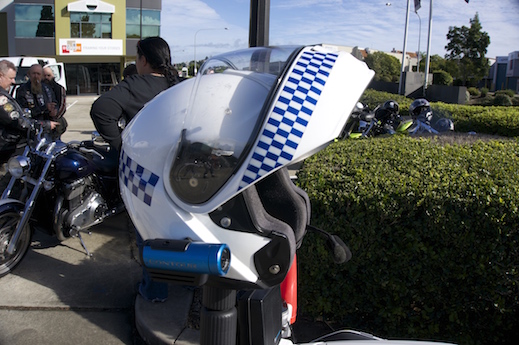 Meanwhile, Independent Riders Group spokesman Damien Codognotto is calling on Channel Seven to provide footage of the police issuing Max with the fine. They refused.
Damien says Max was pulled over by a police rider involved in filming the reality show "Highway Patrol".
"Max was on his way to volunteer as a motorcycle marshal at a sporting event," Damien says.
"He had done nothing wrong; his licence was in order; his bike was too. The charge was written in the officer's hand writing. It read: 'Fail to wear an approved helmet'."
Yet Damien says Max was wearing an approved helmet with an ADR1698 sticker and was in good condition. Max was fined $289 and 3 demerit points.
"Max wasn't charged with any other offence. He was pulled up apparently because he was there and so was the TV crew. The rider fought the fine because it was unfair and probably unlawful," Damien says.
"This case could affect every Victorian because it may make a motorcycle, scooter and possibly bicycle safety device illegal and because it means Victoria Police won't use a very effective traffic law enforcement tool that is used safely interstate and overseas."