Gericke Pathan Gloves Review Summary
Gericke Pathan Gloves Image Gallery
This unusual design from Hein Gericke gives you extra warmth without sacrificing feel, and it won't break the bank. A glove for pretty much everything winter can throw at you. Is it a giant lobster? Is it Mr. Spock? No, it's a biker in three-finger gloves! The theory behind this odd spin on the winter glove is that less surface area and less stitching means less heat loss, thus warmer hands, while keeping the index and middle finger separate from the ring and pinkie allows the wearer to maintain dexterity.
It sounds like good science; certainly my late father, a keen biker and gadget geek, believed in it, but I sometimes suspect it was his faith in the technology that kept him warm rather than the gloves themselves.
I've owned a couple of pairs of gloves like this, but never found them appreciably better than the dull old five-finger kind. However, the name on everyone's lips when you ask about warm winter gloves is the version made by Hein Gericke, the Pathan.
So when the webBikeWorld editor invited me to pick up a pair of three-fingered gloves to review, these were the obvious choice. Visiting a branch of Hein Gericke is always a pleasure — the staff are universally friendly, helpful and enthusiastic, and you can tell that they love their own bikes and wear the kit themselves. If you're not lucky enough to have a branch nearby, they also offer online shopping.
Hein Gericke have been making the Pathan glove (which also comes in a five-fingered version) for several years and it's gone through a number of refinements while retaining the same basic look. The current (winter 2009) incarnation is the Pathan Evo.
A friend has been wearing an older style of Pathan gloves for several winters, so we did a quick comparison test with the new version. As you can see from the photos below, construction is roughly the same; the older Pathan has a suede rather than goatskin palm, the wrist strap is textile rather than leather, and there are some slight differences in stitching.
The more senior gloves have worn well, but apparently they started to leak after two winters.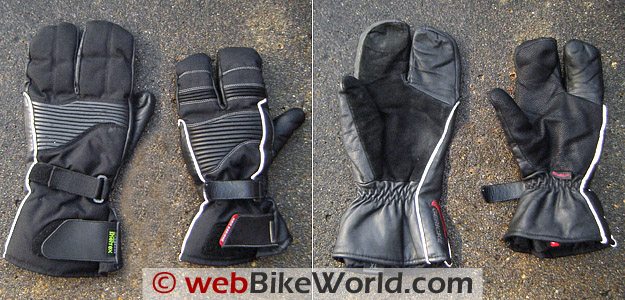 Appearance and Design
They only have three fingers!!  How weird is that?
Oh, you wanted more?  Well, when you drag your eyes away from the digit area, these are rather plain and functional-looking gloves. Black all over, with silver-grey stitching and a couple of touches of red on the labels, they go with practically anything (dahling!).
The branding is pleasingly subtle in an age when most companies plaster an enormous logo on the back of each glove: a sew-in tag at the base of the palm ('Pittards', the brand of leather used), a see-through rubber 'Sheltex' tag at the wrist, and a titchy 'Hein Gericke' on one of the fastening tabs.
There's a line of reflective silver piping on the outside edge of the glove that goes from the bottom of the gauntlet to the base of the fingers on both the palm and back sides, and another on the thumb edge from the fingers to the wrist strap, this one just on the back of the glove.
I'd question how useful reflective gloves are for safety, unless you're planning to make a lot of hand signals — but it can't hurt to have it and it doesn't spoil the look.
The gauntlet is about two and a half inches long; short enough to go under jacket cuffs and keep the rain out, or long enough to slide over the sleeves without leaving any gaps for the wind to penetrate, depending how you like to arrange your gloves.
The major omission, for me, is the lack of a wiper — a rubber blade or suede patch on the left index finger for cleaning rain and dirt off your helmet visor. As winter in the UK invariably brings rain, this would be an invaluable addition. Attempting to wipe with the goatskin palm leads to smears worse than the ones you're trying to remove.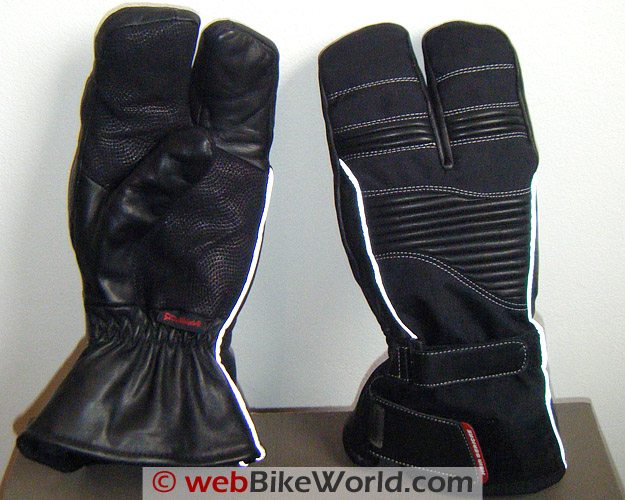 Materials
The Pathan gloves are a mixture of textile and leather. I'm sure a few years ago Hein Gericke made both a leather and a textile version of this glove; let's hope the current combination gives us the best of both worlds.
The back of the glove is rugged-seeming textile with the exception of the areas over the major and minor knuckles, which are ridged, stretchy leather for flexibility. The sides of the glove and the underside of the wrist gauntlet are cowhide, while the palm and the underside of the thumb and the first two fingers are goatskin.
If this all sounds rather complicated, on the glove itself everything seems to fit together well, and the overall result is comfortable and nice-looking with no weak spots at the joins.
At the tips of the fingers, the material is sewn together box-style, so there's solid leather over the fingertips rather than seams – another weapon in the arsenal against wind chill.
The goatskin palm is by Pittards, who manufacture leather specifically for motorcycle gloves alongside other products. Their 'Digital' texture gives a good grip, and the thin yet tough material is highly abrasion-, water- and sweat-resistant, at least according to the manufacturer's website.
Hein Gericke have worked hard to make the gloves warm and waterproof without too much bulk. The lining is Thinsulate by 3M, a trusted name in motorcycle gear, and it's light but effective.
I find that some glove lining materials snag on any rough bits of skin or nail, making them annoying and sometimes painful to pull on. The Pathan gloves, though, go on smoothly without catching.
Water- and wind-proofing is provided by Sheltex, Hein Gericke's proprietary membrane. The name is obviously reminiscent of Gore-Tex, and a trawl through some motorcycling forums reveals the consensus that Sheltex is a decent second-best at a much more attractive price.
The gauntlet part of the glove is lined with nylon rather than Thinsulate. I thought this was a good idea, as this is the area most likely to get wet if you put your gloves on in the rain and wet fleece is no fun. The gauntlet doesn't need insulation as this area will be covered by your jacket, and the nylon helps it slide over your sleeve.
Armour
I'm funny about armour. I wouldn't dream of wearing a jacket or trousers without CE-marked protection, yet I'm turned off by gloves with those enormous carbon-fibre knuckle guards. I'm far more concerned about my palms than my knuckles, since that's where gloves have met ground every time I've come off.
I feel that good, abrasion-resistant material will be more than adequate for my needs in the kind of spill I'm likely to have. Thus I feel very safe in the tough, well-made Pathan gloves despite their lack of armour.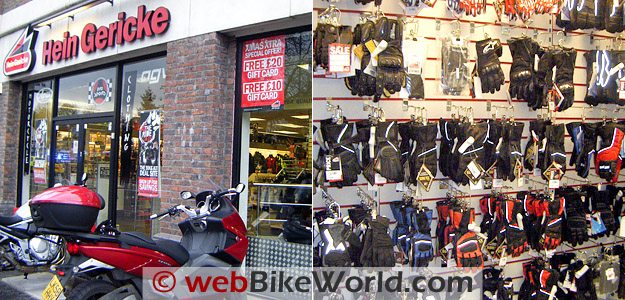 Fit and Feel
When I pulled on the Pathans for the first time I felt as if I was wearing washing-up gloves thanks to the thin, rubbery goatskin palm. Once I got over the oddness I quickly grew to appreciate the excellent feel and feedback, much better than I was expecting from a thick winter glove. Even better, it keeps the cold out while allowing me to get the benefit of my heated grips.
Although the outer glove only boasts three fingers, inside there are five separate compartments so each finger is cocooned snugly in its own Thinsulate nest.
It's a little disconcerting at first to find that wherever your index finger wants to go (to the headlight flasher switch, for example) your middle finger has to follow. The salesman warned me that it takes customers about an hour to get used to the sensation; as I'd worn similar gloves in the past, I was perfectly at ease by the time I got home from the shop.
You might feel less comfortable depending on how many fingers you habitually use to operate the brake and clutch levers; I was taught to use all four and the habit has stuck.
The Pathan gloves are sold in unisex sizes and I bought the smallest size, XS. They feel comfortable on my hands, neither loose nor tight. With some other gloves by Hein Gericke I've found the fingers too long and the palms too narrow, but these seem well-proportioned.
The finger length is perfect for my index, middle and ring fingers, but slightly too long for my little finger. This doesn't matter so much; more inconveniently, the thumb is too long too. It doesn't interfere with my ability to operate the controls, however, and feels better on the bike than off.
The box-sewing at the fingertips means the ends of the fingers are a little thick and clumsy, certainly on me. But as long as I don't attempt to, say, make a phone call with them on, I don't feel at all impaired.
To fasten the gloves there's a leather wrist strap with a plastic buckle, held in place with Velcro. On my scrawny wrists there's more than an inch of loose strap left over, which flaps annoyingly.
There's also a wide leather tab on the gauntlet, which is rather stiff and doesn't seem to make much difference to the fit. The wrist itself is gathered in with zigzag stitches, shaping the glove to your hand.
They feel securely positioned but I find that I can, with an effort, pull the gloves off even with all the fastenings done up. I can't imagine they would fly off in an accident, but the possibility is there.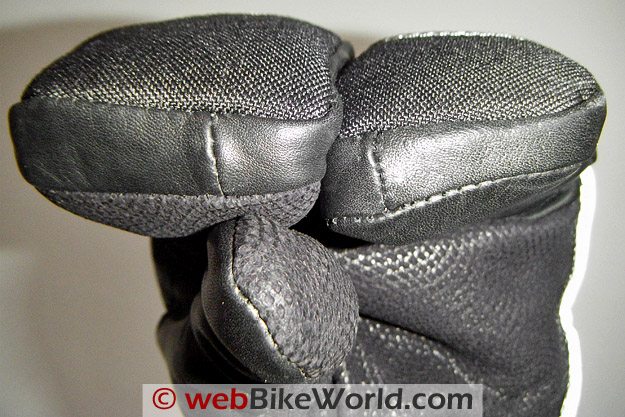 The big question about the Pathan gloves, designed as they are for maximum warmth, is: do they work?
I have been wearing mine for a couple of months now, in temperatures ranging from above 10 C down to -6 (about 50 to 20 Fahrenheit), at all sorts of speeds from motorway to urban, sometimes riding for a couple of hours without a break.
It takes about an hour for the familiar tingles at the tips of my fingers to tell me I'm getting cold. This is a huge improvement over most winter gloves I've worn, doubling the time I can be riding before the freeze begins to set in.
What's more, the temperature seems to plateau at "cold", without descending to the next stages of "painfully cold" and "acute agony, stop now and get a cup of coffee to wrap your hands 'round".
Yes, I have heated grips, and yes, I'm a wimp. The trouble with heated grips, unless you use muffs or your bike has hand guards, is that the backs of your hands still get chilled from the wind passing over them. The thick leather and textile Pathan gloves do go some way towards mitigating this, however.
Add water to the equation and things don't work quite so well. The gloves are reasonably water-resistant; they will do a good couple of hours in heavy rain, or all day in light rain, and only feel slightly damp inside at journey's end.
As soon as a little moisture does get in, though, the chill factor increases greatly, cutting the time it takes for hands to get uncomfortable. Even if water doesn't penetrate, if the gloves are wet on the outside you feel a lot cooler thanks to the wind chill.
So, is that lobster-claw effect just a gimmick, or does it really help?
The mere fact that Hein Gericke has been making these gloves for so long suggests that a lot of bikers are feeling the benefit (or are easily hoodwinked).
I certainly think these are the warmest winter gloves I've owned. Further compelling evidence in favour of the idea is that my poor lonely thumb gets significantly colder than my snugly paired-off fingers. Proof! I'm a convert.
Conclusion
These may not be the warmest winter gloves in the world, but they are by far the warmest I've ever worn. The construction, materials and, most importantly, the warmth make the Pathan gloves brilliant value for money.
If, like me, you're comfortable with the lack of armour and the slightly loose fit — the only possible safety concerns I could find — you'll be pleased with these and they should last several winters.
The three-finger trick really seems to work; the only disadvantage I've found is the difficulty of making rude gestures at other motorists.
w

BW

 Review: Hein Gericke Pathan Gloves
List Price (2010): £42.99 (approx. $69)
Made In: Unknown
Colors: Black
Sizes: XS-XXL (Unisex)
Review Date: January 2010
Note:
 For informational use only. All material and photographs are Copyright © webWorld International, LLC since 2000. All rights reserved. See the webBikeWorld® 
Site Info page
. Product specifications, features and details may change or differ from our descriptions. Always check before purchasing. Read the
Terms and Conditions
!
Owner Comments and Feedback
---
From "J.W." (3/10):  "Someone finally picked up on the Pathans in a forum U.S. folks will see. Thanks!
I come from a bicycle background and have experienced the benefit of the 3 finger design during many seasons of winter commuting with a pair of Pearl Izumi Lobster Claw gloves.
When I first tried to do winter rides on my motorcycle, I grew frustrated with the new $125 BMW Prowinter gloves and ended up dragging out my 15 year-old decaying Pearl Izumis because the US motorcycle market seemed to offer nothing comparable . It worked for warmth, although the shell had tears and the aged seams soon gave out from the stresses of high speeds.
I ended up getting Hippo Hands (muffs) (review) and the Prowinters have been fine with them for most of my riding. However, I've still been trying to track down Pathans or something similar to increase my range of tolerance and comfort further.
I also went to pick up a replacement pair of the Pearl Izumi gloves for both biking and motorcycling, figuring I'd rather have fingers that can operate the controls and chance the need for crash protection. However the new pairs of the Pearl Izumis have the inner 5-finger liner that your review mentions of the Pathan gloves.
The primary benefit I found with the old glove was that if any finger tips began to go numb, those fingers could be curled up into the palm for a minute until they warmed up. Once this was done they didn't seem to freeze again for quite a while. This obviously won't work with the lined pairs.
Since I was unable to locate the Pathan gloves stateside (Firstgear is unwilling to deal with them and my emails to the Hein Gericke Website auf Deutsch have elicited no response), I found a British Web outlet that sold 3-finger Held gloves, albeit at more than twice the price. I would have been willing to pay that price for warm, safe gloves, but was informed they had the 5-finger liners in them. Now I find from your review that the Pathan gloves also have such a liner, a sincere disappointment.
I'm wondering if glove designers have done enough research into "extreme" riding to find the benefit of finger maneuverability and aren't just propagating a false assumption about the design of such gloves? Still, even if the Pathan gloves have the liner, they are of a reasonable enough price that I would buy a pair and compare them to the Prowinter gloves. I reiterate others' mystification, why are these gloves, so popular in Europe, next to impossible to obtain in the U.S.?
Thanks again for the thorough review."
---
From "G.A.M." (2/10):  "I have been waiting for a review like this one. "Back in the day" (BITD), an expression that I truly detest because it makes me feel even older than I am, I wore a pair of "three finger" winter gloves.
My old pair, more than thirty years old and still in my possession, are woefully inadequate in modern terms of protective features. I had to add my own wrist straps to hold them on in case of a fall, and they are insulated with something like artificial sheepskin. The buttery smooth leather palms probably would provide pitifully little protection in a slide. But BITD, they were the warmest thing going.
And BITD, my winter riding suit cut quite a figure. I had a neon red synthetic riding jacket (manufacturer's ID lost in antiquity) with a down vest underneath, black vinyl over pants (couldn't afford leathers, these pants were made from the hide of the naugah, it's like Rich Corinthian Leather, only cheaper) "home made" and Velcroed at the waist and leg ends, with down ski pants underneath, and my black Dingo boots.
I actually rode in 20 degree weather and was hotter than I was cold (venting had not really been discovered BITD). Add the helmet and face shield to my three finger black gloves that looked like claws, and I used to do a very good "Robot" imitation from Lost In Space, waving my arms in circles in the air calling out: "Warning! Danger, Will Robinson!!!" from behind my face shield. Nobody messed with me when I arrived fully suited, but I think there were a few UFO reports from time to time.
Other than taking a ride down memory lane, I wanted to add a comment about another perceived purpose of the three finger design. My three finger mitts had the index finger in a BIG finger of it's own, pretty heavily insulated, with the remaining three fingers in a group together, a bit different from the Pathan gloves. The index finger could be used to access the brake or clutch lever, while the other three stayed in place on the grips.
To my way of thinking, the warmth from adjacent fingers added warmth to the other fingers contained in the group finger opening. Heat "lost" from one finger was shared with other fingers in the group, and contained in a warm little pocket surround all three fingers. I perceived this to be a function of the three fingers all being together, and it really did seem to work.
Yes, the index could get cold, so the Pathan glove with two and two seems a good compromise. With the Pathan, the two fingers together in each pair have the potential to add their warmth together, but I wonder if the interior individual finger "slots" might work against that. That is assuming of course, that there IS an additive effect with "grouped fingers" inside the glove. I guess I will have to try the Pathans to find out.
And along those lines, at today's conversion rate, with the price £49.99 on the Hein Gericke website, the cost without shipping is $79.65. I have e-mailed Hein Gericke to get a shipping quote and to find out if they ship to the States."
---
From "D.H." (1/10):  "I'm into my second winter with my Pathan lobster-claws and share most of your observations, particularly the water resistant properties and finger/thumb lengths.
I learned about them from reading favorable (rave even) reviews in a few of the UK publications. Not being able to find a vendor in the U.S., a helpful internet acquaintance in Germany purchased them from a local Hein Gericke shop and shipped here to Delaware.
I ride throughout the winter so long as the roads are safe(ish) on a semi-naked bike with no heated gear or grips, so gloves are particularly vital to me. For me, the Pathans are good down to roughly 28 – 32F, depending upon the length of the ride. For lower temps I switch to the much warmer but much bulkier Olympia GT Weatherking II gloves, which I've worn a few times down to single digits.
Though the Pathan's gauntlets don't appear very large, I'm easily able to get them over my heaviest winter jacket, a Belstaff Discovery. I don't understand why these aren't sold in the U.S. I believe many riders would enjoy them as much as I."